07 Feb
News and Analyses, A Foreign Perspective
Nearly all of these are English-edition daily newspapers. These sites have interesting editorials and essays, and many have links to other good news sources. We try to limit this list to those sites which are regularly updated, reliable, with a high percentage of "up" time.
Recommended:
Proposal under consideration by congress would free criminals convicted of extrajudicial killings and torture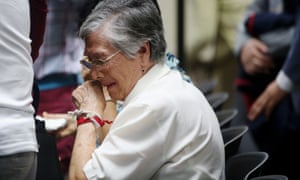 The men convicted of the forced disappearance of Emma Guadalupe Molina's son could be freed if lawmakers sanction amnesty for war crimes. Photograph: Esteban Biba/EPA
War criminals convicted of extrajudicial killings, torture and sexual slavery could soon walk free if Guatemalan lawmakers sanction a blanket amnesty for crimes committed during the 36-year armed conflict which left 200,000 people dead or disappeared.
Congress will vote this week to reform the national reconciliation law and give absolute impunity for crimes against humanity including genocide, rape and forced disappearance. The law currently exempts only political crimes and has been regarded as a beacon for postwar justice since coming into force alongside the 1996 peace accords.
The new initiative is backed by former army generals angered by a wave of prosecutions that has resulted in the convictions of at least 33 military officers and militia members since 2008. One former guerrilla leader has also been convicted of human rights abuses.
If approved, all the convicts, and those held on remand awaiting trial would be free within 24 hours; pending trials would be cancelled and ongoing investigations shelved.
The vote takes place as the beleaguered president, Jimmy Morales, backed by a powerful network of military and economic elites, continues efforts to oust the UN-backed anti-impunity group Cicig and sabotage the constitutional court.

Indigenous women take part in a protest against a proposed impunity law in Guatemala City, Guatemala, on 31 January 2019. Photograph: Esteban Biba/EPA
The timing is no coincidence, said Jo-Marie Burt, a political science professor at George Mason University and senior fellow at the Washington Office on Latin America (Wola).
"This push is part of a broader effort by a coalition of military, business and political interests not just to stop Cicig, but to end all investigations into organised crime, human rights violations and corruption in order to reassert their total dominance in Guatemalan politics and society."
Cicig does not investigate historical crimes but has helped weed out corruption from the courts and attorney general's office, which are also now under attack.
Amnesty supporters argue that prosecutors have unfairly targeted security forces over leftist guerillas. But 93% of human rights abuses were committed by US-backed government forces, compared with 3% by guerrilla groups, according to the postwar Commission for Historical Clarification.
The felons who would benefit from the amnesty include top-ranking generals from the bloodiest period of the counterinsurgency war when rural indigenous communities and urban social activists were mercilessly persecuted.
Among them are Benedicto Lucas García, the former head of the armed forces, and Manuel Callejas y Callejas, the former intelligence chief, who are serving 58 years for crimes against humanity, the 1981 forced disappearance of 14-year-old Marco Antonio Molina Theissen and aggravated sexual assault against his older sister Emma Guadalupe.
Gen García is also accused of crimes against humanity at the Creompaz military base where 550 bodies were exhumed from mass graves. This case involving eight senior officers would be abandoned.
"The total amnesty violates our right, and that of the Guatemalan people, to justice and the truth. It would thwart the hopes of victims to have a little peace in our souls," the eldest sibling Lucrecia Molina Theissen told the Guardian.
Any hope of justice for the other 5,000 children disappeared during the war would be crushed by the amnesty. It would also quash the sentences handed down in a landmark 2016 ruling against two officers convicted for sexually enslaving 15 Mayan Q'eqchi' women in the Sepur Zarco village after their campesino husbands were disappeared.
Guatemala's criminal counterinsurgency past is connected to current illicit activities, said political analyst Luis Solano.
Callejas, the convicted former intelligence chief, is the alleged founder of the organised crime network known as the Brotherhood which infiltrated public institutions including border control and customs for financial gain.
The bill, which is sponsored by a dozen members of congress, claims a total amnesty is necessary to achieve "true peace and reconciliation". It must win three votes by a simple majority, before passing to the executive.
The proposed reform would also enable legal action against human rights activists considered a threat to public law and order, which campaigners fear could lead to reprisals against those who testified in high-profile cases.
A mass shooting occurs nine out of 10 days in America. Stephen Marche explores America's dueling gun cultures, from the world's largest arms show to a family who helps victims cope
O

utside the world's largest gun show the flag flies at half-mast, but it's unclear for which catastrophe. The most recent mass shooting, at the Borderline Bar and Grill in Thousand Oaks, California, was on a Wednesday and Wanenmacher's Tulsa Arms Show is three days later, but the shock of mass shootings and the periods of mourning which follow ebb more quickly now than even a few years ago.
The nightmare has woven itself into the everyday informational stream: the stock market rises and falls, one team beats another team, restaurants open and close, Apple announces a new phone, a man enters a public place with artillery and massacres a bunch of strangers. It's news but not shocking news. There is a mass shooting – more than four people not including the shooter – nine out of 10 days in America.
Inside Wanenmacher's Tulsa Arms Show, the sheer scale amazes. The event fills the Expo Center on the Tulsa fairgrounds, all 11 acres of it, with more than 4,200 tables. It takes five and a half minutes, at a brisk pace, to cross from one end to the other, eight hours simply to wander through the stalls. You could argue that the annual Shot Show in Las Vegas is bigger, but that is strictly for industry professionals, law enforcement and dealers. Wanenmacher's is where the ordinary American gun culture is on its most expansive display.
The guns are as varied and as beautiful as human experience itself, in every shape, color, price point and for every purpose. There are rifles and pistols and semi-automatics, by brand, by type, by cost. There are worn old .22s you might give a kid to shoot squirrels. There are long-barreled old Colts out of westerns, and neat little Glocks that possess the slick smoothness of MacBook Airs. There are new concepts in barreling, targets, silencers, laser sights, armor, customized hearing protection, triggers that are not in violation of the ban on automatic weapons. And those are just the dealers' wares: individual sellers wander the stalls with little flags on sticks, detailing what they offer for sale or trade: a left-handed Sig Sauer or a Ruger EC9s, say.
At the Borderline Bar and Grill in Thousand Oaks, near Los Angeles, ex-marine Ian David Long used a .45 Glock 21 with an extended magazine when he murdered 12 people. In the history of mass shootings in the US, the Thousand Oaks massacre is not just one among the now hundreds a year. At least 30 people at the bar that night had survived, a year earlier, the mass shooting at the Route 91 Harvest music festival in Las Vegas, in which a man with no criminal record or mental health issues or apparent motive, armed with 10 AR-10s and four AR-15s modified with bump stocks among other weapons, killed 58 and left 851 injured.
A mass shooting is no longer a once-in-a-lifetime event in the US.
---
T

he morning after Thousand Oaks, Lonnie Phillips woke his wife Sandy with the news. They were in Long Beach, working with grassroots organizations supporting survivors of gun violence. "We don't have far to go for the next one," he told her. By noon they had arrived at the scene.
Since their daughter Jessica Ghawi, a young sports journalist, was murdered in the 2012 Aurora, Colorado, shooting, Sandy and Lonnie have lived out of a 26ft-long tagalong trailer, a Rockwood Ultralight that's somewhat worn. "Quite honestly, we need a new one," Sandy admits. They've put the machine to good use. Thousand Oaks is their 11th shooting, if you include their daughter's at Aurora, which Sandy calls "our shooting".
"We kind of got it down to a loop," Sandy says. "We've done the west loop several times." They're working on an east loop. "That's what we do. We keep moving." How did Sandy and Lonnie decide to do this with their lives? "That was easy. That was so easy."
In July 2012, Jessica was killed, and in December of that same year, there was Sandy Hook, where 20 children and six adults died. "We walked into the community center and some of the families were walking in," Sandy says. "And I turned to my husband and said: 'Oh my God that's what we looked like five months ago.' And I wanted to run up to every one and put my arms around them and say, 'You feel like you're not going to live through this but you will. Honest, you will.'"
In the past six years, Sandy has spoken with more than 1,000 victims of gun violence. Mass shootings have become so common in the United States that they now have regulars. "We do see the same Red Cross people, and sometimes the same Billy Graham people." Sandy says Greg Vanis, an Illinois man, sets up "crosses for losses" at the memorials for the victims. They've come to know him, too.
At the Santa Fe, Texas, school shooting in May, they ran into several reporters who had been at Parkland, Florida, prompting a reunion of sorts. "I'm glad to see you but I'm so sick of seeing you this way," Sandy told them.
There are two gun cultures in America now, not just one. The first is a celebration of weapons and of the freedom weapons promise, a culture of resistance to government, of revolutionary individualism, a culture as old as the country itself, and the other, much newer, a perpetual caravan of mourning for senseless death. These cultures coexist but do not coincide. The political divisions in Washington, as vicious and irreconcilable as they may be, are not accidents of process. They are only signs of the far more profound divisions that lie beneath.
---
T

he beauty of the guns for sale at Wanenmacher's is undeniable. The Barrett .50 caliber with night vision and thermal scope is iconic, pure power in physical form. "He's light there. Pick him up," the dealer purrs. She's right. He is surprisingly light. The Winchesters from the 1880s are more distinctly American in their design than the Capitol building, and more refined, more elegant. The presentation boxes from the 19th century are simply fabulous works of craftsmanship and art, like Wes Anderson made a violent lunchbox set.
Everywhere at Wanenmacher, there are the conversations one hears among collectors, gun people telling gun stories to other gun people. "I told him if you come to the gym with me, I'll go to the gun show with you," says a long-suffering wife to the equally long-suffering friend she meets only at events like these. A wry smile passes between them. "We all know the gun guy who never fired a gun because getting to the range is a pain in the ass," says a customer to a dealer from whom he has just made an extravagant purchase, as a kind of justification, to demonstrate that he's not the kind of gun owner he's describing. A sign in a display case makes a cute in-joke: "For an additional $4.95 I will provide a receipt that matches what you told your wife you paid."
Suddenly, it strikes me who the gun people remind me of. They remind me of readers, book people, my people. Half of these guys, it seems to me, are out here buying guns they're never going to use, buying them just to have them, just like book people buy books to be around books. They possess the same crazy passion, the same sense of community, the same belief in the sacrosanct nature of the product. And just like book people, the crowd at Wanenmacher's believes the product is good in itself.
World Politics
United States
Top scientists condemn State of the Union address and say future presidents must confront climate change as urgent priority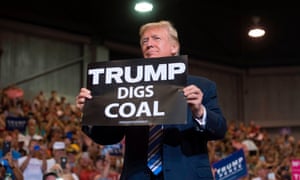 On Tuesday night Trump touted the country's status as the top producer of oil and gas and boasted about how he had cut environmental regulations. Photograph: Saul Loeb/AFP/Getty Images
A climate scientist and a former government expert in the audience for Donald Trump's annual address to Congress said this will probably be the last administration that can forgo talking about climate change in the State of the Union speech.
Trump did not mention rising temperatures or extreme weather, although he did tout the country's status as the top producer of oil and gas and boast about how quickly his officials have moved to cut regulations.
Lisa Graumlich, the dean of the environment college at the University of Washington, attended the State of the Union address as a guest of the Washington congresswoman Pramila Jayapal.
"I have been doing research on climate change since the 1970s, and it always seemed very far away in time and space. It was something that was going to happen when people's grandchildren were alive. And that has changed," Graumlich said. "I don't think that future presidents will find themselves in this position, because people are feeling the effects of climate change."
Joel Clement, who resigned from the interior department because he said the administration was muzzling scientists and ignoring climate change effects on vulnerable communities, now works with the Union of Concerned Scientists. He was invited by the Maine congressman Chellie Pingree.
"The Trump administration's strategy is to ignore climate change and pretend it doesn't exist and pretend the science doesn't exist even if it's coming from its own agencies," Clement said. "To not say anything about it is just ignorance, and it's irresponsible."
In 10 years, Clement said, climate change will be central to all policy discussions, as one of the top three or four issues in the world, Clement said.
Several other high-profile climate advocates were invited by other Democrats protesting against Trump's doubts of the science and his rollbacks.
This administration's strategy is to ignore climate change, pretend it doesn't exist and pretend the science doesn't exist

Joel Clement
The New York congressman Paul Tonko invited the League of Conservation Voters' Gene Karpinski and the Maryland congressman Jamie Raskin brought along 350.org's Bill McKibben.
The Massachusetts senator Ed Markey attended with the head of the youth-led Sunrise Movement, Varshini Prakash, who is calling for a Green New Deal to tackle inequality and quickly cut greenhouse gas emissions. Markey is expected to join Alexandria Ocasio-Cortez this week in releasing expanded language on the high-level goals of a Green New Deal.
Even the Democratic rebuttal to Trump's speech, by the ex-Georgia gubernatorial candidate Stacey Abrams, only mentioned climate change once, in a list of priorities the US could pursue. However, Bernie Sanders, in his own response speech, noted warnings in reports from the UN's Intergovernmental Panel on Climate Change.
"How can a president of the United States give a State of the Union speech and not mention – not one word – about climate change when the leading scientists of the world tell us that climate change is real, that climate change is caused by human activity, that climate change is already causing devastating harm in the United States," Sanders said. "Furthermore, the scientists tell us we have a very short, 12 years, not a lot of time in order to transform our energy system away from fossil fuels."
While very little of the primetime speeches focused on climate change, Democrats will hold two hearings in the House on Wednesday about its effects.

Attorney general Mark Herring and governor Ralph Northam admitted blacking up while Justin Fairfax faces sex allegation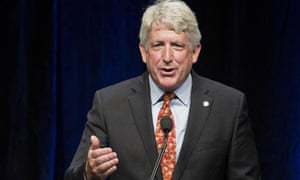 Virginia's attorney general, Mark Herring, said he was 'deeply, deeply sorry for the pain that I cause with this revelation'. Photograph: Joshua Roberts/Reuters
The political crisis in Virginia escalated dramatically on Wednesday when the state's attorney general confessed to putting on blackface in the 1980s and a woman went public with detailed allegations of sexual assault against the lieutenant governor.
With Governor Ralph Northam's career already hanging by a thread over a racist photo in his 1984 medical school yearbook, the day's developments threatened to take down Virginia's top three elected officials, all of them Democrats.
The twin blows began with the attorney general, Mark Herring, issuing a statement saying he had worn brown makeup and a wig in 1980 to look like a rapper during a party as a 19-year-old student at the University of Virginia.
Herring, who has been among those calling on Northam to resign, said he was "deeply, deeply sorry for the pain that I cause with this revelation". He said that in the days ahead, "honest conversations and discussions will make it clear whether I can or should continue to serve as attorney general".
Then, within hours, Vanessa Tyson, the woman whose sexual assault allegations against the lieutenant governor, Justin Fairfax, surfaced earlier this week, issued a detailed statement saying Fairfax forced her to perform oral sex on him in a hotel room in 2004 during the Democratic national convention in Boston.
Tyson, a 42-year-old political scientist who is on a fellowship at Stanford University and specializes in the political discourse of sexual assault, said she was not motivated by politics to come forward, writing: "I am a proud Democrat."
Fairfax, who is line to become governor if Northam resigns, has repeatedly denied her allegations, saying that the encounter was consensual and that he is the victim of a strategically timed political smear.