12 Feb
News and Analyses, A Foreign Perspective
Nearly all of these are English-edition daily newspapers. These sites have interesting editorials and essays, and many have links to other good news sources. We try to limit this list to those sites which are regularly updated, reliable, with a high percentage of "up" time.
Recommended:
Rescued flamingo chicks, angry ibex and Californian elephant seals in this week's gallery
McAllen, Texas A Mission police department officer and a US border patrol agent watch over a group of Central American asylum seekers before taking them into custody near McAllen, Texas. Photograph: John Moore/Getty Images
Children arriving in the US from Central America have long faced the prospect of family separation and navigated a complex legal immigration system that can take months or years to render a decision due to a massive backlog of cases. The government separated more than 2,300 children from their parents in recent weeks in a policy that has stoked widespread outrage among both Democrats and Republicans
The cover of Time magazine with Donald Trump and the toddler crying as border patrol searches her mother
Photograph: TIME
A two-year-old Honduran asylum seeker cries as her mother is searched and detained near the US-Mexico border in McAllen, Texas. The asylum seekers had rafted across the Rio Grande from Mexico and were detained by US border patrol agents before being sent to a processing centre for possible separation
Photograph: John Moore/Getty Images
A Mission police department officer and a US border patrol agent watch over a group of Central American asylum seekers before taking them into custody near McAllen, Texas. Local police officers often coordinate with border patrol agents in the apprehension of undocumented immigrants near the border. The families were then sent to a CBP processing centre for possible separation
Photograph: John Moore/Getty Images
Eight immigrant families seek $6m each for children's lasting trauma of Trump administration's 'zero-tolerance' policy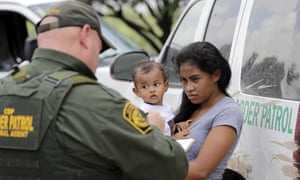 A mother migrating from Honduras holds her one-year-old child as she surrenders to US border patrol agents after illegally crossing the border, near McAllen, Texas, in June 2018. Photograph: David J Phillip/AP
Lawyers for eight immigrant families separated under Trump administration policy have filed claims against the US government, demanding $6m each in damages for what they describe as "inexplicable cruelty" and lasting trauma.
In claims filed to the Department of Health and Human Services and the Department of Homeland Security, released on Monday, the parents accuse immigration officers of taking their children away without giving them information, sometimes without even a chance to say goodbye.
The claims allege the children remain traumatized, including a seven-year-old girl who will not sleep without her mother and a six-year-old boy who is reluctant to eat.
Stanton Jones, an attorney representing some of the plaintiffs, warned the Trump administration that other families caught up in the government's policy of "zero tolerance" for unlawful border crossings, which resulted in parents being forcibly divided from their children and held in detention separately, are getting ready to sue.
"Today is just the beginning," he told the Guardian on Monday evening.
One claimant told of the horror of being separated from her child.
"It was the worst moment of my life, when officers tore my crying daughter from my arms," said Leticia, one of the claimants, in a statement. Last names are being withheld. "During those months, I couldn't sleep or eat because for much of the time I had no information about where they had taken her."
Read Full Article>>
World Politics
United States
Like his former superior James Comey, the fired deputy director offers a withering portrait of the Goodfellas president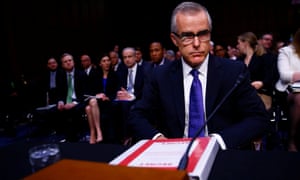 Andrew McCabe before the Senate intelligence committee in May 2017. Photograph: Eric Thayer/Reuters
C

riminal investigations of Trump World and the 2016 presidential campaign continue unabated. Federal prosecutors in Manhattan have placed the president's inaugural committee and the Trump Organization in their crosshairs. News is rife with talk of subpoenas and the Racketeer Influenced and Corrupt Organizations Act – or Rico.
Next month, Paul Manafort, Trump's one-time campaign manager, is scheduled to be sentenced and Michael Cohen, Trump's former foul-mouthed fixer, will begin a three-year prison term. So this is what "modern presidential" looks like: Donald J Trump meets Goodfellas.
The Threat, Andrew McCabe's memoir, is subtitled How the FBI Protects America in the Age of Terror and Trump. As he writes, "The FBI has always been the nemesis of criminals. Today the FBI is under attack by the president of the United States."
McCabe's disdain is born in part of a real-life grudge. A career FBI agent, a lifelong Republican married to a Democrat, he oversaw the FBI inquiries into Hillary Clinton's emails and Russian election interference. Frequently targeted by Trump for his wife's failed bid for a seat in the Virginia legislature, in March 2018 McCabe was fired, less than two days before he was slated to retire, by Jeff Sessions, then attorney general, on a recommendation from the FBI Office of Professional Responsibility (OPR).
The Threat is not just another exercise in score-settling, although there is plenty of that
According to Sessions, McCabe "made an unauthorized disclosure to the news media and lacked candor" during an OPR review of the FBI and justice department's handling of an investigation into the Clinton Foundation, a charge repeatedly denied by McCabe. The FBI director, Christopher Wray, stated that the firing was not political but was done "by the book". Suffice to say, many remain unconvinced.
These days, Sessions too is out of a job but it is McCabe who has a book. It is definitely worth the read. The Threat is not just another exercise in score-settling, although there is plenty of that.
McCabe paints a portrait of Trump as a mob boss, an observation in sync with Bloomberg's Josh Green in The Devil's Bargain and James Comey, the fired FBI director, in A Higher Loyalty. McCabe, however, goes further.
Everyone catches it, not only Trump and his minions. The Threat contrasts the independence of the FBI and justice department under Trump and Barack Obama, with McCabe saying "Obama probably came closest to [the] ideal. The current administration is … like nothing we've ever seen before."
Pulling no punches, he takes to task Loretta Lynch, Obama's second attorney general, for her refusal to recuse from the Clinton email investigation while attempting to maintain a show of being above it all. As McCabe sees it, Lynch and Sally Yates, then deputy attorney general, wrongly viewed "the investigation of Hillary Clinton … likely nominee of the Democratic party, who was being supported by the president of the United States, to whom they owed their jobs … as a case they could handle without prejudice".