16 Feb
News and Analyses, A Foreign Perspective
Nearly all of these are English-edition daily newspapers. These sites have interesting editorials and essays, and many have links to other good news sources. We try to limit this list to those sites which are regularly updated, reliable, with a high percentage of "up" time.
Recommended:
Hungry polar bears, the oldest known breeding bird and a new frog species in this week's gallery
Trump's former campaign manager found guilty in August on eight counts of tax fraud, bank fraud and a foreign bank account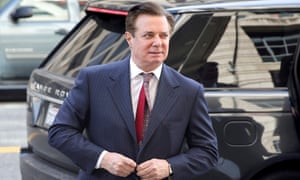 Manafort, 69, has been in jail since June last year, when he and Konstantin Kilimnik were charged with witness tampering. Photograph: Jonathan Ernst/Reuters
Paul Manafort, Donald Trump's former campaign chairman, should be sentenced to up to 24 years in prison, the special counsel Robert Mueller said on Friday.
Mueller's team said in a court filing that Manafort should face a prison term of 235 to 292 months, or between 19 and a half and 24 and a half years, for "serious, longstanding, and bold" financial crimes.
Manafort, 69, could also receive financial penalties totaling more than $50m, according to the filing by Mueller's prosecutors. His sentence will be decided by federal judge TS Ellis.
The new court filing dealt with Manafort's convictions in Virginia last year for fraud and other crimes that the veteran political consultant began committing before he joined Trump's campaign in 2016.
"Manafort acted for more than a decade as if he were above the law, and deprived the federal government and various financial institutions of millions of dollars," Mueller's team said. "The sentence here should reflect the seriousness of these crimes, and serve to both deter Manafort and others from engaging in such conduct."
A jury found Manafort guilty in August on eight counts of tax fraud, bank fraud and a foreign bank account. They could not reach a verdict on 10 other charges.
He was found to have hidden more than $16m in income from US authorities, which allowed him to avoid paying $6m in taxes. He also hid tens of millions of dollars in foreign bank accounts secured $25m in loans from banks through fraud.
Manafort had "ample funds" to cover the tax bills he should have paid, the filing said, but "he simply chose not to comply with laws that would reduce his wealth".
Mueller's team said Manafort resorted to fraud to maintain a lifestyle of "lavish spending" – spanning multiple homes, luxurious rugs and an ostrich-skin leather jacket – after his lucrative work for pro-Russian politicians in Ukraine dried up.
Following his convictions, Manafort admitted other crimes in a plea deal to avoid a second trial on other charges in Washington DC. But the deal was scrapped by Mueller after Manafort continued to lie to investigators.
Friday's court filing said Manafort's "concerted criminality", even while out on bail and under indictment last year, should be a factor in his Virginia sentence. He also faces sentencing next month in Washington for crimes he admitted in that case.
Mueller is investigating Russia's interference in the 2016 US election, which intelligence agencies concluded was aimed at helping Trump. Prosecutors from Mueller's team have said Manafort's interactions in 2016 with Konstantin Kilimnik, an alleged Russian intelligence operative, are a central focus of their inquiries.
Manafort has been in jail since June last year, when he and Kilimnik were charged with witness tampering while Manafort awaited his trial in Virginia. Kilimnik denies the allegations and insists he has not worked for Russian intelligence.
Mueller's team said on Friday that Manafort had resorted to crime despite having had "every opportunity to succeed" – including a good education at Georgetown university and law school. His sentence should punish him for serious wrongdoing and serve as a deterrent to others tempted to commit similar crimes, they said.
The court filing said Manafort was the ringleader of a financial criminal operation that also involved his accountants, Kilimnik and Rick Gates, Manafort's deputy chairman on the Trump campaign. Gates has pleaded guilty to lying to investigators.
"Manafort solicited numerous professionals and others to reap his ill-gotten gains," the prosecutors wrote.
Separately on Friday, the transcript of a hearing held in Manafort's case in Washington DC on Wednesday was unsealed. The transcript showed judge Amy Berman Jackson explaining why she agreed with Mueller that Manafort had breached his plea deal by lying.
Jackson said Manafort had been caught lying repeatedly about his interactions with Kilimnik, which she said went to the "undisputed core" of Mueller's search for any "links and/or coordination" between Trump's campaign and the Russian government.
"Mr Kilimnik doesn't have to be in the government or even be an active spy to be a link," she said.
Jackson said Manafort had forced Mueller's investigators "to pull teeth" by trying to withhold facts if he thought he could get away with doing so, before learning that Mueller's team actually already knew the truth.
Thousands of young people take time out of school to join protests across the country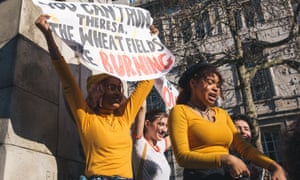 Children demonstrate against climate change as part of the group Youth Strike 4 Climate Photograph: Ben Perry/Rex/Shutterstock
S

ome wore school uniform, with ties askew in St Trinian's fashion, others donned face paint, sparkly jackets and DM boots. The youngest clutched a parent's hand as people gathered in the sunshine in Parliament Square in London, a few metres from the politicians they say are letting down a generation.
They carried homemade placards, with slogans full of humour, passion and hope that the voices of thousands of children and young people would be heard.
"March now – or swim later", "I've seen smarter cabinets in Ikea" and "denial is not a policy" read the banners, as chants for action on climate change grew and strengthened with the passing hours into a deafening roar. "What do we want? Climate action! When do we want it? Now!"
Across the UK it was a day for thousands who are not normally heard, as children took time out of their lessons to attend the strike.
"As students we don't have the vote, and it is really unfair because this is going to impact on us the most. It is our future," said Evie Baldwin, 15, from north London.
In Manchester, the students came with handwritten notes from their parents giving authorisation for their photos to be taken, and bullet points to explain why they felt compelled to strike.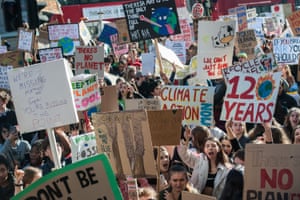 Thousands of pupils from schools, colleges and universities have attended the nationwide climate change strike. Photograph: Guy Smallman/Getty Images
There was a party atmosphere outside the central library, as students played Where is the Love? by the Black Eyed Peas and I Want It That Way by the Backstreet Boys.
They cheered as a band played Joni Mitchell's Big Yellow Taxi, with its ecological refrain: "Don't it always seem to go, that you don't know what you've got till it's gone/They paved paradise, put up a parking lot."
Lillia Adetoro, nine, told Manchester demonstrators: "Scientists across Europe say we have 12 years to get this right. The technology is there. The solutions are there. Brilliant minds across the world have been working on this for decades. And what they have said has been ignored."
Children who had been told not to miss school defiantly attended the rallies anyway. Ten-year-old Hettie Ainsworth, in Brighton, had not been given permission by her primary school to join the protest, but such was her passion that her parents let her attend anyway.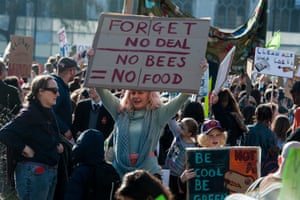 Students are urging the government to declare a climate emergency and take action on climate change. Photograph: Guy Smallman/Getty Images
To her, the issue was personal. She said: "The government isn't doing enough about it. It's important because it's our future and if we don't start paying attention to climate change, there may not be one."
There was a range of age groups present, from people in their 60s, to children as young as four and five, running around in superhero costumes. Swedish 15-year-old Greta Thunberg was frequently cited as an inspiration by adults and children.
One group called Fridays for Future Manchester, which has been meeting outside the library every week for more than two months, stood with a banner painted with Thunberg's face on it. Protesters from Extinction Rebellion and Campaign against Climate Change were also present.
Similar crowds were seen across the north of England, with organisers assembling in Leeds, Newcastle and Sheffield.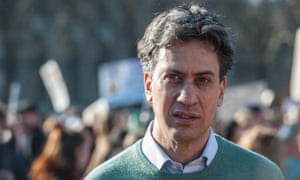 Ed Miliband attended the demonstration with his nine-year-old son, Daniel. Photograph: Guy Smallman/Getty Images
Magid Magid, Sheffield's lord mayor, who banned Donald Trump from visiting the city last year, said there was no better time to march than now. He said: "It's as simple as action or extinction … [These students] come across as the fearless advocates in the face of those who have stopped caring about [the climate crisis]. They are literally saving our bloody planet."
At the clock tower in the centre of Brighton, hundreds of primary, secondary and university students gathered.
As they marched towards the Level park, the crowd swelled. According to organiser Mary-Jane Farrell, more than 1,000 people were in attendance. While adults and supportive parents followed, teenagers in school uniform marched at the front of the crowd, shouting, among other things: "Greens in, blues out" and "Fuck the Tories".
The procession blocked traffic on Brighton's main roads, and onlookers clapped and took photos as people passed through.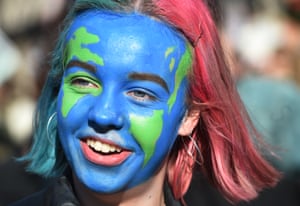 Protesters say the government is not doing enough to prevent climate change. Photograph: Facundo Arrizabalaga/EPA
Joe Paugler, 16, left his school during break time to join the march. He said he felt the need to raise awareness. "They don't discuss climate change as much as they should in politics, probably because there's no money in it," he said.
Critics of the strike had suggested some students would use the strike as an opportunity to skip school, but most children seemed more excited by the prospect of attending their first protest.
At Level park, crowds cheered for several of the day's speakers, but the loudest applause was undeniably for the local Green party MP, Caroline Lucas.
Surrounded by children vying to get a selfie with her, she said today marked a real turning point. "It's children's futures at stake, and frankly our generation has let them down and certainly the politicians at Westminster have let them down," she said.
Hundreds of young people gathered across Glasgow, cheered on by MSP Ross Greer, who tweeted: "Just look at these incredible young women, who can't be older than 13/14, taking action to save the world and their future."
In London, there were more than 1,000 in attendance by lunchtime. Among them was former Labour leader Ed Miliband with his nine-year-old son, Daniel. "I am here because it is our future, and we need to protect it," said Daniel.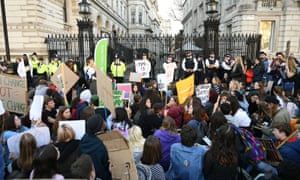 The demonstration reaches Downing Street. Photograph: Stefan Rousseau/PA
The size of the demonstration took the police by surprise. "I don't know how many are here, but it's a lot – much more than we expected," said one officer.
Several hours in, what had begun as a rally outside the House of Commons turned into a spontaneous running march on Downing Street, as hundreds of teenagers, sprinted along Whitehall to chant their message outside No 10.
As they surged down the road, buses, trucks and taxis, were forced to stop. "Honk your horn," the teenagers shouted, to blasts from scores of drivers.
Other groups broke away from the main crowd to sit down in the road, forcing Westminster traffic into gridlock for more than two hours. Holding hands, they refused to be moved, as the police deployed mounted officers in an attempt to move them back into Parliament Square.
One officer successfully lifted 15-year-old Alex Cooper off the road – only for her to continue her seated protest moments later. "This is a great turnout," she said. "We need the government to listen."
Across the street, among those watching from the sidelines, one woman said: "My 13-year-old daughter is in there somewhere. I am so proud of her."
World Politics
United States
Ex-governor of Massachusetts says he has set up an exploratory committee to pursue the Republican presidential nomination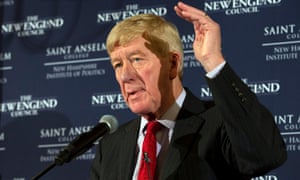 Bill Weld speaks at the Politics and Eggs breakfast at the Bedford Village inn in Bedford, New Hampshire on 15 February. Photograph: Cj Gunther/EPA
Donald Trump is facing a potential challenge in the 2020 primaries after Bill Weld, the former governor of Massachusetts, became the first rebel Republican to take on the president in a long shot bid to oust him.
Weld announced on Friday that he had set up an exploratory committee to begin the process of challenging Trump for the Republican presidential nomination. In a speech in Bedford, New Hampshire, he criticized the president as a threat to American democracy and said it was time for patriots to stand against him.
"In every country there comes a time when patriotic men and women must stand up and speak out to protect our individual rights and the overall health of the nation. In our country, now is such a time," he said, according to the local New Hampshire news station WMUR9.
Weld, 73, has a Herculean task ahead of him in seeking to topple Trump. He is unlikely to be able to muster anything like as much money or media attention as the White House incumbent.
But by opening a crack of insurgency within the Republican party, he may embolden others to follow. He may also force Trump to expend some energy, however limited, on his right flank at a time when Democratic presidential candidates are amassing on his left.
Weld comes from the libertarian wing of US conservatism. He ran as vice-presidential running mate to Gary Johnson on the Libertarian party ticket in 2016.
He switched allegiance from Libertarian back to Republican only last week.
The former governor announced the start of a Trump challenge at the Politics and Eggs breakfast at the Bedford Village inn. The event traditionally attracts presidential candidates as New Hampshire holds the distinction of hosting the first primary election in the nation.
Weld addressed about 150 local business and political leaders, WMUR9 reported, and was scathing about Trump. He accused the president of running roughshod over press freedom and of "appalling instances of racism".
"We cannot sit passively as our precious democracy slips quietly into darkness. Congress must do its duty and citizens we must do ours," he said.
The start of a challenge is likely to intensify the spotlight on other potential Republican candidates. There has been speculation around former Ohio governor John Kasich, who was a sore in Trump's side during the 2016 primaries, and around Larry Hogan, the current governor of Maryland.
Donald Trump has declared a national emergency to secure extra funding for his wall at the US-Mexico border. Trump's decision came after weeks of wrangling over his campaign promise, which led to a record 35-day partial government shutdown, damaging his approval rating.