21 Feb
News and Analyses, A Foreign Perspective
Nearly all of these are English-edition daily newspapers. These sites have interesting editorials and essays, and many have links to other good news sources. We try to limit this list to those sites which are regularly updated, reliable, with a high percentage of "up" time.
Recommended:
Voting is open throughout February for the ninth European Tree of the Year contest, organised by the Environmental Partnership Association and featuring entrants from 15 countries
On Friday demonstrators will protest against 'negligent' climate change education
Youth climate strikes took place across the UK on Friday 15 February. Photograph: Billie Charity/Barcroft
Teachers will follow on the heels of striking students on Friday with a protest to demand the national curriculum be reformed to make the climate and ecological crisis an educational priority.
The Extinction Rebellion group will support the demonstration outside the Department for Education, which organisers describe as a "peaceful nonviolent protest that may involve civil disobedience".
It is intended as a show of solidarity for pupils who skipped classes last Friday to express their frustration at the failure of older generations to adequately address climate change. Organisers said more than 10,000 young people in at least 60 towns and cities in the UK joined the strike.
More would be likely to follow, they said, if the government did not live up to a Paris climate agreement promise to enhance climate change education. Instead, they say, there is currently no requirement for children to be taught about the climate crisis so it is treated, at best, as a peripheral subtopic of subjects like geography and science.
They are also unhappy that part of the curriculum appears to cast doubt on the evidence for man-made climate change, even though governments, the UN and the overwhelming majority of scientists accept that it is happening. Government guidelines for key stage 4 chemistry say pupils should be taught "evidence, and uncertainties in evidence, for additional anthropogenic causes of climate change".
Tim Jones, a secondary school teacher from Lewisham, said students in the state system could easily go through 11 years of compulsory education and hear climate change mentioned in fewer than 10 lessons out of approximately 10,000. Given the scale of the crisis, he believes this is "negligent".
"Climate and ecological breakdown will define the life of every child and student alive today. They and we are facing an unimaginable catastrophe. But when I tell my students, it's hard for them to take me seriously when it plays almost no part in the content of their education," he said.
Earlier this month, the group Teachers for Climate Truth wrote to the DfE to request an overhaul of the current curriculum to prepare children for a future that will be shaped by ecological and climate crisis
"When we have had the evidence for decades, why does it amount to little more than a footnote in our national curriculum – a vague and marginal concern?" asks the letter. "If we keep this information out of the public domain – out of schools, for example – perhaps we might avoid some awkward conversations in the years to come … after all, who wants to tell a child that, unless we make unprecedented changes to how we live, we are heading for societal collapse, famine, war and the increasing likelihood of human extinction?"
The picture is not black and white. There is considerable scope for schools and teachers to go beyond guidelines.
The government said the current curriculum already included many related issues including classes on seasonal changes, the water cycle, the carbon cycle, eco-systems, the composition of the atmosphere and the impact of carbon dioxide on the climate. "Children are very engaged, otherwise they would not be joining protests. That shows they are obviously being taught quite well," said a government official.
The education secretary, Damian Hinds, has criticised the young strikers. "Missing class won't do a thing to help the environment; all they will do is create extra work for teachers," he said.
Friday's demonstration is expected to draw between 100 and 200 teachers and academics, most of whom are on half-term holiday. Organisers are also in talks with unions to discuss how to increase support during the next global youth climate strike on 15 March, with possibilities ranging from a walkout by teachers to the setting of homework on climate topics. Extinction Rebellion will also offer workshops for students.
Elsewhere, the stakes are growing. In Australia – which has seen waves of school walkouts in recent months – the New South Wales education minister, Rob Stokes, warned students and teachers that they will be punished if they skip classes to join a global climate rally on 15 March.
The initiator of the school strike movement, Greta Thunberg, responded with a defiant tweet. "OK. We hear you. And we don't care. Your statement belongs in a museum."
Last week, 200 academics expressed support for the youth activists in an open letter on the Guardian. Among the signatories was Alison Green, a doctor of psychology who resigned from her position as pro-vice chancellor of Arden University so that she could concentrate on climate activism. She will join the protest on Friday.
"It's incredibly brave for schoolchildren to confront what must be a terrifying prospect; that the future they hope for isn't available to them," she said. "We've been humbled that children have gone on strike despite threats of detentions and other punishments. We should at least match their courage."
As bishops and cardinals gather in Rome, one man tells of his years-long attempt to see his alleged abuser put on trial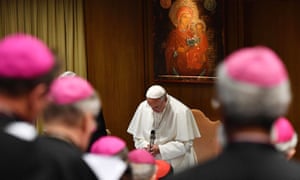 Pope Francis prays during the opening of a sex abuse prevention summit at the Vatican. Photograph: VINCENZO PINTO/POOL/EPA
In early February, Arturo Borrelli handcuffed himself to a pole in front of the Vatican in a desperate plea to the Catholic church to take his allegations of sexual abuse by a priest seriously.
Ten years have passed since Borrelli, 43, opened up about the systematic assaults, including rape, that he says he endured as a child from his religion teacher, who was also a priest at a parish in the Naples district of Ponticelli.
Until now, his battle for justice has mostly been dismissed by senior clergy, who either advised him to "pray away" the trauma experienced between the ages of 13 and 17, or suggested he brought the abuse on himself.
"It was only when I got help from a psychiatrist that I realised it wasn't my fault," Borrelli told the Guardian. "He made me understand that I was a child, that what happened to me was wrong, and encouraged me to report the priest."
Police escorted Borrelli away from the Vatican on the day of his protest and, despite their sympathy over his story, he was charged for wasting their time.
Francis told the Catholic hierarchy that they had a responsibility to deal effectively with the crimes of priests who rape and molest children. "Listen to the cry of the young who want justice," he said. "The holy people of God are watching and expect not just simple and obvious condemnations, but efficient and concrete measures to be established," he warned.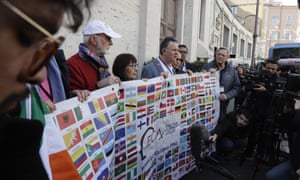 Sex abuse survivors and members of Ending Clergy Abuse hold their organisation banner as they talk to journalists. Photograph: Gregorio Borgia/
Bishops were urged to meet survivors of sexual abuse in their respective countries ahead of the conference, called by Pope Francis to address a deeply entrenched issue that many believe the church has so far failed to sufficiently act upon.
Borrelli himself had an audience with the pope last June. He claimed the pontiff had pledged to begin a canonical trial against the accused priest, Silverio Mura.
Just days before Thursday's summit, he was invited back to the Vatican to meet a senior priest.
During his meeting Borrelli asked how the Holy See was dealing with Mura, who until 2013 was still teaching – under a different name – at a school near the northern city of Pavia. Borrelli also asked about Crescenzio Sepe, the archbishop of Naples, whom he accuses of covering up for Mura.
Borrelli and his lawyer, Carlo Grezio, were told that the case against Mura, who also faces allegations from around 10 other alleged victims, was being pursued within the Vatican's court and that a decision would be made by June. They were assured that Mura is no longer in contact with children.
Borrelli provided the recording of an encounter with Mura in 2010 during which the priest did not deny abuse and instead invited Borrelli to pray with him. After that, Archbishop Sepe began an investigation against Mura, who then denied the allegations. Sepe said last year that the case was closed due to lack of proof.
Borrelli, whose torment led him to attempt suicide several times, is among the dozens of alleged clerical sexual abuse survivors who have come to Rome in the hope that the summit will provoke a serious change.
His most recent Vatican meeting has raised his expectations. "I believe that Pope Francis is trying to bring change," he said. "A lot has changed since I began my battle 10 years ago, but then again, they made me suffer very much by not listening earlier."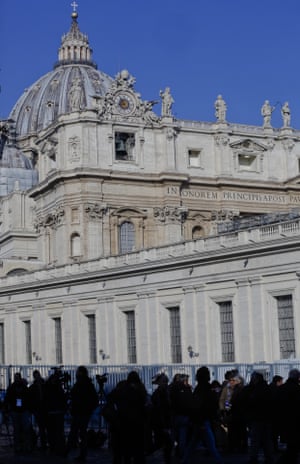 Journalists wait outside the Sant'Uffizio gate to the Vatican, before the start of a four-day sex abuse summit. Photograph: Domenico Stinellis/AP
Others foresee the four-day summit yielding very little.
Anne Barrett Doyle, the co-founder of Bishop Accountability, which tracks clergy sex abuse cases, told reporters in Rome that – after years of promises – the church was "nowhere near" to enacting the reforms needed to "stop this epidemic" and that the only solution would be a fundamental change in canon law that stopped prioritising priests over the children they have abused.
"So much is at stake this week," she added. "The Catholics of the world are grieving and disillusioned. Thousands of our children, our brothers, sisters and friends, have been sexually assaulted by clergy for decades now."
Doyle compared the bishops meeting victims before the conference as being akin to "guilty schoolchildren trying to cram before a test".
A group of 12 victims met the summit's organising committee on Wednesday but were disappointed that Pope Francis didn't attend.
Among them was Francesco Zanardi, who set up Rete l'Abuso, Italy's only network of clerical abuse survivors. "There were certain points when the pope should have been there," he said.
Zanardi was abused by a parish priest in the northern Italian region of Liguria from the age of 11 to 15.
A treaty between the Italian government and the Vatican means that the majority of child abuse investigations in Italy are carried out behind a wall of secrecy within the Holy See's jurisdiction. If found guilty by a Vatican court, most priests end up being transferred to a new diocese rather than being defrocked or jailed.
"Italy is very much in collusion with the Vatican; the authorities are timid towards the church," Zanardi said. "It's the only country that hasn't done an investigation yet into the scale of the problem. This either signifies a lack of goodwill, or disinterest, or worse – interests in covering up the crimes of the Catholic church."
Victims have urged Pope Francis to adopt "zero tolerance" measures towards paedophile priests, while Phil Saviano – whose revelations to Boston Globe journalists in 1992 led to a widespread investigation that exposed sex abuse by the clergy – has asked for the names of thousands of priests found guilty of child abuse to be released.
"I tend to be an optimist, even though I've been working on this issue since I first went public in 1992," said Saviano. "The church has certainly made slow progress since then, but I'm hopeful that some good will come out of this summit."
World Politics
United States
Lieutenant Christopher Hasson allegedly intended to 'murder civilians on a scale rarely seen in this country'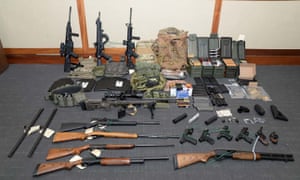 Law enforcement officers seized 15 guns and 1,000 rounds of ammunition from Christopher Hasson's home in Silver Spring, Maryland. Photograph: HO/AFP/Getty Images
A neo-Nazi serving as a lieutenant in the US coast guard has been caught plotting to attack Democratic members of Congress, including congresswoman Alexandria Ocasio-Cortez, and well-known media personalities, according to prosecutors.
Christopher Hasson intended "to murder innocent civilians on a scale rarely seen in this country", according to a filing to federal court in Maryland. Law enforcement officers seized 15 guns and 1,000 rounds of ammunition from his home.
Prosecutors said Hasson was a "domestic terrorist" and should be detained. He was arrested last week on drugs and weapons charges.
The filing said Hasson, a fan of the Norwegian mass killer Anders Behring Breivik, compiled a spreadsheet of apparent targets, including representatives Ocasio-Cortez and Ilhan Omar, and anchors from CNN and MSNBC.
Then he searched online for "civil war if trump impeached" and "what if trump illegally impeached", according to investigators.
The court filing describing Hasson's plot was first noted by Seamus Hughes, the deputy director of George Washington University's program on extremism and a former US anti-terrorism official.
Hasson is a marine corps and army national guard veteran currently posted to coast guard headquarters in Washington DC, according to investigators. He had been stockpiling weapons in his cramped basement apartment in Silver Spring, Maryland.
The court filing quoted emails recovered from Hasson's account in which he spoke about "dreaming of a way to kill almost every last person on the earth". He mused about biological attacks along with bombings and shootings.
He used far-right slogans spread in recent years by some supporters of Donald Trump, warning that "liberalist/globalist ideology" was destroying white Americans and discussing conspiracies by "((((People))))" – a styling frequently applied online by the far right to the names of Jews.
Since early 2017, Hasson had "routinely perused" a copy of a manifesto drawn up by Breivik, the Norwegian far-right extremist who killed 77 people in the country in 2011, according to US investigators.
He searched the manifesto for references to steroids, which Breivik took in preparation for his massacre. Dozens of bottles labelled "HGH" (human growth hormone) were found at Hasson's home.
He also bought a variety of guns and rounds of ammunition from retailers in several different states, spending thousands of dollars on pistols, rifles and other equipment.
Then Hasson "began the process of targeting specific victims", seeming to follow an instruction by Breivik to identify "cultural Marxist/multiculturalist traitors", according to the court filing.
He searched online for "where do most senators live in dc" and looked into whether members of Congress and supreme court justices had US secret service protection.
After viewing an online article in which MSNBC's Joe Scarborough referred to Trump as "the worst ever" president, Hasson looked up where Scarborough's show Morning Joe is filmed and found the location of Scarborough's former home.
Prosecutors said that on 17 January, Hasson began compiling a spreadsheet of prominent people "consistent with the types of people who Breivik identifies as 'traitors' and targets for an attack".
Many on the list have also been frequent subjects of abuse from Republicans including Trump. The list included "poca warren", which prosecutors said was an apparent reference to senator Elizabeth Warren of Massachusetts. Trump has nicknamed Warren "Pocahontas" for her claim to have distant native American heritage.
Hasson's spreadsheet also named the Democratic senators Richard Blumenthal, Tim Kaine, Chuck Schumer, Kirsten Gillibrand, Kamala Harris and Cory Booker. In addition to Ocasio-Cortez and Omar, it featured House speaker Nancy Pelosi, along with representatives Maxine Waters, Sheila Jackson Lee and Beto O'Rourke.
It also included cable news presenters such as Scarborough, MSNBC's Chris Hayes and Ari Melber, and CNN's Don Lemon, Chris Cuomo and Van Jones.