23 Feb
News and Analyses, A Foreign Perspective
Nearly all of these are English-edition daily newspapers. These sites have interesting editorials and essays, and many have links to other good news sources. We try to limit this list to those sites which are regularly updated, reliable, with a high percentage of "up" time.
Recommended:
World Politics
United States
Sunrise Movement says California senator reacted with 'smugness and disrespect' to their campaigning for New Green Deal
The McGlynn: The battle is the Progressives vs the old Democratic Guard. Unfortunately Dianne is a "Dinosaur". And I say to her,

Get the hell out of the way!
Dianne Feinstein rebuffs young climate activists' calls for Green New Deal – video
The California senator Dianne Feinstein is facing criticism over a video of her response to a group of children and teenagers asking her to support the Green New Deal.
The video clip shows parts of a Friday morning meeting between the Democrat and young activists from the Sunrise Movement. Founded in 2017, the group organizes young people to fight climate change and support the Green New Deal.
When Feinstein pushes back on the young activists' request, one child says: "The government is supposed to be for the people, by the people, and all for the people."
"I've been doing this for 30 years. I know what I've been doing," Feinstein responds. "You come in here and say it has to be my way or the highway. I've gotten elected. I just ran. I was elected by almost a million vote plurality and I know what I'm doing. Maybe people should listen a little bit."
"I hear what you're saying," a teenage activist says. "But we're the people who voted you, you're supposed to listen to us."
"How old are you?" Feinstein asks her.
"I'm 16," the young woman responds.
"Well, you didn't vote for me," Feinstein says.
Later in the clip, Feinstein tells a young activist, "Well, you know better than I do. So I think one day you should run for the United States Senate and then you do it your way."
"Great, I will," the teenager responded.
The senator issued a statement Friday evening: "I want the children to know they were heard loud and clear," she said, misstating the group's name as the Sunshine Movement. "I have been and remain committed to doing everything I can to enact real, meaningful climate change legislation."
The senator reacted "with smugness + disrespect", the Sunrise Movement tweeted on Friday, sharing a video clip of the meeting. "Her reaction is why young people desperately want new leadership in Congress."
By Friday night, the video the Sunrise Movement shared on Twitter, which had been edited and focused on clips of the most tense moments from the meeting, had been viewed more than 3m times.
The full video of the meeting between Feinstein and the young activists was also available on the group's Facebook page. Some viewers said they found the full video, which includes more conciliatory moments between Feinstein and the young protesters, less shocking than the edited version.
In the full video, Feinstein repeatedly urges the young activist to read her draft legislation and explains the reasons she cannot support the Green New Deal. "There's no way to pay for it," she tells the children.
"It doesn't have a single Republican vote, and the Republicans control the US Senate," she adds. "I've been in the Senate for over a quarter of a century, and I know what can pass and I know what can't pass."
The Green New Deal, a proposal that aims to fight inequality and tackle climate change at the same time, is being advanced by the congresswoman Alexandria Ocasio-Cortez, among other Democratic lawmakers.
The proposal could face a vote in the senate as early as next week.
Alka Pradhan, James Connell and Sterling Thomas are lawyers for Ammar al-Baluchi, one of five men facing the death penalty for plotting the 2001 terror attacks in the US. The Trial provides a window into the buildup to the largest criminal trial in American history and reflects on the impact of a rarely seen part of the war on terror: the lack of accountability for the legacy of torture
Pangolins, a mountain lion and a sad good-bye to Papua New Guinea's Bramble Cay melomys
The recent spate of antisemitic incidents is shocking, but the roots of this problem run deep, and there is no quick fix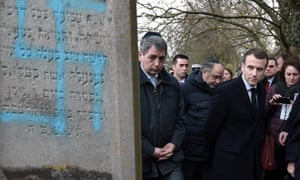 Emmanuel Macron visits a Jewish cemetery in Quatzenheim, north-east France, where graves were vandalised. Photograph: Reuters
T

he issue of antisemitism has taken centre stage in France in the last few days, following a spate of violent attacks – President Emmanuel Macron even said that it was at its worst level since the second world war. The gilets jaunes (yellow vests) movement has also been infiltrated by this bigotry. Last weekend, gilets jaunes protesters hurled antisemitic slurs at Alain Finkielkraut – a prominent philosopher and ardent supporter of the movement – as he was walking by a rally. While the movement as a whole is not antisemitic, extremist groups, both far right and far left, have effectively co-opted it, turning it into a platform for a range of hateful narratives. As support continues to decline, the movement is becoming increasingly dominated by a radical, and sometimes extremist, minority.
Yet reading the attack against Finkielkraut as an isolated episode or as a symptom of a movement spinning out of control misses an important truth: that, early on, the very nature of the movement has allowed hateful voices to weave their way into its ranks.
The gilets jaunes protests, with their combination of economic frustrations and distrust of mainstream media and political elites, have provided a convenient platform for antisemitic groups and individuals to spread their conspiratorial narratives. The "democratic", non-hierarchical nature of the movement (as well as its use of social media to coordinate and communicate its actions) has made it vulnerable to infiltration by radical and extremist individuals.
Its rejection of mainstream media and ill-defined "elites" has fuelled conspiracy theories, some of them specifically targeting the Jewish community. If the attack on Finkielkraut has acted as a wake-up call, evidence of antisemitic elements in the gilets jaunes movement is nothing new; from hateful slogans on banners and antisemitic graffiti sprayed on walls, to groups of gilets jaunes shouting abuse and making the quenelle gesture (an inverted Nazi salute popularised by now disgraced comedian Dieudonné, and recognised as an expression of antisemitism). Meanwhile, notorious Holocaust deniers have made regular appearances at the weekly rallies.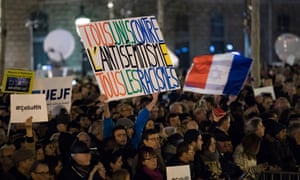 A protest in Paris against antisemitism. Photograph: Ian Langsdon/EPA
Yet this is only one manifestation of a broader social malaise in France. Recent data released by the French ministry of the interior revealed that antisemitic attacks increased by 74% in 2018, shocking figures that were grimly reinforced by a wave of attacks against Jewish symbols. In three separate incidents, swastikas were drawn on artwork representing late politician and Holocaust survivor Simone Veil; a Jewish cemetery was desecrated in the eastern region of Alsace, and a bagel bakery in Paris was sprayed with the word "Juden". These attacks have shocked the nation. On Tuesday, thousands took to the streets to demonstrate against antisemitic hate in one of the largest rallies against antisemitism since the death of Ilan Halimi, a young Jewish man who was brutally murdered in 2006.
These attacks may be horrifying, but they are not surprising to observers of French society. Over the last few years, antisemitic groups and individuals have thrived during a period of social polarisation, economic grievances and concerns around French identity. They have spread their narratives through every channel available, including social media and online platforms. Antisemitism pervades large sections of the French fachosphère – a nebulous group of websites, blogs and influencers affiliated with the far right. French far-right ideologue Alain Soral, who has multiple convictions for antisemitic incitement, is running one of the most visited political websites in France (Egalité et Réconciliation). Every video released by Dieudonné has hundreds of thousands of views on YouTube.
The roots of French antisemitism run deep and there is no quick fix. The French government has shown signs it is serious about cracking down on antisemitism. The country is set to adopt a new law against hate speech online in the next few months, which will put pressure on tech companies to tackle hate speech. And on Wednesday, Macron announced that France would adopt the International Holocaust Remembrance Alliance's (IHRA) definition of antisemitism. But these tackle the symptoms, not the cause of racism. More soul-searching and longer-term solutions are needed.