01 Mar
News and Analyses, A Foreign Perspective
Nearly all of these are English-edition daily newspapers. These sites have interesting editorials and essays, and many have links to other good news sources. We try to limit this list to those sites which are regularly updated, reliable, with a high percentage of "up" time.
Recommended:
The trans-Atlantic alliance has been significantly weakened, forcing Europe to build up its own security structures without inflicting even more damage on NATO. Is such a thing even possible?
NATO leaders in a "family photo" taken at the July 2018 summit. U.S. President Donald Trump has apparently discussed leaving the alliance with aides.
The timing of the article could hardly have been better. On Feb. 12, just three days before the beginning of last weekend's Munich Security Conference, it was published on the website of the U.S. magazine National Interest. And it quickly became a topic of fevered discussion among conference participants, particularly those from Europe. "Dump NATO," blared the headline.
The piece wasn't written by a no-name. Its author is Christian Whiton, a former State Department adviser during the administrations of both President George W. Bush and Donald Trump. His central message in the piece is that the United States should back out of NATO. The sooner the better.
"A rich continent with a $17 trillion economy — more than 10 times the size of Russia's — does not need America to underwrite its defense," he writes. NATO, Whiton believes, "is little more than a mechanism for Old Europe to freeload off of America."
Freeload. That's the tone in which the entire article is written. It is both hostile and scornful in the extreme. And along with NATO, Whiton also throws the entire canon of Western values onto the trash heap of history. "Most of the countries in Old Europe have chosen atheism, globalism, multiculturalism and decadent decline," he writes. "What exactly are we defending?"
In normal times, it would be simple to just dismiss the "Dump NATO" article as the ramblings of a fringe lunatic — as a provocation or aberration that has little to do with reality. But not these days. Not in an era in which Whiton's article likely reflects exactly what the American president is thinking.
Piling On the Pressure
Donald Trump has publicly called the Western defensive alliance into question on several occasions and has reportedly discussed with his advisers whether the U.S. should simply withdraw from NATO entirely. According to participants in those discussions quoted by the New York Times, he doesn't see the point of the alliance. Not only that, but he orders European countries around as though they were his subordinates, he piles on the pressure and he carries out secret talks with Russian President Vladimir Putin.
To be sure, Trump has not thus far taken any military steps that have actually harmed NATO in any way. In fact, the Americans have bolstered their military presence in Europe, a fact that Europeans at the Munich Security Conference turned to for comfort.
But when it comes to security, words are the equivalent of deeds. Guarantees of security are only worth something if they apply unconditionally and are not attached to an expiration date. That has thus far been the foundation of NATO. If the U.S. president calls the American nuclear shield for Europe into question, then Europe is no longer secure. "Despite our public proclamations, no reasonable person believes that Trump would sacrifice Seattle for Riga," said a senior German diplomat in Munich.
NATO has protected Germany for 70 years, the anniversary is to be celebrated this December in Washington, D.C. But the event could ultimately be reminiscent of the 40th anniversary of East Germany, which was observed in October 1989, just weeks before the fall of the Berlin Wall. The structures still exist, but they have become fragile and basically everyone has come to realize that they are no longer stable.
The problem, though, is that Germany is dependent on NATO. Indeed, all of Europe is militarily dependent on the U.S., both on America's conventional armed forces and on its nuclear capabilities. And for the foreseeable future, there is no alternative to the alliance that might be able to guarantee Europe's security. That is the uncomfortable truth Europe currently finds itself facing.
"Very, Very, Very Serious"
"NATO still exists, but the alliance hardly exists anymore," says French political scientist François Heisbourg. He says the relationship is similar to that between the church and religion: The church is still standing, but faith has evaporated. "A church without religion loses its mission," he warns. The situation, he adds, is "very, very, very serious."
Security is a complex matter and relies on a mixture of hardware and soft power, threat and dialogue, propaganda and psychology. And complexity breeds competing viewpoints. "Everything is interaction," German Chancellor Angela Merkel said in her Munich speech, quoting from Alexander von Humboldt.
Germany needs NATO but can no longer depend on it as much as it could in the past. That means that Germany must reexamine its national security; not doing so would be the height of negligence. But what exactly does that mean? How is it possible to think beyond NATO without accelerating its collapse? How can Europeans develop their own, stronger security structures without weakening NATO?
"The structures in which we operate," said Merkel, "are essentially those that emerged from the horrors of the Second World War and National Socialism." These structures, though, she said, are now coming under intense pressure. Reform, she insisted, is necessary, but "I don't think that we can simply take an axe to these structures."
On 26 February 1919, President Woodrow Wilson established Grand Canyon national park. Today it attracts more than 6 million visitors a year, drawn to its extraordinary beauty. It has also been a home to Native American tribes such as the Havasupai, Hopi, Hualapai and Navajo since long before it became a national park. Rare archival images, including those from the Grand Canyon Centennial Project, provide a rich visual record of this remarkable place
A party rides down the Angle trail on 16 March 1911. Teddy Roosevelt, the 26th US president, can be seen at the front
Photograph: Kolb Bros/Courtesy of Grand Canyon National Park Museum Collection
A young Havasupai mother carries her child in a cradle made of basket, in Supai or Havasu Canyon, on 12 August 1941. The remote Native American reservation is located in one of the tributary gorges of the Grand Canyon
Photograph: AP

Cardinal to argue his conviction should be overturned or he should receive retrial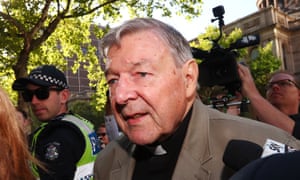 Cardinal George Pell is appealing his conviction for child sexual abuse. Photograph: Michael Dodge/Getty Images
George Pell is arguing his child sexual abuse convictions should be overturned or he should receive a retrial, because of a "fundamental irregularity" that prevented him from entering a not-guilty plea in front of his jury.
The Victorian court of appeal has released Pell's grounds for appeal against his December conviction for sexually abusing two 13-year-old choirboys at St Patrick's Cathedral in Melbourne in December 1996 and early 1997, when he was the archbishop.
"There was a fundamental irregularity in the trial process, because the accused was not arraigned in the presence of the jury panel as required," the appeal, filed by Pell's barrister, Robert Richter QC, reads.
It is one of three grounds for his appeal that were filed on 21 February.
Pell also takes aim at the reliance of the jury on only one victim's evidence.
"The verdicts are unreasonable and cannot be supported, having regard to the evidence, because on the whole of the evidence, including unchallenged exculpatory evidence from more than 20 crown witnesses, it was not open to the jury to be satisfied beyond reasonable doubt on the word of the complainant alone," his first appeal ground says.
If the court of appeal accepts that, it could dismiss the case.
He also argues the county court chief judge, Peter Kidd, erred in preventing the defence from using a "moving visual representation" of its argument in Richter's closing address, which purported to show the events were impossible.
Prosecutors objected to the visual, and the judge ruled it out on the grounds that jurors might view the video as evidence and fact, and new evidence is not allowed to be introduced during a closing address.
As he adjusts to jail life, the interview exposing the allegations of his offending against the two boys has been released.
'A deranged falsehood': video of 2016 police interview shows Pell's response – video
The footage, played to jurors who convicted Pell of five charges in December, marked the first time he heard the detailed complaints, which he passed off as a "product of fantasy".
Cross-armed and shaking his head, he told Det Sgt Christopher Reed to "stop it" as he read a victim's recollection of Pell exposing his penis from beneath his ceremonial robes.
"What a load of absolute and disgraceful rubbish. Completely false. Madness," he declared.
When the physical acts he committed on the boys were described to him – as told to police in 2015 by the surviving victim a year after the death of the second victim – he again denied it.
"What a load of garbage and falsehood, and deranged falsehood," Pell said.
Legal complaint warns of 'alarming increase' in child detention

Honduran mothers say children are unwell and have lost weight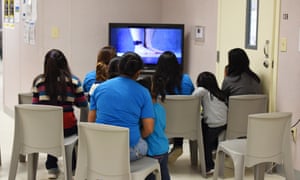 The South Texas Family Residential Center in Dilley, Texas. Immigrant rights groups have urged DHS to immediately release the infants and their mothers. Photograph: Charles Reed/AP
At least nine infants under the age of one are being held in a Texas immigrant detention facility, according to a complaint filed Thursday with the US Department of Homeland Security that warned of an "alarming increase" in how many infants are detained.
Immigrant rights groups have urged DHS to immediately release the infants and their mothers, who said their children were sick, had lost weight and were crying more than usual.
One of the infants turned six months old in DHS custody at the South Texas Family Residential center in Dilley, where the infants and their families are receiving legal support from the Dilley Pro Bono Project.
The group's advocacy coordinator, Katy Murdza, said they started noticing infants under the age of one were being held last week. "We've almost never seen this before," Murdza told the Guardian.
It is unusual for US Immigration and Customs Enforcement (Ice), the DHS agency that oversees immigration detention, to detain infants.
Murdza said last year there was an incident where five infants were detained. In the past two weeks, there were 11 infants in detention at one time, though two of the children have since been released.
"Most of these babies have been sick and not getting better," Murdza said. "A lot of moms are saying that they are crying much more than they normally do. They are crying all night and keeping people up in shared dorm rooms. There a lot of kids who are really congested, sometimes having trouble breathing, coughing a lot."
Murdza said the mothers, who are Honduran, said they do not always get bottled water with baby formula and they are concerned the detention center's tap water is not clean enough. The mothers also complained that there have been sudden changes in the formula they are given – even though doctors advise formula to be changed gradually because of infants' sensitive digestive systems.
At least one of the infants has been detained for more than 20 days, according to the complaint. Under the Flores agreement, it is illegal to hold a child in immigration detention for more than 20 days, though the Trump administration has attempted to modify that rule.
The American Immigration Lawyers Association, American Immigration Council and Catholic Legal Immigration Network, filed the complaint and are partners with the Dilley Pro Bono Project.
In the complaint, the coalition said it had "grave concerns" about the medical care available at the facility for this vulnerable population, in part because of previously documented delays in detainees receiving medical attention and a lack of appropriate follow-up treatment.
Ice said in a statement that the agency provides "comprehensive medical care" to all detained individuals, including registered nurses, licensed mental health providers, a physician and dental care. It said: "Ice is committed to ensuring the welfare of all those in the agency's custody, including providing access to necessary and appropriate medical care."
The complaint included a statement from the advocacy group Physicians for Human Rights (PHR) condemning the detention of children in detention centers.
It read: "PHR is alarmed about the inherent health risks for infants in detention, as infants have specific health needs which detention centers are ill-equipped to meet."
In addition to requesting immediate release of the infants, advocates urged DHS to review any documents showing medical problems the infants have experienced in detention, the medical services that are available and its decisions to detain these infants.
Related:
.

World Politics
United States
Senior officials were concerned about decision, prompting memos from John Kelly and White House counsel, New York Times says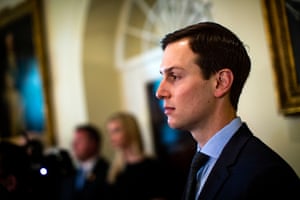 Senior administration figures were reportedly concerned about Kushner's security clearance. Photograph: Al Drago/Pool/Getty Images
Donald Trump ordered his chief of staff in May to grant his son-in-law and adviser Jared Kushner a top-secret security clearance, the New York Times reported on Thursday.
Senior administration officials were troubled by the decision, which prompted the then White House chief of staff, John Kelly, to write an internal memo about how he had been ordered to give Kushner the top-secret clearance, according to the report.
The White House counsel at the time, Donald McGahn, also wrote an internal memo outlining concerns raised about Kushner and how McGahn had recommended against the decision.
The Times said the memos contradicted a statement made by Trump in an interview with the newspaper in January that he had no role in Kushner's receiving his clearance. In an interview with ABC News this month, Ivanka Trump, Kushner's wife, said: "The president had no involvement pertaining to my clearance or my husband's clearance, zero."
The subject of Kushner's security clearance has long plagued the White House and been a source of scrutiny for members of Congress.
While the exact obstacles Kushner encountered in his clearance process are not publicly known, officials privately raised concerns over ties between Kushner and his family's real estate company and foreign investors and entities.
Kushner was forced to amend his federal disclosure forms on multiple occasions after he was found to have omitted more than 100 names on a list of foreign contacts.
Among them was a meeting with Sergey Kislyak, then the Russian ambassador to the US, during the 2016 campaign, and the infamous Trump Tower meeting that same year with a Russian lawyer. The latter was arranged by Donald Trump Jr, the president's eldest son, after he was told of an effort by the Russian government to help elect Trump and offered incriminating information about Hillary Clinton.
Kushner also met during the presidential transition at the end of 2016 Sergey Gorkov, the head of a Russian state-owned bank that was subject to US sanctions.
Intelligence officials had further warned the Kushner might be a target for manipulation by at least four foreign governments based on his business dealings, lack of foreign policy experience and financial debt.
Asked about the Times report on Thursday, the White House spokeswoman Sarah Sanders said: "We don't comment on security clearances."
Peter Mirijanian, a spokesman for Kushner's attorney Abbe Lowell, said in an email that White House and security clearance officials last year asserted that Kushner's clearance was "handled in the regular process with no pressure from anyone".
"New stories, if accurate, do not change what was affirmed at the time," Mirijanian said.
Reuters contributed to this report