03 Mar
News and Analyses, A Foreign Perspective
Nearly all of these are English-edition daily newspapers. These sites have interesting editorials and essays, and many have links to other good news sources. We try to limit this list to those sites which are regularly updated, reliable, with a high percentage of "up" time.
Recommended:
World Politics
United States
The Vermont senator has never forgotten growing up poor and Jewish in Brooklyn in his 40-year career in politics
Bernie Sanders: 'I did not have a mom and dad who gave me millions of dollars to build luxury skyscrapers and casinos and country clubs.' Photograph: Jonathan Alcorn/AFP/Getty
Four years ago, Bernie Sanders formally announced his candidacy for the White House on the shores of Lake Champlain in Vermont, with a 35-minute, lectern-pounding preview of nearly every stump speech he would deliver.
That consistency became a part of his appeal, as progressives discovered that much like his Brooklyn accent, the senator's policy-dense screeds against inequality had not changed after nearly 40 years in politics.
On Saturday, the 77-year-old democratic socialist returned to his native Brooklyn to formally announce a second run, aiming to unseat the Queens-born billionaire who captured the presidency in 2016. A short distance from the rent-controlled apartment in which he was raised, Sanders struck a more personal tone. It was one of several signs this campaign will be different – not least because he's running to win.
In his address, Sanders drew a sharp contrast his lower-middle class upbringing and silver-spooned childhood of Donald Trump.
"Unlike Donald Trump," Sanders said, after taking the stage to Brooklyn Go Hard by Jay-Z . "I know what it's like to be in a family that lives paycheck to paycheck."
"I did not have a mom and dad who gave me millions of dollars to build luxury skyscrapers and casinos and country clubs. But I had something more valuable: I had the role model of a father who had unbelievable courage in journeying across an ocean, with no money in his pocket and not knowing a word of English.
"I know where I came from," Sanders roared, diverging from his prepared remarks and drawing wild applause. "And that is something I will never forget."
Sanders spoke at Brooklyn College, where he attended for a year before transferring to the University of Chicago, where he joined civil rights protests. He was scheduled to fly to Illinois to speak again at the Navy Pier in Chicago on Sunday night. In between, he was to address a unity breakfast in Selma, Alabama, to commemorate the 1965 Bloody Sunday march.
"We're going to win this election because we will put together the strongest grassroots coalition in the history of American politics," Sanders said. "Donald Trump wants to divide us up by the color of our skin, where we born, our gender, our religion and our sexual orientation. We are going to do exactly the opposite.
"We are going to bring our people together – black, white, Latino, Native American, Asian American, gay and straight, young and old, men and women. We are going to bring our people together for an unprecedented grassroots effort, which, I am happy to tell you, already has one million people signed up to work."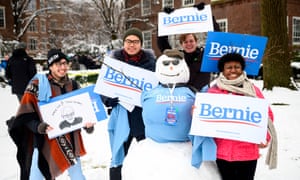 Supporters of Bernie Sanders pose with a snowman before the rally to kick off Sanders' 2020 US presidential campaign in Brooklyn. Photograph: Johannes Eisele/AFP/Getty Images
Despite the wintry weather, thousands of supporters wearing vintage Bernie 2016 T-shirts – and some in newly purchased "still feeling the Bern" fashion – crammed into the college' campus's snow-blanketed quad to hear the senator rattle through a familiar list of policy prescription. Even a snowman built ahead of the rally was outfitted accordingly.
Several attendees said they were pleased to see so many high-profile Democrats and 2020 contenders embrace Sanders' platform. But for them, he remained the true progressive.
"I always say – if you want to know where someone really stands, look at their record over the last 10 years not just when they run for president," said George Shannon, a retired police officer from the Bronx. "Bernie is the only one who has been doing this for 40 years."
Eludina Reyes, a teacher from Manhattan, said Sanders had a better chance this time because he energizes young people. Many of her students who will be able to vote in 2020 like his ideas, she said.
After 2016, Sanders' name recognition is indeed sky-high. But his personal story remains relatively unknown. He is now attempting to reintroduce himself to the country, in an effort to show that he has evolved as a candidate.
Introducing the senator on Saturday, the activist and blogger Shaun King recounted Sanders' activism in the 1960s, his endorsement of Jesse Jackson for president in 1988, his opposition to apartheid in South Africa and his support for Erica Garner, the late daughter of Eric Garner, who died after a New York police officer put him in a chokehold.
King stressed repeatedly that Sanders was uncomfortable speaking about his past, wary that it might come across as political opportunism. But he said voters should know what he called "the origin story of a political revolutionary".
"It's his journey to this moment that makes me trust this man with our future," King said.
Sanders was born in Brooklyn in 1941 and raised in a three-and-a-half room apartment in a Jewish neighborhood of Flatbush. An image seared in his memory, he has said, is the sight of Holocaust survivors, identifiable by the serial numbers tattooed on their arms, shopping along Kings Highway. In his remarks on Saturday, he said voters "deserve to know where I come from".
"My father was a paint salesman who worked hard his entire life, but never made much money. My mother raised my brother and me …
"Coming from a lower-middle-class family I will never forget how money – or really lack of money – was always a point of stress in our home. My mother's dream was that someday we would move out of that rent-controlled apartment to a home of our own. That dream was never fulfilled. She died young while we were still living in that apartment.
"My father came to this country from Poland at the age of 17, without a nickel in his pocket," Sanders said. "He came to escape the crushing poverty that existed in his community, and to escape widespread antisemitism. Needless to say I would not be with you today if he had not made that trip from Poland because virtually his entire family there was wiped out by the Nazis."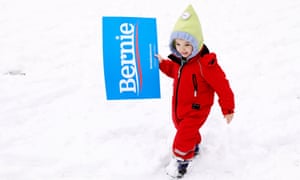 Katherine Bonavita, four, carries a sign ahead of Bernie Sanders' rally. Photograph: Andrew Kelly/Reuters
Sanders attended James Madison high school, whose alumni include supreme court justice Ruth Bader Ginsburg, Senate minority leader Chuck Schumer and five Nobel Prize winners. He was captain of the track team and ran cross-country, though to his ever-lasting dismay he did not make the school's championship basketball team. It was also there that he made his first foray into politics, running for student body president and losing, a distant third.
Beyond the rhetorical shift, Sanders' Washington-based campaign is more professional, more deliberate and more diverse. Acknowledging that his 2016 campaign was "too white" and "too male", Sanders has filled five senior positions with women and people of color. The team will be led by Faiz Shakir, the first Muslim campaign manager of a major US presidential candidate.
The campaign has also sought to address a wave of allegations about sexual harassment and pay inequity in 2016, saying it will institute mandatory training and a fixed pay scale.
"Make no mistake about it," Sanders said at the end of his roughly 35-minute speech. "This struggle is not just about defeating Donald Trump. This struggle is about taking on the incredibly powerful institutions that control the economic and political life of this country."
As he spoke, Trump was delivering a two-hour speech at the Conservative Political Action Conference, near Washington. The president attacked Democrats for embracing what he described far-left proposals, such as universal healthcare and the Green New Deal.
"America will never be a socialist country," Trump said, to fervent applause.
In Brooklyn, Sanders answered back.
"We have something that they do not have," he said. "We have the people."

The Vermont senator will conclude a two-part launch in the Windy City, harking back to his student days in the civil rights era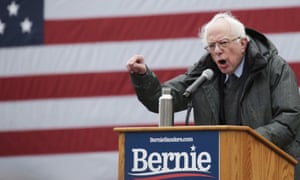 Bernie Sanders speaks at Brooklyn College in New York City on Saturday. Photograph: UPI/Barcroft Images
With the Chicago skyline behind him, Bernie Sanders will on Sunday conclude his two-part presidential campaign launch by emphasizing the role of race and racial discrimination in American society.
His audience is expected to hear about the senator's civil rights activism at the University of Chicago in the 1960s and his arrest during a South Side protest against public-school segregation. The anecdotes, those advising Sanders hope, will allow him to connect with voters and help distinguish him in a diverse Democratic field.
"This is the origin story of a political revolutionary," Shaun King, a writer and activist, said as he introduced Sanders at a kick-off event in Brooklyn on Saturday.
Sanders is attempting to build a new kind of campaign, one that seeks to address the weaknesses of his 2016 run by expanding his appeal to nonwhite voters.
One of the proudest days of my life was attending the March on Washington for Jobs and Freedom led by Martin Luther King

Bernie Sanders
In Brooklyn, Sanders said: "One of the proudest days of my life was attending the March on Washington for Jobs and Freedom led by Dr Martin Luther King Jr."
Last time out, the Vermont independent struggled to win over African Americans and other minority voters. He has worked to build more connections with the black community. He joined a unionization effort led by nonwhite workers in Mississippi and backed activists pushing for criminal justice reform in Los Angeles. On Sunday, before speaking in Chicago, he will join his former opponent Hillary Clinton at the annual Martin and Coretta King unity breakfast in Selma, Alabama.

Bernie Sanders's 2016 candidacy rewrote the rules by which the Democratic party operates. If Democrats win in 2020, it will be largely thanks to him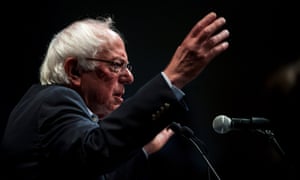 'Whatever this election season holds for him, he's already the most important candidate in the race.' Photograph: Amy Kontras/Amy Kontras for The Guardian
Bernie Sanders declared on Tuesday that he will once again run for president. Whatever this election season holds for him, he's already the most important candidate in the race.
Emerging seemingly out of nowhere, Sanders's first Democratic primary run in 2016 brought tens of thousands of people – millennials especially – into the work of politics, not just to cast a ballot but to knock on doors and phone bank, host community meetings and wrangle straws in Iowa. Among them was the now representative Alexandria Ocasio-Cortez, who has credited her organizing on the Sanders campaign for helping to reignite her interest in politics.
Sanders didn't win, of course. But the results of his campaign defied all conventional horse-race logic. The man widely expected to be little more than an off-brand Dennis Kucinich won 23 states and 47% of pledged party delegates. In all, over 13 million people voted for an avowed democratic socialist.
In the wreckage of Hillary Clinton's historic loss, it became abundantly clear that the Democratic party's center could not hold. Sanders – now joined by Ocasio-Cortez and a new generation of left-leaning politicians –have given a party that lacked ideas and momentum a new lease on life. Indeed, it's painful to imagine what the Democrats would be doing without them. (Fighting for tax credits to put solar panels on Trump's border wall, perhaps? Or lowering prescription drug prices for prisoners fighting wildfires in California? We can only speculate.)
Instead, the types of ideas laughed off in the 2016 primary as "magical unicorns" are now firmly in the party's mainstream, even as they make its top brass sweat. Sensing a change in the political weather, skilled politicians who built their careers as sensible, business-friendly moderates, like Kirsten Gillibrand and Cory Booker, are rebranding themselves as bold progressives to vie for the party's presidential nomination. Each has backed once fringe-left proposals such as Medicare-for-All, a federal job guarantee and a Green New Deal – all of which are hugely popular among voters. Young voters especially – on the cusp of becoming the country's largest voter demographic – want a candidate who will do more than pay lip service to progressive ideals. As a result, several 2020 candidates now sound more like Sanders than their former selves.
And though they may still run, shifting waters have made old guard figures like Joe Biden and billionaires Michael Bloomberg and Howard Schultz look increasingly – and accurately – like out-of-touch dinosaurs.
Sanders's 2016 candidacy wrote the rules by which the Democratic party is now operating, and that will ultimately help it beat Trump in the general election. Ironically, his remarkable success could make this primary run harder for him than the last. Unlike his battle against Hillary Clinton, this election will see Sanders – no longer an unknown outsider – try to differentiate himself from a field of candidates with platforms not all that different from his own, most notably Elizabeth Warren.
That said, while Sanders's ideas won't set him apart from this field as dramatically as they did in 2016, his authenticity still might. Harris, Gillibrand and Booker are all recent converts to big progressive policies. Sanders has been saying the same thing for 40 years – almost comically so. That he is constitutionally incapable of lying has been a major part of his appeal, and a stark contrast from polished party functionaries willing to change their tune to suit a new poll or donor. The onus will be on candidates newly gravitating toward left ideas to prove their endorsements of progressive policies are more than just empty talking points.
What remains unique about Sanders, too, is his long-held belief that political change is driven from below. As other candidates pitch their own progressive bona fides, Sanders will pitch a political revolution. Investing too much faith in any one person is a dangerous thing, particularly in an office as fraught as the American presidency – for him, just a means to an end. Sanders is all too aware that he'll need an army at his back to get anything done should he win. Accordingly, he'll treat his campaign as an opportunity to train them into fighting shape.
The Democratic party is stronger for Sanders having thrown his wrench into its coronation plans two years ago. And we're all better off. It's painfully easy to imagine two years of an electoral news cycle orbiting around personality beefs and debates about "electability" instead of, say, the looming collapse of human civilization. With as few as 11 years left before the climate crisis veers into a full-on global catastrophe, the presidential race needs to be a place to debate issues, not individuals. With Sanders on the scene, we can rest assured that it will be.
Bernie Sanders showed us that another world is possible. If that world becomes a reality, we'll have him to thank – whether he becomes president or not.
Kate Aronoff is a freelance writer based in New York

A layer cake of waterfowl, a cheeky monkey and a much-loved baby giraffe
Exclusive: Students issue an open letter ahead of global day of action on 15 March, when young people are expected to strike across 50 nations
Teen climate activist Greta Thunberg speaks at four school strikes in a week – video
The students striking from schools around the world to demand action on climate change have issued an uncompromising open letter stating: "We are going to change the fate of humanity, whether you like it or not."
The letter, published by the Guardian, says: "United we will rise on 15 March and many times after until we see climate justice. We demand the world's decision makers take responsibility and solve this crisis. You have failed us in the past. [But] the youth of this world has started to move and we will not rest again."
The Youth Strikes for Climate movement is not centrally organised, so keeping track of the fast growing number of strikes is difficult, but many are registering on FridaysForFuture.org. So far, there are almost 500 events listed to take place on 15 March across 51 countries, making it the biggest strike day so far. Students plan to skip school across Western Europe, from the US to Brazil and Chile, and from Australia to Iran, India and Japan.
"For people under 18 in most countries, the only democratic right we have is to demonstrate. We don't have representation," said Jonas Kampus, a 17 year old student activist, from near Zurich, Switzerland. "To study for a future that will not exist, that does not make sense."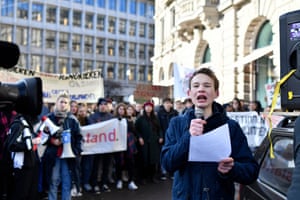 Young environmental activist Jonas Kampus, from Zurich Switzerland Photograph: Dominik Waser
The letter says: "We are the voiceless future of humanity … We will not accept a life in fear and devastation. We have the right to live our dreams and hopes." Kampus helped initiate the letter, which was created collectively via a global coordination group numbering about 150 students, including the first youth climate striker, Sweden's Greta Thunberg.
The strikes have attracted some criticism and Kampus said: "We wanted to define for ourselves why we are striking." Another member of the coordination group, Anna Taylor, 17, from north London, UK, said: "The importance of the letter is it shows this is now an international movement.
Taylor said: "The rapid growth of the movement is showing how important it is and how much young people care. It is vital for our future." Janine O'Keefe, from FridaysForFuture.org, said: "I'll be very happy with over 100,000 students striking on 15 March. But I think we might reach even beyond 500,000 students."
Thunberg, now 16 years old and who began the strikes with a solo protest beginning last August, is currently on holiday from school. She was one of about 3,000 student demonstrators in Antwerp, Belgium on Thursday, and joined protesters in Hamburg on Friday morning.
In recent days, she has sharply rejected criticism of the strikes from educational authorities, telling the Hong Kong Education Bureau: "We fight for our future. It doesn't help if we have to fight the adults too." She also told a critical Australian state education education minister his words "belong in a museum".
The strikes have been supported by Christiana Figueres, the UN's climate chief when the Paris deal to fight global warming was signed in 2015. She said: "It's time to heed the deeply moving voice of youth. The Paris Agreement was a step in the right direction, but it's timely implementation is key." Michael Liebreich, a clean energy expert, said: "Anyone who thinks [the strikes] will fizzle out any time soon has forgotten what it is to be young."
Thousands of UK students strike over climate change – video
The strikes would not end, Taylor said, until "environmental protection is put as politicians' top priority, over everything else. Young people are cooperating now, but governments are not cooperating anywhere near as much as they should". She said students were contacting her from new countries every day, including Estonia, Iceland and Uganda in recent days.
Kampus, who was invited to meet the Swiss environment minister, Simonetta Sommaruga, on Wednesday, said: "The strikes will stop when there is a clear outline from politicians on how to solve this crisis and a pathway to get there. I could be doing so many other things. But I don't have time as we have to solve this crisis. My dream is to have a life in peace."
More On The Environment: