05 Mar
News and Analyses, A Foreign Perspective
Nearly all of these are English-edition daily newspapers. These sites have interesting editorials and essays, and many have links to other good news sources. We try to limit this list to those sites which are regularly updated, reliable, with a high percentage of "up" time.
Recommended:
The US intervened on the side of Boris Yeltsin in the Russian presidential election of 1996, offering advice and influence to help him secure the finance he needed.
by

Hélène Richard
An earlier victory: Boris Yeltsin gives a triumphant speech after government forces suppressed an attempted coup in August 1991
Wojtek Laski · Getty
I

t is claimed that Russia now interferes in the political and social affairs of most western countries. President Emmanuel Macron believes the yellow vests movement is partly an attempt by a 'foreign power' to destabilise France, and everyone knows he means Russia. Russia, it is claimed, is behind the emergence of a major separatist movement in Catalonia, the UK vote to leave the EU in 2016 and Donald Trump's win in the 2016 US presidential election. In the US, the idea that a foreign power might be trying to influence political events in this way rouses emotional reactions in the media and in government, and has led to an inquiry into the possible connections between Trump, his election campaign and Russia.
But, despite the outrage there, the US has itself not always been respectful of the sovereignty of other states. Former US State Department official Thomas Melia admits that 'the CIA manipulated elections in 1940s Italy and 1950s Germany — and beyond electoral shenanigans, it also secretly helped overthrow elected leaders in Iran and Guatemala in the 1950s'. He adds that these things happened during the cold war, and that since the fall of the Berlin Wall, Russian and US efforts to undermine foreign elections have not been 'morally equivalent': the US is pursuing 'programmes to strengthen democratic processes in another country (without regard to specific electoral outcomes)'; Russia 'manipulate[s] another country's election in order to sow chaos, undermine public confidence in the political system, and diminish a country's social stability.' Steven Hall, former chief of Russian operations at the CIA, says comparing them 'is like saying cops and bad guys are the same because they both have guns'. The policies intended to overthrow Venezuela's president Nicolás Maduro illustrate this view: the official line is that the US is promoting democracy, while Russia is supporting an illiberal dictator .
Vincent van Gogh's life is the focus of an immersive experience at L'Atelier des Lumières, Paris' first digital art museum (until 31 December). In a disused foundry in the city's bohemian 11th arrondissement, hundreds of the Dutchman's paintings have been transformed using art and music technology. For 35 minutes, visitors roam around his work, from the dreamy Sunflowers (1888) to the tormented spires of Starry Night (1889).
World Politics
United States
Exclusive: Policy adviser claims couple tried to gain grant for Chelsea's boyfriend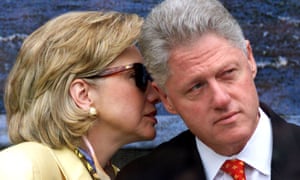 Hillary and Bill Clinton in Limerick during a presidential visit to Ireland in September 1998. Photograph: Dan Chung/The Guardian
A veteran Democratic foreign policy adviser has accused Bill and Hillary Clinton of nepotism, dishonesty and vindictiveness in an assault on a previously untouched part of the Clinton political legacy – Ireland.
Trina Vargo, who was a behind-the-scenes Washington player in Northern Ireland's peace process, claims the couple tried to obtain a scholarship to Ireland for a boyfriend of their daughter, Chelsea, and later cut funding for the scholarship to punish Vargo for backing Barack Obama in the 2008 Democratic presidential nomination race.
It lifts the lid on what Vargo sees as inept, deluded and, at times, farcical efforts by Irish politicians and officials to tap the Irish diaspora and potential allies in Washington and Hollywood.
Vargo, who founded the US-Ireland Alliance, a Washington-based non-profit organisation, shuttled between the US capital, Dublin and Belfast for two decades while advising Sen Ted Kennedy and the Clinton and Obama administrations on Northern Ireland.
Her portrait of the Clintons casts a shadow on a jewel of their foreign policy legacy, alleging pettiness and vengefulness after the historic peace-making of the 1998 Good Friday agreement.
Vargo set up a scholarship named after George Mitchell, a former US senator who helped broker the agreement, in 1999. It sends 12 US students to study in Ireland and Northern Ireland each year.
Vargo writes that in November 2000 Mitchell told her "with some uneasiness" that Bill Clinton, then nearing the end of his time in the White House, had phoned him to say he was "very unhappy" that Chelsea's boyfriend had not been shortlisted from about 200 candidates despite a recommendation letter from the president.
Mitchell made clear he was not asking for the boyfriend's inclusion, just seeking clarification. "It would be hard to believe that the timing of the president's call wasn't aimed at influencing us to make him a finalist," writes Vargo.
The boyfriend remained off the shortlist, which Vargo believes put her on a path to joining the Clintons' "enemies list".
In 2007, Vargo advised Obama's campaign on Ireland policy during his battle against Hillary Clinton for the Democratic nomination. Clinton challenged her rival's lack of experience and promoted her role in the peace process as first lady.
Clinton and her supporters grossly exaggerated her influence, says Vargo. "The tall tales just kept growing … disregard for the truth was not invented, merely taken to new heights, by Donald Trump in the 2016 campaign."
Vargo helped Obama's campaign to challenge the former first lady's version, leading, she believes, to "payback" months later when Bill Clinton cancelled his attendance at a US-Ireland Alliance event in Belfast to celebrate the Good Friday agreement's 10th anniversary.
There is no proof to back up the claim. An aide told Vargo a scheduling change was behind the decision and declined to elaborate.
In 2012, the state department, then under Hillary Clinton, cut its annual $500,000 contribution to the Mitchell scholarship, citing budgetary measures. "The elimination of funding … was not about the money," Vargo writes.
The Guardian has contacted the Clintons for comment.
Since 2015, Vargo has filed freedom of information requests to clarify the reason for the funding cut, supplying a list of names to the state department, but has only received documents with other, lower-level names.
The book also levels accusations at Irish politicians and officials. Successive Irish governments brought a "begging bowl" mentality to Washington by seeking funding for peace process initiatives long past their sell-by date, she says.
They also made clumsy efforts to tap the diaspora, such as creating the "certificate of Irishness", a scheme scrapped for lack of interest in 2015, and annoyed Latinos and other groups in the US by unsuccessfully seeking special deals for Irish immigrants.
The McGlynn: Thank Heaven!!!!!!!!!!!!!!!