09 Mar
News and Analyses, A Foreign Perspective
Nearly all of these are English-edition daily newspapers. These sites have interesting editorials and essays, and many have links to other good news sources. We try to limit this list to those sites which are regularly updated, reliable, with a high percentage of "up" time.
Recommended:
Two recent developments are bringing America's trade strategy toward China into focus. The first, which affects bilateral trade negotiations, is no surprise: US President Donald Trump has abandoned his bluster for vague promises — to enforce property rights, loosen restrictions on foreign investment, and stop pressuring foreign companies to share their technology — that China has made before.
The second development, which concerns America's allies, is more revealing — and treacherous.
In the last few months, the Trump administration has released its negotiating objectives for a possible trade agreement with the United Kingdom after Brexit, as well as future talks with the European Union.
Most of those objectives are not particularly surprising; they seek to maximize access to UK or EU markets, while protecting sensitive US sectors. But they do include one highly unusual provision.
In its document on the EU, the US states its intention to secure "a mechanism to ensure transparency and take appropriate action if the EU negotiates a free-trade agreement with a non-market country."
The "non-market country" is no doubt China. If the EU agrees to this demand, it would have to inform the US – which would have the right to intervene — even if it is merely negotiating a trade deal with the world's second-largest economy.
This objective has to be taken seriously, because the US had a similar clause added to the revamped North American Free Trade Agreement, now called the US-Mexico-Canada Agreement.
In fact, the USMCA clause is even stricter, because it gives the US the right to intervene even earlier, when Canada so much as intends to start trade negotiations with China.
Asking a trading partner to ensure "transparency" when they negotiate with other countries may sound innocuous, but it represents an unprecedented level of interference in partner countries' trade policymaking.
Trade negotiations are already arduous, protracted affairs, not least because they involve easing protection of politically sensitive sectors.
Adding an unrelated third party to the proceedings — especially one whose intent might be to torpedo the negotiations — would make success even less likely.
The EU currently has no intention of entering into a free-trade agreement with China. But, as a matter of principle, it is highly unlikely to accept such a clause. And, given that the EU is actually a bigger global trading power than the US, it is in a position to say no.
A post-Brexit UK, however, will probably have little choice but to follow Canada's lead and hand the US an effective veto on its trade policy towards China. In the UK, Brexiteers used the slogan "Take Back Control" in campaigning to leave the EU.
However, with these US demands, the UK will lose its autonomy over trade policy. The dream of a "Singapore-on-Thames" is unlikely to materialise.
There can be no economic justification for the US to object to one of its allies concluding a free-trade agreement with another country, even one without a pure market economy.
Economic analysis has shown that regional trade agreements can have ambiguous effects on third countries. This is why such deals are subject to Article XXIV of the World Trade Organization (WTO), which says that regional free-trade agreements should cover "substantially all the trade" between the relevant partners.
This bar might be difficult for the EU and China to clear, given that both still have rather protected agricultural sectors. The US could thus air any legitimate complaint about an EU or UK deal with China through existing WTO channels.
This is yet another example of how the US could use the multilateral trading system to its advantage, instead of undermining it.
But the US attempt to control its allies' trade policy toward China is not driven by economic considerations. Rather, it represents a geostrategic effort to isolate China, thereby giving the US more leverage with its main global rival.
This is not the first time that economic weapons are being deployed in a great power rivalry. At the beginning of the 19th century, the French army had vanquished most other powers on the European continent.
But Napoleon could not force his will upon the pesky British, whose navy dominated the seas and who had the financial resources to support his enemies. So, in 1806-07, at the peak of his military success, Napoleon erected the so-called Continental Blockade, forbidding any territory he ruled from trading with Britain.
The blockade proved extremely difficult to enforce, even in France, where smuggling proliferated. Worse, by forcing all of his allies to bend their trade policy to his will, Napoleon inadvertently fueled hostility to his rule, especially in Northern Europe, where trade with Britain had played a vital role in the local economy.
Yet Napoleon was so obsessed with enforcing the blockade that he forced even Russia — the only other power he had not defeated — to agree to it as a condition of peace.
This proved extremely costly for Russia, which eventually disregarded the blockade and reopened its ports to the British. Napoleon took this as a casus belli and invaded Russia. The rest, as the saying goes, is history.
Napoleon's imperial overreach was his undoing. If Trump sticks to his current course on trade policy, the US may well face a similar fate.

Bison in snow, a wolf puppy and the world's only alpine parrot in this week's gallery
The McGlynn: It is about time that this country realize how much Israel drives our foreign policy. And to those democrats that criticize
The congresswoman faced bad-faith claims of antisemitism at a time when Trump is making America more dangerous for Jews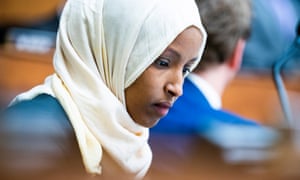 'It is fair to say that Omar could have been more careful about her language. It is not fair, however, to intentionally twist her remarks.' Photograph: Jim Lo Scalzo/EPA
Ilhan Omar has been treated disgracefully
This month, Nancy Pelosi tweeted a photo of Rolling Stone magazine, on which she is pictured posing next to three of the new young congresswomen. "A picture is worth 1,000 words but [Alexandria Ocasio-Cortez, Ilhan Omar, Jahana Hayes] and Nancy on the cover of @RollingStone is worth millions of dreams to women and girls across America," Pelosi said. "To them we say: know your power. Know your worth. Have a plan. And be ready."
While those are very inspirational words, Pelosi could have done with taking them a little more to heart herself. Instead she, and other Democratic leaders, have spent the last week disgracefully pandering to morally bankrupt hypocrites on the right, intent on smearing Omar as antisemitic. While Pelosi was keen to stand next to Omar in a photo touting the diversity of the Democratic party, she has proven rather less keen to stand up for her colleague in the face of bad-faith attacks.
Let's recap this fiasco, shall we? A recent comment from Omar about the pro-Israel lobby immediately sparked accusations that she was being antisemitic. This is the second time Omar has faced such accusations; in February, she was widely denounced for tweeting "it's all about the Benjamins baby" regarding American support of Israel.
It is fair to say that Omar could have been more careful about her language. It is not fair, however, to intentionally twist her remarks, or to automatically label criticism of Israel as antisemitic. And yet that is immediately what happened. In many corners, the response to her remarks seems to be driven not so much by a genuine concern about antisemitism but by a virulent hatred for Omar herself. As Joshua Leifer pointed out in the Guardian, Omar did not say anything about the pro-Israel lobby that other critics have not said before. "If she were not a black, hijab-wearing Muslim woman, the reaction to her words surely would have been different."
It was always to be expected that Republicans would twist Omar's words. However, Democrats like Pelosi should have been firmer in the face of what was clearly a bad-faith attack.
This is particularly important when antisemitism is on the rise. As Leifer writes: "It should not be difficult to recognize the meaningful distinction between Ilhan Omar's recent comments and the kind of antisemitism and xenophobia surging on the right that led a rightwing extremist to murder 11 Jews in a synagogue. The current moment demands the ability and the moral clarity to distinguish between real threats and manufactured ones." It's a shame that we have spent the last week discussing Omar as if she is a threat, when Donald Trump and his allies continue to make America a more dangerous place for Jews and other minorities.
World Politics
United States
Democrats say Trump's attempts to conceal his conversations with the Russian leader raise questions about his motivations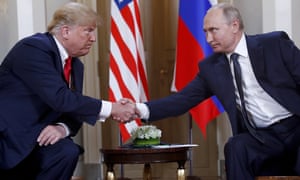 It has been reported that, despite having translators present, Donald Trump has taken unusual steps to keep notes on his meetings with Vladimir Putin private. Photograph: Pablo Martínez Monsiváis/AP
Since Donald Trump was sworn in as president he has met his Russian counterpart, Vladimir Putin, five times. The details of their conversations remain unknown to the public, and in most cases even to senior administration officials.
Democrats in Congress are now demanding more details of communications between the two leaders. Secrecy around such meetings, they say, raises fresh questions about the nature of Trump's relationship with Putin at a time when his ties to Russia are the subject of several investigations.
The meetings with Putin are not the only subject of such Democratic demands. House leaders left little room for doubt this week that they will utilize their newly minted majority to cast a wide net around the president, his family and their businesses.
The judiciary committee issued document requests to 81 individuals and entities, seeking information on everything from contacts between Trump aides and Moscow to hush money payments to women and possible obstruction of justice.
It all came a week after Trump's former personal attorney, Michael Cohen, testified before Congress and implicated the president in alleged criminal activity spanning decades.
What kind of things are being discussed that the president does not want to share?

Steven Pifer
Nonetheless, according to some national security experts, when it comes to uncovering the motivations behind the president's desire for closer relations with the Kremlin and the complex web of contacts between his associates and Moscow, few interactions might be more consequential than those between Trump and Putin.
"What kind of things are being discussed that the president does not want to share?" said Steven Pifer, a former US ambassador to Ukraine who served on Bill Clinton's National Security Council as senior director for Russia, Ukraine and Eurasia.
"Is he discussing Trump Tower? What's the basis for the discussion? We just don't know.
"I don't know why the president doesn't have a notetaker … That would be the best way to send off any suspicions that something untoward has been done."
In fact, translators have been present at meetings between Trump and Putin, such as in Hamburg in 2017 and in Helsinki last year. But it has been reported that the president has taken unusual steps to keep their notes private.
Trump's posture towards Russia has been a focus of his time in the White House, confounding national security officials and exposing rifts between the president and prominent members of his administration.
In his first year in office, after Congress forced his hand by building a veto-proof majority, Trump begrudgingly signed sanctions that were passed in part to punish Moscow for its interference in the 2016 presidential election. But he resisted attempts to impose additional sanctions, including over Kremlin support for chemical weapons attacks carried out by the Assad regime in Syria.
The president has publicly disagreed with warnings from his own intelligence chiefs that the Russians are still seeking to influence in US elections. National Security Agency chief Adm Mike Rogers testified before Congress last year that the administration was not doing enough to disrupt Russian cyberattacks at source, in part because the president had not authorized such an effort.
Trump has continued to express admiration for Putin, famously accepting his denials of Russian involvement in the 2016 election at their summit in Finland. That put the president squarely at odds with the US intelligence community and invited an avalanche of criticism.