13 Mar
News and Analyses, A Foreign Perspective
Nearly all of these are English-edition daily newspapers. These sites have interesting editorials and essays, and many have links to other good news sources. We try to limit this list to those sites which are regularly updated, reliable, with a high percentage of "up" time.
Recommended:
Chief judge calls Pell's crimes 'breathtakingly arrogant' as he sentences Pell to six years in jail, with non-parole period of three years and eight months
Cardinal George Pell sentenced to six years in prison – video
Cardinal George Pell has been sentenced to six years in jail after being convicted of sexually abusing two 13-year-old choirboys in 1996.
The former Vatican treasurer, 77, was handed a non-parole period of three years and eight months by the judge, who described his offending as "brazen and forceful" and "breathtakingly arrogant" because he believed the victims would never complain.
The sentence means he may spend at least three years and eight months in jail.
He is the most senior member of the Catholic Church to be convicted and jailed for child sexual abuse.
Pell was convicted last month on five charges of child sexual assault, following a committal hearing, a mistrial and a trial. He has lodged an appeal, which will be heard in June.
Chief judge Peter Kidd said the sentence carried a real possibility that Pell would not live to be released. "Facing jail at your age in these circumstances must be an awful state of affairs for you," he said.
Kidd's sentencing before Melbourne's county court on Wednesday morning was broadcast live around the world. Once the financial controller of the Vatican and confidant to the pope, Pell sat in the dock dressed in a black shirt and beige jacket, using a walking cane, and stared straight at Kidd, expressionless. Two police officers sat either side of him, and one directly behind.
In his sentencing remarks Kidd said Pell's offending had "a significant and long lasting impact" on the complainant's wellbeing. "I take into account the profound impact your offending has had [on the complainant's] life." Kidd referred to the complainant only as "J" throughout his sentencing remarks, and to the other victim, who died in 2014, as "R".
"During the incident, J and R were crying and sobbing," Kidd said.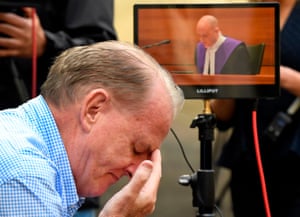 A man listens outside court to the judge sentencing George Pell. Photograph: William West/AFP/Getty Images
"In my view, the first episode in the priest's sacristy involved a brazen and forceful sexual attack on the two victims. The acts were sexually graphic. Both victims were visibly and audibly distressed during this offending."
Each of the five charges – one of sexual penetration of a minor under the age of 16 and four of an indecent act with a child under the age of 16 – carried a maximum penalty of 10 years' imprisonment. Pell will be a registered sex offender for life, and will be required to allow police to collect forensic samples from him. He stood as the sentence was read.
The judge rejected sentencing arguments put forward by Pell's defence team that, if the offending had occurred, Pell must have experienced a moment of irrationality.
"Your decision to offend was a reasoned, albeit perverted, one," Kidd said. "Certainly you were confident your victims would not complain … the offending which the jury has found you have engaged in was, on any view, breathtakingly arrogant.
"As archbishop, you did have a relationship of approval in relation to the choirboys. In part, the choirboys were performing to please you as archbishop. The choirboys were the least powerful and the most subordinate individuals at the cathedral. The power imbalance between the victims and all the senior church leaders or officials, yourself included, was stark."
Kidd reinforced the point several times during the sentencing, saying: "I conclude that your decision to offend was a reasoned, albeit perverted, one, and I reach that conclusion to the criminal standard."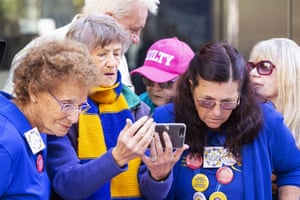 Crowds watch the live stream of the sentencing of George Pell from outside Melbourne county court. Photograph: Daniel Pockett/AAP
He said any breach of this trust should be seen by the law as "grave".
Kidd said he had sentenced Pell "without fear or favour".
"There has been extraordinary and widespread publicity and public comment which has surrounded you for a number of years," Kidd said. "Some of this publicity has involved strong, trenchant and sometimes emotional criticism of you. Indeed, it is fair to say that in some sections of the community you are a publicly vilified figure. We have witnessed, outside of this court and within our community, examples of a witch-hunt or a lynch mob mentality in relation to you, Cardinal Pell. I utterly condemn such behaviour."
Kidd made it clear to Pell he was sentencing him only on the basis of the offending considered by the jury and their subsequent conviction. He said his sentencing had nothing to do with the Catholic church and its failings, or community attitudes towards Pell.
At multiple points during the sentencing, Kidd referred to Pell's arrogance.
"In my opinion, all of the offending across both episodes is made significantly more serious because of the surrounding or contextual circumstances – namely the breach of trust and abuse of power," Kidd told him. "This elevates the gravity of each of the offences. In my view, your conduct was permeated by staggering arrogance."
However, Kidd acknowledged Pell's risk of reoffending was low, given his age and poor health.
Outside the court about a dozen protesters gathered in both support and defence of Pell. Pell was led to and from the dock through a back entrance of the court.
At the sentencing hearing on 27 February, Pell's defence barrister, Robert Richter, had argued Pell's sentence should be on the "lower end" because there were "no aggravating circumstances" to one of the offences. It was "no more than a plain vanilla sexual penetration case where the child is not actively participating", he said. Richter later apologised for that description.
Prosecutor Mark Gibson argued Pell should be given a significant sentence, describing the offences as "humiliating and degrading towards each boy".
Crown prosecutor Mark Gibson SC speaks to the media after chief judge Peter Kidd handed down his sentence for Cardinal George Pell. Photograph: Michael Dodge/Getty Images
At the trial, the complainant, now 35, said he and the another 13-year-old choirboy separated from the choir procession as it exited the church building. He and the other boy sneaked back into the church corridors and entered the priest's sacristy, a place they knew they should not be. There they found some sacramental wine and began to drink. The complainant alleged that Pell had walked in on them.
Pell then manoeuvred his robes to expose his penis. He stepped forward, grabbed the other boy by the back of his head and lowered the boy's head towards his penis, the complainant told the court. Pell then did the same thing to the complainant, orally raping him. Once he had finished, he ordered the complainant to remove his pants, before fondling the complainant's penis and masturbating himself.
"There is an added layer of degradation and humiliation that each of your victims must have felt in knowing that their abuse had been witnessed by the other," Kidd said.
A few weeks later Pell attacked the complainant again as he passed him in the church corridor, pushing him against the wall and squeezing his genitals hard through his choir robes, before walking off.
Researchers say dirty air is killing 800,000 people a year in Europe, and urge the phasing out of fossil fuel burning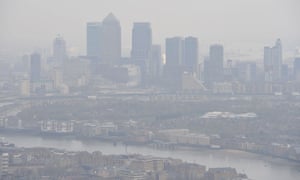 Air pollution over London. The scientists' figures suggest toxic air is causing more early deaths than tobacco smoking. Photograph: Nick Ansell/PA
The number of early deaths caused by air pollution is double previous estimates, according to research, meaning toxic air is killing more people than tobacco smoking.
The scientists used new data to estimate that nearly 800,000 people die prematurely each year in Europe because of dirty air, and that each life is cut short by an average of more than two years. The health damage caused by air pollution in Europe is higher than the global average. Its dense population and poor air results in exposure that is among the highest in the world.
The new research, published in the European Heart Journal, indicates that while air pollution hits the lungs first, its impact via the bloodstream on heart disease and strokes is responsible for twice as many deaths as respiratory diseases.
There was previously little data about the effect of high levels of air pollution and results from second-hand smoking studies were used instead, leading to an underestimate of deaths. There are now more than 40 large studies, including important research from China. Research also now covers a wider range of health impacts, including diabetes and high blood pressure, which also increases the estimated number of deaths.
The estimates of early deaths varied significantly between countries. In Germany, there were 154 early deaths per 100,000 people, with an average reduction of 2.4 years in life expectancy. In the UK, there were 98 deaths per 100,000 and a cut in lifespan of 1.5 years. Lelieveld said the UK's lower number may be because Atlantic winds help to disperse pollution.
Münzel said small particles, less than 2.5 microns in size (PM2.5), are not paid sufficient attention when tackling cardiovascular disease. "The prevention guidelines for CVD must adopt air pollution as an important risk factor," he said. The EU's PM2.5 limit is more than double the World Health Organization (WHO) guideline used by Canada and Australia.
"The EU is lagging a long way behind," Münzel said."We as doctors and patients cannot alter the limits for air pollution, so the politicians have to stand up and give us an environment that keeps us safe."
Prof Metin Avkiran of the British Heart Foundation said: "Air pollution is clearly a huge problem across Europe. We need to see WHO guidelines in UK law in order to drive decisive action to protect the nation's health."
Penny Woods, the chief executive of the British Lung Foundation, said: "Toxic air doesn't just cut lives short. It also seriously affects the health and quality of life of millions of people."
The scientists acknowledge there are large uncertainties in their early death estimates for Europe, which range from 645,000 to 934,000. Some deaths could have been misattributed to air pollution, but it is as likely that the true number of deaths could be even higher, they said.
The effects of air pollution on infant deaths was not included, because the evidence is not yet as strong. The new work also only considered PM2.5 and ozone, and not other particles, nitrogen dioxide or other pollutants.
More On The Environment:
World Politics
Great Britain
Theresa May is so consumed by her mismanaged Brexit she has no energy for anything else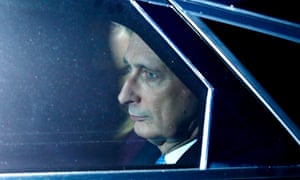 'Philip Hammond's is the role of a TV gameshow host, tantalising the contestant by showing them what they could have won.' Photograph: Peter MacDiarmid/REX/Shutterstock
I

t's been true for a while that the Conservative party has become fundamentally ungovernable, its warring factions so far apart it's all but impossible to have them marching in the same direction, at least when it comes to Europe. It's a condition that afflicted the Tories under Theresa May's predecessors, spelling doom for David Cameron, John Major and Margaret Thatcher. But today Britain has to face a condition that is new: not only are the Conservatives ungovernable but, under the Tories, the country itself is ungoverned. Functionally, the United Kingdom currently lacks a government.
Consider that today Tory MPs will have a free vote not on one of the traditional issues of conscience – relating, say, to religion or personal morality – but on a question that is among the most significant to have confronted the UK in peacetime: namely, whether to crash out of the European Union in 16 days with no deal. By refusing to compel its MPs to vote one way or the other, May is saying that, even on "an issue of grave importance", to use May's own words, her administration has no official view. As the political scientist Professor Philip Cowley puts it: "On one of the most fundamental questions about Britain's future, the government will be shrugging its shoulders and saying: 'whatever'."
That was the real meaning of May's address to MPs on Tuesday night, after her withdrawal agreement was rejected for the second time by a three-figure margin. In effect, she was telling the Commons that she and her government had failed to solve what Danny Dyer famously – and rightly – called the "mad riddle" of Brexit, and that she was dumping the entire mess into the lap of parliament. Now it will be up to backbench MPs, led by Labour's Yvette Cooper and the Tories' Nick Boles, to eke out some kind of solution. In the centuries-long contest fought in these islands over where power lies – with parliament or the executive – May's retreat marked a significant moment, a shift from the latter to the former.
It's worth stressing that today's vote is not just free for Tory backbenchers, but for ministers too, including the most senior ones. May has, in effect, admitted that if she instructed her colleagues to rule out no deal – or, indeed, to refuse to rule it out – many would disobey her instruction. The former deputy prime minister Michael Heseltine was right to tell Radio 4's Today programme this morning that: "They've not only lost control of the House, they've lost control of the cabinet."
For proof of this absence of government, look no further than today's spring statement by the chancellor. Normally this would be a major news event, dominating the political cycle for the entire week. Instead, it's been downgraded to little more than a B-movie before the main feature of the no-deal vote. Indeed, its chief purpose is Brexit-related, with Philip Hammond showing off all the shiny spending he would be able to commit to other things, if only he didn't have to hold it back to soften the blow of a potential no-deal exit. His is the role of a TV gameshow host, tantalising the contestant by showing them what they could have won.
United States
Ex-Donald Trump campaign chair faces up to 10 years in prison

Manafort already sentenced to roughly four years in Virginia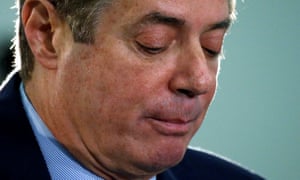 Paul Manafort pleaded guilty to two counts of conspiracy in Washington and last week was sentenced to 47 months for bank and tax fraud in Virginia. Photograph: Carlo Allegri/Reuters
The former Trump campaign chairman Paul Manafort faces his second sentencing hearing in as many weeks on Wednesday, with a judge expected to tack on additional prison time beyond the roughly four-year punishment he has already received.
Manafort, 69, faces up to 10 additional years in prison when he is sentenced on Wednesday in Washington in special counsel Robert Mueller's investigation into ties between the Trump campaign and Russia.
A judge in Virginia last week sentenced Manafort to 47 months in prison, far below sentencing guidelines that allowed for more than two decades in prison, prompting national debate about disparities in how rich and poor defendants are treated by the criminal justice system.
Judge Amy Berman Jackson in Washington will decide whether the sentences should run consecutively or at the same time, and she is likely to take into account allegations by prosecutors that Manafort tampered with witnesses after he was charged and that he lied to investigators even after he pleaded guilty and pledged to cooperate.
The hearing may offer a window into tantalizing allegations that are not part of the criminal cases against him but have nonetheless surfaced in recent court filings — that Manafort shared Trump campaign polling data with Konstantin Kilimnik, a business associate the US says has ties to Russian intelligence, and that the two men met secretly during the campaign in an encounter that prosecutors say cuts "to the heart" of their investigation.
The sentencing hearings for Manafort mark a bookend of sorts for Mueller's investigation as it inches toward a conclusion. Manafort and business associate Rick Gates were among the first of 34 people charged, and though the charges against Manafort were not tied to his work on the Trump campaign, his foreign entanglements have made him a subject of intrigue to prosecutors assessing whether the campaign colluded with Russia to sway the outcome of the election.
Wednesday's sentencing comes in a week of activity for the investigation. Mueller's prosecutors on Tuesday night updated a judge on the status of cooperation provided by one defendant, the former national security adviser Michael Flynn, and are expected to do the same later in the week for Gates.
The Mueller team has prosecuted Manafort in both Washington and Virginia related to his foreign consulting work on behalf of a pro-Russia Ukrainian political party. Manafort was convicted of bank and tax fraud in the Virginia case and pleaded guilty in Washington to two conspiracy counts, each punishable by up to five years in prison.
The decision by Judge TS Ellis III to sentence Manafort to 47 months stunned many who had been following the case given both the guideline calculation of 19.5 to 24 years in prison and the fact that the defendant was convicted of hiding millions of dollars from the IRS in undisclosed foreign bank accounts. But Ellis said during the sentencing hearing that he found the government's sentencing guidelines unduly harsh and declared his own sentence "sufficiently punitive".
"If anybody in this courtroom doesn't think so, go and spend a day in the jail or penitentiary of the federal government," Ellis said. "Spend a week there."
Manafort has been jailed since last June when Berman Jackson revoked his house arrest over allegations that he and Kilimnik sought to influence witnesses by trying to get them to testify in a certain way.