07 Sep
Damage will be impossible to reverse, warns head of UNHCR, after 10% fall in funding forces cuts to food rations and closure of clinics
Refugees follow a rail line after crossing the border into Hungary from Serbia, hoping to reach Austria's open corridor to western Europe Photograph: SWNS.com
The UN's humanitarian agencies are on the verge of bankruptcy and unable to meet the basic needs of millions of people because of the size of the refugee crisis in the Middle East, Africa and Europe, senior figures within the UN have told the Guardian.
The deteriorating conditions in Lebanon and Jordan, particularly the lack of food and healthcare, have become intolerable for many of the 4 million people who have fled Syria, driving fresh waves of refugees north-west towards Europe and aggravating the current crisis.
Speaking to the Guardian, the UN high commissioner for refugees, António Guterres, said: "If you look at those displaced by conflict per day, in 2010 it was 11,000; last year there were 42,000. This means a dramatic increase in need, from shelter to water and sanitation, food, medical assistance, education.
"The budgets cannot be compared with the growth in need. Our income in 2015 will be around 10% less than in 2014. The global humanitarian community is not broken – as a whole they are more effective than ever before. But we are financially broke."
Recent months have seen severe cuts to food rations for Syrian refugees in Lebanon and Jordan as well as for Somali and Sudanese refugees in Kenya. Darfuris living in camps in Chad have been warned that their rations may end completely at the end of the year. UN-run healthcare services have also been closed across a large part of Iraq, leaving millions of internally displaced people without access to healthcare.
Guterres warned that the damage being done by these cuts would be impossible to reverse. "We know that we are not doing enough, we are failing the basic needs of people.
"The situation is beyond irreparable. If you look at the number of children who will see their lives so dramatically impacted by malnutrition and lack of psychosocial support, you will see this is already happening."
The majority of the UN's humanitarian work is funded entirely by voluntary donations from individual governments and private donors, with agencies such as the UNHCR and Unicef receiving none of the regular budget that member states pay into the UN's central coffers……………….
Riham Dawabsha has died from injuries sustained in attack in July that claimed life of her husband and son and sparked street protests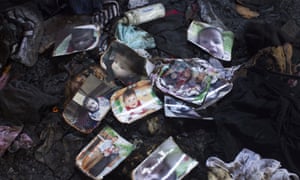 Photographs at the house in Duma in the West Bank in which 18-month-old Ali Saad-Dawabsheh died with his mother and father in an arson attack in July. Photograph: Oren Ziv/Getty Images
Agence France-Presse
The mother of Palestinian toddler Ali Saad Dawabsha, who was killed when suspected Jewish extremists firebombed his house, has died from injuries sustained in the attack.
Several suspects have been arrested after the family's home in the West Bank village of Duma was firebombed with Molotov cocktails on 31 July, sparking anger among the Palestinian community.
"Riham Dawabsha died in the night," said a spokeswoman for the Tel Hashomer Hospital in Tel Aviv, where the 26-year-old teacher was admitted with third-degree burns covering 80% of her body.
Anwar Dawabsha, a family member, confirmed to AFP he had been informed of her death and said the funeral would be held on Monday in Duma.
Riham Dawabsha's death comes after 18-month-old Ali died on the day of the attack and his father Saad eight days later. Ali's four-year-old brother Ahmed is still in hospital.
The Israelis are expected to return Riham's body to the Palestinian authorities to a checkpoint at the entrance to the occupied West Bank, from where it will be taken to her village.
The family's small brick and cement home was gutted by the fire and a Jewish Star of David spray-painted on a wall along with the words "revenge" and "long live the Messiah".
The bombing came only hours after a stabbing attack at a Jerusalem Gay Pride march that killed a 16-year-old girl and wounded five other people.
While the attacks were not related, both have led to criticism of Israel's……………….
France and Germany to take 55,000 extra refugees under quotas
10,000 more refugees expected in Munich on Monday
UK to use aid budget to house thousands more Syrian refugees
UN agencies 'broke' due to scale of the crisis
Tougher EU approach on Syria?
Is Europe on the verge of taking a tougher stance on the war in Syria? Hot on the heels of Hollande's announced that France is considering airstrikes in Syria, Germany says it wants to "expand its commitment to fight the actual causes of [the migration] crisis".
This doesn't go nearly as far as France, but taken together with Cameron's announcement that he will couple his statement on refugees with remarks on counter terrorism, it suggests something is afoot…………………….
Senator would receive backing of 41% of Democrats to Clinton's 32%
Clinton holds shrinking lead in Iowa, NBC finds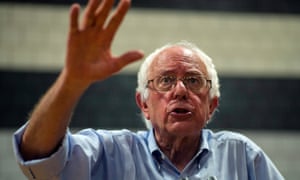 Democrat Bernie Sanders speaks in Conway, New Hampshire. Photograph: Cj Gunther/EPA
Reuters in Washington
Senator Bernie Sanders has opened a nine-point lead over fellow Democrat Hillary Clinton among party supporters in New Hampshire, according to an NBC News/Marist Poll released on Sunday.
The survey showed that 41% of Democratic voters would back Sanders while 32% would cast a vote for Clinton if the poll were held today – and Vice-President Joe Biden were on the ballot.
Support for Biden, who has yet to decide whether to run after the death of his son Beau in May, was at 16%.
Draft Biden, a group urging him to put his name forward, said the poll showed "a deep desire among Democratic primary voters to have Vice-President Biden join the presidential race".
In July, in the same poll, Sanders had 32% support while Clinton had 42%.
Sanders, from next-door Vermont, has appealed to young and working-class voters as he challenges the former first lady, New York senator and US secretary of state, who is the frontrunner for the Democratic nomination.
New Hampshire is due to hold its presidential primaries in January and many campaigns are courting voters in the small New England state.
NBC also reported that its polling showed Clinton with a lead in Iowa, another state with an early voice in the nomination process, though her margin over Sanders had shrunk to 11% from 24% in July.
Besides Biden, several other Democratic candidates have garnered only low single-digit support in the last several such polls…………………………
Recent killings of police officers fuel conservatives' messaging as candidates increasingly find fault in movement but is the blame-game working?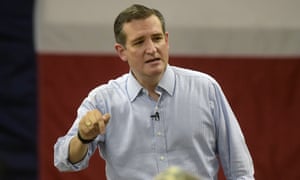 Ted Cruz is among the candidates citing the group as evidence of a new anti-police 'culture' – created by President Barack Obama, they say – that has endangered the lives of law enforcement officers. Photograph: Andrew D. Brosig/AP
Donald Trump has jumped out in front of the 2016 Republican primary race largely on the strength of his anti-immigrant rhetoric.
Now, in the quest for an edge in a tightly packed field, some Republican candidates may be drawing nearer to exploiting an even older fault line in American society.
With increasing frequency over the last week, Republican candidates have sallied attacks on Black Lives Matter, the movement born of protests against police killings of African Americans. The Republican candidates have been testing new messages with various subtle edges – and abilities to cut.
Republicans have stopped short, so far, of tying Black Lives Matter by name to the killing of multiple law enforcement officers across the country last month. But at least two Republicans, Scott Walker and Ted Cruz, have cited the group as evidence of a new anti-police "culture" – created by President Barack Obama, they say – that has endangered the lives of law enforcement officers.
Other Republican candidates have faulted Black Lives Matter as selfish in its focus on African Americans, as inflammatory in its rhetoric or as failing to focus on black-on-black violence. Drowning them out and goading them on have been Fox News, Rush Limbaugh and other conservative barkers, who have not hesitated to draw an explicit link between the movement and the killing of police officers, despite a lack of any supporting evidence.
"That kind of incident is seized upon by Black Lives Matter and other radical groups to demonize the police," Fox News host Bill O'Reilly said this week, of a fatal shooting by police of a Latino man. "Every time there is a controversy about an officer shooting a black person, they're out there stirring the pot."
O'Reilly's guest pointed out that fatal attacks on law enforcement are down 17% so far in 2015 when compared with last year. But the facts have not stopped Fox News from branding Black Lives Matter a "murder movement" and a "hate group" – the latter label having first been applied by Limbaugh…………………
UN secretary general urges Russia and China to 'look beyond national interest' and stop blocking proposals to help end conflict
Ban Ki-moon video interview: UN security council must agree action on Syria
The UN secretary general, Ban Ki-moon, has admitted that the UN security council is failing Syria because of big power divisions which have prevented action to end a conflict that has cost hundreds of thousands of lives and driven the biggest refugee exodus in a generation.
The UN secretary general told that Guardian that Russia and China should "look beyond national interest" and stop blocking security council action on the conflict in Syria as the flow of refugees to Europe reaches unprecedented levels.
"We need some solidarity, unity of purpose, particularly among the permanent members of the security council," he said in an interview. "When they are divided, it is extremely difficult for the United Nations to deliver. That's why I've been urging the members of the security council to look beyond national interest. We have to look for the global interest.
"When the security council members are united we have seen very speedy and tremendous impact in addressing the issues, as we have seen in the case of chemical weapon investigation in Syria."
Although Ban did not name Russia and China, the two countries have on several occasions blocked resolutions critical of the Syrian government, threatening sanctions or pressing it towards a negotiated settlement. Last year, Moscow and Beijing also vetoed a move backed by the 13 other permanent and non-permament members of the security council to refer the Syrian conflict for investigation by the international criminal court…………………
Opinion
Canada's policies toward people fleeing conflict and persecution worsened under Prime Minister Stephen Harper. Will the country learn from its mistakes?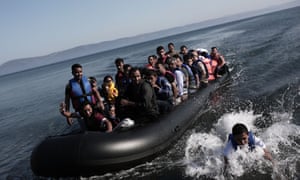 Refugees often undertake risky voyages by sea when their asylum applications are rejected. Photograph: Angelos Tzortzinis/AFP/Getty Images
T

he death of the Syrian Kurdi family on Wednesday – and the terrible image of three-year-old Alan washed up on a Turkish beach – has provoked international outrage at Canada's apparent indifference toward refugees. The high cost of asylum applications, government disengagement from the asylum process and biases in the granting of asylum means that many refugees never reach Canada's shores – and some die tragically as a result.
In an interview with a National Post reporter this week, the children's aunt, Teema Kurdi, revealed that the family's application to join her in Vancouver had been rejected by Canadian Immigration authorities, thus prompting the fatal sea journey.
It later emerged that in fact the family never formally applied for asylum, because of the serious bureaucratic hurdles and the expense involved, as well as her own modest resources, which had already been diverted into an unsuccessful attempt to help another brother seek asylum in Canada. Instead she had her local MP Fin Donnelly hand-deliver a letter seeking assistance to Immigration Minister Chris Alexander, which went unanswered.
It is not just the cost of asylum applications that are being scrutinized as a result of the Kurdis' deaths, but also the state's lack of involvement in the asylum process and their insistence on cumbersome bureaucratic procedure, even in war zones. Private sponsorship programs are currently the asylum-seeking mode of choice for Canada's Conservative government, which refugee groups say has been disastrous for people fleeing conflict.
On Wednesday, Immigration Minister Chris Alexander was repeatedly challenged by national CBC host Rosemary Barton on why the Conservatives were turning to the private sector to sponsor refugees rather than the more traditional government sponsorship route – a claim he continued to deny. He then went on to falsely claim that this was the program's first panel discussion on the topic. In an about face, the next day, he suspended his campaign to return to Ottawa and focus on investigations into the Kurdi case and even Prime Minister Stephen Harper included the tragedy in his campaign speeches – albeit as a pretext for more military engagement in the region………………………

Christopher Furlong / Getty Images
Britain, the Vatican aim to bolster European efforts to help massive influx of refugees
Austria said on Sunday it planned to end emergency measures that have allowed thousands of refugees stranded in Hungary into Austria and Germany since Saturday morning.
Austria had suspended its random border checks after photographs of a Syrian toddler lying dead on a Turkish beach showed Europeans the horror faced by those desperate enough to travel illegally into the heart of Europe, which is deeply divided over how to cope.
After 71 people suffocated in the back of a truck abandoned on an Austrian highway en route from Hungary, and as thousands headed from Budapest toward Austria on foot, Vienna had agreed with Germany to waive rules requiring refugees to register an asylum claim in the first EU country they reach.
Austrian Chancellor Werner Faymann said that decision was being revised following "intensive talks" with German Chancellor Angela Merkel and a telephone call with Hungarian Prime Minister Viktor Orban, bitterly opposed to the waiver.
"We have always said this is an emergency situation in which we must act quickly and humanely. We have helped more than 12,000 people in an acute situation," Faymann said.
"Now we have to move step-by-step away from emergency measures toward normality, in conformity with the law and dignity."……………………..
Opinion
Paris and Tel Aviv have much more in common than a beach festival venue
For the Zionist Jews who founded Tel Aviv, their city was always meant to symbolize a modern, exclusively Jewish space — one free of both the Arab and the Palestinian and, if not by law, then by cultural identity, the "traditional" Jewish cultures that seemingly dominated Jaffa.
Tel Aviv was established as a garden suburb of the type popular in England at the turn of the 20th century, one removed from yet accessible to Jaffa, which was the cultural and economic capital of pre-1948 Palestine. But over the coming decades, it turned into the gleaming "White City" we recognize today as a world center of modernist International Style, or Bauhaus.
As with so many foundational myths, Tel Aviv's relies on the physical erasure of the past — in this case, the communities that had inhabited the region for generations before. Its founders never tried to hide it. "It was from the overthrow of geography that Tel Aviv was born," the official town gazette declared in 1933. Writer Shai Agnon, artist Nahum Gutman and many of their contemporaries would depict Tel Aviv as a "city on the sands," an outpost of modern civilization in a physical and cultural desert.
There are analogous gentrification scenarios playing out all over the world, from Mumbai to New Orleans. But Paris in particular stands out as a city whose origin story hides ugly, and forgotten, histories.
And so it is as historically fitting as it is ethically and politically troubling that Paris hosted a "plage Tel Aviv" along the River Seine as part of its yearly summer "Paris plage" festival. Since 2002 the festival, which draws millions of visitors every year to its "sands," water misters, music and beach ambience. The Paris municipality decided to name one of the days "Tel Aviv on the Seine" in honor of the Israeli city's famed reputation as a liberal beach city par excellence. For Paris' political elite, Tel Aviv represented the "good" Israel — culturally and politically free and progressive, and in fact a symbol of the possibility of peace — even if they were critical of the brutal policies of the Benjamin Netanyahu government.
Sadly, the history and present-day realities of Tel Aviv, especially its relationship with its "mother city" turned marginalized neighborhood of Jaffa, reflect conquest and conflict far more than peace and harmony. From the moment of its creation until today, Zionist and Israeli leaders have been in constant conflict with the local Palestinian Arab population as the Jewish city's growth encroached on the territory of the Arab city and its surrounding villages. If Tel Aviv has always defined itself as the quintessentially modern and European city, for Arabs its birth and development epitomized the negative impact of Zionism on their homeland.
Parisians with a sense of history can — and should — sympathize with the inhabitants of Jaffa who were swept away to make room for the beloved and mythical city that is presently hosting a small sliver of Tel Aviv. In 1853, Napoleon III appointed Baron Georges Eugene Haussmann to "modernize" Paris, and the resulting transformation of the city's urban core was anything but peaceful. ……………….