27 Sep
The meeting of about 50 countries at UN headquarters comes after months of lobbying by Washington for greater contributions from European nations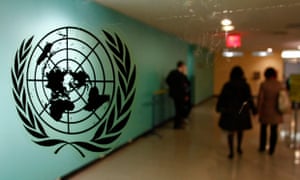 The United Nations logo is displayed on a door at UN headquarters in New York Photograph: Joshua Lott/Reuters
US pressure to remake United Nations peacekeeping as a fighting force is expected to pay off on Monday as dozens of countries line up to pledge troops, equipment and technology at a summit chaired by President Obama.
The meeting of about 50 countries at the UN in New York comes after months of lobbying by Washington for greater contributions from European nations in particular as it seeks to strengthen peacekeeping missions to take on a more aggressive role, particularly against the threat from Islamist groups in Africa.
But Obama faces strong opposition from some existing major contributors, such as India, which regard the changes as antithetical to the purpose and history of peacekeeping. Other governments, while publicly paying lip service to the president's plan, are sceptical that it will amount to more than a legacy project or survive a change of administration in Washington.
The White House increasingly regards UN peacekeeping as a US national security issue, in large part because Islamist insurgencies from Mali to the Central African Republic, and entrenched conflicts in Nigeria and Somalia, threaten even wider instability.
Last year, the US launched an initiative to strengthen the militaries in six African countries and establish reaction forces to "rapidly deploy peacekeepers in response to emerging conflict". Now Washington is looking to complement that with weaponry, equipment and forces from nations with the resources and recent combat experience, such as eastern European countries which fought in Afghanistan.
US officials say pledges at the summit are expected to "significantly exceed" expectations as countries step forward to offer everything from helicopters and engineering units to field hospitals and intelligence capabilities………………..


On Sunday he addressed the plight of survivors and the secrecy after some criticized the the pope's remarks on the sex abuse scandal a week before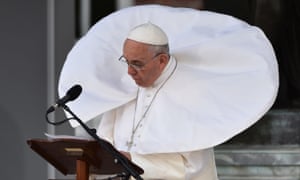 Pope Francis speaks at Independence Hall in Philadelphia on Saturday. Photograph: Vincenzo Pinto/AFP/Getty Images
Pope Francis has met with victims of clerical sexual abuse on the last day of his tour in the US, telling them he was committed to making sure those guilty of abuse were punished, a spokesman for the Vatican said.
In a statement, Federico Lombardi said the pope had spent half an hour with five people who as minors had been victims of sex abuse, not only by members of the clergy but by family members or teachers. Francis, who met the three women and two men at the Saint Charles Borromeo seminary in Philadelphia, listened to them and "prayed with them", said Lombardi.
While the meeting was not a surprise – the Vatican had suggested for weeks that Pope Francis could meet with victims, but that it would not publicize such a meeting beforehand – it followed a week in which the pope's earlier remarks on the sex abuse scandal were harshly criticized by some survivors.
On Sunday, he sought to address some of those complaints, addressing the plight of victims directly.
At a speech to a meeting of bishops at Saint Martin's Chapel in the seminary, Francis said: "[It] continues to be on my mind that people who had the responsibility to take care of these tender ones [children] violated that trust and caused them great pain."…………………..
Former secretary of state dismisses idea that she set up a private email server to protect herself against accountability in planned presidential run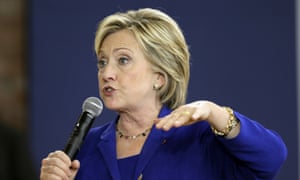 Hillary Clinton speaks during a community forum in Des Moines. Photograph: Charlie Neibergall/AP
Hillary Clinton has denied that she set up a private email server in an attempt to bypass public accountability for her actions as secretary of state with a future presidential run in mind, dismissing the idea as a "totally ridiculous … conspiracy theory".
With her poll numbers continuing to plummet, Clinton subjected herself to a lengthy interview on NBC News' Meet the Press on Sunday. She held tight to the by-now familiar formula in which she expresses a combination of contrition and combativeness regarding the long-running saga over her decision to set up a private email server while serving as America's top diplomat.
"Of course I take responsibility," she said. "It was my choice, it was a mistake back when I did it, and I'm trying to do the best I can to answer all the questions."
At the same time, she dismissed the ongoing dispute as "another conspiracy theory", alluding to her earlier battles over what she then called the "vast right-wing conspiracy" against the Clintons when her husband was in the White House.
"In the 90s I was subjected to the same barrage and it seemed at the time to be endless," she said, "but then when I ran for Senate people were more concerned about what you are going to do for us, and I trust the voters to make that decision this time around too."
Clinton's increasingly intense efforts to clear the fog surrounding her over the email server furor are simply explained: her standing among voters continues to tumble.
In the latest poll, from NBC News and the Wall Street Journal and released on Sunday, her lead over the Vermont independent senator Bernie Sanders was down to just seven points, assuming Vice-President Joe Biden were to throw his hat into the ring. Clinton was on 42%, Sanders on 35% and Biden on 17%……………………
Israeli military takes action against officer after footage emerges showing journalists had equipment smashed and confiscated
Agence France-Presse
The Israeli military has suspended the officer in charge during an incident in the West Bank that saw soldiers assault two Agence France-Presse (AFP) journalists, take their equipment and destroy it, the army said.
Italian video journalist Andrea Bernardi and Palestinian photographer Abbas Momani, were covering clashes between Palestinians and Israeli soldiers in Beit Furik near Nablus following a funeral when they were assaulted by soldiers.
The soldiers pointed their weapons at them and shoved them. Bernardi was thrown to the ground, with a knee pressed against his chest until he was able to show his press card.
They were identifiable as journalists not only by their equipment but also by their body armour clearly marked "press". They had been previously authorised to enter the area.
The soldiers smashed a video camera and a stills camera, while also taking away another stills camera and a mobile phone………………..
Nearly 35% of eligible voters had cast a ballot by midday, and regional president Artus Mas declares a victory for democracy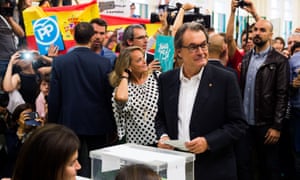 Artur Mas casts his vote in the Catalan election. Photograph: Alex Caparros/Getty Images
Voter turnout in the de facto referendum on Catalan independence was expected to reach record highs on Sunday as people across the region queued to cast their ballot in an election billed as the most important in the region's history.
By midday, authorities said nearly 35% of eligible voters had already cast their ballot, a rise of five percentage points on the same period in the 2012 elections. Meritxell Borràs, the top electoral official for the regional government, attributed the rise in participation to the significance of these elections.
"It's very positive. These are very important elections and the citizens are demonstrating this by heading out to vote in a major way," she said.
The Catalan president, Artur Mas, described the vote itself as a victory for the region. "Today there will be a plebiscite on the future of Catalonia," he said as he cast his vote. "We overcome all the obstacles that the Spanish state put up … Democracy has won in Catalonia, Spain, Europe and the world."
After the central government in Madrid blocked attempts by Catalan leaders to hold a referendum on independence, Mas called early elections that he said would act as a de facto poll on the issue. If his separatist party, Junts pel Sí, earns a majority of seats, Mas has pledged to lead a transitional government that would begin the process of breaking away from Spain.
As Catalans queued on Sunday to vote in the region's third election in five years, analysts said the high turnout could yield a surprise result. While polls to date have suggested the separatists could earn a slim majority, Spain's governing People's party focused its campaign efforts on addressing what it called the silent majority of Catalans who oppose independence.
"You need to vote to put an end to this mess," the prime minister, Mariano Rajoy, told supporters on Friday. "They want you to stay at home … If you stay quiet, they'll win."…………………
Other News & Analyses
Opinion

Two men in their 70s have been addressing massive crowds and sparking the imagination and passions of American progressives. Both have been featured on the cover of Time magazine.

On a first look, however, they couldn't be more different. One is a Jewish American self-proclaimed "democratic socialist" politician from Vermont; the other, a Catholic religious leader from Buenos Aires, Argentina. Bernie Sanders and Pope Francis, however, share a moral vision of the limitations and real-life repercussions of our current political-economic system as well as a sincere desire to change it.

This surprising intersection of political-economic ideas rooted in morality also reminds us that many people of the sixties generation not only have a history in common, but have become highly successful and moved into positions of considerable influence. Moreover, the huge response in America, to the Sanders campaign in particular, tells us something important not only about the state of this country, but also about what people with conviction can accomplish, despite their age. The moral courage in the face of systemic challenges demonstrated by both leaders recalls the sixties generation they are both a product of; Sanders as a civil rights activist amidst intense social turmoil and the pope as a young religious leader during a time of military dictatorship and right-wing death squads.

The pope has condemned the arrangements of our current political-economic system. Early on in his papacy, he set the tone:

Some people continue to defend trickle-down theories which assume that economic growth, encouraged by a free market, will inevitably succeed in bringing about greater justice and inclusiveness in the world. This opinion, which has never been confirmed by the facts, expresses a crude and naïve trust in the goodness of those wielding economic power and in the sacralized workings of the prevailing economic system. Meanwhile, the excluded are still waiting.

Recently he has struck an even more radical tone. "An unfettered pursuit of money rules," he told grassroots organizers in Bolivia. "That is the dung of the devil."

Sanders, while not often calling out capitalism by name, similarly challenges the injustices and inequities it generates and explicitly calls himself a socialist. Long before his Sept. 14 speech at Liberty University, Sanders articulated his critique of our unequal economic system in moral terms. "I think this goes back to the Bible," he told Mother Jones shortly before launching his presidential campaign. "There is something immoral when so few have so much and so many have so little." At his Liberty University address, Sanders declared:

It would be hard for anyone in this room today to make the case that the United States of America, our great country, a country which all of us love — it would be hard to make the case that we are a just society, or anything resembling a just society today … when we talk about morality, and when we talk about justice, we have to, in my view, understand that there is no justice when so few have so much and so many have so little.