23 Oct
Members hoping to change the National Rifle Association from within face the entrenched power of Wayne LaPierre and the PR firm that wields huge influence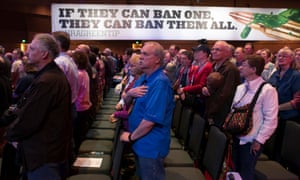 Attendees stand for the national anthem at the NRA Annual Meetings and Exhibits in Nashville, Tennessee. Real power lies with a small group of executives and a shadowy committee. Photograph: Bloomberg via Getty Images
A few days after the murder of nine people at Umpqua Community College in Oregon, Mike Rosen joined the National Rifle Association.
Rosen, an elected member of the Portland public schools board, has never so much as fired a real gun let alone owned one. But he was frustrated that, for all the talk of tighter gun control after each mass killing in the US, nothing changed because of the power of the NRA.
"I was really impressed by what Obama said in his address to the nation. That this has got to be a single voter issue. Only vote for people that are for gun control," he said.
"I keep hearing that there are people in the NRA who want gun control and I have friends that are NRA members who own guns and want gun control. So why not get people to join the NRA and change it from within?"
The first obstacle to Rosen's strategy was the reaction of liberal friends.
"It was like I had gone to the enemy camp. My $25 membership from their perspective had now funded all of the anti-gun control legislation that was to come," he said. "Frankly, the feedback I've gotten has been dismal from 'That's an interesting idea but I don't think it'll work' to 'You're an asshole, you just joined the NRA'."
Public opinion is divided. A Gallup poll this week confirmed a long-term trend of support for the NRA, with 58% saying they have a favourable view of the organisation. But a Pew poll in August also showed that 85% of Americans would like to see gun control measures, such as wider background checks on buyers, which the NRA opposes.
Rosen soon discovered a much greater impediment to reform of the organisation from within.
For a start, only life members and those who have been in the NRA for five years or more can vote in its elections.
The NRA claims to be a grassroots organisation driven by the popular will of its 4 million-plus members. But real power lies in the hands of a few executives, a shadowy committee which tightly controls elections to the NRA's board of directors and a public relations company that for three decades has driven the organisation's uncompromising opposition to any form of gun control.
NRA officials and members who challenge this power structure say they have been driven out or marginalised.
The illusion of choice
The face of the NRA is Wayne LaPierre, its executive vice-president for the past 24 years who sharply divides America with his unyielding defence of gun rights even in the aftermath of tragedies such as the massacre of 20 children at Sandy Hook elementary school three years ago. He is surrounded by a clutch of key executives with budgets of tens of millions of dollars to run political campaigns, strong-arm Congress and influence elections.

Wayne LaPierre, executive vice-president of the NRA. Photograph: Rex Shutterstock
LaPierre is also supported by gun makers, who help give the NRA its financial clout with large donations and hold seats on the organisation's board of directors.
The axis of power at the top of the NRA is shored up by an internal electoral structure that has had the effect of stalling change……………………..
US group says computer and hard drive containing survivor testimony about El Salvador civil war was stolen from Washington office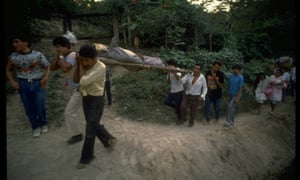 Relatives of 15 family members massacred by civil war combatants, bearing bodies on stretchers. Photograph: Cindy Karp/The Life Images Collection/Getty
Confidential files containing evidence of violations committed during El Salvador's civil war have been stolen from a Washington-based human rights group days after it launched legal proceedings against the CIA over classified files on a former US-backed military commander implicated in massacres, death squads and forced disappearances.
A computer and hard drive containing testimonies from survivors were stolen from the office of the director of the University of Washington Center for Human Rights (UWCHR) last week.
The director's office was the only one raided, there were no signs of forced entry, and items of monetary value were left behind, raising concerns that it could have been a targeted attack linked to the group's sensitive work, said UWCHR.
The stolen files contained details of investigations related to the 1980-1992 civil war, which left at least 75,000 people dead, 8,000 missing and a million displaced. The vast majority of crimes were committed by US-backed military dictatorships against civilians in rural communities suspected of supporting the leftist guerrillas, according to the UN-sponsored truth commission.
Perpetrators were granted immunity from prosecution by a 1993 amnesty law, which remains intact despite being ruled illegal by the Inter American Court of Human Rights.
This has left survivors little option but to seek truth and justice with the help of international human rights groups and lawyers.
Government militia patrol a village in northern El Salvador during the civil war. Photograph: Max Schneider/Getty Images
The UWCHR has uncovered previously unseen information held by federal agencies such as the CIA and DEA, which it has shared with relatives of victims………………………..
Democratic candidate takes wind out of debate over private emails with details of protocol for memos as former congressman says: 'There's no there there'
Democratic presidential candidate Hillary Clinton deflects Republican criticism of her handling of the 2012 attack in Libya, in which the US ambassador and three other Americans died. At the 11-hour hearing on Tuesday, Republican members accused Clinton of ignoring requests for security upgrades and misinforming the public. A Democratic congressman in turn suggested their true motive was to destroy her presidential campaign, saying: 'we're better than that. We are so much better.'
Photograph: Jacquelyn Martin/AP
Hillary Clinton put the controversy over terrorist attacks in Benghazi firmly behind her on Thursday after eleven hours of frequently meandering questions from conservative critics failed to dent the former secretary of state's campaign for president.
In what may prove a defining moment in the 2016 race for the White House and a disappointment for her presidential rivals, Clinton shrugged off an intense focus on her private email use and an informal adviser at a long-awaited but ultimately deflated hearing before US lawmakers.
But the House of Representatives select committee on Benghazi largely failed to press Clinton on the reasons for US intervention in Libya or diplomatic security failings revealed in a critical earlier report commissioned by the State Department.
Instead, she was able to skewer critics of her emails by revealing that she did not have a computer in her office as secretary of state and received sensitive memos in locked briefcases that were removed immediately.
Questioned after the hearing concluded, Republican chairman Trey Gowdy conceded: "I don't know that she testified that much differently than she has the previous time she testified."
The rare glimpse into State Department security protocols took the wind out of conservative challenges that relied heavily on electronic disclosures, particularly messages found on a controversial private computer server.
Discovery of the server has overshadowed Clinton's run for the White House and the congressional select committee on Benghazi that uncovered it. As the Democratic frontrunner prepared for day-long testimony before the Republican-controlled House group, critics of the committee argued that it has strayed from its remit of investigating the murder of Libyan ambassador Chris Stevens and three other Americans in the 2012 terrorist attack…………………
Merkel is said to want hundreds of thousands of refugees brought directly from Middle East to control numbers and avoid perilous journeys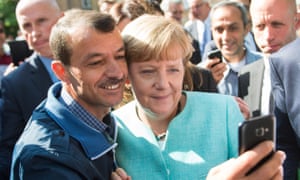 Chancellor Angela Merkel has a selfie taken with a refugee during a visit to a reception centre in Berlin last month. Photograph: Bernd von Jutrczenka/EPA
Germany is to push for more ambitious and extensive common European Union policies on the refugee crisis, according to policymakers in Berlin, with compulsory and permanent quotas for sharing the distribution of probably hundreds of thousands of people who will arrive directly from the Middle East.
Also on Berlin's agenda are new European powers replacing some national authority over border control, and the possible raising of a special EU-wide levy to fund the policies.
The plans, being prepared in Berlin and Brussels, are certain to trigger bitter resistance and major clashes within the EU. Berlin backs European commission plans to make the proposed scheme "permanent and binding". But up to 15 of 28 EU countries are opposed.
The plans will not apply to the UK as it is not part of the EU's passport-free Schengen zone and has opted out of EU asylum policy, saying it will not take part in any proposed European refugee-sharing schemes.
Angela Merkel appears determined to prevail, as she grapples with a crisis that will likely define her political legacy. The German chancellor is said to be angry with the governments of eastern and central Europe which are strongly opposed to being forced to take in refugees. She is said to resent that these EU member states are pleading for "solidarity" against the threats posed by Russia and Vladimir Putin while they resist sharing the burdens posed by the refugee crisis.
EU government leaders agreed last month to share responsibility for 160,000 asylum seekers already in the EU, redistributing them from Greece and Italy over two years. But the decision had to be pushed to a majority vote, overruling the dissenters, mainly in eastern Europe, and with the Hungarian prime minister, Viktor Orban, accusing Merkel of "moral imperialism".
It is highly unusual in the EU for sensitive issues with such deep national political impact to be settled by majority voting. But Berlin appears prepared to do this if no consensus can be reached.
The opponents of quotas insist last month's decision was a one-off. But according to policymakers in Berlin, Merkel now wants to go further, shifting the emphasis of burden-sharing from redistribution of refugees inside the EU to those collecting en masse in other countries, notably Turkey, where more than 2 million Syrians are being hosted………………….
As three-week synod nears end, hopes of reforming church's approach to family dealt blow – but pontiff has likely won over enough to pursue change in future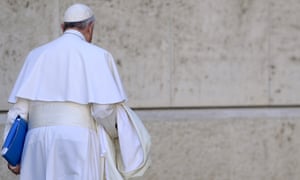 In true Vatican style, the synod has seen speculation about Pope Francis's health and conspiracies about infighting. Photograph: Filippo Monteforte/AFP/Getty Images
Pope Francis has failed to convince an overwhelming majority of bishops who have convened in Rome to change church rules that forbid remarried Catholics from receiving communion.
The result is a significant blow to the pontiff's hopes to reform the church and bring people back to the faith who feel it is too far out of step with the realities of marriage and divorce.
But even without a clear mandate from hundreds of bishops who are clearly divided on the topic, Francis has likely succeeded in persuading enough of them to recognise the importance of the issue to give him the political cover he needs to possibly pursue changes in the future.
Of about 13 small groups within the synod of bishops, which met to discuss ways in which the Catholic church ought to confront changes in the modern family, two groups were adamantly opposed to taking action while others either failed to reach consensus or believed the issue required more study.
"This is a conversation that was, in effect, prohibited by the Vatican just a few years ago," said papal biographer Austen Ivereigh.
The synod will conclude this weekend after three weeks in which, in true Vatican style, speculation about Francis's health and conspiracies about Vatican infighting and efforts to undermine the pope ruled the day.
The publication of a secret letter in which 13 cardinals – some of whom have since distanced themselves from it – openly criticised the way the meeting was to be conducted, dominated the headlines, as it was seen as a clear vote of no-confidence in the pope………………
U.S. Politics
Opinion
Lost in tiffs over Sidney Blumenthal and private email accounts is the fact that we shouldn't have been in Libya at all – and Clinton was a driving force behind it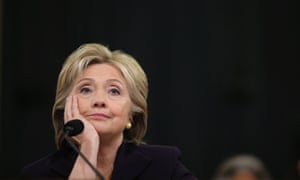 The authors of this piece would like to disclose that we had this looks on our faces a bunch, too. Photograph: Chip Somodevilla/Getty Images
Megan Carpentier: The House Benghazi committee has always been of niche interest to anyone outside the Beltway and the conservative movement; that they managed to dig up anything (Hillary Clinton's private email server) to fit into the well-worn the-Clintons-aren't-trustworthy narrative is not surprising those of us who remember Whitewater and Travelgate. Using an ostensible investigation into some screwed-up situation to pry open the Clintons' lives and find something only vaguely related with which to try to hurt them politically is literally part of the US history books (which is why I think that it's so stupid for Hillary Clinton to give them anything with which to work).
The surprising thing, I think, is how effectively she's navigating the questioning: there's no mention of the "vast rightwing conspiracy" from the impeachment days; she seemed all but perfectly willing to let the Democrats on the committee do the work of making the case that this is a partisan fishing expedition, and she even managed to make a lot of the questioners look petty and focused on her instead of what they ought to be investigating. Her emotions only seemed to get the better of her when she was talking about the death of her friend (and trying not to smirk as committee chairman Trey Gowdy and ranking member Elijah Cummings sparred over the latter's efforts to release transcripts of Sidney Blumenthal's interview with the committee). Clinton treated the questioning seriously, but treated some of the questioners like benighted children … and it worked.
Trevor Timm: It's definitely Hillary Clinton at her most comfortable. If she had to testify in front of Congress every day, rather than give stilted speeches at campaign events, I don't think she would have nearly the amount of political criticism she currently receives about being "inauthentic" . Stripped away from these hearings are all her flaws: she doesn't have to repeat the same campaign-trail tropes, she doesn't have to cynically triangulate her positions with her liberal base and her corporate donors. Her strength has always been that she is a technocrat who revels in the details, and it's clear she knows the details here far better than any of her accusers………………………