11 Nov
Women ruled out of order by Speaker for demanding prime minister John Key apologise for accusing opposition of 'backing the rapists'
Female MPs in New Zealand are told to leave the parliamentary debating chamber on Wednesday after revealing their experiences of sexual assault and violence and demanding the prime minister, John Key, apologise for comments he made on Tuesday. The opposition MPs repeatedly raise points of order and demand and apology despite Speaker David Carter refusing to entertain the request, prompting him to eject them
Photograph: @katiebradford
Several female MPs were ordered to leave the New Zealand parliament on Wednesday after their declarations that they had been victims of sexual assault were ruled out of order by the Speaker.
The women's intervention came after prime minister John Key on Tuesday accused opposition Labour and Green MPs of "backing the rapists" in a row over the detention of New Zealanders by the Australian government.
Opposition politicians had raised concerns in parliament over the detention of New Zealand citizens awaiting deportation after the Canberra government cancelled visas for those convicted of certain crimes.
Key went on a tirade after being questioned by Labour leader Andrew Little, telling Little "you back the rapists", before being cut off by the Speaker, David Carter.
"Some of the [detainees] are rapists, some of them are child molesters, and some of them are murderers," Key said.
"These are the people that the Labour party are saying are more important to support than New Zealanders who deserve protecting when they come back here."
Key told Labour MP Kelvin Davis, who has said the detentions make a
mockery" of the Anzac relationship: "If you want to put yourself on the side of sex offenders, go ahead my son, but we'll defend New Zealanders."
An estimated three-quarters of Labour MPs walked out of parliament directly after Key's comments on Tuesday, along with several Green members.
Key told the house and New Zealand media that he stood by his comments.
A number of New Zealanders are being detained on Christmas Island after the Australian government introduced a retroactive law requiring the deportation of overseas citizens convicted of crimes carrying a custodial sentence of more than a year. Some New Zealanders affected by the change have lived in Australia for several years and are appealing the decision to deport them………………
Establishment politicians like Rand Paul and Jeb Bush snatch back control from 'outsider' candidates during substantive, volatile fourth TV encounter
The eight top Republicans went head to head in the fourth debate in one of the most substantive yet volatile debates. Candidates also had moments of notable flare, declaring Isis 'losers' and promising they would not throw grannies off of cliffs
The eight top Republicans jostling for position in the race for their party's presidential nomination engaged in the most substantive but also the most volatile and feisty debate of the 2016 cycle on Tuesday night as the race for the White House entered a new and more demanding phase.
Two hours of debate in the Milwaukee Theater in Wisconsin saw the country's leading rightwing presidential hopefuls hurl themselves into detailed and heated disputes over the fundamentals of modern conservatism. Donald Trump clashed with Jeb Bush over immigration, Rand Paul took on Marco Rubio, while Ben Carson was deeply tested over his knowledge of foreign affairs and the veracity of his own personal story.
The media hosts of the fourth Republican presidential debate, Fox Business and the Wall Street Journal, promised that it would be the most substantive on the issues that Americans cared about. And it delivered.
The populist grandstanding of the so-called "outsider" candidates – notably Trump and Carson – came under more detailed scrutiny than in any previous debate. Trump in particular was challenged over his headline-grabbing promise to round up and eject the country's 11 million undocumented immigrants.
Jeb Bush, whose campaign has been seriously flagging in recent weeks as he struggled to find his voice, came out guns blazing in a derisive take-down of the Trump position. "Twelve million illegal immigrants, to send them back, 500,000 a month, is just not possible. And it's not embracing American values. And it would tear communities apart. And it would send a signal that we're not the kind of country that I know America is."
Feeling the wind finally in his sails, Bush pressed on. He said that even having a conversation about forced deportation of millions of law-abiding people "sends a powerful signal. They're doing high-fives in the Clinton campaign right now when they hear this, that's the problem with this."
Ohio governor John Kasich also attacked Trump on his crude immigration plan, insisting: "Come on folks, we all know you can't pick them up and ship ……………….
•

Senior figures within IAAF council pressing for immediate suspension


•

Sebastian Coe under pressure to give up Nike advisory role
Russia faces being suspended from athletics by the end of the week as the fallout from Dick Pound's devastating report into state-sponsored doping begins to reverberate around world sport.
Sebastian Coe, the head of the sport's global governing body who is under pressure to act in the wake of the damning report that also alleged "corruption and bribery practices at the very highest level of international athletics", will chair a meeting of the International Association of Athletics Federations council on Friday at which sanctions against Russia will be decided.
It is understood that senior figures within the IAAF council will push for Russia to be immediately provisionally suspended. Russia has until Thursday to respond to the allegations of cover-ups, destruction of samples and payment of money to conceal positive doping tests contained within Pound's report.
Lord Coe is also expected to come under renewed pressure to give up his advisory role with the sportswear company Nike as he battles to save his sport's reputation. The Conservative MP Damian Collins, who will be among those on the culture, media and sport select committee who will question Coe before Christmas, said he should drop his association with the company.
"I am going to ask him about that. If athletics is going to have a new clean image it can't be right for the president of the IAAF to be sponsored by Nike. Seb Coe should give up his role as a Nike ambassador," said Collins. "We are also going to ask about the process of how the IAAF has handled this doping scandal."
Wada, meanwhile, has revoked the accreditation of the Moscow laboratory said to be at the centre of the systemic doping programme, meaning that all samples will now be tested outside Russia………………..
Court heard that white supremacist Frazier Glenn Cross set out to kill Jews – but none of the three people he shot dead were actually Jewish
Frazier Glenn Cross, 74, a former senior member of the Ku Klux Klan, has been sentenced to death for shooting and killing three people at Jewish centers in Kansas. Photograph: Reuters
Reuters in Olathe
A judge has given a death sentence to a white supremacist convicted of shooting to death three people at two Jewish centers in Kansas.
Johnson county District Court Judge Thomas Kelly Ryan sentenced Frazier Glenn Cross, 74, to die by lethal injection.
A jury in early September convicted Cross, a former senior member of the Ku Klux Klan, of the murders and recommended that he be put to death. Cross also was convicted of three counts of attempted murder for shooting at three other people.
The jury found Cross guilty of killing Reat Underwood, 14, and his grandfather, William Corporon, 69, outside the Jewish Community Center of Greater Kansas City, and Terri LaManno, 53, outside a Jewish retirement home, both in Overland Park, Kansas.
After the judge announced his decision, Cross gave the "Heil Hitler" salute and was forcibly removed from the courtroom.
On the way out Cross said: "One day my spirit will rise from the grave and you'll know I was right. I'm a happy man."
Cross said in court on Tuesday, as he did during the trial, that he wanted to kill Jews because he believed they controlled the media, financial institutions and the government.
Representing himself in court, Cross said: "I wanted to kill Jews, not Christians and I do regret it," though during the trial he faulted the victims for going to Jewish centers…………………
Israel summons EU ambassador in protest after Brussels approves labelling on goods produced on occupied land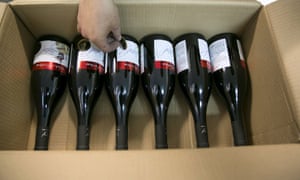 A worker places stickers on wine bottles for export at Shiloh Wineries, north of the West Bank city of Ramallah. Photograph: Baz Ratner/Reuters
The European Union has issued new guidelines for the labelling of products from illegal Israeli settlements in the occupied Palestinian territories, after years of deliberation and in the teeth of fierce Israeli opposition.
The measures will primarily cover fruit and vegetables and should affect less than 1% of all trade from Israel to the EU , which is worth about €30bn. EU officials said existing measures for produce brought into Britain have had no negative economic effect.
On some products, like fruit and vegetables, the labelling referring to settlements will be mandatory, while on others it will be voluntary.
Israel sees the move as a political stigma that rewards Palestinian violence and will push consumers away. It immediately summoned the EU ambassador to Israel, Lars Faaborg-Andersen, in protest.
The Israeli foreign ministry said the EU has chosen "for political motives, to take an unusual and discriminatory step" at a time when Israel is facing a wave of terror.
In a statement, the ministry said it was "surprised and even angered by the fact that the EU chooses to implement a double standard against Israel, while ignoring 200 territorial disputes taking place today around the world, including within [the EU] or right on [Israel's] doorstep". The EU's claim that the decision was a "technical step" was baseless and cynical, the statement added.
Senior European officials insist that European consumers are entitled to know the source of goods previously labelled as Israeli. Israeli politicians – including Netanyahu – have made comparisons between labelling and the Nazi era, with some suggesting the move is immoral and antisemitic.
The proposal was also denounced by the Israeli energy minister, Yuval Steinitz, a close ally of Netanyahu, as "disguised antisemitism".
However, a petition signed by more than 500 prominent Israeli figures, including former ambassadors, Israeli prize winners, and former MPs, welcomed the measures……………….
Opinion
On a very white campus, people of color can easily feel excluded, even if it's unintentional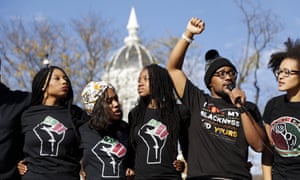 Concerned Student 1950, led by University of Missouri graduate student Jonathan Butler, second from right, speaks following the announcement that University of Missouri System President Tim Wolfe would resign Monday. Photograph: Sarah Bell/AP
T

his week's events at the University of Missouri don't surprise me one bit. As a graduate student in Mizzou's journalism school with a Japanese and Jewish background, I know what it's like to be a minority. There, I am regularly reminded that I am different. Without a comprehensive plan of action to diversify the university, minority students will continue to struggle.
Although I have not been the target of directly malicious racist incidents, I have experienced the systemic racism that student demonstrators are fighting to change. I've been asked my nationality dozens of times. When faculty and students first met me, many assumed I was foreign based on my first and last names. Often during introductions, I have to tell people that even though my dad is Japanese, I was born in California. But that is merely an annoyance, and it pales in comparison to what black students on campus say they face.
This is in the program considered one of the most diverse learning communities on the Mizzou campus. In fall 2014, 60% of the J-school's graduate student body was white. Only eight of the students enrolled that semester out of 247 were African American. The two African American master's students I have had as classmates told me that they felt unsupported, and they left before finishing their degrees. Black students make up 7% of the student body at this public university, 5% lower than the population in the state.
The faculty is just as homogeneous. There are 236 faculty and staff in print, digital and broadcast journalism as well as strategic communications, about 100 of whom are full time. Very few of those full-time professors are black.
At the Columbia Missourian, the journalism school's learning lab newspaper, where I was a public life beat reporter, my faculty editors were excellent teachers, but that entire faculty, 16 people, is white. At KMOU, the J-school's local NBC-affiliated TV station, seven of the eight faculty are white. The lack of diversity among faculty can create a dangerous, though unintentional, climate of exclusion, a form of systemic racism, where minority communities are sometimes left out of the greater academic discussion completely.
I have had classes where discussion of diverse communities is required but white authors dominate the list of assigned readings. White journalists dominate assigned documentaries. These class discussions were led by a white faculty member and most of the other students were white. I can only imagine what this is like in the university writ large……………………