11 Jun
News and Analyses, A Foreign Perspective
Nearly all of these are English-edition daily newspapers. These sites have interesting editorials and essays, and many have links to other good news sources. We try to limit this list to those sites which are regularly updated, reliable, with a high percentage of "up" time.

State attorney general to release 884-page report detailing decades of sexual abuse and cover-ups by the church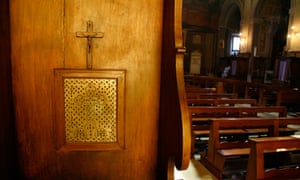 'It is going to be the worst grand jury report in American history on sexual abuse cases,' said Mark Rozzi, a state legislator. Photograph: Alamy
Mark Rozzi can remember the feeling of the tall grass brushing against his bare legs on the day he and a close friend desperately ran out of the rectory in Hyde Park, Pennsylvania.
Rozzi, who was 13 at the time, had just been raped by his priest, the Rev Edward Graff, and remembers thinking in that moment, as he ran through a field, that he would take his terrible new secret to his grave.
When he got home and was peppered with questions by his mother – a Sicilian from Messina who sensed something was wrong – he lied and said Graff had dropped his towel in front of the boys. He did not tell her about the things he came to understand as an adult – that Graff had groomed him for months, by secretly talking to him about sex, plying him with alcohol and showing him pornography. It had all culminated in his vicious rape by Graff in a shower, where Rozzi can still recall staring at the tiles and wondering if he should stay or run.
Rozzi did not, in the end, take his secret to his grave, and nor did hundreds of other victims.
This month, the state attorney general in Pennsylvania is expected to release an 884-page report that will detail decades of clerical sexual abuse and cover-ups by the Roman Catholic church in six of Pennsylvania's eight Catholic dioceses. The report has not yet been made public, but has been shared with the bishops in the six dioceses: Allentown, Erie, Greensburg, Harrisburg, Pittsburgh and Scranton.
The report, which followed a grand jury investigation, comes two years after a separate state inquiry into another Catholic diocese, Altoona-Johnstown, found that hundreds of children had been abused by more than 50 priests in the last few decades.
The results of the latest investigation could reignite a debate over the church's poor handling of sexual abuse cases, even as Pope Francis has sought to come to grips with another clerical abuse scandal in Chile, where all of the country's bishops recently offered their resignation.
In a letter to the Chilean bishops that was leaked to the media, Francis accused the Chilean hierarchy for lying about clerical sex abuse, destroying evidence and moving priests even when there was evidence of previous wrongdoing. The acts were examples of "grave negligence", Francis said.
Rozzi, who is now a state legislator and has been a staunch advocate for the rights of sexual abuse survivors, said he had not yet seen the grand jury report, but expected it to list hundreds of priests, and hundreds of their victims, and how the church covered up abuse.
In his own case, Rozzi later learned that Graff, who has since died, was moved from parish to parish until he ended up in a Catholic-run rehabilitation centre. After being released, he is believed to have abused more children in Texas.
"It is going to be the worst grand jury report in American history on sexual abuse cases, because it is going to be expansive," Rozzi said, adding that it would also include testimony by priests and nuns about sexual abuse they suffered at the hands of other priests.
"It will be the same stories over and over again. Of sexual abuse, of rape and cover-up," he told the Guardian.
The Vatican declined to comment.
Rozzi said he expected that the report would also disclose new details of efforts by elected officials and community leaders to try to block legislation that would support abuse victims.
So far, efforts by Rozzi to pass legislation that would allow previous victims to sue the church have ended up being blocked following lobbying campaigns by the Pennsylvania Catholic Conference, which Rozzi said has in the past unleashed 39 lobbyists to lobby 50 state senators.
The question Rozzi is asking now is will the church change its approach now that Francis has expressed deep regret over the previous inaction in Chile? The efforts to block new laws on behalf of survivors has been led by the conservative archbishop of Philadelphia, Charles Chaput. A spokesman for the archbishop did not immediately comment.
"We are asking the pope to intervene. I would love the opportunity to talk to Francis and let him know what is going on, and for him to do what is happening in Chile, and to ask those bishops in Pennsylvania to resign," Rozzi told the Guardian.
Related

Rhetoric between the nations warms up as US president notes 'excitement in the air' day before historic summit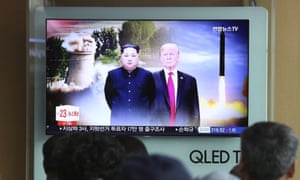 Final preparations are underway in Singapore for Tuesday's historic summit between Donald Trump and North Korean leader Kim Jong-un Photograph: Ahn Young-joon/AP
American and North Korean officials have met in Singapore to narrow differences between the two countries as Donald Trump and Kim Jong-un prepare for their historic summit in the city state on Tuesday.
While North Korea spoke of establishing a new "permanent peace-keeping mechanism" and its state-run news agency hailed a "new era" in relations with the US, Trump tweeted on Monday about how pleased he was to be in Singapore.
"Excitement in the air!" he wrote in a tweet.
The format for the historic talks, at a luxury island hotel, was still far from clear. A US official said that the first session of the Tuesday morning talks would be between two leaders alone with translators but no advisors and aides. They would enter the negotiating room only after that first one-on-one session was over. The official said it was unclear how long that first session would last.
It was reported that Kim planned to fly back to North Korea in the early afternoon on Tuesday, leaving very little time for actual negotiations, although there is still considerable uncertainty about what a deal between the leaders would look like.
The Pyongyang regime envisages denuclearisation as a gradual and somewhat amorphous process, in which both sides take phased reciprocal steps to defuse tensions with the ultimate, but distant goal of nuclear disarmament.
The Trump administration has previously insisted on "complete, verifiable, irreversible disarmament" (CVID) of North Korea, with the emphasis on unilateral steps by Pyongyang rewarded by US security assurances. But the president has significantly softened the US negotiating stance in the immediate run-up to the summit, accepting the prospect of an open-ended negotiations involving multiple future summits.
The US secretary of state, Mike Pompeo, muddied the picture further on Monday, by melding the two concepts in a tweet showing him at breakfast with US negotiators, saying the US remained "committed to the complete, verifiable, irreversible denuclearization of the Korean Peninsula"
The North Korea state run newspaper, Rodong Sinmun, said Tuesday's meeting would discuss "wide-ranging and profound views on the issue of establishing new DPRK-US relations, the issue of building a permanent and durable peace-keeping mechanism on the Korean peninsula."
The KCNA news agency heralded the summit as part of a "changed era."
US and North Korean negotiators met in a Singapore hotel on Monday, seeking to clarify the shape of Tuesday's summit, where Trump has said he intends to guided by instinct.
Most observers predicted that the outcome would be a short and vague statement build around the ambiguous aim of the "denuclearisation of the Korean peninsula" leaving it to later bilateral meetings to negotiate what that would mean in practice.
Kim was the first to arrive in Singapore, landing at Changi airport on a commercial Air China plane, after intense speculation with the public tracking three separate aircraft leaving Pyongyang, the North Korean capital.
It is the farthest Kim has travelled since inheriting power in 2011, and only his third known trip outside the country since then, with the use of a Chinese plane raising questions over the state of North Korea's ageing fleet of Soviet-built aircraft.

World Politics
United States

The WSJ disguises climate misinformation as "opinion"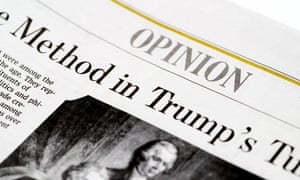 The Wall Street Journal Newspaper, Opinion Section. Photograph: Alamy Stock Photo
The Wall Street Journal (WSJ) Opinion page has long had a conservative skew, and unfortunately that has extended to politicizing climate change with biased and factually inaccurate editorials.
Over the past several weeks, the WSJ's attacks on climate science have gone into overdrive. On May 15th, the Opinion page published a self-contradictory editorial from the lifelong contrarian and fossil fuel-funded Fred Singer that so badly rejected basic physics, it prompted one researcher to remark, "If this were an essay in one of my undergraduate classes, he would fail."
Hayward falls into the category some describe as "Lukewarmers." This group consists of people who think that – contrary to the body of available evidence – global warming will be slow and we don't have to worry much about it. I prefer the term "Luckwarmer," since they're betting that Earth's climate sensitivity is at the very low end or lower than the range of values supported by scientific evidence. In that sense, they're gambling we'll be very lucky that the climate dice will come up snake eyes.
Throughout his career, Hayward has spilled a lot of ink trolling those who are concerned about climate change. In this latest opinion piece, he argues that "climate change has run its course" because nobody is doing anything serious to solve it, and nobody cares about climate change anymore.
Hayward's evidence to support this thesis is flimsy, to put it charitably. For example, when pressed on the fact that every country save America has agreed to implement policies to curb climate change, Hayward cited Japan as a counter-example that's building more coal power plants since the Fukushima nuclear plant disaster. Indeed, Japan's climate policies are highly insufficient to meet the Paris goals. But Japan has nevertheless signed onto the Paris agreement, whose framework allows signatory countries to periodically strengthen their policies and commitments and thus eventually meet the targets. And Japan's per person carbon pollution is already about 40% lower than America's.
Hayward also cites polling data that shows Americans consider climate change a low priority, but neglects to mention that the vast majority (including Trump voters) support climate policies like taxing and/or regulating carbon pollution. He compares the issue to a car alarm whose blaring noise everybody soon tunes out. However, unlike a triggered car alarm, climate change poses ever-increasing risks. It won't just go away if we ignore it. It's much more like a fire alarm sounding off in a building whose occupants have been locked in.
Worst of all, Hayward claims that "the left politicized the issue," which is beyond absurd. Those on the American 'left' generally accept the consensus of 97% of climate science experts and have proposed bipartisan solutions to this existential problem that, with a few exceptions, have been almost universally rejected by those on the American right for purely political reasons.
Misinformation passed off as "opinion"

The WSJ is of course far from the only media outlet guilty of peddling fossil fuel industry propaganda. Last Friday, The Hill published a very similar editorial by Fred Singer, whose second sentence included two very easily fact-checked falsehoods: "sea level has been rising at a steady rate, between 1 and 2 millimeters per year." In reality, sea level rise has been accelerating, now up to about 3.3 millimeters per year.

This entry was posted on Monday, June 11th, 2018 at 11:52 am and is filed under General. You can follow any responses to this entry through the RSS 2.0 feed. Both comments and pings are currently closed.