13 Jun
News and Analyses, A Foreign Perspective
Nearly all of these are English-edition daily newspapers. These sites have interesting editorials and essays, and many have links to other good news sources. We try to limit this list to those sites which are regularly updated, reliable, with a high percentage of "up" time.

Raccoon makes it to the top of the 25-storey UBS Tower in St Paul, and captivates legions of fans worldwide
A raccoon who scaled the UBS Tower in Minnesota in a death-defying climb has made it safely to the top of the building after close to 20 nail-biting hours for internet viewers worldwide.
The raccoon was originally spotted on the roof of a nearby office block, and was safely removed by maintenance workers. But rather than find safety elsewhere, it jumped over to the 25-storey UBS Tower, one of the largest skyscrapers in the city, where it scaled the building – moving up, down and sometimes sideways.
MPR News, the local public radio station, helped break the story. Since then the world has followed the raccoon's travails under the hashtag #MPRraccoon. Reporter Tim Nelson shared the news of its successful ascent.
The Raccoon's first brush with fame came on Monday afternoon, when he was found on the roof of the two-storey Town Square building in downtown St Paul. By the time he had been spotted by onlookers, he had been there for two days without food or water. A crew of builders removed him from the ledge he'd made his home, but the raccoon refused to head back to street level.
The raccoon's climb seemed gravity-defying, as he scaled the vertical walls with seemingly little to grip to. Twitter was quick to dub the creature "spider-raccoon", even though that doesn't really scan.
Other local stations were livestreaming the raccoon's movements to thousands of viewers, although hours could go by with little movement. Some of those in the building shared their pictures of its climb.
Referendum will probably be held on the same day as the presidential election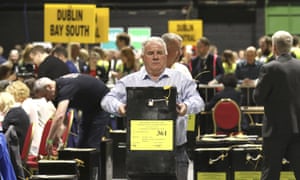 Ireland recently held a referendum on legalising abortion. Photograph: Peter Morrison/AP
Ireland will hold a referendum in October to remove the offence of blasphemy from its constitution, Charlie Flanagan, the justice and equality minister, has said.
The Irish government has approved the preparation of a bill to remove blasphemy as part of a commitment to constitutional reforms. The referendum will probably be held on the same day as the presidential election.
Government ministers see last month's abortion referendum as a milestone on a path to change for a country that was one of Europe's most socially conservative a few decades ago, and are keen to push forward with other constitutional reforms.
"In terms of Ireland's international reputation, this is an important step," Flanagan said on Tuesday.
"By removing this provision from our constitution, we can send a strong message to the world that laws against blasphemy do not reflect Irish values and that we do not believe such laws should exist."
And:
A woman is facing execution in Pakistan, a country which cites the Irish constitution's prohibition on insulting religion as 'best practice'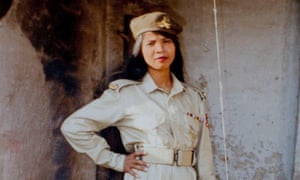 Asia Bibi, as pictured in a photo handed out by her family in 2010. Photograph: HO/REUTERS
Ireland is the only country in the developed western world to have introduced a blasphemy law in the 21st century.
The disgraceful law, passed in 2009 and introduced in January 2010, carries a maximum fine of €25,000. It prohibits the "publishing or uttering [of] matter that is grossly abusive or insulting in relation to matters sacred by any religion, thereby intentionally causing outrage among a substantial number of adherents of that religion".
A government promise of a referendum about the law was broken despite the then prime minister, Enda Kenny, previously agreeing that one was necessary.
The failure to do so outraged Irish atheists and secularists. Michael Nugent, chairperson of Atheist Ireland, believes blasphemy laws are inimical to free speech, and regarded the failure to hold a plebiscite as "a betrayal".
In an interview with Ryan McChrystal, Index on Censorship's online assistant editor, Nugent argued that the law was so "ridiculous and silly" that his organisation's attempt to get prosecuted by publishing statements blaspheming all the major religions had been ignored.
In other words, the authorities do not want to look foolish by enforcing the law. So, you might well ask, why worry?
McChrystal points out that the law's existence in a European country, a member of the European Union " is setting an example for others abroad." It makes it harder to argue against blasphemy laws elsewhere.
As McChrystal notes, that organisation "is led by Pakistan, a country where Asia Bibi, a Christian woman, is awaiting execution for having drunk the same water as her Muslim neighbours" and thereby insulted the Prophet.
World Politics
United States
Reporters were shown a video ahead of Donald Trump's press conference in Singapore, which the US president said he had played it to Kim Jong-un and his aides toward the end of their talks. It was made by Destiny Productions and was presented in Korean and English in the style of an action movie trailer
Related:
The four-minute video in Korean and English was credited to Destiny Pictures, but owner of firm with same name said he had 'no involvement'
The National Security Council has said that it made the video Donald Trump showed to Kim Jong-un at their Singapore summit on Tuesday in an unorthodox effort to persuade him of the benefits of denuclearisation.
The four-minute video in Korean and English was made in the style of an extended action movie trailer and portrayed Kim and Trump as men of destiny with the future of the world in their hands.
The video, which Trump showed to the press after playing it on an iPad for Kim, is credited to "Destiny Pictures Productions", prompting a flurry of press inquiries to a film production company of that name in California.
Mark Castaldo, the company's founder, said in an email it had "no involvement in the video".
"Woke up to 100's of e-mails and calls from all over the world. Crazy" Castaldo said in a tweet, adding that he was trying to find out "why they used my company name".
Garrett Marquis, an NSC spokesman said in a statement: "The video was created by the National Security Council to help the president demonstrate the benefits of complete denuclearization, and a vision of a peaceful and prosperous Korean peninsula."
When asked about the decision to present the video as made by a non-existent company, an NSC spokesman said there would be no further comment.
"From my understanding, they were just using 'Destiny Pictures' as a play on words. It just so happens there's a studio by that name in California," said Ned Price, a former NSC spokesman.
"Leave it to this White House to fail to conduct basic due diligence. And that, of course, leaves aside the fact they thought it prudent to try to out-North-Korea North Korea in the propaganda department.
"The whole enterprise reeks of amateurism and comes off as an attempt to check the box on a harebrained idea that presumably originated in the oval office," Price added.
The video shows the possibilities of North Korea's future if it renounces nuclear weapons, with a rapid succession of colourful images of advanced technology and happy people. It contrasted that with an alternative reality in which the regime stayed on course with the development of its arsenal. That future was shown in grainy black and white images of US warplanes in the air and missiles launching.
.