14 Jun
News and Analyses, A Foreign Perspective
Nearly all of these are English-edition daily newspapers. These sites have interesting editorials and essays, and many have links to other good news sources. We try to limit this list to those sites which are regularly updated, reliable, with a high percentage of "up" time.

As Fox News host presses Trump over North Korean regime, president is dismissive: 'A lot of people have done bad things'.
'A lot of people have done bad things': Trump waves away Kim's human rights abuses – video
Donald Trump has dismissed concerns about the widely condemned human rights record of the North Korean dictator, Kim Jong-un, praising him as a "tough guy", a "smart guy" and a "great negotiator".
In an interview with Bret Baier of Fox News as he was leaving Singapore following the denuclearization summit with the North Korean leader, Trump declined to condemn the record of his interlocutor. International bodies have accused Kim of crimes against humanity including assassinations of political rivals, public executions and holding captive tens of thousands of political prisoners.
Speaking in a wood-paneled office aboard Air Force One, Baier put it to the US president that Kim was "a killer. He's executing people."
Trump replied by praising Kim as a "tough guy. Hey, when you take over a country, tough country, with tough people, and you take it over from your father, I don't care who you are, what you are, how much of an advantage you have – if you can do that at 27 years old, that's one in 10,000 could do that."
Trump went on: "So he's a very smart guy, he's a great negotiator and I think we understand each other."
Baier, sounding taken aback by the president's flippant response, pressed Trump on the issue: "But he's still done some really bad things."
To which Trump said: "Yeah, but so have a lot of other people done some really bad things. I could go through a lot of nations where a lot of bad things were done."
Trump's failure to condemn one of the worst human rights records on the world stage is certain to inflame criticism that is already being leveled at him from both Democrats and Republicans in the wake of the summit. The presidential center of the former Republican president George W Bush has been tweeting about North Korea's abuses, giving a clear indication of how he views the matter.
Other public figures have been more directly critical. A Democratic senator from Connecticut, Chris Murphy, said of the outcome of the Singapore summit: "Kim's gulags, public executions, planned starvation, are legitimized on the world stage… What the hell?"
The issue of human rights was notably absent from the joint statement signed by Trump and Kim at their five-hour summit on Tuesday. Nor has there been any mention of human rights in the early discussions about follow-up meetings between the Trump administration and the North Korean regime.
Among the outrages that could be put on the agenda are the up to 120,000 political prisoners that are thought to be held in four political prison camps in North Korea. A UN inquiry accused the regime of "systematic, widespread and gross human rights violations" rising frequently to the level of crimes against humanity.
The UN added: "These are not mere excesses of the state; they are essential components of a political system that has moved far from the ideals on which it claims to be founded. The gravity, scale and nature of these violations reveal a state that does not have any parallel in the contemporary world."
North Korea under Kim amounted, the UN concluded, to a totalitarian regime that "seeks to dominate every aspect of its citizens' lives and terrorizes them from within".
World Politics
United States
Suit brought by Barbara Underwood says Trump Foundation is 'little more than an empty shell' and seeks $2.8m in restitution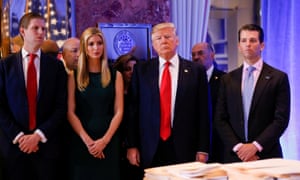 In addition to Trump, the lawsuit names his children Donald Jr, Ivanka and Eric. Photograph: Shannon Stapleton/Reuters
The attorney general of New York state sued the Donald J Trump charitable foundation, President Trump and three of his children on Thursday for violating state charity laws, alleging that the Trumps used charitable assets as "little more than a checkbook for payments to not-for-profits from Mr Trump" and his companies.
Foundation assets, acquired through tax-deductible donations, were used to settle legal claims against one of Trump's golf clubs and to buy a painting of Trump to be displayed at another club, the suit alleges.
The lawsuit, filed by the attorney general, Barbara Underwood, on the morning of Trump's 72nd birthday, seeks $2.8m in restitution and penalties from Trump and asks for the distribution of $1m in assets to other charities.
The lawsuit also seeks to dissolve the Trump Foundation and bar the Trumps from serving on the boards of any charitable organizations – Trump senior for 10 years and three of his children for one year.
In addition to Trump, the lawsuit names his children Donald Jr, Ivanka and Eric.
Trump began tweeting soon after the charges were filed, dismissing the lawsuit as the work of "the sleazy New York Democrats" and claiming the foundation "took in $18,800,000 and gave out to charity more money than it took in, $19,200,000".
"I won't settle this case!" Trump tweeted on Thursday. If he does not settle the case, a trial could result, casting a prolonged spotlight on the inner workings of the Trump Organization and probably requiring the president's personal involvement.
The lawsuit alleges that the foundation engaged in "at least five self-dealing transactions that were unlawful because they benefited Mr Trump or businesses he controls", Underwood said in a statement.
"These include a $100,000 payment to settle legal claims against Mr Trump's Mar-a-Lago resort, $158,000 to settle legal claims against Trump National Golf Club, and $10,000 to purchase a painting of Mr Trump displayed at the Trump National Doral."
Money used to pay those bills came not from Trump but from would-be charitable donors who paid into the foundation, the lawsuit said. "From 1987 through 2008, Mr Trump personally donated funds to support the foundation," the suit reads. "Since 2008, however, Mr Trump has not contributed any personal funds to the foundation, which instead has been supported by donations from other persons and entities."
"The foundation is little more than an empty shell that functions with no oversight from its board of directors," the lawsuit alleges. "Trump ran the foundation according to whim, rather than law."
The lawsuit follows an investigation of the Trump foundation that began in June 2016 under the previous New York attorney general, Eric Schneiderman, who resigned in disgrace in May. That investigation followed on the Pulitzer prize-winning work of the Washington Post journalist David Farenthold and others.
Episodes of alleged wrongdoing highlighted by the lawsuit include a charity fundraiser for veterans that Trump held on 28 January 2016, when he was a presidential candidate. Trump held the benefit in lieu of participating in a presidential debate.
The lawsuit alleges that a Trump foundation filing claiming that the event was "to raise funds for veterans' organizations" was in fact false, because "in reality, the fundraiser was a Trump campaign event in which the Foundation participated".
"In violation of state and federal law, senior Trump campaign staff, including campaign manager Corey Lewandowski, dictated the timing, amounts, and recipients of grants by the foundation to non-profits," Underwood said in a statement.
Read Full Article>>