13 Nov
The ousting of Mizzou's president has catalysed demands for racial justice in universities across the US, as students take pages from Black Lives Matter and 1960s social movements to push back against neglectful administrations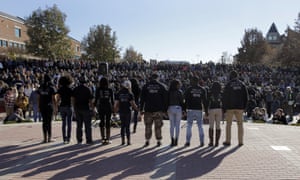 Members of Concerned Student 1950 hold hands following the announcement that the University of Missouri president, Tim Wolfe, had resigned. Photograph: Jeff Roberson/AP
About 100 professors and 200 students were milling about Carnahan Quad when cheers suddenly erupted. Then came the words so many yearned to hear: "He's resigned!"
Tim Wolfe, president of the University of Missouri, had been toppled by the power of student protest, notably Jonathan Butler, who was a week into a hunger strike. "Jonathan can eat again!" a hoarse voice called over the crowd to laughter and applause on Monday. Faculty staff and students, black and white, had tears streaming down their faces. Spontaneous dancing began, both with music and without.
It was a stunning victory for those, including the university football team, who felt Wolfe was tone-deaf to the concerns of African-American students. And Missouri, it transpired, was not alone. A wave of student unrest swept from campus to campus, from coast to coast, as marches and walkouts showed solidarity and expressed frustration over their own institutional racism and lack of diversity.
As the week wore on it seemed the protests were popping up by the hour, often getting results. On Wednesday, a 1,000-strong demonstration at Ithaca College in New York led to the immediate appointment of a chief diversity officer. On Thursday, the dean of students of Claremont McKenna College in California resigned in response to racial bias complaints. And by Thursday evening, black students had taken over the president's office at Virginia Commonwealth University.
The demonstrations are "spreading like a black plague", joked Keeanga-Yamahtta Taylor, professor of African-American studies at Princeton University. At least one academic proclaimed the birth of a new social movement, echoing the student activism of the 1960s and drawing on the Black Lives Matter groundswell of the present. Where it is headed is hard to discern, but the cause is clear: chronic lack of racial transformation in US higher education………………
Flyers are seen posted on a college noticeboard on campus at Yale University. Photograph: Shannon Stapleton/Reuters
Victim's family angry as county prosecutor accused of dripping expert opinions before grand jury investigation into Cleveland killing completed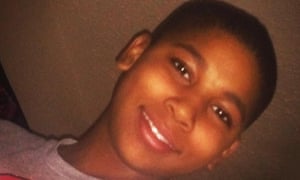 Tamir Rice was playing with a pellet gun in a park when he was shot dead by police. Photograph: AP
The prosecutor investigating the fatal police shooting of 12-year-old Tamir Rice has released another expert opinion which describes the actions of the officer involved as "objectively reasonable".
The new expert opinion, written by W Ken Katsaris, a veteran law enforcement trainer from Florida, also argues that while Rice's death in November 2014 was a "tragedy", it would "also be a tragedy" if officer Timothy Loehmann lost his job.
Rice, who was playing with a toy pellet gun in a park in Cleveland, Ohio was shot dead by Loehmann less than two seconds after he was encountered by police. The incident sparked outcry around the US and the continued delay on a decision over whether to prosecute Loehmann has also drawn widespread criticism.
The Katsaris opinion is the third to be released by Cuyahoga county attorney Timothy McGinty. All three opinions have argued that Loehmann was justified in using lethal lethal force against Rice, but questions about the impartiality of the first two experts have subsequently been raised.
Lawyers for the Rice family told the Guardian that McGinty's decision to continue to drip feed expert opinions before the grand jury process was completed was a "complete evil misuse" of the process.
"It's apparent that these efforts are to justify his [McGinty's] true intent; to inoculate the public and brace them for the ultimate decision, which is that there's not going to be any indictment out of the grand jury," said attorney Walter Madison, who represents Rice's father Leonard Warner.
"I believe it is a complete evil misuse of a grand jury process he's converted into a private, secret trial designed to exonerate these officers."…………….
Carson's business associate, dentist Alfonso Costa, defrauded insurers of nearly $45,000 and was sentenced to one year of house arrest in 2007 case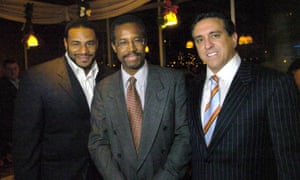 Ben Carson flanked by Dr Al Costa, right, and then-Pittsburgh Steelers running back Jerome Bettis, in 2005. Photograph: Andy Starnes/Pittsburg Post-Gazette/AP
Ben Carson is continuing to stand by his business associate and "best friend" Alfonso Costa following revelations that Costa pleaded guilty in federal court in 2007 to healthcare fraud.
Costa, a former dentist from Pittsburgh, is a self-employed real estate speculator with properties in Pennsylvania, New York City, Florida and elsewhere.
"Al Costa is my best friend," Carson said on Thursday in a statement obtained by the Guardian. "Al Costa is my very best friend. I know his heart. I am proud to call him my friend. I have always and will continue to stand by him. That is what real friends do!"
Carson and Costa are also business associates, with Costa's firm managing a suburban Pittsburgh office building owned by Carson that last year earned the former neurosurgeon between $200,000 and $2m, according to financial disclosure forms cited by Mother Jones. (Disclosure documents require candidates to report income in ranges not precise figures.)
In a break from the campaign trail earlier this fall, Carson spent a week at one of Costa's properties, a villa on Italy's Amalfi coast. Years earlier, Costa had given a Travel Channel series called Jaw-Dropping Rentals a guided tour of the property.
"The jacuzzi terrace is very unique to the villa, because as you may know, the Amalfi coast is on a cliffside," Costa said then. "So therefore we had to actually utilize a helicopter to drop the jacuzzi down upon the terrace."
Carson has for years been a frequent visitor to the villa, which rents for between $30,000 and $50,000 per week depending on the season, according to the Baltimore Sun, which has published a photo of Carson vacationing there and an interview in which Carson was asked to "share a magical memory".
"Flying through the water at high speed on a private boat and arriving for the first time on the island of Capri and then on to Sorrento," Carson was quoted as saying. "Roaming through the streets with multiple stops with friends and family is an unbeatable experience."…………………
The report documented 21 homicides so far in 2015 – and none prosecuted as hate crimes – leading members of Congress to set first-ever forum on the issue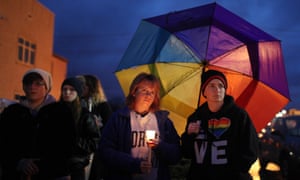 A crowd holds a vigil on 3 January 2015 to remember the life of Leelah Alcorn, a 17-year-old transgender girl who committed suicide, in Kings Mills, Ohio. Photograph: Meg Vogel/AP
The number of transgender homicide victims in the US has hit a historic high, according to a new report from advocates, leading members of Congress to officially respond to an emerging pattern of tragedy with the first-ever forum on transgender violence.
The Human Rights Campaign report documented 21 transgender homicide victims so far in 2015, almost all of them transgender women of color, and likely an underestimate due to the difficulty of tracking the homicides. Among all 53 transgender murders from 2013 to 2015, not a single one was prosecuted or reported as a hate crime, the report found.
"There are now more transgender homicide victims in 2015 than in any other year that advocates have recorded," said HRC president Chad Griffin in a statement.
On Tuesday 17 November, members of the Congressional LGBT Equality Caucus will hold the first forum on transgender violence to hear testimony from survivors, service providers, and policy experts. Before the forum, the Congressional LGBT Equality Caucus will be announcing the formation of a Transgender Equality task force.
"The goal is to get a comprehensive view of the epidemic of violence against transgender people, the causes and effects of the violence, and what the federal government can do," said Roddy Flynn, the executive director of the LGBT Congressional Equality Caucus organizing the forum. "The task force will analyze the current state of transgender equality and then determine the best ways for the federal government to act – whether it's legislation, pushing executive agencies to act or advocating on the state level."…………………
Even with a parliamentary majority, NLD party leader says she seeks a 'reconciliation government' that aims to ease transition of power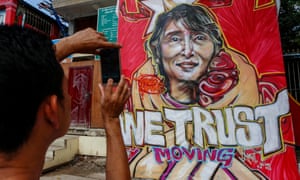 A man takes a picture of a mural depicting the NLD leader outside the party headquarters. Aung San Suu Kyi faces extreme pressure to live up to her international image as a human rights advocate. Photograph: Lynn Bo Bo/EPA
Aung San Suu Kyi faces months of delicate negotiations with Myanmar's entrenched army after confirmation that her party won a majority of seats in last weekend's historic elections.
On Friday the National League for Democracy (NLD) pushed past the 329-seat mark, giving her decades-old democracy movement with an absolute parliamentary majority and a mandate to rule. The latest results gave the NLD 364 seats in both houses; the ruling Union Solidarity Development party (USDP) had taken just 40.
The Nobel peace prize winner, 70, spent much of the past quarter-century under house arrest as she repeatedly fought for democratic reforms. But her election win, five years after her release, means she can pass legislation, form a government and handpick a president…………..
These movements, most recently at Yale, Mizzou and Ithaca, have been happening since the first person of color stepped on to a college campus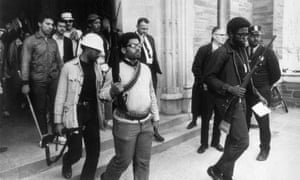 Heavily armed African American students leave Willard Straight Hall during a protest at Cornell University … 46 years ago. Photograph: Steve Starr/AP
T

his week's student protests may be organized on social media, but they're not addressing anything new. The iconic moment of black campus protests was captured way back in 1969, when students from Cornell University's Afro-American Society left Willard Straight Hall carrying rifles and wearing bandoliers, part of a protest against disciplining black students who had advocated for an Africana Studies and Research Center. Forty-six years later, students all over the country continue to protest for their right to exist on a college campus free of racial discrimination.
On Wednesday – just minutes away from Willard Straight Hall – at Ithaca College in upstate New York, more than 1,000 students held a "Solidarity Walk Out" to rally around a vote of no confidence in the college president for allegedly denying the existence of racism within campus security and encouraging surveillance of dissenting faculty and students. It was one in a stream of race-related protests at schools including Claremont McKenna College, Yale University and the University of Missouri.
These actions are more than acts of resistance to systemic racism; these are demands to be respected as students on college campuses. The rise of the Black Lives Matter movement and visibility of racial justice issues today have perhaps informed the protests, but these student movements have been happening repeatedly since the first person of color stepped on to a campus of higher education.
There is a continuous history of excluding and discriminating against students of color in forms other than outright threats and violence, even before the internet allowed the nationwide broadcast and solidarity of grievances: ethnic studies classes cast as electives instead of mandatory classes or part of legitimate majors; lack of faculty of color; a dearth of funding for student-led diversity initiatives; and the absence of appropriate mental health services for international students and students of color.
A report published by Brown University's newspaper earlier this week found that there was no racial difference in making appointments with campus counseling services but black students there were more than "twice as likely to have reached the seven-session limit and to have received outside help". Brown recently expanded its services to better assist students of color, a change also on the list of demands made by protesting students at the University of Missouri.

These are not hypothetical problems. When protests at the University of Missouri led to the president and chancellor's resignations this week, threats on the app Yik Yak to shoot black students followed. Mizzou students of color said that this was not the first time they have felt unsafe on campus.
And at Ithaca, two alumnae came forward in the fall with their story of how they were allegedly physically attacked by campus security. Many administrators claimed instances of physical violence as isolated anomalies. Protesting students and faculty countered that the acts of violence and denial of racism are both part of a system of institutionalized racism present on primarily white institutions all over the country…………………