15 Nov
129 people died and more than 300 were injured as Paris suffered the worst terrorist attack in Europe since the Madrid train bombings of 2004. A devastating series of coordinated shootings and explosions was carried out across the French capital on Friday night. This is how events unfolded

Lively debate drew heated contention between candidates on national security as Sanders and O'Malley questioned Clinton's 'weak tea' financial reform plan
At the start of the Democratic debate in Des Moines on Saturday evening, each candidate was invited to comment on the terrorist attacks in Paris the night before. Bernie Sanders chose to pivot to his message on the economy, while Hillary Clinton and Martin O'Malley asserted a foreign policy focus
The aftermath of the terrorist atrocities in Paris failed to deter surprisingly intense policy clashes between the Democrat presidential rivals on Saturday, as Hillary Clinton, Bernie Sanders and Martin O'Malley took up fiercely opposing positions not just on American foreign policy but also on the economy and gun control.
As a former secretary of state, Clinton was seen as a natural frontrunner going into a second television debate that had been hastily rearranged to focus on foreign policy and was expected to be heavily overshadowed by the attacks in France.
Yet despite their sombre and sympathetic tone in statements regarding events in France, the three candidates moved beyond platitudes and into passionate debate over the extent to which the US should intervene in the Middle East to prevent future attacks.
"Isis cannot just be contained – it must be defeated," Clinton began, in veiled criticism of Barack Obama's claim just before the attacks that Isis was contained in Syria and Iraq.
Sanders then recovered from a shaky start and began to carve out a distinctive foreign policy of his own – suggesting that Clinton's record of interventionism was partly to blame for the current crisis.
"I would argue that the disastrous invasion of Iraq, something I strongly opposed, has unravelled the region completely … and led to the rise of Isis," said the Vermont senator, who has previously spoken little on national security.
The Sanders campaign was accused of clashing beforehand with TV host CBS over the revised format of the debate – something its advisers denied – but Clinton nonetheless took advantage of her deep foreign policy experience to score points over him on the nuances of Middle East alliances and Russian tactical nuclear weapons.
Sanders was joined repeatedly by O'Malley, who enjoyed perhaps his best performance yet, as they paired potent rhetoric against the secretary's more cautious eye for detail.
One of their angriest exchanges occurred over financial reform, as both Sanders and O'Malley sought to characterize Clinton as beholden to the interests of Wall Street.
Clinton was asked if her donations from Wall Street would affect her ability to regulate the financial industry. The Democratic frontrunner said she had laid out an "aggressive plan to rein in Wall Street" and pointed to Super Pacs established by hedge fund managers to fight her candidacy…………………
The city of Hamtramck, near Detroit, has seen changing demographics: long known as a Polish American enclave, it is now as much as 60% Muslim. A community organizer says it should serve as an example of fair representation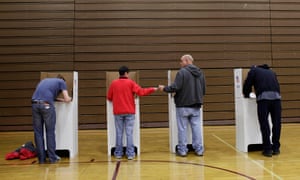 Voters fill out ballots in Hamtramck, Michigan. Photograph: Joshua Lott/Getty Images
If you ask someone about the city of Hamtramck, they may tell you it's a Polish enclave of Detroit, a dense hamlet where the pope once visited decades ago.
The gritty, blue collar town is known to have dozens of Polish Catholic churches, a bevy of restaurants serving Polish food, and, every year, a celebration called Fat Tuesday that honors the traditional Polish pastry – Paczkis. Hordes of people snake out the doors of local bakeries to purchase the doughnut-like treat.
But this month, voters in Hamtramck elected what is believed to be the first majority Muslim city council in the US.
The vote reflects changing – and remarkably diverse – demographics in the small city of 22,000 that is physically surrounded by Detroit. Estimates suggest as much as 60% of Hamtramck's population is comprised of Muslims, and the city is said to have over a half-dozen mosques. In comparison, today, roughly 11-12% of the city's population is Polish, down from as much as 90% in the 1970s, said Ted Radzilowski, president of the the Piast Institute, a national research center for Polish affairs.
Dawud Walid, executive director of the Council on American-Islamic Relations' Michigan chapter, said: "What I think: it's a sign that Muslims are more engaged in the political process, not that America has become less Islamophobic … There have been some demographic realities in Hamtramck, as well as Dearborn, Michigan, which account for Muslims being a higher average number [of members] on city council and school boards."……………………

Workers group Our Walmart announces 15-day fast to protest company's wages, demanding $15 an hour and full-time schedules ahead of busy holiday season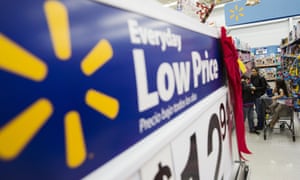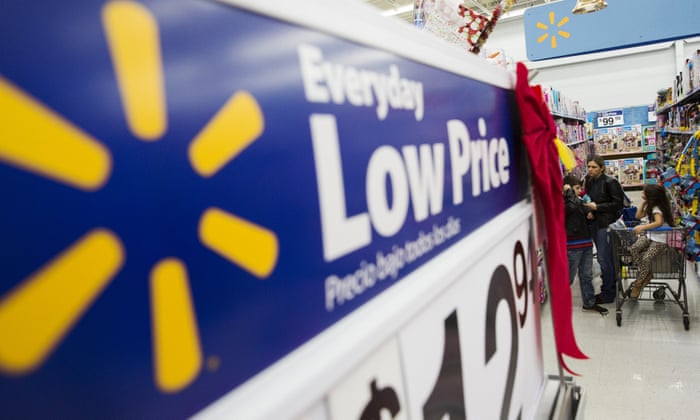 How low can you go? Walmart's workers don't want to find out. Photograph: Lucas Jackson/Reuters
Walmart employees are so poor that they are skipping lunch, sharing it or, in some cases, stealing it from their coworkers, some of the company's workers claimed on Thursday while announcing a fast in protest of the company's wages.
Starting Friday morning, over 100 Walmart associates who are members of Our Walmart, a workers organization, and about a 1,000 supporters will begin a fast to shine light on what they describe as Walmart's "poverty pay".
The protest comes in the run-up to Thanksgiving and the Black Friday shopping bonanza, one of Walmart's busiest periods. Some of the workers will take their fast to the doorstep of Walmart heiress Alice Walton's apartment in New York City.
Earlier this year, Walmart announced it was raising wages for about half a million of its employees, paying them at least $9 an hour – $1.75 above the federally mandated minimum wage. The company plans to further increase their pay to $10 an hour next year.
The workers say that's still not enough and demand that they be paid $15 an hour and be given full-time schedules. The name of the 15-day fast is Fast for 15.
Tyfani Faulkner, a former Walmart customer service manager from Sacramento, California, who worked for company for about five years, will be one of those fasting in protest.
"Every day there are associates who go to work with no lunch, or an unhealthy lunch, because that's all they can afford. I have seen instances where some would eat another associate's lunch from the refrigerator because they have nothing to eat," said Faulkner.
"One of the things I remember most from working at Walmart was my friends and I emptying our pockets to scrape together one meal we all could share for lunch. One of my coworkers put in a dollar, another two dollars, and with my two, we could together buy chicken from Walmart's deli to split between us. That was lunch; I don't know if they had dinner."
Denise Barlage, who worked at Walmart for nine years before being laid off during a store closing in Pico Rivera, California, said that break-room conversations at her store often focused on workers having to chose between paying for gas to get home or buying lunch…………………


Opinion
Many students of color and protesters have been targeted on social media apps like Yik Yak following protests on campus against racism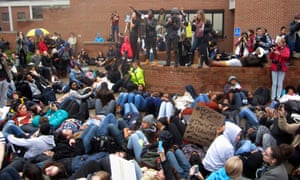 Students protest at Ithaca College. Photograph: Reuters
G

rowing up in Ithaca, many people thought that they possessed some sort of "colorblindness". There is a belief that, no matter your color, everyone is of equal stature. I ask those people who believe this to please walk up to Ithaca College campus and see how skin color is being used as a basis to discriminate and intimidate students there.
Since mid October the POC at IC (People of Color at Ithaca College) community and other students have been protesting acts of racial discrimination and micro-aggressions happening on the Ithaca College campus. The protesters are demanding that this college needs to once again feel like a welcoming place for them and they are asking for the resignation of Tom Rochen, the president of the college.
I joined those protests because I am an African-American student who believes that Rochen no longer possesses the awareness to run this school in a manner that is attentive to the needs of all of its students. I also think change needs to happen here at Ithaca College, and soon.
These protests have unleashed an array of responses. Most students are in favor, but surprisingly enough, a large amount are against the movement and what it's trying to achieve. People are entitled to their opinions, but I was surprised when a flood of hateful, and even incredibly racist, anonymous posts overtook social media and was directed specifically at the protesters.
When a rumor spread that the Cortland v Ithaca football game was going to be canceled because of the possibility of protests, many became furious and some even took to social media to post anonymous death threats against those who would dare to disrupt their sacred game. The rumors were untrue – the game is still on as planned – and after a day or so those threats died down. Many are still afraid of what may happen this Saturday, when the game is scheduled to happen, as it is believed a protest may still occur.
Much of this intimidation is taking place online. I recently downloaded Yik Yak, an online social media app, which allows users to view "yaks", or anonymous posts, from students or anyone living close to a college campus. I had heard that students at Mizzou were posting threatening yaks towards students of color on their campus and had to see what was going on for myself. I was quickly introduced to the Yik Yak culture and was appalled when I saw racist posts on Ithaca College's feed……………