17 Nov
The rise of the far right has polarized American politics. Increasing voter participation could reverse this trend
One of the most disturbing trends in the American political system is the rapid ascent of the far right. As FiveThirtyEight editor Nate Silver recently noted, "The most conservative Republicans in the House 25 or 30 years ago would be among the most liberal members now." In "Why Voting Matters," my latest report for Demos, a progressive public-policy organization, I make the case that higher turnout would dramatically change policy in the United States by moderating the power of the far right.
I consulted the American National Election Studies 2012 data, focusing on differences in opinion between voters and nonvoters who identified as Republican. I began by examining the three areas of federal spending that most closely relate to the government's role in the social safety net: Social Security, child care and subsidies for the poor. Each question asks respondents whether they want to increase, decrease or keep the same funding for each. I examine net support, which means subtracting the share of those who want to decrease spending from those who want to increase it. As the chart below shows, nonvoters were significantly more likely to support the social safety net than voters.
……………………The data suggest that Republicans who don't vote are far more moderate than Republicans who do and that higher turnout would lead to a more moderate Republican Party. There is a strong theoretical reason to believe that higher turnout would lead to less polarization, because marginal voters are less polarized than regular voters. In a recent study, researchers Ryan Enos, Anthony Fowler and Lynn Vavreck found that a propensity to vote strongly correlates with strong party identification and extreme ideology.
Two scholars of political polarization, Thomas Mann and Norman Ornstein, argue that boosting turnout would push politicians to woo voters in the center, pointing to the example of Australia's compulsory voting. As they wrote, "Australian politicians of all stripes say that knowing their party's base will all be there, as will the base of the other side, requires them to focus on those persuadable voters in the middle."
Similarly, in a 2012 paper, researcher Justin Valasek found that "measures to increase turnout decrease political polarization." In an earlier working version of the paper, he points to the implementation of voting by mail in Oregon, noting that, "between 1982 and 1994 the Oregon delegation was more polarized than the national average, and in all subsequent elections, where all citizens were allowed to vote by mail, it was less polarized." Though there is not enough data to conclusively show that voting by mail was responsible (thus it was cut from the final paper), it is certainly suggestive…………………

Students at prestigious US university demand it accelerate plans to divest parts of its $22.2bn endowment fund out of fossil fuels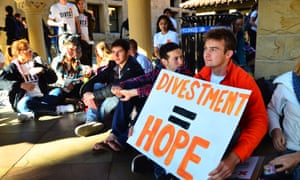 Stanford University students have begun an indefinite sit-in to protest against the institution's investments in fossil fuels.
According to protest organisers, more than 100 students attempted to enter the main administration building and office of the president on Monday afternoon. The students have been locked out but say they have encircled the building and will camp out there until Stanford acts on their demand to "completely divest" its financial holdings from the fossil fuel industry.
They are demanding action before UN climate negotiations in Paris at the end of November.
In May 2014 Stanford agreed it would not invest any more of its $22.2bn of endowed funds in coal mining companies, and would divest any current holdings. The pledge followed a campaign by student-led organisation Fossil Free Stanford, the group behind the latest protest, which now says that after three years of campaigning and negotiating the administration is not acting quickly enough.
Repeated calls for the university to move beyond coal to full fossil fuel divestment, which also covers oil and gas, have not been heeded. "We refuse to let Stanford stand idly by and continue to remain invested in the companies perpetuating the climate crisis," said Michael Peñuelas, a Fossil Free Stanford organiser and master's student.
Emma Walker-Silverman, a Stanford undergraduate taking part in the protest, said students were planning to remain put – even if that meant sleeping outside – until a commitment was given.
"We will be here until we see meaningful action from our administration," she said. "Dramatic climate change isn't an issue that you can just hope goes away … We want to send a strong message that this model of business is no longer acceptable."
Stanford University spokeswoman Lisa Lapin said the university respected the right of its students to demonstrate and the protest had so far been peaceful. The students' request for fossil fuel disinvestment was "under review" she said, adding there was a "campus process" for it and the group had met with Stanford president John Hennessy on 11 November where he told students the issue was still "in process". "We are a leader amongst universities in terms of all of our actions related to reducing our impact on the climate," she added……………………..

As Lebanon deals with the shock of twin suicide attacks that killed at least 43 people, Adel Termos has been hailed as a hero for preventing a worse atrocity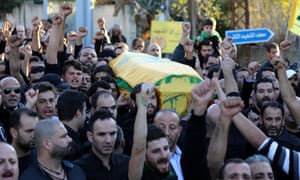 Mourners chant slogans as they carry Adel Termos's coffin. The 32-year-old rushed at the second bomber, forcing him to detonate his suicide vest early. Photograph: Mahmoud Zayyat/AFP/Getty
The narrow, winding alleys of Burj al-Barajneh in south Beirut are enveloped in sadness and a tense resignation, with the grief echoed in the darkened skies and intermittent rain.
Almost overnight, new portraits of victims – many of them children, mostly young boys – who were killed in twin suicide blasts on Thursday have been posted up around the impoverished neighbourhood………………
Witnesses and family members said Termos, a 32-year-old father, rushed to tackle the second bomber from behind after seeing him approach the gathering crowd. The intervention forced the bomber to detonate his suicide vest and is thought to have saved dozens of lives. Termos, however, died in the blast.
"Tell me congratulations," said Basima Atat, Termos's wife. "My six-year-old daughter now says Dad is a martyr, a hero, in heaven. Do you know what it means to be a hero?"
Plastic chairs for the many mourners that had visited the house over the last three days stood above rain-soaked asphalt, while Arabic coffee slowly smouldered on the coals nearby. Festooned on the walls were flags of Hezbollah, which enjoys popular support in the majority-Shia neighbourhood, and an image of the party's leader, Hassan Nasrallah…………………..


Opinion
Ben Carson barely hesitated before saying he would shoot down Russian planes in Syria – and comments by other candidates are just as dangerous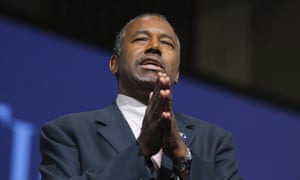 Would America be safe in Ben Carson's hands? Photograph: Chris Keane/Reuters
Republicans are now openly campaigning on the fact that they want to shoot down Russian planes over Syria, and seem to be trying to out tough-guy each other for who would be willing to start World War III the quickest.
At least that's what it sounds like from their comments in the past week, where most of them have stepped up their advocacy of a no-fly zone (and ground troops) in Syria while bragging that they have no problem shooting down Russian fighter jets to enforce it.
The still-somehow Republican frontrunner Ben Carson said of his call for a no-fly zone and Russian planes: "You shoot them down, absolutely" then added "Whatever happens next, we deal with it". No word on what he would do if "Whatever happens next" involves some of the thousands of nuclear weapons Russia still has in their arsenal.
Carly Fiorina said "I think we must be prepared" to shoot down Russian jets, saying separately that she would never talk to Putin beforehand (while at the same time bragging that she talked to him before). Lindsey Graham, an asterisk in the Republican polls who's never met a war he didn't like, opined that he "would shoot [Putin's] planes down, I would literally shoot his planes down".
Chris Christie said he would "call Putin, and tell him, 'Listen, we're enforcing a no-fly zone against everyone, and that includes you, so: don't test me.'" After being asked "And then he flies through your territory?" by a reporter, Christie responded: "You take him down." Just in case there was any ambiguity, he confirmed he meant shooting their fighter jets out of the sky and potentially starting a hot war with Russia because "we spent untold American treasure and blood to eliminate the Soviet Union. We should not let it come back".
The smarter candidates don't say that they would shoot down Russian planes out loud – since that is insane – they just call Putin "a gangster", like Marco Rubio did during the most recent debate, and insist on a no-fly zone that would inevitably lead to such a confrontation. Jeb Bush too called for a no-fly zone during the Fox Business debate this week, then two minutes later declared that the US shouldn't be "the world's policeman", apparently without a hint of self-awareness.
Amazingly, the rest of the candidates are making Donald Trump's position on Syria – that he backs Putin's airstrikes in Russia, saying "I am all for it, 100%" – look almost sane in comparison. That position on Syria is disturbing too, just not as disturbing as the rest of the Republican field, who are itching for full-scale war with Syria and Russia.
The sole Republican exception to all this is Rand Paul, who was the only one who gave a rational and logical answer to the question of what the United States should do in Syria. He claimed that shooting down Russian planes is a dangerous idea and that continuing to arm various factions associated with al-Qaida in a civil war is only going to lead to more long-term problems for the United States. He deserves more credit for being so honest, unfortunately he's being drowned out by those itching for another cold war………………………..