18 Nov
Hallie Turner, 13, who brought petition last year to reduce state's carbon emissions, begins legal battle
A 13-year-old North Carolina girl, who is suing the state over its greenhouse gas emissions, argued in court Friday that regulators don't have the right to dismiss a petition she made asking the state to limit carbon pollution.
Hallie Turner, a Raleigh middle school student, submitted a petition in December 2014 calling for the North Carolina Environmental Management Commission (EMC) to cut the state's emissions by 4 percent each year until 2050.
This isn't Turner's first foray into public climate activism. She has been writing blog posts in support of cutting emissions and urging action against climate change since the age of 10.
The lawsuit has its roots in a petition Turner filed in December 2014, asking the commission for rule changes limiting carbon emissions so that they reach a peak in 2015. A local Raleigh attorney, Gayle Goldsmith Tuch, and Our Children's Trust, an Oregon-based nonprofit organization that focuses on stopping climate change, provided Turner with assistance and pro-bono legal services.
The commission rejected her petition, saying it didn't have the power to make the changes. The lawsuit challenges that argument. The judge in the case said he would make his next decision in the case by Thanksgiving.
In an interview with Al Jazeera, Turner said she wants North Carolina and the world to do more to limit carbon emissions. "We need to act now," she said. "The EMC took away my right to make my voice heard. If the judge decides to support our petition, it'll be nice to know that our voice is being heard."
The commission did not respond to a request for comment. The North Carolina Department of Environmental Quality (NCDEQ), however, did offer a response.
"The state environmental department is not a party to this litigation but it's important to point out that North Carolina is a national leader in cleaning up its power sector and improving air quality," said Mike Rusher, a spokesman for the NCDEQ, saying the state had cut carbon emissions "20 percent since 2005 without any federal intervention."
Frank Holleman, a senior attorney with the Southern Environmental Law Center who has fought lawsuits over pollution from coal plants in North Carolina, said today's hearing is just the first step. "If she wins this fight, then she starts over again with the EMC and will have the task of convincing the members of that commission to take her petition seriously and to work to see what they can do to fight climate change," he said……………..

Privacy advocates call renewed discussion cynical and say government 'back door' access to secure communications would doubtless be used by terrorists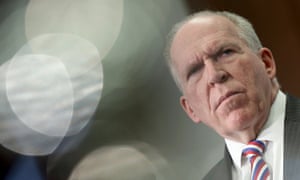 CIA director John Brennan on the top challenges facing US and global security and addressed questions related to Friday's terror attack in Paris. Photograph: Win McNamee/Getty Images
As the world continues to absorb the full impact of the murders of hundreds of civilians by Islamic State attackers in Paris, officials on both sides of the Atlantic have renewed a discussion that many thought had been closed: whether or not to allow government agencies "back-door" access to the codes used to secure communications and financial and personal medical information.
Bill Bratton, head of the New York police department, told MSNBC's Mike Barnicle that the department's ability to monitor locals had been hampered by encryption. "We have a huge operation in New York City working closely with the Joint Terrorism Task Force where we're monitoring and they go dark, because basically they go onto an encrypted app, they're going onto sites that we can't access."…………………

Inadequate planning, poor training and unclear policies for Baltimore police led to an undermining of protesters' basic rights – and many are concerned as the trials of the officers involved in Gray's death begin and the city's murder rate rises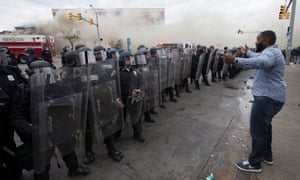 A man shouts at police in front of a building that was looted and set on fire during protests over the death of Freddie Gray. Photograph: Michael Reynolds/EPA
Baynard Woods in Baltimore and Jamiles Lartey in New York
T

he findings of an independent report on the Baltimore police department's flawed handling of the protests following Freddie Gray's death in April came as little surprise to Michael Wood, a former BPD officer and vocal critic of the department.
"Everybody thinks there is some plan but there is virtually zero control that goes on in the agency," Wood said.
The dysfunctional department that Wood has described is not far from the picture painted by the by the Police Executive Research Forum (Perf) in its independent review of the police force's performance. It found inadequate planning, poor training and unclear policies among a long list of "major shortcomings" in the department's response.
The 79-page report notes that the department's priorities for protest, which included the preservation of life, the protection of property, safe traffic flow, and restoration of normal city services, "should also include the protection of the constitutional rights of demonstrators". As it was, "these priorities and the guidelines for implementing them were not shared with operational personnel in the field", according to the report.
TJ Smith, the director of the department's media relations section told the Guardian: "I think the commissioner has made clear on several occasions the protection of first amendment rights."
Protesters say that the current police commissioner, Kevin Davis, has taken a harder line with protesters, a stance that will be tested at the end of the month when the trials of the officers involved in the death of Gray begin – and the city's murder rate continues to rise past 300, a number it has not seen since 1999.
Commissioner Davis took over the post after mayor Stephanie Rawlings-Blake fired Anthony Batts on the heels of a similar report released by the Fraternal Order of Police Lodge 3 in Baltimore. As the murder rate spiked after the death of Gray, many talked about a work "slowdown" among police officers angry at Batts, whose leadership Rawlings-Blake called a distraction.
Everybody thinks there is some plan but there is virtually zero control that goes on in the agency

Michael Wood, former BPD officer
Davis was second in command at the time of the unrest and his appointment resulted in the arrests of numerous protesters, including high school students, who took over city hall during his confirmation last month……………………..


A security camera recorded police officers in San Francisco chasing down and beating a suspect in the Mission neighborhood. The beating of the suspect, 26-year-old Stanislav Petrov, by two Alameda County officers is under investigation, and two public defenders have called for criminal charges
Source: San Francisco public defender's office