19 Nov
Opinion
More surveillance won't keep us safe from terrorism
The events following the ghastly terror attacks in Paris and Beirut last week have followed a tragically predictable formula. Once again, acts of senseless violence have left scores of innocents dead and millions around the world in mourning. Once again, we have watched these horrors unfold in real time on TV and social media, zigzagging through the maze of misinformation, anxiety and anger.
And once again, Western government officials are shamelessly exploiting tragedy to justify more surveillance, more reactionary military interventions and more draconian security policies at home. Their pitch is the same as it was after the last major attack, and the one before that, and as far back as anyone can remember: Give us just a little more power — surrender a few more civil liberties and a bit more privacy — and next time we will truly keep you safe.
Authorities wasted no time, blaming the attacks on the rise of sophisticated encryption even while admitting they have no evidence that encryption was actually used. On Saturday, Yahoo News parroted anonymous U.S. intelligence officials asserting that "terror suspects have moved to increasingly sophisticated methods of encrypted communications," supposedly resulting in surveillance of such groups "going dark." The New York Times published, and later removed from their website, an article citing unnamed European officials similarly stating that those responsible for the Paris attacks "are believed to have communicated using encryption technology," but that it is still "not clear whether the encryption was part of widely used communications tools, like WhatsApp … or something more elaborate." On Tuesday, a Times headline declared "Encrypted Messaging Apps Face New Scrutiny Over Possible Role in Paris Attacks," despite the article's very first sentence stating: "American and French officials say there is still no definitive evidence to back up their presumption that the terrorists … used new, difficult-to-crack encryption technologies to organize the plot."
Of course, the point of all this speculation isn't to determine how the terrorists actually planned the highly coordinated attacks, but rather to drum up fear by demonizing the widespread use of strong encryption, which has grown in popularity since National Security Agency whistleblower Edward Snowden's surveillance revelations.
Until recently, the Federal Bureau of Investigation and other U.S. agencies were on the offensive, demanding backdoors into end-to-end encrypted messaging apps such as Signal and WhatsApp, which by design send private messages that even the companies themselves can't read — and thus can't surrender to law enforcement. Security experts and Silicon Valley pushed back, noting that creating backdoors would open vulnerabilities that any well-resourced adversary — be they Russian cybercriminals or Chinese government hackers — could find and exploit, making everyday Internet usage much more dangerous as a result. The consensus was so overwhelming that even President Barack Obama backed down, conceding that his administration wouldn't be seeking encryption backdoors………………..

Remarkable CCTV footage appears to show gunman's machine gun jam as he tries to kill diner at Paris cafe
The CCTV footage is shot from three different angles inside the cafe, and shows, initially, a typical Friday night. The cafe is busy, inside and out, and two staff members stand at the bar talking.
CCTV footage from a restaurant in Paris shows a gunman (circled) stood just outside the restaurant, aiming his gun at a woman who is crouched beneath him (out of view). (This footage was first obtained and published by the Daily Mail).
Extraordinary footage of an Isis gunman rampaging in a Paris street has emerged in which it appears one woman's life is saved when the killer's machine gun jams as he tries to shoot her.
The video – CCTV footage obtained by the Daily Mail – shows the scene inside a restaurant in the seconds running up to and including the attack.
The gunman in the footage is reported to be fugitive jihadi Salah Abdeslam, who remains on the run six days after the attacks across Paris.
At the denouement of the assault, the gunman is seen pointing what is believed to be an AK-47 machine gun at the ground where a woman is crouched under a table.
He appears to squeeze the trigger, once and then again. But the weapon does not fire, either jammed or out of ammunition. The shooter runs off into the street, to a waiting car.
The woman then stands, looks around, and flees into the night.
It has been reported that while some people were injured by the gunfire at the pizzeria, nobody was killed.
The timestamp on the footage says 22:34 – apparently out by one hour, likely unchanged from the recent switch from daylight savings.
Without warning, bullets fly out into the cafe, sending people diving under tables. The bullets appear as flashes on the camera…………………..

Group helping family to resettle says Mike Pence does not have right to turn refugees away, but state 'indicated they wouldn't provide services' to Syrians
The governor of Connecticut, Dannel Malloy, has welcomed a family of Syrian refugees into his state after his counterpart in Indiana, where they had been due to be resettled, refused to accept them. On Wednesday Malloy says he is 'proud' the family of three has come to Connecticut and he wants to show them that 'not every American governor is the same'
A family of Syrian refugees destined for resettlement in Indiana was denied entry to the state and instead began a new life in Connecticut on Wednesday.
The governor of Indiana, Mike Pence, is one of at least 30 governors who have said they do not want to resettle Syrian refugees in their state even though they do not have the authority to refuse to do so.
Rather than starting a new life in Indianapolis, the family will settle in New Haven, Connecticut.
Connecticut governor Dannel Malloy welcomed the family to his state with open arms. "It's the right thing for us to do to respond to this tragedy," Malloy said during a press conference on Wednesday. "We have an obligation to the other nations of the world to do our part."
No Syrians allowed: the US governors who are rejecting refugees – video:

More than half of the state governors in the US are saying they will not take Syrian refugees following the terror attacks in France. Ultimately, the decision rests with the federal government, but a mood of suspicion has descended upon parts of the country, pushing many officials to shut up shop. We look at how some of the governors are justifying their seemingly anti-refugee stance

Washington College sends students home and plans to remain closed through Thanksgiving as officials search for troubled 19-year-old sophomore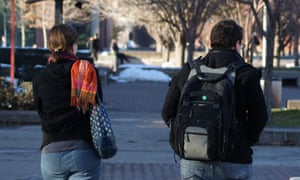 Students have been sent home amid concerns that a missing student could be armed. Photograph: Bradley Gordon/flickr
Associated Press in Annapolis, Maryland
The disappearance of a troubled student who might be armed with a gun has prompted a Maryland college to close its doors and send more than 1,400 students back home or to temporary accomodations through the end of the month.
Washington College in Maryland announced on Wednesday it would be closed through the Thanksgiving holiday while authorities continue searching for missing 19-year-old sophomore Jacob Marberger.
Sheila Bair, president of the private school of about 1,450 students, said on the college's website that the decision was based on continuing consultations with law enforcement. The college anticipates resuming classes on Monday, 30 November, and the college will reopen the day before.
"Following the difficult events of the past few days, Washington College will be canceling classes this week and the week of Thanksgiving break," Bair said.
Local and federal authorities including the FBI are still searching for Marberger.
The school on Maryland's Eastern Shore first canceled classes Monday, after Marberger's parents called the college to say he had returned home to Pennsylvania outside of Philadelphia and may have taken a firearm. College officials initially planned to reopen Tuesday but decided to close until further notice and evacuate students after receiving new information from law enforcement.
"All residential students have either returned home or been taken in by members of the campus and Chestertown community," Bair said in her statement Wednesday.
Marberger is wanted on four charges related t………………….

 Opinions
Many countries have been hit by devastating terror attacks yet responded with restraint. The west can learn from their experiences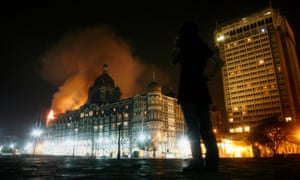 Smoke is seen coming from Taj Hotel in Mumbai in November 2008. Photograph: Arko Datta/Reuters
M

uch has been said about the asymmetry of western grief, which weeps for Paris and shrugs at blasts in Beirut or Baghdad. But that is not the only disparity in the way the east and west reacts in the face of terrorist attacks. When terror strikes the west, it is rare that just tears flow. The blood of those we bomb flows, too.
Like many, I shed tears for Paris. I have lived there and spent much of the weekend grieving with friends who know and love the city. But our grief was interrupted by a declaration of what French president François Hollande called a "pitiless war". Blood was being demanded.
Hollande said: "Terrorism will not destroy the Republic, because the Republic will destroy it."
His first statement is correct. Terrorism will not destroy France; Isis's black flag will never fly over the Assemblée Nationale. As foreign policy expert Stephen M Walt recently argued in Foreign Affairs, Isis neither has an ideology contagious enough to topple stable governments through popular revolution, nor the firepower to spread its ideas through conquest. Isis, in other words, poses no existential threat to the western world.
As for Hollande's boast that France will destroy Isis, history tells us that he will be sorely mistaken. Isis – especially the ideology that motivates its members – cannot be eradicated through bombs. That is why the world is trying to reach a negotiated ceasefire and peace in Syria: we know that the best way to contain Isis is to restore peace to the few tumultuous places in the Middle East where it has established a quasi-state.
Hollande's belligerent response – dropping 20 bombs on Raqqa on Sunday alone – will not protect France from further terrorist attacks, especially when they are planned in neighboring Belgium. Nor will it rid the world of Isis. So why has the French leader responded to violence with more violence?
What happened in Paris has been described as a "Mumbai-style attack", but it did not provoke a Mumbai-style response. I wish it had.
I was living in Mumbai in 2008 when 10 gunmen from Lashkar-e-Taiba held the city under siege for three days. The terrorists struck numerous sites, including Mumbai's most luxurious hotels, a popular cafe, a heritage Victorian central train station and a Jewish religious center. More than 160 people were killed. It was devastating, physically and emotionally.
When the gunfire ceased, many of us in Mumbai and throughout India felt the fear of terror replaced with another fear: that there would be war. We worried that there would once again be communal violence between Muslims and Hindus on the streets; we dreaded the thought that politicians would exploit the attacks to foment suspicion between people in our diverse country, in which people of different religious, language and ethnic groups all live together.
Then-Prime Minister Manhmohan Singh instead responded with admirable restraint. The attackers were all Pakistanis, who had trained in Pakistan and whose handlers were instructing them during the attack from the other side of the border. Yet, when the then prime minister addressed the grieving nation, he refused to order military strikes against that country…………
More Opinions
By Jesse Berney