21 Nov
Leaders fear worsening 'climate of hostility' as conservative candidates call for database to track Muslims and equate Syrian refugees to 'rabid dogs'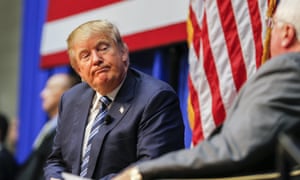 Several Muslim American groups compared Trump's comment to the branding and forced identification of European Jews that paved the way to the Holocaust. Photograph: Erik S Lesser/EPA
Prominent Muslim Americans have reacted with anger and dismay to the incendiary remarks of Donald Trump, the leading Republican candidate in the 2016 presidential race who called for a database of all Muslims in the country to be set up, in order to track their movements.
Trump's comment was compared by several Muslim-American groups to the branding and forced identification of European Jews that paved the way to the Holocaust.
The Republican presidential frontrunner said that if elected president, he would implement a system to track Muslims in the country. Trump even suggested further steps to ensure US security: 'There should be a lot of systems, beyond databases,' he told NBC, saying such policies would help America to crack down on illegal immigrants. Asked how he would implement such a system, Trump replied: 'Good management'
Muslim leaders told the Guardian they were shocked that a public figure who is the current frontrunner for the Republican presidential nomination would utter such an inflammatory idea in the wake of the Paris attacks, when relations were already fraught.
"This is beyond terrifying, any student of history knows what special IDs did in Europe," said Nihad Awad, executive director of the largest Muslim advocacy group in the US, the Council on American-Islamic Relations (Cair). "In 20 years I have not heard such intolerance and hatred from political leaders in this society."
Awad said that Trump's promise to "certainly implement" a Muslim database were he to win the race for the White House – coupled with comments equating some Syrian refugees to "rabid dogs" by his immediate Republican rival Ben Carson – suggested that Islamophobia had been co-opted into mainstream US politics.
Republican presidential hopeful Ben Carson says in Alabama on Thursday that stopping militants posing as Syrian refugees from entering the US was like handling rabid dogs. Carson is among the GOP hopefuls who have called for the US to close to its borders to Syrian refugees in the wake of last week's attacks in Paris in which 129 people died
"We are talking about America in the 21st-century potentially about to be led by dangerous people," he said.
Saif Inam of the Muslim Public Affairs Council, a Washington-based policy institution, also likened Trump's proposed database to the "J" that was stamped into the passports of European Jews by the Nazis.
"The fact that he has the gall to say that and still be up there in the polls is troubling to say the least," he said.
Inam said what was most disturbing was the implication that many core conservatives supported the contentious positions struck by Trump and Carson.
"This is creating a climate of hostility and we have to stop it before it spreads," he said.
The provocative statements of the two leading conservative candidates are all the more worrying for Muslim groups because they were not made in isolation. The Republican party has responded to the Paris attacks by embracing almost in unison positions that assume Muslims should be treated with suspicion.
Even Jeb Bush, who is held up as the "moderate" Republican candidate, reflecting the views of the party establishment, has said that after Paris he would only allow in Syrian refugees who can prove they are Christian.
On Thursday the Republican-controlled House of Representatives defied the Obama administration and passed legislation, likely to be vetoed by the president, that imposes tough new restrictions on refugees from Syria and Iraq.
The House move came on the back of the legally dubious decisions of more than half of all state governors to block the resettling of Syrian refugees in their areas.
The anti-Muslim rhetoric emanating from such high-profile political sources is sending a chill across Muslim-American communities. Omid Safi, director of the Duke Islamic Studies Center, said it sent a clear signal that "we do not belong here".
"We have to resist it with all of our souls, all of our might, and all of our intellect," he said, "not only for what's at stake in terms of lives of Muslims, but also because of what it says about the reality of what it means to be an American."
Muslim-American groups fear rhetoric will translate into acts of hatred. In the wake of the Paris attacks, there have been isolated incidents of apparent hate violence across the US. Incidents have been reported outside a mosque in Connecticut; at a mosque in St Petersburg, Florida and a Muslim family home in Orlando; and in several other states.
Hostility was also reported in Dearborn, a suburb of Detroit that is home to 96,000 people, a third of whom are Arab Americans. Last Saturday, a navy veteran from Michigan stoked fears across town when she took aim at Dearborn on social media.
"Dearborn, MI, has the highest Muslim population in the United [States]," wrote 28-year-old Sarah Beebe, on Twitter. "Let's fuck that place up and send a message to Isis. We're coming."
Dearborn police launched an investigation and said the case would be forwarded to federal law enforcement officials for review.
Beebe apologized in an interview with a local TV station, saying the "off-the-cuff post will haunt me for the rest of my life".
Just days later, it emerged that a Muslim woman living in neighboring Dearborn Heights had received threats from a neighbour who sent her a letter in which he called her a "sand nigger" and warned her to "stop the madness before something bad happens to your house or you".
The woman, who wears the hijab, then received a second letter that said: "Go back to your Middle Eastern country. We HATE you more than niggers."
The woman's lawyer, Amir Makled, said the biggest concern for the Dearborn Arab community in the light of Paris was the negative rhetoric from Republican presidential candidates.
"It trickles down into the community and people are obviously getting the backlash from that," he said.
In Minneapolis, which is home to the US's largest community of Somali-American Muslims – at least 30,000 live in the Minneapolis-Saint Paul area – community leaders say they feel pressured from two sides: on the one hand the fear of Islamophobia and on the other the authorities, who imposed an unpopular surveillance program at several Somali mosques after six men were charged with leaving to join Isis in April.
Abdirizak Bihi, a community organiser, said that there had not been any notable incidence of Islamophobia since the attacks in Paris, but said he was concerned with what it might lead to.
"When things like what happened in Paris happen, it leads to a lot of misunderstanding," he said.
The executive director of the Minnesota branch of Cair, Jaylani Hussein, said he received all kinds of threats, including death threats, even before Paris.
He said the Muslim community was keenly aware of the threat of Isis and other groups, especially the Somalia-based al-Shabaab.
"So when Paris happens, it's a double whammy," he said. "We're feeling it, but we also feel the stigma that is going to come upon us."
The anxiety that Republican rhetoric will trickle down to the wider community has been borne out by analysts monitoring hate groups in the US. Heidi Beirich, an authority on the subject with the Southern Poverty Law Center, said the Republican dialogue was "adding fire to the xenophobia expressed by far-right groups.
"This is a serious problem," she said. "It's fuelling bigotry and hatred."
On Tuesday the Council of Conservative Citizens, the white-nationalist organization that inspired the man accused in the Charleston mass shooting, Dylann Roof, ran a guest column on its website.
Bob Enos, from Minnesota, wrote: "The reaction from over 20 US governors and many state legislatures, demanding the Syrian refugee resettlement program be halted amidst security concerns, is a long-overdue validation of our concern."
Enos went on to decry the "US refugee resettlement industry", which he said was peddled by "meatpackers and various low-wage employers, and the United Nations".
He concluded: "We must keep up the pressure, on as many fronts as possible."

The McGlynn
 
The above, to me, is so abhorrent, alarming and important, that it is the only news posted today.
The isolation, registering and even quarantining all of those having the Muslim faith, be they citizens, refugees or just guests in our country, attacks the very foundation of my country and my personal beliefs.
I am so abhorred at this that I must compose myself before I write more. And that I will surely do.
However, a few words. Go ropa an diabhal thú!