DoJ lawyers expected to fly to Minneapolis as protesters and family demand authorities release footage of police officers involved in case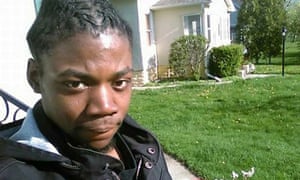 Jamar Clark was killed a week ago. Minnesota's governor has said: 'I will urge that the tapes be released, as soon as doing so will not jeopardize the Department of Justice's investigation.' Photograph: Courtesy of the Family
US Justice Department attorneys were expected to fly to Minnesota on Sunday, to investigate the killing of an African American man that has prompted protests and calls for the two Minneapolis police officers involved to be prosecuted.
A key issue during the lawyers' visit will be whether authorities should release to the public videos of the fatal shooting of 24-year-old Jamar Clark a week ago.
Federal and state authorities have resisted releasing the footage – from an ambulance, mobile police camera, public housing cameras and people's cellphones – because they said it does not show the full incident and making the recordings public would compromise their investigations.
Minnesota governor Mark Dayton said on Saturday that he had asked Clark's family and representatives of the Black Lives Matter group protesting his death to meet with the federal government lawyers.
"I will urge that the tapes be provided to the family and released to the public, as soon as doing so will not jeopardize the Department of Justice's investigation," Dayton said after meeting with the family and leaders of the protesters.
Dozens of demonstrators huddled around bonfires early on Sunday in frigid temperatures at an encampment outside a Minneapolis police station that they have said will not be dismantled until their demands are met.
Minneapolis civil rights activist Mel Reeves said the primary goal of the protests is to see the officers involved in the death of Clark prosecuted based on statements of people who say they saw the shooting. He said the officers should face charges and "go through the same procedures that we do. We think they're guilty, but let the court decide."
Both officers involved in the shooting, Mark Ringgenberg and Dustin Schwarze, have been placed on standard administrative leave. Authorities haven't said who fired the fatal shot.
Police have said the officers were responding to an assault call and found the 24-year-old Clark interfering with paramedics. Authorities say there was a struggle. The head of the Minneapolis police union has said Clark was shot after reaching for an officer's gun. Protesters have said they don't believe that version of events…………