25 Nov
Chicago mayor: 'I understand people will be upset by police shooting footage' – video
Chicago mayor Rahm Emanuel called for calm on Tuesday night ahead of the release of video from 2014 showing a white police officer shooting a black teenager 16 times. Emanuel said he understood that some people would be upset by the footage, but he called for peaceful protests in the city: 'Let's build bridges of understanding'
Activists gathered Tuesday night with chants of '16 shots'
Tensions surged after local leader Malcolm London's arrest
Dashcam video footage showing the killing of a black teenager by a police officer was released on Tuesday. The video captures the final moments before 17-year-old Laquan McDonald was shot 16 times. The Chicago police officer involved in the shooting has been charged with first-degree murder
WARNING: This video contains graphic content that some viewers may find distressing


Chicago is braced for more protests on Wednesday after anger spilled on to downtown city streets overnight following the

release of video footage

showing the fatal shooting of a black teenager by a police officer.
Protests are expected outside city hall on Wednesday and demonstrations are being planned to block the city's main shopping thoroughfare, Michigan Avenue, during the traditional post-Thanksgiving spending bonanza on Friday.
Civil rights leader Jesse Jackson said he hoped to see "massive" but peaceful protests.
Chicago

mayor Rahm Emanuel warned that the city's residents "will have to make important judgments about our city and ourselves – and go forward".
The shocking video showing 17-year-old Laquan McDonald being gunned down by police was made public Tuesday on the same day that

a white Chicago officer was charged with murder

in the case.
The rare decision to bring a murder charge against a member of Chicago law enforcement after the deadly shooting of a resident perhaps contributed to the peaceful and relatively small nature of the demonstration that stretched into the early hours of Wednesday, as agitated crowds gathered in streets, stopped traffic in downtown Chicago and chanted.
The video made public on judge's orders on Tuesday, which lasts six minutes and 54 seconds, shows the confrontation on 20 October 2014 between the teenager and two armed police officers. Laquan is seen striding down the middle of a two-way street and appears to be carrying a knife when the dashboard camera of a police patrol vehicle records the moment that two officers point handguns at him…………………
Analysis
The footage shows a poor police response to a seemingly contained situation, but uncertainty about the officers' actions – and a whiff of conspiracy – remain
Four hundred days after 17-year-old Laquan McDonald was shot and killed by a

Chicago

police officer as he ran-walked down the city's Pulaski Road, dashcam footage was released Tuesday showing the entire fatal encounter.
The video's release came just hours after Lake County state's attorney Anita Alvarez announced that CPD officer Jason Van Dyke, who fired all 16 shots that struck Laquan, had been charged with first-degree murder. It was also preceded by a press conference from

Chicago mayor Rahm Emanuel

, who urged people to remain calm in reaction to the video, which he subsequently claimed not to have seen yet.

Dashcam video footage showing the killing of a black teenager by a police officer was released on Tuesday. The video captures the final moments before 17-year-old Laquan McDonald was shot 16 times. The Chicago police officer involved in the shooting has been charged with first-degree murder
WARNING: This video contains graphic content that some viewers may find distressing
Had the mayor decided to watch, he likely would have found that despite its lack of audio, its graininess and its low lighting, the video reveals many important, troubling and instructive details about what happened that night. He would also likely have discovered that some questions about Laquan's death reach far beyond the nearly seven-minute clip – and others remain unknown.
The officers made a poor tactical choice
When officer Van Dyke approached Laquan, who was running from other officers and in possession of a small folding knife, there was little or no consideration for maintaining a safe distance. Marq Claxton, the director of the Black Law Enforcement Alliance, said the officers' rapid, close-proximity approach endangered the lives of both the teenager and the officers.
"Common sense mandates – and training dictates – that you maintain a safe distance, and take advantage of opportunities for cover and concealment," Claxton said, adding that in many police shootings "the police actually create the extreme level of danger with bad tactics".
According to Claxton, the shooting of Laquan McDonald is a clear example of this phenomenon: "Not only did you have an individual pretty isolated, it looked to be contained, but you as a professional responding to that have the advantage of time. There's no reason to insist that something happens in one minute, two minutes or five minutes."
The video footage, shot from the vehicle that followed directly behind the one Van Dyke was driving, instead shows the officer speed his vehicle to the scene, apparently attempting to engage Laquan as quickly as possible. The officer riding in the passenger seat of the squad car even briefly – prematurely – opens his door before Van Dyke stops, which would have put him even closer to Laquan had he gotten out.
Claxton stressed de-escalation and the minimum possible level of engagement in these types of situations, as long as no civilians or other officers are in imminent danger. "A lot of times police officers will very quickly respond right to a location and immediately engage people when the idea should be to de-escalate. If you can bring the situation down and have the person comply eventually, then you………………..
Members of Witness Against Torture, seeking camp's closure, to begin protest on Wednesday before a fast starting on Thanksgiving in solidarity with inmates

A U.S. trooper mans a machine gun as a guard looks out from a tower in front of the detention facility at Guantánamo Bay. Photograph: Brennan Linsley/AP
Fourteen peace activists from across the United States will begin a protest vigil and fast along the perimeter fence of the US military detention camp at Guantánamo Bay, Cuba, on Wednesday in an attempt to draw attention to what they consider to be ongoing human rights abuses at the prison.
The protesters are all members of Witness Against Torture, a group which campaigns to have Guantánamo shut down. They plan to set up camp as close as they can to the 107 remaining detainees still being held at the facility. They will then begin a fast on Thanksgiving in symbolic solidarity with the 47 men inside the prison who have been cleared for release but are still trapped in legal limbo having never been charged with any crime, many of whom have been on hunger strike.
The group, ranging in age from 25 to 65 and drawn from across the US, has strong ties with the Catholic workers movement but also includes Protestants, Muslims, Jews and Buddhists. "We see Guantánamo as a radical assault on the rule of law and the alleged pillars of American democracy, and we call on the US to obey the values it claims to hold dear," said Jeremy Varon, an associate professor of history at the New School in New York and the one atheist among the group.
The action falls on the 10th anniversary of a similar protest by 25 Witness Against Torture members who, in December 2005, walked about 70 miles from Santiago de Cuba to the Guantánamo detention camp and held a four-day vigil. On that occasion, the protesters travelled to Cuba in breach of the US embargo of the country, though they suffered no legal repercussions.
On this occasion, the 14 have benefited from the loosening of the US travel ban with Cuba that followed the re-establishment of diplomatic relations between the two countries in July. The activists flew to the island from Miami on tourist visas.
For the past three days, they have been at an international seminar on opposing US military bases around the world, which has been held in Guantánamo province – a convenient starting point for their independent vigil at the prison about 15 miles away. The plan is to pitch tents beside the fence on the perimeter of the Cuban military zone that encircles the US military base at Guantánamo, the closest the protesters expect to get to the prison quarters themselves.
Frida Berrigan, from New London, Connecticut, who will be making her second such vigil, having been one of the original 2005 protesters, said for her, the main focus was on the 47 men cleared for release yet still stuck at Guantánamo. "Those particular men really need to be freed and returned to their own countries if they can, or if not, sent to a third country."………………..
US commander in Afghanistan blames human error and equipment failure for bombing that killed 30 people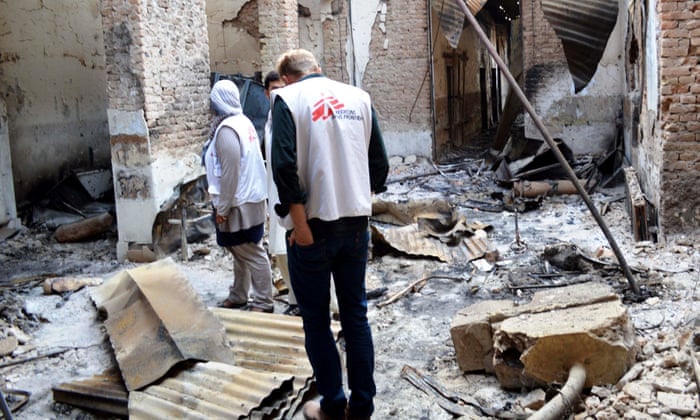 MSF staff search the medical facility destroyed in a US airstrike in Kunduz. Photograph: Xinhua/Landov/Barcroft Media
US military

commanders in Afghanistan took 17 minutes to act after being warned by Médecins Sans Frontières that their aircraft was firing on a medical centre full of doctors and civilians, an internal investigation has found.
By the time officers made contact with an AC-130 gunship, which had mistaken the facility in Kunduz for a Taliban-controlled building several hundred metres away, it was too late.

Thirty staff, patients and assistants were killed

and 37 injured in one of the worst incidents of civilian casualties in the 14-year war.
General John Campbell, the US commander in

Afghanistan

, said on Wednesday that some of those most closely involved in the disastrous catalogue of errors have been suspended from their duties pending disciplinary action, but he declined to give names or say how many.
Related Content
Opinion
Today's refugees don't look, sound or worship like we do, but the Pilgrims were different than the indigenous people who still welcomed them here
None of us would be here if Native Americans took one look at the Mayflower's occupants and fought them away. Photograph: Alamy Stock Photo
T

hanksgiving is as known for being a day to delicately navigate talking to relatives with vastly different political beliefs as it is for overeating. And the hot-button topic certain to be on everyone's lips will be what do about Syrian refugees. If it were up to

25 Republican governors

and the

US House of Representatives

, the answer would be to keep them out.
This is ironic. Today's Syrian refugees today don't look, sound or worship like us, but the Pilgrims that landed on Plymouth Rock 400 years ago also didn't look, sound or worship like we do – and certainly neither looked, sounded nor worshipped like the native inhabitants of America do.
They brought Calvinist determination to this country, and we celebrate that, but that determination came pre-packaged with bigotry and narrow-mindedness. What came to be known as the Protestant work ethic was driven by the same zeal that caused some of the British exiles who landed on American shores to persecute anyone already here, or who came here after, who wasn't like them. We praise the Pilgrims' work ethic as part of our American DNA, but rarely acknowledged the work ethic and determination of the people who already lived here, nor what the Pilgrims and those who came after them did to destroy the indigenous people they met.
Though we may never know exactly what transpired on that first

Thanksgiving

, let's never forget that it was the Native Americans' land – and that they brought the food. If we continue to celebrate the Pilgrims, or even just use them as an excuse to eat too much pie, we and our lawmakers should acknowledge that turning our backs on Syrian refugees is akin to turning our back on our own foundations.
While it's true that the Pilgrims weren't exactly fleeing a war-torn country, they were leaving a homeland where they were fined, jailed and sometimes

even executed for their views

. Calling themselves "saints" or "the godly", the Pilgrims were religious separatists who argued for a complete break from the state-run Church of England, which ran them afoul of the law and the king.
After a decade of exile in the Netherlands that saw "

sundry of them taken away by death

" and their children tempted by "the great licentiousness of youth in that country", the Pilgrims partnered with financial backers in England to help them outfit the Mayflower for the long voyage. In return, they agreed to work for the company to repay their debts. Then they sailed across the pond, exploited the locals and paved the way for the America we have today.
Though their behavior in "the new world" was far from saintly, the Pilgrims were still refugees. But today's conservatives – some of whom would go so far as to float the idea of

World War II-style internment camps for Syrian refugees

or

registration lists for Muslims

– can't stomach the idea that if the Pilgrims were to show up today, the Republican Party would turn would them back at the border. They actually were a lot of what conservatives are mistakenly accusing Syrian refugees of being……