President's comments chime with Hillary Clinton's lament for 'loss of so many young African Americans' as Chicago braces for more demonstrations
Dashcam video footage showing the killing of a black teenager by a police officer was released on Tuesday. The video captures the final moments before 17-year-old Laquan McDonald was shot 16 times. The Chicago police officer involved in the shooting has been charged with first-degree murder
WARNING: This video contains graphic content that some viewers may find distressing
President Obama has said he was "deeply disturbed by the footage of the fatal shooting of 17-year-old Laquan McDonald" in a Facebook message in which he also thanked the people of Chicago for their peaceful protests.
Presidential candidate Hillary Clinton has also plunged into the heated debate following the release of a video showing the black teenager being shot multiple times by a Chicago police officer, saying: "We cannot go on like this."
She also put the death in a national context, lamenting "the loss of so many young African Americans taken too soon" in a statement released on Twitter as Chicago continued to simmer in the wake of protests on the night the video was made public.
The city is braced for further demonstrations over the footage of 17-year-old Laquan being gunned down as he jaywalked near law enforcement, and a white Chicago officer was charged with murder in connection with the death.
"The family of Laquan McDonald and the people of Chicago deserve justice and accountability," Clinton said.
She added that the country needed to grapple with broader questions.
"The mothers I met recently in Chicago are right: we cannot go on like this. All over America, there are police officers honorably doing their duty, demonstrating how to protect the public without resorting to unnecessary force. We need to learn from and build on those examples," she said………………

Jason Van Dyke faced no disciplinary action on known outcomes of complaints, which reflects a larger pattern in Chicago police department, database reveals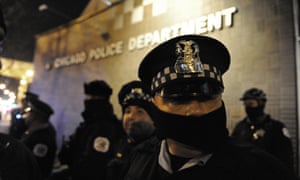 Chicago police officers line up outside headquarters on Tuesday during protests for Laquan McDonald, who was fatally shot by Jason Van Dyke last October. Photograph: Paul Beaty/AP
Chicago police officer Jason Van Dyke, who has been charged with murder in the 2014 shooting death of a black teenager, had 20 allegations of misconduct filed against him, according to an independent database of police complaints.
The database, created by non-profit journalism group Invisible Institute, includes records of 10 complaints about the use of excessive force by the officer, and other allegations including "improper search of person" and "improper search of vehicle".
Of the 14 complaints in the database where the outcome of the allegation was known, none resulted in disciplinary action. That fits with a broader pattern revealed by the database – of the 56,361 allegations of misconduct made against Chicago police department officers just 4%, or 2,277, were sustained.