29 Nov

Thousands take to streets ahead of Paris climate summit
Sydney to Seattle, via Hong Kong, Berlin, London and Sao Paulo, march on Sunday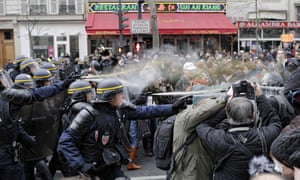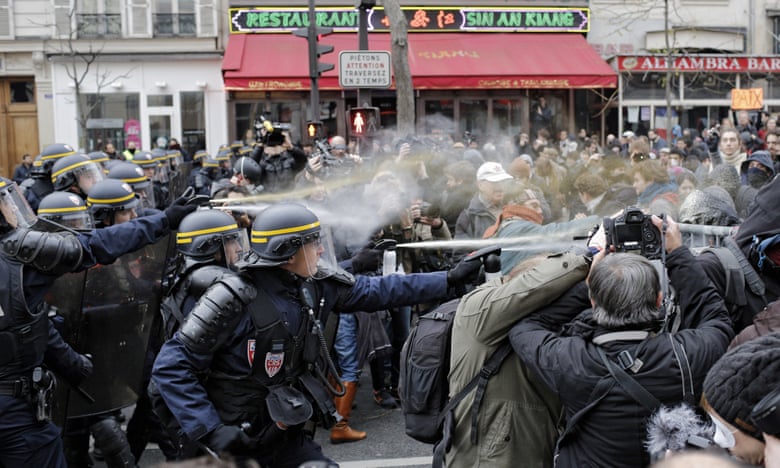 Policemen fight with activists during a protest ahead of the 2015 Paris climate conference at the Place de la Republique. Photograph: Laurent Cipriani/AP
Climate activists in the US and Canada haven't been able to muster the kinds of numbers seen at marches in Europe and Australia (in particular), nor is there the celebrity impact of, say, Radiohead's Thom Yorke DJ-ing for the crowd, as happened in London earlier.
But hundreds of people have shown their support for a shift to renewables across North America, including the White House, New York and the Texas capitol building in Austin…………..

After an organisation executive described the incident as 'domestic terrorism', debate has raged over what the wider policy and justice repercussions will be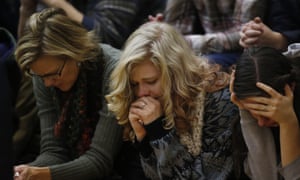 Women at vigil in Colorado Springs on Saturday for the victims of the Planned Parenthood clinic attack. Photograph: David Zalubowski/AP
In the hours following the shooting that killed three people and injured nine at a Planned Parenthood center in Colorado Springs on Friday, many politicians and commentators were criticized for supposedly politicizing the tragedy. Some fell into the trap. Others jumped in head-first.
On Friday afternoon, shortly after news of the shooting broke, Vicki Cowart, president and chief executive of Planned Parenthood Rocky Mountains, sent out a statement that referred to "domestic terrorism". The statement was subsequently revised, to refer to "acts of violence".
"Words matter," Cowart told the Guardian on Saturday. "And what is the definition of domestic terrorism?"
The FBI says it is "violent acts or acts dangerous to human life that violate federal or state law", as well as any acts of violence with a distinct ideological message or purpose.
Nonetheless, in Colorado Springs, that question was debated in a highly charged atmosphere.
Critics said such labels should be avoided until a clear motive was established. By Saturday night, though police had not said what motivated the gunman, the mayor of Colorado Springs had said a motive could be "inferred" by the location of the shooting: a clinic run by a body which provides abortions.
On Saturday morning, however, with now characteristic anger, Barack Obama entered the debate. From the White House, the president issued a statement that connected the incident to the lack of gun control in the US.
"I actually don't begrudge Obama his politicization of this event," said Daniel Cole, executive president of the Republican party of El Paso county, in which lies Colorado Springs.
"Political problems demand political solutions, and clearly he thinks this is a political problem. But when victims have not even been buried yet, to suggest that 'If everyone had simply followed my advice yesterday, none of these bad things would have occurred,' that sounds a little silly……………….

Market hit in bombing, say monitoring groups, as Turkey prepares to hand over body of pilot shot down on Tuesday
A portrait of Oleg Peshkov among flowers outside the Russian defence ministry building in Moscow. Photograph: Maxim Shipenkov/EPA
Russian warplanes have killed at least 18 people in a town in northern Syria held by insurgents, a monitoring group reported, as Turkey prepares to hand over the body of a Russian pilot shot down in Turkish air space.
The airstrikes were on the town of Ariha, according to the Syrian Observatory for Human Rights (SOHR), and the Local Coordination Committees, an activist collective, said a busy market was hit, causing heavy casualties.
The SOHR, which relies on a network of activists inside Syria, said the airstrike destroyed three buildings in the town centre. Ariha Today, a Facebook page that covers the town, said the airstrikes were carried out by Russian planes and claimed that 40 people were killed and more than 70 wounded.
If it is confirmed that Russian aircraft carried out the attack, it would be one of the deadliest incidents since Moscow began launching airstrikes in Syria two months ago. The SOHR says Russian strikes have killed more than 400 civilians, including 166 women and children.
News of the bombing came as the body of the pilot killed when Turkey shot down a Russian jet was taken to Turkey late on Saturday to be handed over to Russia, the Turkish prime minister said……………

Francis tells people he is 'pilgrim of peace' and schedules trip to PK5, known as most dangerous area of capital, Bangui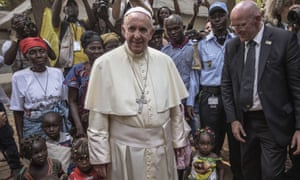 Pope Francis visits an internally displaced people camp in Bangui, Central African Republic. Photograph: Gianluigi Guercia/AFP/Getty Images
Harriet Sherwood in London and Margaux Benn in Bangui
Pope Francis became the first pontiff in recent history to visit a war zone when he arrived in Central African Republic (CAR), declaring himself a "pilgrim of peace and an apostle of hope".
During a 24-hour visit to the capital, Bangui, Francis was accompanied by Vatican security personnel in flak jackets and armed UN peacekeepers. UN tanks patrolled the streets.
CAR has been embroiled in civil war between a Muslim minority and a Christian majority since March 2013. Thousands of people have been killed, about 1 million people displaced and property looted and destroyed. Human rights violations have included extrajudicial killings, disappearances, torture and endemic rape and sexual violence.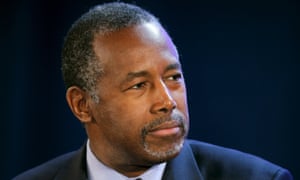 Opinion
The man arrested in the Planned Parenthood shooting allegedly told police 'no more baby parts'. Can we stop pretending that pro-life lies don't have an effect?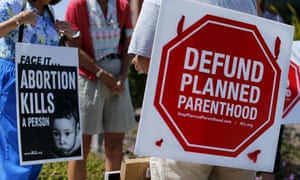 Protesters outside a Planned Parenthood clinic in Vista, California, on 3 August 2015. Photograph: Mike Blake/Reuters
Words matter. When we dehumanize people – when we call them demons, monsters, and murderers – we make it easier for others to do them harm. Let's not pretend that we don't know that.
How we talk about abortion matters. We know it, and anti-choice extremists and politicians know it. Anti-abortion activists are not making WANTED posters or revealing doctor's addresses for fun. They're doing it to harass and intimidate, and they're doing it knowing the long history of violent fanatics using their rhetoric to justify crimes against providers and clinics.
According to an anonymous police source, after Friday's attack on the Colorado Springs Planned Parenthood, the alleged perpetrator made a comment in its wake about "no more baby parts". He specifically targeted the facility.
The shooting may be the most horrifically violent attack on a clinic in the country's history, but it was far from the first. There have been four arson attacks against centers that provide abortions just since July, when David Daleiden and the euphemistically named Center for Medical Progress began releasing deceptively edited videos of Planned Parenthood employees discussing fetal tissue donation. Or, as anti-abortion activists and politicians have referred to it, "baby parts".
The attack in Colorado, which left three people dead and nine wounded, was shocking, but it was also the predictable result of a culture that demonizes abortion, uses fantastical and false rhetoric about Planned Parenthood and allows politicians and activists to make false representations about women's reproductive health…………………..