01 Dec

Narendra Modi announces a new alliance of nations and industry on large-scale expansion of solar energy use in the tropics and beyond
Indian prime minister Narendra Modi holds a news conference alongside French president François Hollande on Monday to launch a global initiative for the promotion of solar power. The alliance of over 120 countries has pledged to invest in providing solar energy to developing areas, with Modi stating that the project will create 'unlimited economic opportunities', which will form the 'foundation of the new economy of this century'
India's prime minister has launched an international solar alliance of over 120 countries with the French president, François Hollande, at the Paris COP21 climate summit.
Narendra Modi told a press conference that as fossil fuels put the planet in peril, hopes for future prosperity in the developing world now rest on bold initiatives.
"Solar technology is evolving, costs are coming down and grid connectivity is improving," he said. "The dream of universal access to clean energy is becoming more real. This will be the foundation of the new economy of the new century."
Modi described the solar alliance as "the sunrise of new hope, not just for clean energy but for villages and homes still in darkness, for mornings and evening filled with a clear view of the glory of the sun".
Earlier, France's climate change ambassador, Laurence Tubiana, had called the group "a true game-changer".
While signatory nations mostly hail from the tropics, several European countries are also on board with the initiative, including France.
Hollande described the project as climate justice in action, mobilising public finance from richer states to help deliver universal energy access.
"What we are putting in place is an avant garde of countries that believe in renewable energies," he told a press conference in Paris. "What we are showing here is an illustration of the future Paris accord, as this initiative gives meaning to sharing technology and mobilising financial resources in an example of what we wish to do in the course of the climate conference."
The Indian government is investing an initial $30m (£20m) in setting up the alliance's headquarters in India. The eventual goal is to raise $400m from membership fees, and international agencies……………….
Family and friends mourn Ke'Arre Stewart, Jennifer Markovsky and officer Garrett Swasey in wake of shooting at Colorado Springs facility on Friday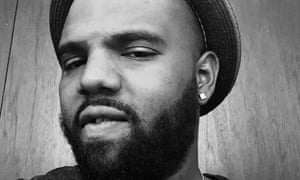 Ke'Arre Stewart, a 29-year-old father of two, ran back inside the clinic after being shot to warn those still inside to take cover, according to his brother. Photograph: Facebook
Two civilians – a mother of two and an Iraq war veteran – and one police officer were killed in the attack, for which suspect Robert Lewis Dear, 57, was taken into custody. Dear is scheduled to appear in court on Monday to be advised of the charges that could be filed against him.
Jennifer Markovsky, a 35-year-old Hawaii-born resident of Colorado Springs, was killed while accompanying a friend during an appointment at the clinic. Her friend was shot in the hand.
According to her Facebook page, Markovsky had worked at Kmart for 13 years and loved nature photography. She was the mother of a young son and daughter, and married to Paul Markovsky, whom she met in Hawaii while he was stationed there with the US army, the Denver Post reported.
On her profile, Markovsky posted several photographs of her children and expressed pride for her son, who won gold and silver medals in the 2013 Colorado Special Olympics. She was a 1997 graduate of Waianae high school in Hawaii.
Markovsky's father, John Ah-King, wrote on Facebook: "To my daughter Jennifer I'm going to miss so much, I lost you in a senseless shooting in Colorado Springs, Planned Parenthood.
"Life was too short my beloved daughter, I was waiting to see you soon, I'm going to miss you, my memories of you will live on in my heart and mind! Missing you!!!"………………..

Investigation under way into felony hate-crime charges for shooting that left five people injured as prosecutor says actions of the accused are 'just not acceptable'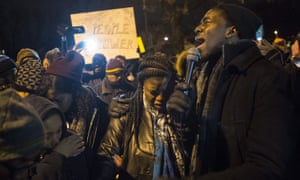 The NAACP youth director, Stephen Green, right, sings We Shall Overcome at the site of a memorial set up for Jamar Clark. Photograph: Aaron Lavinsky/Zuma Press/Corbis
Officials have filed charges today against four men accused of shooting into a crowd of protesters in Minneapolis a week ago.
Protests have been ongoing outside the precinct building since police shot Jamar Clark, an unarmed black man, just a few hundred yards down the road on 15 November. He died in hospital a day later.
Witnesses have told the Guardian that the four attackers were being aggressive with protesters, and were using racial slurs. They were escorted from the protest and one of them then opened fire, wounding five people.
The campaigners also said that police said to them "isn't this what you wanted" after the shooting, and used mace on people tending to the wounded.
The assailant who allegedly fired the shots, Allen Scarsella, was charged with five counts of second-degree assault and one count of second-degree riot with a dangerous weapon. The other three – Joseph Backman, Nathan Gustavsson and Daniel Macey – were each charged with second-degree riot with a dangerous weapon.
In a press conference on Monday afternoon, Hennepin County attorney Mike Freeman said that the investigation was still ongoing as to whether further charges, including possible felony hate-crime charges, might be brought against the four men.
However, he said that hate-crime charges were not being brought yet, because the current charges in fact carried longer potential sentences than equivalent hate-crime charges.
Asked whether the attacks were racially motivated, Freeman said: "Oh yes. The defendants' own statements, their video, show that these are sick people." He said that he believed the "principal players" were now in custody but that an investigation continues into whether there was another person involved…………………
Chris Traylor said Dallas branch of International Rescue Committee's work goes against Governor Greg Abbott's stance against accepting refugees into state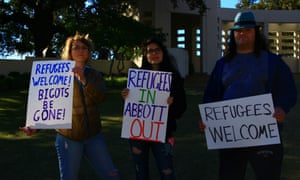 Dallas activists hold placards welcoming refugees at rally where they shamed the Texas governor, Greg Abbott, for seeking to block Syrian refugee placement. Photograph: Anna May Knittle/Demotix/Corbis
A Texas official has written to a humanitarian aid group, threatening to sue if it continued to help Syrians move to the state.
"We strongly believe that a failure to cooperate with the state on this matter violates federal law and your contract with the state," wrote Chris Traylor, the head of state's health and human services commission, in a letter to the Dallas branch of the International Rescue Committee (IRC).
In the wake of the terrorist attacks in Paris on 13 November, Texas's Republican governor, Greg Abbott, was among the first of more than 30 governors to oppose Syrians fleeing violence moving to their states, on the basis that they could be security threats and that the vetting process was inadequate. Most of the Republican presidential candidates have echoed that view amid an atmosphere of heightened rhetoric.
"The Governor believes that accepting refugees from Syria is incompatible with an absolute commitment to the safety of Texans," the letter, obtained by the Houston Chronicle, reads, "because the President has shown the Governor no willingness to improve the security screenings of refugees from Syria, despite the abundant evidence that the screenings are ineffective."
The IRC said that it "would welcome the opportunity to meet with Governor Abbott and other state officials to discuss the resettlement of Syrian refugees". Abbott is in Cuba this week on a trade mission.
"It is important not to conflate terrorists with the Syrian refugees who are seeking sanctuary," the statement read. "These are people who are fleeing violence and persecution inflicted by extremist groups and armed actors – some of whom are the same groups who took those innocent lives in Paris, Beirut, and on a Russian airliner."…………………………

'It's time to take care of others,' say donors who left check at Minnesota grocery store, citing charity's kindness to one of their fathers, a first world war soldier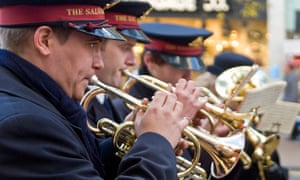 The donors of a $500,000 check to the Salvation Army said they were once poor but could now help others. Photograph: Mattia Balsamini/LUZPhoto/Alamy
Reuters in Minneapolis
A Minnesota couple who lived on discarded food when they first got married dropped a $500,000 personal check into one of the Salvation Army's red kettles at a suburban grocery store over the weekend.
"The check did clear and was deposited in the bank," said spokeswoman Julie Borgen said. "They feel very strongly about the gift being anonymous."
It was the largest single donation ever to the Salvation Army in the Twin Cities.
The donors told the Salvation Army they had relied on discarded food from a local grocery store as a young couple and could now afford to help others.
They also wanted to honor one of their fathers who served in the first world war and had been grateful for coffee and doughnuts the Salvation Army had provided to soldiers, the group said in a statement.
"You get to a point in life where it's time to take care of others, the way you were taken care of," the donors said…………………

Exclusive: Data stolen from a global telecommunications company in 2013 led to messages being sent to mobile numbers across Middle East two years later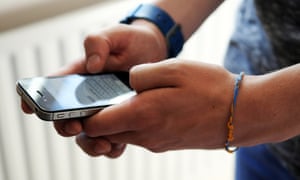 About 5,000 messages saying 'death to the Jews' were sent through the SMS Global system, evading the company's blocks. Photograph: Michael Melia/Alamy
A hacker attempted to send more than 4m text messages saying "death to the Jews" by exploiting the network of a global telecommunications company.
A Guardian investigation has revealed that data was stolen in 2013 as a result of unauthorised access to the systems of SMSGlobal, which provides messaging services for "some of the world's best known brands" and has more than one million customers worldwide.
In April 2015, a hacker attempted to send over 4m messages to phone numbers across the Middle East. The message said: "Our motto forever Death to America, Death to the Jews."
SMSGlobal succeeded in blocking most messages, but approximately 5,000 were distributed to mobile numbers in the United Arab Emirates. The identity of the hacker or group of hackers is not known. The company has defended their handling of the incident, and said that no message history, data or any other personal customer data was taken as a consequence of the breaches.
The 2013 theft was attributed by the company to be a cause of the breach in April 2015. Clients who had not changed their passwords were potentially vulnerable.
The investigation has also revealed that SMSGlobal said it "proactively" cooperates with UAE intelligence agencies, and has pointed to help it has given the FBI and the Australian federal police………………..

Bok o Bok's opening night was ambushed by a screaming politician and visitors risked attack, but founders say they won't be scared out of St Petersburg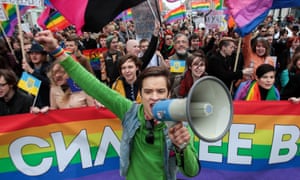 A gay rights activist leads a rally on Labour Day in St Petersburg, where the ban on 'gay propaganda' was first introduced. Photograph: Anatoly Medved/Demotix/Corbis
H

olding events for the LGBT community in a country that is clamping down on human rights is difficult. Staging them in the cradle of the "gay propaganda" law is even tougher.
But Manny de Guerre and Gulya Sultanova have been doing just that for more than eight years. They founded the Bok o Bok (Side by Side) film festival in St Petersburg in 2007, but say the threats have become more serious over time.
This year's festival made headlines after Vitaly Milonov, a local MP and the author of the controversial law, crashed the opening night on 19 November and tried to break into the cinema. A video appears to show him shouting "underage children could be inside!" at a policeman trying to hold him back.
"We always have to have spare venues reserved for emergencies," Sultanova says. "Spaces cancel on us because they get pressure from the above, or receive bomb threats, or just get scared of the consequences."………………….

A playful scuffle of polar bears, crows feasting on fruit trees and mountain gorillas in the wild are among this week's pick of images from the natural world
A juvenile and a young gorilla of Nyakagezi group, at Mgahinga gorilla national park, the smallest in Uganda. The group frequently moves into the adjacent forests of Democratic Republic of Congo and Rwanda. Uganda has about 400 gorillas. The country is one of only three in the world where mountain gorillas can be found in the wild
Photograph: Edward Echwalu/Reuters