02 Dec
New force tasked with conducting raids, freeing hostages and capturing ISIL leaders, defense secretary says
The United States said on Tuesday it was deploying an elite new force of special operations troops to Iraq to conduct raids, free hostages, capture Islamic State in Iraq and the Levant (ISIL) leaders, and carry out "unilateral operations" in neighboring Syria.
Defense Secretary Ash Carter offered few details on the new expeditionary group. It is separate from a previously announced deployment of up to 50 U.S. special operations troops in Syria to coordinate on the ground with U.S.-backed rebels fighting in a civil war raging since 2011.
Carter said the new force will be larger than the one being sent into Syria, but did not specify how many troops it will include. He also did not say where the troops would be based.
A U.S. defense official, speaking on condition of anonymity, said the new force would be based in Iraq.
The Pentagon chief said the new deployment of this "specialized expeditionary targeting force" was being carried out in coordination with the government of Iraq and would aid Iraqi government security forces and Kurdish peshmerga forces.
"These special operators will over time be able to conduct raids, free hostages, gather intelligence, and capture ISIL leaders," Carter told the U.S. House of Representatives Armed Services Committee.
"This force will also be in a position to conduct unilateral operations into Syria," he added.
Haider al-Abadi, Iraq's prime minister, said in a statement, "We do not need foreign ground combat forces on Iraqi land."
"The Iraqi government stresses that any military operation or the deployment of any foreign forces — special or not — in any place in Iraq cannot happen without its approval and coordination and full respect of Iraqi sovereignty."……………….


Mustafa al-Aziz al-Shamiri was low-level Islamist foot soldier, not al-Qaida courier and trainer as had been believed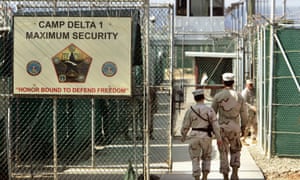 US military guards walk within Camp Delta military-run prison at the Guantánamo Bay US naval base. Photograph: Brennan Linsley/AP
A man who has spent 13 years in the US prison camp at Guantánamo Bay, Cuba, was arrested partly in a case of mistaken identity, US officials conceded Tuesday.
Officials admitted that Mustafa al-Aziz al-Shamiri, 37, was a low-level Islamist foot soldier and not an al-Qaida courier and trainer as previously thought, during a Guantanamo hearing.
Wearing a beard and voluminous white T-shirt, and accompanied by a linguist and two personal representatives, the Yemeni appeared before a panel assessing whether he can be released.
A profile published by the Department of Defense maintains he fought in Afghanistan and mixed with members of al-Qaida. But officials concede that they wrongly believed he had a more significant role because he was confused with others who had a similar name.
"Mustafa Abd-al-Qawi Abd-al-Aziz al-Shamiri (YM-434) fought in several jihadist theaters and associated with al-Qaida members in Afghanistan," the unclassified detainee profile said. "It was previously assessed that YM-434 also was an al-Qaida facilitator or courier, as well as a trainer, but we now judge that these activities were carried out by other known extremists with names or aliases similar to YM-434's."
The profile added that fragmentary reporting links al-Shamiri to fighting in Bosnia in 1995, and he told interrogators that he fought in Yemen's civil war in 1996 and in Afghanistan for the Taliban from 2000 to 2001 – including against the Northern Alliance and US forces – before his capture near Mazar-e-Sharif. He has since been an indefinite detainee, considered too dangerous to release but without adequate evidence to bring to trial.
A statement from al-Shamiri's personal representative described him as very cooperative, enthusiastic and supportive in the preparation for the board hearing. "From the onset, he has demonstrated a consistent positive attitude towards life after Gitmo," he said. "He has a strong desire to obtain an education in order to provide for a future spouse that his family has already located for him.
"Mustafa will show you today that he is not a continuing significant threat to the United States of America. He is earnestly preparing for his life after Gitmo. During his time in detention, he has attended English and art classes, in addition to acquiring carpentry and cooking skills. During the last feast, Mustafa generously took the time to prepare over 30 plates of pastries for his fellow detainees. When I asked him why he would make pastries for his fellow detainees, he said it's because it makes him feel like he can give back and share with people."………………..

Garry McCarthy forced to resign over video of black teenager's death, but politicians and activists say hearing on off-the-books 'black site' must follow
Nicky Woolf in New York and Kevin Gosztola in Chicago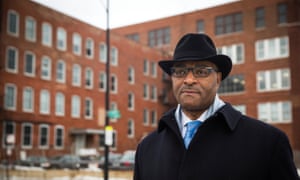 Cook County commissioner Richard Boykin said the resignation of Chicago's police chief on Tuesday 'casts even more doubt' on denials of departmental abuse at Homan Square. Photograph: Chandler West for the Guardian
A secretive Chicago police facility will fall under sworn public testimony for the first time in the wake of a forced resignation by the city's police chief amid a scandal over the shooting of a black teenager.
The renewed scrutiny of Homan Square – an interrogation warehouse exposed by the Guardian that has been described as the equivalent of a CIA "black site" and now a "torture chamber" – was immediate, stretching from national activists and the local Black Lives Matter chapter to an Illinois politician who planned to announce on Tuesday an official hearing into the site as a direct result of the firing.
"The murder of Laquan McDonald and the attempted cover-up of that murder over a period of 13 months casts even more doubt on the repeated police denials of wrongdoing at Homan Square," Cook County commissioner Richard Boykin said in a statement provided to the Guardian.
"As recent events have shown, when left to its own devices, the Chicago police department will revert to a culture that suppresses wrongdoing and protects wrongdoers," added Boykin. He has repeatedly pressed Barack Obama's administration to examine a facility where his former chief aide and Chicago mayor Rahm Emanuel has said his police "follow all the rules" – despite more than 20 people who have come forward with claims of unconstitutional abuse and detention.
Our movement to have Homan Square closed also impacted the mayor's decision, but it hasn't impacted enough
Boykin said in an interview that he was "hopeful" the hearing of the Cook County board of commissioners – the city's first official political meeting focused on Homan Square beyond protests and hearings for an ongoing Guardian lawsuit – would precipitate change, "and that we can shut [Homan Square] down in terms of illegal detentions and off-the-books detentions". He said the hearing would also look at other "systemic changes" to protect Chicago citizens against rogue police officers.
The announcement was expected just hours after the resignation of police superintendent Garry McCarthy, who was asked to step down by Emanuel over his handling of the death of Laquan McDonald, who was shot 16 times by a Chicago police officer last year…………………
Seven killed in Homs attack, latest in apparent escalation of strikes on medical facilities in civil war
Footage from local media that has been verified by Médecins Sans Frontières shows the damage caused to a hospital by a 'double-tap' barrel bombing. The attack on the hospital in Zafarana, a besieged town in northern Homs, killed seven people including a young girl. This kind of attack is a signature tactic of the Syrian air force
A hospital supported by Médecins Sans Frontières in Homs has been partially destroyed in a "double-tap" barrel bombing, a signature tactic of the Syrian air force.
The strikes on the hospital in Zafarana, a besieged town in northern Homs, killed seven people including a young girl, MSF said in a statement, and prompted the movement to nearby field hospitals of many wounded, some of whom died on the way.
Saturday's strikes were the latest in an apparent pattern of escalating attacks on medical facilities and doctors in the Syrian civil war, according to human rights organisations.
MSF, which operates and supports a number of health centres and field hospitals in Syria, said the attack bore the hallmark of a double-tap strike, whereby the first bombing is followed by a second one after paramedics have arrived to help the victims. "This double-tap tactic shows a level of calculated destruction that can scarcely be imagined," said MSF's director of operations, Brice de le Vingne.
MSF said a barrel bomb was dropped from a helicopter on a populated area of Zafarana at 9.40 am on Saturday, followed nearly an hour later by two barrel bombs at the entrance of the hospital, wounding 47 patients and medical staff in total.
The attack is the third on an MSF facility in two months. In October, an MSF hospital in Kunduz, Afghanistan, was all but destroyed by US airstrikes, killing 30 people including 13 medical staff in what the organisation called a blatant breach of international law. Later that month, an MSF-run hospital in the northern Yemeni province of Sa'ada was destroyed in a missile strike………………….

But poorest half of world's people contribute to just 10% of emissions, says British charity as negotiators work on UN climate change deal in Paris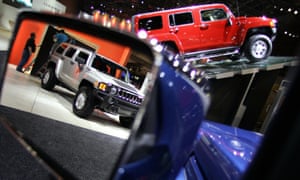 An average person among the richest 1% of people emits 175 times more carbon than his or her counterpart among the bottom 1%, Oxfam said. Photograph: Timothy A. Clary/AFP/Getty Images
The richest 10% of people produce half of Earth's climate-harming fossil-fuel emissions, while the poorest half contribute a mere 10%, British charity Oxfam said in a report released Wednesday.
Disputes over how to share responsibility for curbing greenhouse-gas emissions and aiding climate-vulnerable countries are among the thorniest and longest-running issues in the 25-year-old UN climate process.
"Rich, high emitters should be held accountable for their emissions, no matter where they live," Oxfam climate policy head Tim Gore said in a statement.
"But it's easy to forget that rapidly developing economies are also home to the majority of the world's very poorest people and while they have to do their fair share, it is rich countries that should still lead the way."
The report said that an average person among the richest one percent emits 175 times more carbon than his or her counterpart among the bottom 10%.
Global income deciles and associated lifestyle consumption emissions Photograph: Oxfam
Rich and developing nations remain deeply divided on the issue of "differentiation" – how to share out responsibility for curbing greenhouse gas emissions, which derive mainly from burning coal, oil and gas………………..

Rescue operation in place as floods shut factories, paralyse air travel and force thousands to flee homes in Tamil Nadu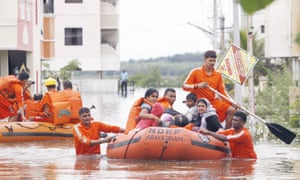 A family is rescued from a flooded residential area following heavy rains in Chennai. Photograph: Xinhua/Landov/Barcroft Media
Reuters in Chennai
The heaviest rainfall in over a century has caused widespread flooding across the southern Indian state of Tamil Nadu, driving thousands of people from their homes, shutting down factories and paralysing the airport in the state capital Chennai.
India's fourth-largest city is a major car manufacturing and IT outsourcing hub. Thousands of factories on the outskirts of the city were forced to close due to the deluge, which disrupted power supplies and left at least one runway at the international airport under water. About 25 flights were cancelled as of Wednesday morning, the national emergency operations centre said.
"We have started the rescue operation but the biggest challenge is to find a way to clear the inundated airport and main roads," said Anurag Gupta, a senior official at the National Disaster Management Authority in New Delhi.
Weather experts say the seasonal north-east monsoon was responsible for the flooding in the city of at least 6 million, which like many other parts of India lacks an adequate drainage system.
At least twice as much rain fell in the last 24 hours as the average for the whole month of December, private weather forecaster Skymet said, adding that the downpour would continue for another 24 hours…………….

Akieem Stewart, 22, is one of 95 people killed by Jamaican police this year. Now independent investigators are seeking to bring the alleged killers to justice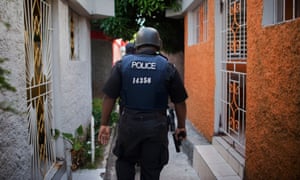 Police patrol the neighbourhood of Dunkirk in Kingston, Jamaica. Killings by police, which had been running at about 200 a year, have dropped sharply in the last year and a half. Photograph: Andrea Bruce/New York Times / Redux / eyevine
Akieem Stewart was sitting under a mango tree in the backyard of a neighbour's house writing a text message on his mobile phone when he came face to face with a member of the Jamaican Constabulary Force. Within seconds he was dead.
Stewart was 22, and had been about to take up a post as a hotel manager – his first job since finishing college. That Sunday in March, his mother Latoya Brown was at work at the Ministry of Health in the city.
Halfway down the street his grandmother had just returned from church to the family home, one of a collection of low-rise concrete houses in the Elleston Flats neighbourhood on the northern outskirts of the Jamaican capital.
"The last time I saw him was in the morning when I woke up," said Brown. "His girlfriend had done his hair, he was saying 'how does this look mum?' I told him he had to get a haircut because he was starting work."
At around 3pm, Brown's phone rang. "There was screaming in the background, it was my mum trying to say something, then the phone went dead. Then my mum rang back, she said; 'Akieem got shot up, him got shot up and it look like him dead.'"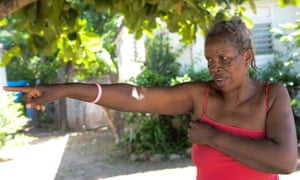 Sylvia Morris, grandmother of Akieem Stewart gestures as she describes how her grandson was killed in Cheshire Village, Kingston. Photograph: Andrew P Smith for the Guardian
Stewart's grandmother Sylvia Morris clasps her hands to her face and shakes her head as she points out the spot where Stewart was killed: a small blue bench near a rickety chicken coop………………


Opinion
The Planned Parenthood shooter had easy access to guns and a movement dedicated to demonizing reproductive choice. Is his motive really a question?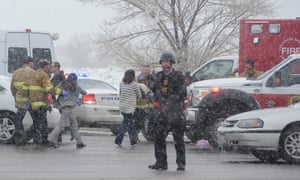 An unidentified woman is escorted to an ambulance by police in Colorado Springs, Colorado on 27 November 2015. Photograph: Daniel Owen/Zuma Press/Corbis
T

here has been plenty of political demagoguery about the perceived threat of accepting Syrian refugees (the vast majority of whom are women and children) but America's real enemies wield guns, not visas. We have so much more reason to distrust and fear the American-bred shooters with seemingly unlimited access to weapons one Walmart away than someone fleeing a war.
That became even more apparent on Friday when two civilians and a police officer were shot and killed at a Planned Parenthood in Colorado Springs, Colorado – one of the central hubs of the evangelical movement – and nine more were injured. It's the second time this month that innocents have been killed by a man walking around Colorado Springs with a collection of armaments that many people feel he should never have had.
The notion you might get shot by a motivated-but-irrational person with a gun isn't considered terrorism in America: it's a fact of life. Obama in a statement early on Saturday morning condemned the violence and seemed exasperated with the seeming status quo.
We can't let it become normal. If we truly care about this – if we're going to offer up our thoughts and prayers again, for God knows how many times, with a truly clean conscience – then we have to do something about the easy accessibility of weapons of war on our streets to people who have no business wielding them.
Terrorism is violence committed for political ends. We still don't know whether Friday's shooting was politically motivated or what the gunman was thinking when he walked into a clinic and decided he should take the lives of the employees, patients and the cops trying to protect them.
We don't know whether the gunman was an anti-abortion activist, or whether he had seen the undercover videos released this summer that purported to show Planned Parenthood employees selling off fetal tissue for profit (videos that have since been found to be, to put it charitably, misleadingly edited). We don't know whether he'd heard Republican presidential candidate Carly Fiorina claim at a September debate that she'd seen video abortion providers talk about collecting the brains of a delivered fetus – though the footage wasn't real.
What we do know is that Friday's shooting was the latest in a long string of violent attacks at facilities where women can access abortion and other reproductive health services, and that there's been a recent spike in violence at such facilities since the release of the misleadingly edited undercover videos.
We do know that 1985 was dubbed the "Year of Pain and Fear" after anti-abortion extremists firebombed and vandalized a series of family planning clinics. We know that anti-abortion fanatics targeted Planned Parenthood facilities in New York, Michigan and Missouri with violence in 1986. We do know that an anti-abortion activist killed two people and injured five in two clinic attacks in one day in 1996. We do know that in 1998 abortion clinics in Alabama and Atlanta were bombed. We do know that George Tiller, a Kansas provider of late-term abortions was shot and killed in his own church in 2009 by a longtime anti-abortion activist, 16 years after being shot twice by a different activist…………………