04 Dec


One of the first officers on the scene described the 'unspeakable carnage' and the difficulty of walking past the wounded and dying as he searched for the attackers
Lieutenant Mike Madden, one of the first police officers on the scene of the shooting in San Bernardino on Wednesday morning which left 14 people dead and 21 wounded, recounts his experience to the press on Thursday. Describing the situation as "carnage", Madden says he knew it was important not to panic and is proud of how his fellow officers dealt with the incident
The first police officer to arrive at the scene of the San Bernardino mass shooting has provided a shocking account of the immediate aftermath of the attack and the "pure panic" on the faces of those who survived.
Lieutenant Mike Madden, an administrative commander at San Bernardino police, was less than a mile away from the Inland Regional Center when 911 dispatchers circulated a message of active shooters at the complex.
Madden told a media conference on Thursday he could "hear in the voice" of the dispatchers that they were dealing with a major atrocity.
Soon after he arrived, Madden was met by three other officers, who together formed the "entry team" who were first to arrive at the location of the massacre: a conference room hired by the San Bernardino county health department for a training session and staff Christmas lunch party.
Just moments earlier, Syed Farook, 28, an employee at the department, and his wife, Tashfeen Malik, had entered the room with automatic rifles and sprayed the room with bullets. There are estimated to have been as many as 85 people inside the room at the time. The married couple also tried and failed to detonate an improvised bomb strapped to a small, remote-controlled car……………….
Although Barack Obama will veto the legislation, Republicans believe the move will help them to scrap the healthcare statute if they retake the White House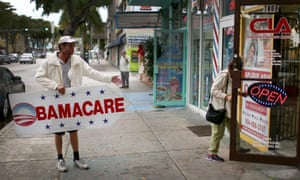 Republicans blame Obama's health reforms for pushing up costs. Photograph: Joe Raedle/Getty Images
Associated Press
The US Senate has approved legislation aimed at crippling two of their favorite targets: Barack Obama's health care law and Planned Parenthood.
With a House rubber stamp expected in days, the bill approved on Thursday would be the first to reach the president's desk demolishing his 2010 health care overhaul, one of his proudest domestic achievements, and halting federal payments to the national women's healthcare provider Planned Parenthood.
Congress has voted dozens of times to repeal or weaken the health law and has also repeatedly voted against Planned Parenthood's funding, but until now Democrats thwarted Republicans from shipping the legislation to the White House.
Although Obama will veto the legislation, its passing means republicans will be able to repeal the statute if they triumph in next year's presidential and congressional elections. They lack the two-thirds House and Senate majorities needed to override vetoes, assuring that the bill's chief purpose will be for campaign talking points.
"President Obama will have a choice," said Senate majority leader Mitch McConnell. "He can defend a status quo that's failed the middle class by vetoing the bill, or he can work toward a new beginning and better care by signing it."
Republicans blame the bill for surging health care costs and insurers abandoning some markets. Government officials said this week that healthcare spending grew at 5.3% in 2014, the steepest climb since Obama took office.
Democrats noted that under the law, millions of people have become insured and said their coverage has improved, with policies now required to insure a wide range of medical services……………
Performances sabotaged to upset moderate regime as artists urge Hassan Rouhani to act against covert censors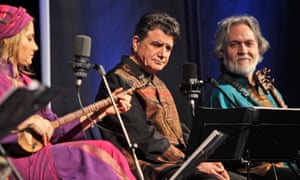 Iran's great master of Persian classical music, Mohammad-Reza Shajarian, middle, has not been allowed to perform in Iran for a long time. Photograph: Kamran Jebreili/AP
Hardline sympathisers in Iran have been causing the abrupt closure of concerts, intimidating musicians in a show of force aimed at the moderate administration of President Hassan Rouhani.
Although it has become easier to perform music since Rouhani came to power, an increasing number of performances, including one by Tehran's reborn symphony orchestra, have been cancelled at the last minute after intervention from forces that remain unknown to the artists.
The cancellations are becoming a major challenge for the president, who is being urged to shift his attention to domestic issues after resolving the impasse over the country's nuclear programme. Hardliners, unhappy with the way the nuclear accord boosted Rouhani's status at home, are making sure he will have a tough time ahead in the remaining two years of his presidency.
In a recent incident, the Tehran symphony orchestra, which has been revived after a three-year hiatus and was last week due to perform the national anthem at the capital's majestic Azadi stadium before a wrestling world cup competition, had to cancel because the authorities insisted 15 minutes before the programme that female musicians should not perform on the stage…………..



Opinion
We will, once again, purposely mistake the how and why of the San Bernardino shootings – the 355th mass shooting of the year – because it suits us
T

here is a certain pattern to mass shootings in the United States at this point, and Wednesday's shooting in San Bernardino is the 355th of 2015. That pattern starts with death, and continues through another round of rationalizations – he was mentally ill, he had a grudge, it had to do with anything but the ease of access to death's easy instruments – that will render the tragedy less than notable within minutes for some people, for a political party within hours, and for most of the rest of us as soon as we are forced to contend with the next one.
We could explain why such violent acts don't affect our individual actions or our national policy by using math or social sciences – or even Douglas Adams's theory of Somebody Else's Problem from Life, the Universe and Everything – but it might be more honest to chalk it up to the particular narcissism by which we define who is or can be a victim.
We choose to believe that, more likely than not, the next victim will not be us because, as much as we might publicly protest our personal anxiety on social media, we still have to get up in the morning. We need income to survive every day before a tragedy might find us wherever we may be.
Included in our rationalizations is the sure, overwhelming math of geography. If there is an active shooter in one square mile of the United States, that still leaves 3,805,926 others. Enduring those odds is the bargain we make every morning.
But there's another set of rationalizations: we would never undertake such risky behavior; we would never live in such a neighborhood, work for such a company, visit such a fallen or disreputable establishment; we would never befoul ourselves with incautiousness as to almost welcome the violence. We would never be a victim, because we are not the victim sort, the person who courts such tragedies……………….