06 Dec

Opinion
And Republicans pushing back by citing due process after years trying to squelch it is no less hypocritical
 

The McGlynn: There is a mental sickness in our country. It is the Republican Party. The illness is widely spread. It reminds me of the rise of fascism in Europe in the Twenties and Thirties. Fear, hatred, insanity fueled by massive amounts of money from the Kochs and others. Fear of retribution

bars any rational centrist within the Republicans. If they do not learn from history to stand up and call out these fascists for who they are then very dangerous times for America will remain.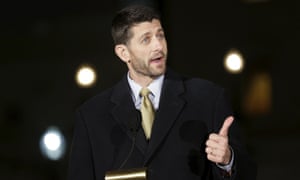 Let's not pretend Republicans suddenly care about the due process rights that they have spent the last decade and a half attempting to destroy. Photograph: Joshua Roberts/Reuters
I

n the wake of yet another mass shooting in the US, Republicans managed to vote down a bill that would bar people on the no-fly list from buying guns. It's hard to tell what is more sickening: that Republicans will refuse to vote for literally any gun control legislation despite the country's mass-murder epidemic, or that Democrats are trying to use the unconstitutional no-fly list, which makes a mockery of due process, to force the issue.
"People have due process rights in this country," Republican House speaker Paul Ryan said in explaining his party's opposition to the vote, apparently with a straight face. He went on to say there shouldn't be a rush to pass legislation at the risk of "infringing upon the rights of law-abiding citizens," which in almost all other situations is the party's modus operandi.
Funny, I don't remember hearing a word of protest from party leaders when tens of thousands of people were added to the list and barred from flying during the Bush years – and in fact, they were loudly cheering as the Bush administration tore down all sorts of due process rights in the aftermath of 9/11.
The Republicans supposed newfound devotion to due process is nothing more than a naked political ploy to avoid passing any gun control, no matter how inconsequential. This is the party that invented the no-fly list – it was a concoction of the Bush administration, just like a series of policies that did more damage to the principle of due process than anything since FDR's Japanese internment camps during the second world war.
For years, Republicans have continually demanded (with much success) that the Obama administration not give constitutional due process rights to alleged terrorists, including the reading of Miranda rights, access to lawyers and trials in civilian courts. It's the party that has proudly endorsed indefinite detention of Guantánamo detainees, drone strikes on Americans overseas and outright torture on countless detainees who were not, and have not, been convicted of a crime.
Currently, the party's leading candidate for president has proposed immediately removing 11 million people from the country with a "deportation force" without a second thought to due process, put all Muslims in a mandatory database and potentially and arbitrarily start closing mosques that he deems too radical for his taste.
If Republicans want to vote down this largely symbolic and hypocritical gun control legislation by Democrats, that's their prerogative. But let's not pretend that they suddenly care about the due process rights that they have spent the last decade and a half attempting to destroy.
At the same time, we should all acknowledge that the no-fly list is an abomination, and it's shameful that the Democratic party is not only defending its use but trying to further legitimize and intrench it into America's laws. On the surface, Republicans are right about one thing: the list is a due-process nightmare that is riddled with mistakes and has ensnared countless innocent people over the past decade and a half.
A federal judge recently ruled the process for finding out if you're on the list and any attempt to get off it unconstitutional, given its Kafkaesque procedures and extreme secrecy, which make it impossible to challenge. The administration has supposedly been incrementally changing its procedures in response to that court order and other lawsuits brought by innocent people who have had their rights violated, but they have only doing so while kicking and screaming……………………….
Only a vague sketch of Malik's background has emerged as investigators struggle to discover why she and her husband became radicalised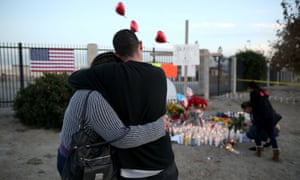 As the San Bernardino community mourns, the answers have not yet come – profilers say it is highly unusual for a new mother to engage in a form of visceral, predatory violence. Photograph: Justin Sullivan/Getty Images
As law enforcement officials begin to piece together what led two California residents to shoot and kill 14 people at a social services centre in San Bernardino, the personal history of the one of the killers remains largely unknown: that of Tashfeen Malik, a 29-year-old Pakistani woman described as a "shy housewife".
Malik and her husband, Syed Rizwan Farook, 28, left their six-month-old daughter with Farook's mother on Wednesday morning before going to the Inland Regional Center in San Bernardino. There, the couple opened fire on a health department meeting, killing 14 and allegedly perpetrating the worst mass shooting since 26 were killed in Newtown, Connecticut in 2012.
The couple were killed four hours later and two miles away in a gun battle with police. The FBI said on Friday it is beginning to investigate the incident as an "an act of terrorism" after it appears Malik pledged allegiance to the Islamic State in a now-removed Facebook post. There is no evidence the group helped plan the attack.
Local mosque leaders described Farook, who worked for the San Bernardino County department of public health, as a religious man who was shy, enjoyed working on cars, and appeared to be putting roots down in San Bernardino. Some reports suggested he became more withdrawn after meeting and marrying Malik, who was noticeable in the community largely by how little people knew about her. She, too, did not raise any obvious red flags, however……………….
Jerry Falwell Jr says remarks to students referred to San Bernardino attackers and notes that only students over 21 would be armed under Virginia law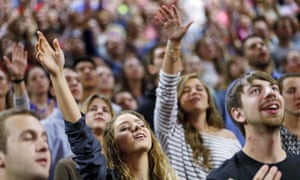 Liberty University students pray before a speech by Bernie Sanders. Photograph: Steve Helber/AP
Associated Press in Lynchburg, Virginia
The president of Liberty University urged students, staff and faculty at the Christian school to carry concealed weapons on campus to counter any possible armed attack like the mass shooting in San Bernardino, California.
"Let's teach them a lesson if they ever show up here," President Jerry Falwell Jr told an estimated 10,000 students at the weekly convocation held on Friday in Lynchburg.
The call-to-arms was met with rousing applause from students, but some said Falwell went too far when he appeared to be referring specifically to Muslims, the News & Advance reported.
"I've always thought if more good people had concealed carry permits, then we could end those Muslims before they walked in," Falwell said. The final words of his statement could not be clearly heard on a videotape of the remarks.
Questioned by a student on social media, Falwell said he was referring to Islamic terrorists. "I was referring to 'those Muslims' that just carried out attacks in Paris and California," he said in response on Twitter.
Reached later by the newspaper, Falwell said, "There are many good Muslims, many good, moderate Muslims."
Falwell told the Associated Press on Saturday he was specifically referring to Syed Farook and Tashfeen Malik, the husband and wife who shot and killed 14 people at a holiday party in San Bernardino on Wednesday.
In his call to arms, Falwell encouraged students to take a free class offered by campus police to obtain a permit to carry a concealed weapon.
Falwell's message is apparently being heeded. He said more than 100 people had asked Liberty police about a free class to obtain a permit to carry a concealed weapon. More than 14,000 students are enrolled at Liberty.
Following the San Bernardino shootings, which left 14 dead, Falwell said he began carrying a .25-caliber handgun in his back pocket. He said he's had a permit for more than year. During his address Friday, Falwell mentioned the weapon and reached around seemingly to fetch it.
"Is it illegal to pull it out? I don't know," he said, laughing, drawing some hoots from the audience.
Asked if he was concerned by the prospect of thousands of armed young people on campus, Falwell said Virginia has a minimum age of 21 for a concealed-carry permit. He said that meant only older students would be armed.
Falwell also said he believed the campus needed to be prepared in the face of the increasing frequency of mass killings. He cited, for example, the 2007 massacre of 32 people at Virginia Tech, the deadliest mass shooting in modern US history, which took place less than 100 miles south-west of Liberty.
"What if just one of those students or one of those faculty members had a concealed permit and was carrying a weapon when the shooter walked into Virginia Tech? Countless lives could have been saved," he said…………………….

Country representatives and green groups say French summit is more cordial and efficient than Copenhagen five years ago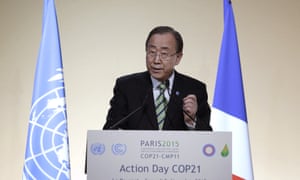 Ban Ki-moon delivers a speech during "action day" at the Paris climate change conference. Photograph: Philippe Wojazer/AFP/Getty Images
Negotiators paving the way for a global climate change agreement in Paris have cleared a major hurdle, producing a draft accord in record time and raising hopes that a full week of minister-led talks can now clinch a deal despite many sticking points.
No part of the deal has been finalised because in the end it is likely to be a tradeoff between developing countries' demands – particularly for financing to help cope with the impacts of locked-in climate change – and wealthier nations' insistence that over time all countries properly account for the progress they have made towards emission reduction goals.
And it remains littered with brackets – indicating areas of disagreement. But the document handed to the French on Saturday has refined 50 pages down to just over 20 and, unusually, was agreed on schedule, leaving a full week for ministers to reach agreement.
China's chief climate negotiator, Su Wei, said: "It has laid a solid foundation for next week … like when we cook a meal you need to have all the seasonings and ingredients and recipes, but next week is the actual cooking."
Senior negotiators and long-time observers believe there will be a way through the sticking points. "There is good news. This is only a basis for a negotiation … there are several disagreements that we need to talk to each other, to try to solve … but political will is there from all parties," he said……………..
Mountain hare, Siberian ibexes and tiger butterflies are among this week's pick of images from the natural world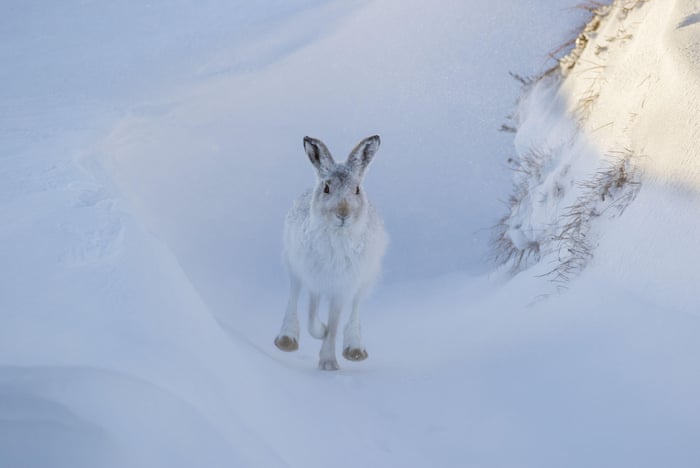 A mountain hare (Lepus timidus) runs across the snow in the Cairngorms national park, Scotland
Photograph: Mark Hamblin/Rex Shutterstock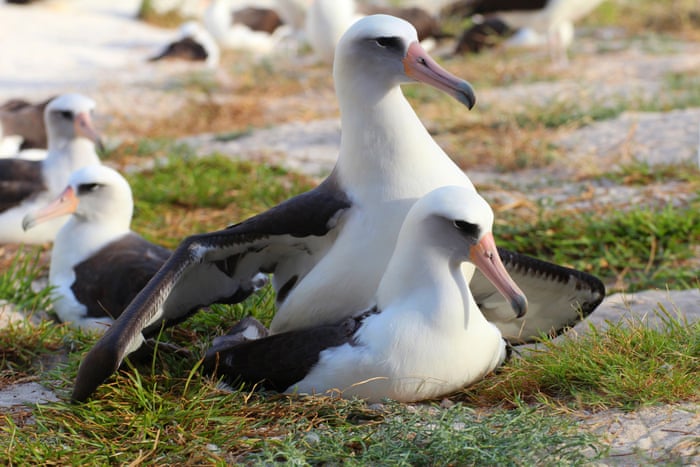 Wisdom, a Laysan albatross, is the world's oldest tracked bird. At 64, it has returned to Midway Atoll, the world's largest nesting albatross colony, in Hawaii, to lay egg
Photograph: Kiah Walker/USFWS/AFP/Getty Images