09 Dec

Move comes after sustained criticism of agency, whose director admitted it was 'embarrassing' that Guardian had better data on police use of force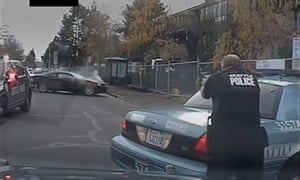 In an image from a dash-cam video on 6 December, a Seattle police officer shoots at a man involved in a high-speed pursuit. The man was killed. The FBI says it will publish a wider range of data on fatal police shootings. Photograph: AP
The FBI plans to overhaul its system for counting the number of deaths caused by police in the US, according to federal officials, and will begin releasing information about deadly encounters involving the use of Tasers and other force, in addition to fatal shootings.
Responding to months of sharp criticism over its existing program for reporting fatal shootings by police officers, the bureau is to unveil a new system that will publish a wider range of data, resembling that currently collected by an ongoing Guardian investigation.
Stephen Fischer, a senior official in the FBI's criminal justice information services division in West Virginia, said it had "identified a need for more robust and complete information about encounters between law enforcement officers and citizens that result in a use of force".
Officials said statisticians were intending to count deadly incidents involving physical force, Tasers and blunt weapons used by officers as well as firearms, and that they planned to begin gradually publishing some more information about fatal incidents as soon as 2016.
The bureau has for several years published an annual total of fatal shootings by police officers that are termed "justifiable homicides". The country's 18,000 law enforcement agencies, however, are under no obligation to report any killings by their officers.
The Guardian disclosed in October that only 224 departments reported a killing last year. The FBI's total number of deaths has ranged from 397 to 461 since 2009.
By Tuesday evening, the Counted, a Guardian database published since 1 June, had recorded 1,058 deaths caused by law enforcement officers so far this year. A Washington Post database restricted to fatal shootings by officers, which has been published since 1 July, had counted 913 of those so far in 2015……………….

Online document calling for US presidential candidate to be prevented from entering country on grounds of hate speech getting 19,000 signatures an hour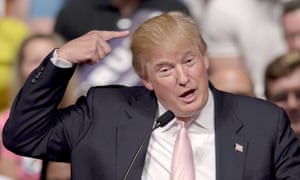 Donald Trump was widely criticised for saying that Muslims should be banned from entering the US. Photograph: Brian Cahn/REX Shutterstock
A petition calling for Donald Trump to be banned from the UK has been signed by more than 95,000 people in less than a day, after the tycoon-turned-presidential candidate called for a ban on Muslims entering the US.
On Wednesday morning the petition, which calls for Trump to be stopped from entering the country on the grounds of hate speech, was racking up more than 19,000 signatures an hour, according to parliament's petitions website.
That puts it on course to pass 100,000 signatures in less than 24 hours, which would require parliament to consider debating the issue
It comes after Trump was widely criticised for saying on Monday that Muslims should be banned from entering the US. He said in a speech following a mass shooting committed by a Muslim couple over the weekend: "We need a total and complete shutdown of Muslims entering the United States while we figure out what the hell is going on. We are out of control."
Yesterday there was widespread condemnation of Trump's comments, including among his fellow Republican presidential contenders. And later comments from the presidential hopeful in a radio interview that there were districts of London and Paris so "radicalised" that they were off limits to police led to more angry rebuttals from UK politicians and the police………………..
Philadelphia mayor Michael Nutter called Donald Trump an 'asshole' on Tuesday, after the Republican presidential frontrunner's proposal to ban Muslims from entering the US. Nutter's comments, which came during a news conference with his city's religious leaders, were just the latest in a slew of angry responses directed at Trump
Sting operation uncovers two prominent climate sceptics available for hire by the hour to write reports on the benefits of rising CO2 levels and coal
The findings by Greenpeace show how paid-for information challenging the consensus on climate science can appear in the public domain without funding sources being revealed. Photograph: Michael Williamson/Getty Images
An undercover sting by Greenpeace has revealed that two prominent climate sceptics were available for hire by the hour to write reports casting doubt on the dangers posed by global warming.
Posing as consultants to fossil fuel companies, Greenpeace approached professors at leading US universities to commission reports touting the benefits of rising carbon dioxide levels and the benefits of coal. The views of both academics are well outside mainstream climate science.
The findings point to how paid-for information challenging the consensus on climate science could be placed into the public domain without the ultimate source of funding being revealed.
They come as government ministers meet in Paris this week to try to reach an agreement to fight climate change, and one month after it emerged that ExxonMobil and Peabody Energy were under investigation in the state of New York over claims of misleading the public and investors about climate change.
Over the course of their investigation, Greenpeace posed as the representative of a Middle Eastern oil and gas company and an Indonesian coal company. In the guise of a Beirut-based business consultant they asked William Ha pper , the Cyrus Fogg Brackett professor of physics at Princeton University, to write a report touting the benefits of rising carbon emissions, according to email exchanges between the professor and the fake company.
Happer is one of the most prominent climate sceptics in the US and on Tuesday was called to testify at a congressional hearing into climate "dogma" convened by Ted Cruz, the Republican presidential candidate and chair of the Senate science committee. He is also chairman of the George Marshal Institute in the US and an adviser to the Global Warming Policy Foundation in the UK…………………..

Justin Trudeau promises 'total renewal' of relationship with aboriginal people with investigation of nearly 1,200 murders and disappearances in three decades
The prime minister of Canada, Justin Trudeau, announces a government inquiry into the high rate of missing and murdered indigenous women. Stating that the indigenous and northern affairs minister, Carolyn Bennett, will make the inquiry a priority, Trudeau says the government needs to 'renew [its] relationship' with the native Canadian population
Canada's government has launched a long-awaited national inquiry into the murder or disappearance of hundreds of indigenous women, as Prime Minister Justin Trudeau promised a "total renewal" of the country's relationship with its aboriginal population.
Speaking to an Assembly of First Nations (AFN) special chiefs gathering in Gatineau, Québec, the Liberal leader announced that his government had begun the process to create the inquiry into the nearly 1,200 indigenous women and girls who have been murdered or who have gone missing in Canada over the past three decades.
Activists, aboriginal leadership and many victims' families have been calling for a national inquiry for more than five years – a move which was resisted by Trudeau's conservative predecessor, Stephen Harper.
"The victims deserve justice, their families an opportunity to heal and to be heard," said Trudeau. "We must work together to put an end to this ongoing tragedy."
Justice Minister Jody Wilson-Raybould said that over the next two months the government will consult victims' families and Aboriginal leaders to gather their views on the design, scope and parameters of the full inquiry, expected to begin sometime next spring.
"No inquiry can undo what happened nor can it restore what was lost, but it can help us find a way forward," she said………………….

Ireland's floods caused by Storm Desmond – aerial video footage
Aerial footage from an Irish military helicopter shows extensive flooding in the eastern and central Irish counties of Galway, Westmeath and Mayo. The footage was taken on Tuesday, days after Storm Desmond hit. Further rain is forecast to hit flood-stricken areas of Ireland and England on Wednesday


Opinion
Our children need us. They don't need fear; they don't need classes on how to get a gun away from a shooter. They need grownups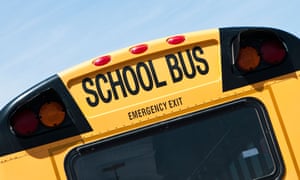 We need our kids to be safe. Lack of gun control does the opposite. Photograph: Alamy Stock Photo
We are so shamefully attached to our guns that we would rather tell our children to run towards mayhem than support policies that may stop it.
On Tuesday, Fox News ran a segment on "how to protect yourself in an active shooter situation". Host Elisabeth Hasselbeck opened by saying that "five seconds can mean the difference between life and death" and then introduced a self-defense instructor who demonstrated moves, with several kids [??], on how to take a gun away from a shooter terrorizing their school.
This is what America has come to – we'd rather dangerous criminals be taken on by children than support simple policies to stop them.
This Wednesday – a day when people all over the country are holding vigils for the victims of gun violence, and just a few days before the third anniversary of the massacre at Sandy Hook elementary school that left 20 first graders dead – let's just stop acting like we have our priorities in order.
Stop calling this the "new normal", as if the bullet-riddled bodies of children not much older than toddlers is something we should ever consider typical. Stop with the excuses. Stop with the idea that wisely regulating who gets to own a gun will lessen gun violence.
These acts of preventable violence have become so frequent that it has become too easy to depersonalize the victims and lives impacted – another day, another story on the news to become outraged over. But the reverberations on individual lives remain, just as they do on our collective consciousness. And right now, we should be ashamed.
After the shooting at Umpqua community college in October, Mark Barden and Nicole Hockley – parents of Sandy Hook victims Daniel, 7, and Dylan, 6 who started an organization dedicated to ending gun violence – said, "our nation will once again enter the endless debate about gun control and gun freedom"………………….