13 Dec

White House officials at COP 21 helped craft a deal congressional Republicans would not be able to stop – and the effort required major political capital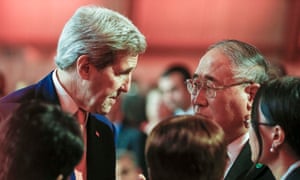 John Kerry talks with China's special representative on climate change Xie Zhenhua during the COP 21 talks north of Paris. Photograph: Xinhua/Barcroft Media
At 11.30pm Paris time, a small group of White House officials dashed into a temporary plywood hut in the exhibition hall where, a few hours earlier, a historic legal agreement to cut emissions causing climate change was secured. They were just in time to catch a live feed of Barack Obama declaring "a turning point for the world".
These were the officials who helped set the US negotiating position for the talks – or, perhaps more accurately, helped craft the deal according to US specifications in order to insulate Obama and the agreement from attacks.
When it came to Republicans in Congress, they wanted the agreement to be bullet-proof. That was no easy feat in a negotiation over an immensely complicated challenge involving nearly 200 countries, and half a dozen rival negotiating blocs.
"We met the moment," Obama said in his address. The Paris agreement on its own would not end climate change, he said, but "this agreement will help delay or avoid some of the worst consequences of climate change, and will pave the way for even more progress, in successive stages, over the coming years".
Nonetheless, the fight over the deal began even before French workers could finish dismantling the conference site. Mitch McConnell, the Senate majority leader, led the attack for Republicans.
"The president is making promises he can't keep, writing checks he can't cash, and stepping over the middle class to take credit for an 'agreement' that is subject to being shredded in 13 months," McConnell said.
The deal reached in Paris set goals to limit warming, phase out carbon emissions by the middle of the century, help poor countries realign their economies, and review their progress towards hitting those targets at regular intervals.
Jim Inhofe, the chair of the Senate environment and public works committee, who holds views on global warming outside the scientific mainstream, said he would continue to scrutinise Obama's climate agenda. Inhofe and other committee chairs in Congress have held hearings seeking to undermine the Paris climate meeting and the work of government scientific agencies……………….

More than 240,000 people in Somaliland do not have enough food because of acute droughts caused by poor rains. Save the Children, which is building wells and reservoirs and providing chlorination, warns that malnutrition rates – especially for children under five – are alarming and likely to increase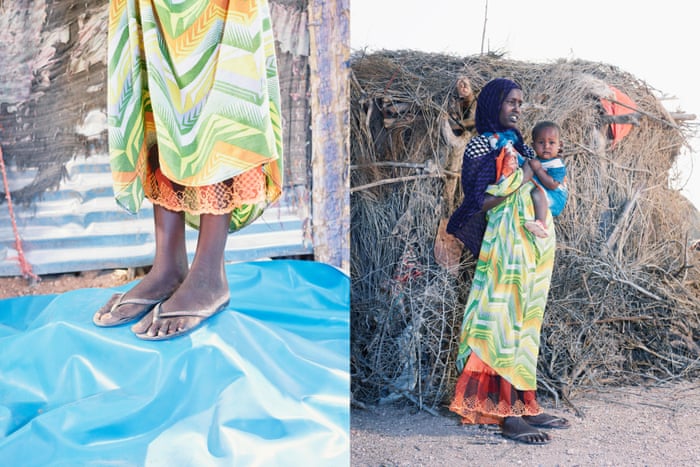 Five years ago, Roda, 18, and her family travelled to Gargara in search of basic needs, such as water. Roda's daughter, now 13 months old, was born in the camp they live in.
'I miss my old life – we used to have a lot of livestock and 10 camels. But there is nothing in my old village now. Living in the camp is very difficult, especially the lack of water and healthcare. My child got sick recently and had diarrhoea for a number of days. I have to live here; I have nowhere else to go'

Officials say Salma bint Hizab al-Oteibi has been elected to Mecca council, with votes still being counted in first ever poll open to female voters and candidates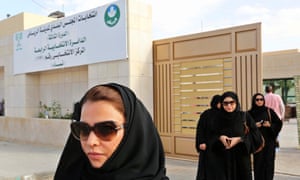 Saudi women leave a polling station in Riyadh after counting their votes. Photograph: Ahmed Yosri/EPA
Agence France-Presse in Riyadh
A Saudi woman has won a seat on Mecca's municipal council in Saudi Arabia's first ever elections open to female voters and candidates, the country's election commission has announced.
Salma bint Hizab al-Oteibi was elected to the council of Madrakah, a region in the holy city of Mecca, the official SPA news agency reported, citing election commission president Osama al-Bar.
She was running against seven men and two women, he said.
Saudi Arabia is an absolute monarchy with some of the world's tightest restrictions on women, including a ban on driving.
Among the 6,440 candidates were more than 900 women, who overcame a number of obstacles to participate in the landmark poll.
Female candidates could not directly meet any male voters during their campaigns.
Female voters said registration was hindered by factors including bureaucratic obstacles and a lack of transport…………..

As protester Gregory Butler remains in custody on charges stemming from actions during riots after funeral, treatment of officer on trial for role in Gray's death has some pointing to a skewed system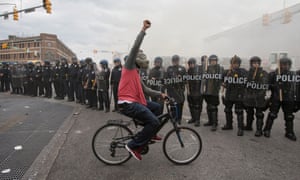 Gregory Butler rides a bicycle while wearing a gas mask in front of a line of police during protests of the death of Freddie Gray in April. Photograph: Michael Reynolds/EPA
I

n a quiet Baltimore courtroom, three stories above the court where officer William Porter was facing a jury for his alleged role in the death of Freddie Gray, another young African American man was on trial this week for entirely different offenses related to Gray's death.
Gregory Butler was facing charges for allegedly carrying a knife, trying to steal a cigarettes from a looted 7-Eleven store and escaping from police custody during the riot following Freddie Gray's funeral. He also now faces federal charges over allegedly poking holes in a fire hose that was being used to put out a fire at CVS.
But while Porter, who is facing manslaughter, was free to leave the courthouse during recess, when Butler walked down the stony marble hall towards the bathroom, several federal agents followed him. They were waiting to take him into custody as soon as he left the courtroom for the two federal felonies they charged him with the day before.
"Can I have a cigarette?" Butler asked the men, some of whom wore Alcohol Tobacco and Firearms jackets, others of whom wore sweatshirts and refused to identify themselves or their agency.
One of the men in a sweatshirt said they would take him into custody if he left the building.
"Am I in custody"? Butler asked.
"Yea, basically," the unidentified agent said and cracked his neck by tilting his shaved head towards his shoulder.
The felonies didn't have anything to do with the cigarettes Butler took from the 7-Eleven, but they did have to do with fire and stem from that same day. A photograph of a young man in a gas mask whom authorities have identified as Butler became an icon of unrest. On live television, as CNN talked to local activist PFK Boom, the man in that mask walked up to a firehose being used to put out the fire at the CVS and he stabbed it, up near the hydrant. Then he stabbed it again, down low. The water shot up into the smoky air………………
A stadium in Athens is full of the displaced – and a team of doctors is working flat out to ease their plight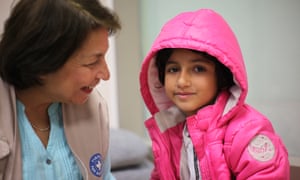 A nurse from Doctors of the World with Amina, eight, from Iran. Photograph: Tracy McVeigh for the Observer
Amina is eight years old and running a fever. In her thinly padded pink anorak, hood pulled up over her curls and pallid face, she watches listlessly from the couch as her parents listen carefully to the doctor's instructions over her medication.
In another place, in another city, at another time, perhaps, this sick child would be taken home to be tucked up in bed with hot drinks. But Amina has no home any more and tonight her bed is a grey donated blanket on the concrete floor of the tae kwon do stadium in Athens. Once this building was the pride of Greece's 2004 Olympics; this weekend it is a squalid, cold place full of desperate people.
For this Iranian family – Amina has an older brother of 14 – it is the first night they have had a roof over their heads for nine days. Like 2,300 other refugees and migrants over the past few days, they have been sent by bus into two sports stadiums and a warehouse in Athens. This followed the closure of the border to some nationalities in the town of Idomeni, where they had been waiting, hoping to pass into Macedonia on a key refugee route into northern Europe.
Macedonia's decision has not only left people panicked over where they can go next, but also presented Greece with a new problem. Refugees who land on the Greek islands in flimsy rubber boats have been given 30 days to leave the country. But families like Amina's have nowhere to go.
Her father tells me: "I cannot go back to Iran, already the iman from my area has called me and said I will be killed if I try to go back. I have had many threats. I cannot get out of Greece any more. I'm afraid they will put us in jail after the 30 days. Where can we go? What will happen to us?"………………

Marchers protest against month-old Polish conservative government appointing five of 15 judges to highest judicial body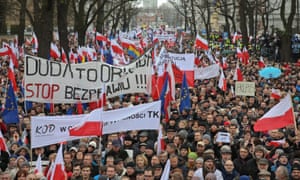 Crowds in Warsaw. Poland is locked in a constitutional crisis. Photograph: Rafa? Guz/EPA
Reuters
Tens of thousands of people marched through Warsaw on Saturday to protest against what they called the "democratorship" of the month-old conservative government, as Poland remained locked in a constitutional crisis. Waving Polish and European Union flags, the protesters chanted: "We want the constitution, not a revolution", demanding that the government respect the rule of law.
The constitutional clash began when the Eurosceptic Law and Justice (PiS) party, which scored a landmark election win in October, appointed five out of 15 judges to the highest judicial body, in a move that the opposition described as illegal.
PiS denies the charge. It said judges in the constitutional court need to be replaced to ensure the balance of power in the body, and that it was the previous government that broke the law when they made the original appointments.
"Those appointments were made based on a faulty law," the prime minister, Beata Szyd?o, said. "We are only fixing the law."
Gaining control of the court is key for the party. It may determine whether PiS is able to implement its flagship policy plans, such as overhauling the retirement system and curbing foreign ownership of banks, moves the court could block.
"The current constitutional court is a stronghold of everything that's wrong with Poland," the PiS leader, Jaros?aw Kaczy?ski, told private broadcaster Republika. "All of our moves can be undermined [by it] in an arbitrary way."…………….

Opinion
How should we respond to would-be President Trump's latest outrage? Point a figure and shout Eeeeuuuurrrggghhh!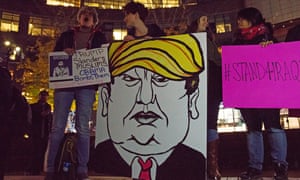 Figure of fun: a rally in New York last week against Donald Trump's call for a ban on Muslims entering the US. Photograph: A Lohr-Jones/Pacific/Barcroft
I

have tried very hard to avoid writing about Donald Trump. I was desperate to write about anything else: the floods, or the Tatler Tory, or the fact that a bloke whose job is to hit people has been saying offensive things (making him a sort of reverse Clarkson), or even high street spending, God help me. But it was no good. I couldn't stop thinking about Trump, couldn't get his name out of my mind – it was like the head of the herd was calling far far away.
It would probably be better to ignore him. If, at a polite drinks do, a man starts noisily doing a shit in the corner of the room, the dignified response is to avert your gaze. But it takes so much self-restraint. Our inner child wants to stare and cry out: "What's that man doing? He's so weird! Eeeeuuuurrrggghhh! I can't stop looking at him!" That's how I feel about Donald. I can't take my eyes off him. I'm guiltily drawn to pictures of him, as if he's boobs.
It's not just his unique look that I'm amazed by, but how he moves, what he says and the way he says it. It's so fascinating and disgusting, like staring through the glass at the zoo to see a huge hairy spider gradually devour a mouse. He's a perfectly watchable and villainous entity – the Lord High Emperor of the planet Katie Hopkins came from. As panto season approaches, I long for him to take the stage so I can boo.
What adds infinitely to this repellent allure (a concept which would be self-contradictory in anyone else) is that Trump isn't trying to play the villain, he's trying to be popular. And, current evidence suggests, he's succeeding. When he says that many Mexicans are rapists, that thousands of Arab Americans celebrated the 9/11 attacks or, as last week, that Muslims should be prevented from entering the United States, he's not trying to publicise a book, stimulate debate or generate internet traffic. He's saying it because he thinks lots of people will agree.
To most of the American political mainstream, and pretty much all of the British one, this induces a lot of spluttering – not just because Trump's views seem so despicable but because his success contradicts the current political orthodoxy. Modern politicians, and their surrounding media, and their further surrounding social media, are obsessed with spotting gaffes and transgressions – moments where lines of propriety have been crossed by their opponents – and then exploiting them.
But you can't do that with Trump. He's not just a straight-talker, he's a man who reliably says the things politicians dream their opponents will be caught muttering within range of forgotten radio-mics – except he declaims them on a podium in front of thousands. And reiterates them on TV and Twitter. He's built a campaign from gaffes alone. It's like he's found a way to make an incredibly strong suit of armour entirely out of …………….