17 Dec


UK Met Office estimates 2016 will be at least as hot as 2015, which would mean the three hottest years ever had occurred in a row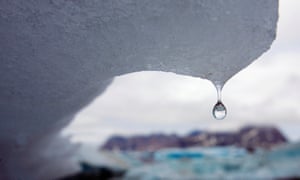 The melting of the Greenland ice cap and its effect on the area around Greenland is one of the more immediate effects of climate change. Photograph: John Mcconnico/AP
2016 is set to be the warmest year ever recorded, according to a forecast issued by the UK Met Office on Thursday.
Climate change and the peaking of the El Niño weather phenomenon are expected to drive the global average temperature next year above the record now certain to be set for 2015, which itself beat a new record set in 2014.
The forecast comes just five days after195 nations agreed a historic deal to fight global warming at a UN summit in Paris by keeping the world's temperature rise under 2C, with an ambition to restrict the rise to 1.5C.
The Met Office forecast indicates the global average temperature in 2016 will be 1.14C above pre-industrial temperature, showing how challenging it will be to meet the 1.5C goal. The Met Office said there was just a 5% chance the global average temperature in 2016 would be below that in 2015.
"The vast majority of the warming is global warming, but the icing on the cake is the big El Niño event," said Prof Ada…………………

Larycia Hawkins, associate professor at Wheaton College, placed on leave after saying she'd wear a hijab as demonstration of 'human solidarity' with Muslims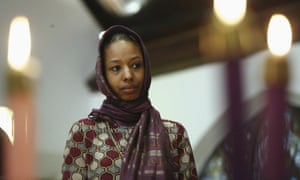 Larycia Hawkins, a Christian and associate professor of political science at Wheaton College, wears a hijab at a church service in Chicago. Photograph: Stacey Wescott/AP
A Christian college in Chicago has suspended a tenured professor who has been wearing a headscarf to show solidarity with Muslims, a decision she said was made as part of her Christian Advent worship and has prompted "pushback almost exclusively from other Christians".
Last week, Larycia Hawkins, an associate professor of political science at Wheaton College, announced her decision to wear a hijab as a demonstration of "human solidarity" with Muslims, in the wake of the recent mass shooting in San Bernardino, California, which authorities said was inspired by Islamist terrorists.
"I stand in human solidarity with my Muslim neighbor because we are formed of the same primordial clay, descendants of the same cradle of humankind," she posted on Facebook. "I stand in religious solidarity with Muslims because they, like me, a Christian, are people of the book."
But the comments made by the 43-year-old generated confusion at Wheaton's campus about "complex theological matters", the college asserted in a statement last Friday. And, it continued, some Christians may have interpreted Hawkins' remarks as a failure to "reflect the distinctively Christian theological identity of Wheaton College".
As a result of Hawkins' comments, Wheaton, a private evangelical liberal arts college in Chicago's west suburbs, placed the professor on administrative leave, pending a review the college said she's entitled to receive as a tenured faculty member.
The college declined a request for comment but in a statement issued on Wednesday, Wheaton president Dr Philip Ryken said it has "no stated position" on whether headscarves can be worn "as a gesture of care and concern for those in Muslim or other religious communities that may face discrimination or persecution"………………

It took seven months for Samer and his family to flee persecution in Syria and reach the US. Now as they are all held in different detention centres, he tells the Guardian how he wishes they had never started the journey
A US Customs and Border Protection agent's patch is seen as he patrols patrol near the Texas-Mexico border. Photograph: Eric Gay/AP
T

hroughout the seven months it took Samer and his family to make their way from Syria to the United States, he told himself that the risk and cost would be worth it they could swap their war-ravaged homeland for what he believed was a "land of opportunity, hope and peace".
But the family's arrival in the US has proved more stressful than the journey: days after they reached Texas they found themselves the unwitting subject of a national debate over potential terrorist infiltration.
Republican presidential candidate Ben Carson said that Samer, his wife and two sons – aged two and five – could be the embodiment of America's "worst nightmare". Donald Trump speculated that the family, who are Christian, could be members of Islamic State.
A month later, Samer and his family are still being held in indefinitely in separate detention centres – and his belief in America as a beacon for asylum seekers is dimming by the day.
"My very small children are in prison," said Samer, speaking by phone from an immigration detention centre near San Antonio. "I had no idea that the political climate was so against Syrian refugees. If I had known that it was so terrible here I wouldn't have brought my family."
In his first press interview, Samer said he was struggling to reconcile his perception of the US as a Christian nation of immigrants with his own predicament. Now he fears his family will not be released and reunited by Christmas.
"I definitely thought America would accept me," said Samer, who has been identified by a pseudonym to protect family member.
Speaking through an interpreter, he appeared mystified by the idea that he could be considered a threat. "We are the ones running away from war," he told the Guardian.
It was Samer's bad luck to arrive just days after 130 people were killed in coordinated gun and bomb attacks in Paris. Although all of the attackers identified so far were European nationals, US politicians suggested that terrorists could be posing as Syrian refugees in order to infiltrate the country…………….

US defense secretary used a personal account to send work-related emails on a variety of topics including speeches and meetings, says New York Times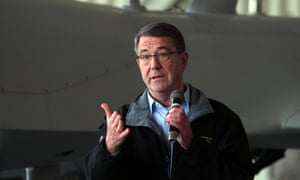 Pentagon chief Ash Carter reportedly used personal email to conduct government business, contrary to defence department rules. Photograph: AP
Agencies
The US defense secretary, Ash Carter, reportedly used a personal email account for some government business in his first months at the Pentagon, contrary to defence department rules.
The New York Times obtained 72 work-related emails that Carter, who took office in February, sent or received from his personal email account, on a variety of work-related topics including speeches, meetings and news media appearances.
The Times said the emails it received under the Freedom of Information Act were exchanges between Carter and Eric Fanning, who was his chief of staff at the time and is now the acting secretary of the army.
In one such email, Carter discussed how he had mistakenly placed a note card in a "burn bag", the Times reported. Such bags are typically used to destroy classified documents.
Carter's press secretary, Peter Cook, told the Times that Carter believes his use of personal email for work-related business was a mistake. Cook declined to say whether it was a violation of Pentagon email policies. Cook said Carter stopped the practice, but Cook did not say when.
"After reviewing his email practices earlier this year, the secretary believes that his previous, occasional use of personal email for work-related business, even for routine administrative issues and backed up to his official account, was a mistake," Cook said in a statement.
"As a result, he stopped such use of his personal email and further limited his use of email altogether," Cook said, adding Carter had used personal emails mainly to correspond with friends and family.
The Times cited an Obama administration official as saying that when White House chief of staff Denis McDonough learned in May that Carter was using his own email account, he directed the White House Counsel's Office to ask the Pentagon why.
Carter continued to use his own email account for at least two months after it became public in March that Hillary Clinton had used only her personal email account while she was secretary of state, according to the Times……………….

Abdullah al-Zaher, who was arrested when he was 15, faces beheading and crucifixion for participating in protest rally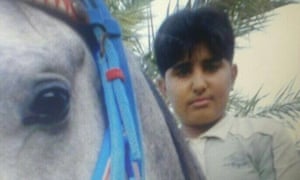 Abdullah al-Zaher was tortured and forced to make a confession, his family say. Photograph: Family handout
The family of a teenage protester who faces beheading in Saudi Arabia have come forward in public for the first time to plead for his life.
The father of Abdullah al-Zaher, 19, called on the world to help before it is too late and his son is executed in the kingdom along with a reported 51 other people.
"Please help me save my son from the imminent threat of death. He doesn't deserve to die just because he participated in a protest rally," Hassan al-Zaher told the Guardian.
Arrested in March 2012, just shy of his 16th birthday, after participating in protests in Saudi Arabia's eastern Shia-dominated province, Zaher was charged with "harbouring" protesters, participating in demonstrations and chanting slogans, setting fire to a car and throwing Molotov cocktails.
His family and the death penalty campaign group Reprieve allege that Zaher was tortured, saying that after his arrest Saudi security forces beat him with wire iron rods, forced a confession from him and did not allow him to speak to his family or a lawyer.
"He was forced to sign a paper that the police fabricated and that he was not able to read under a threat of corporal punishment. He told me that he did not throw Molotov [cocktails] or anything similar," his father told the Guardian.
Saudi Arabia is one of the world's heaviest users of the death sentence. According to Amnesty International, it executed 102 people in the first six months of this year – more than in all of 2014…………..

When Mirna Ramírez gave birth two months early, she was detained by the police, accused of attempted murder and jailed for 12 years. In El Salvador, where a draconian anti-abortion law holds sway, her story is an all too familiar one
Jonathan Watts, Latin America correspondent, in San Salvador
For Salvadoran women who suffer a miscarriage, the physical and emotional trauma of losing a child can be the start of a life-changing ordeal consisting of poor medical treatment, arrest without recourse to legal advice and imprisonment for up to 40 years. Women who have fallen foul of El Salvador's punitive anti-abortion law, and are either serving time or have completed a prison sentence, describe the torment of life behind bars and reveal how their lives have been altered forever
It's hard to talk about," says Mirna Ramírez softly as she begins to explain why she spent 12 and a half years in prison. "I was put in jail because I had a premature birth and they accused me of an abortion."
The 48-year-old mother, from San Salvador, has been free for a year. But she is still scarred by what she feels is the injustice of arguably the most draconian anti-abortion law in the world.
Ramírez was 34 years old and seven months pregnant when she felt a pain and went to the bathroom. "That's when it [the baby] came out," she says, recalling how a neighbour came to help her before wrongly denouncing her to the authorities. "She said I wanted to kill my baby. I thought she was my friend and she'd tell the truth and help me, but it was the opposite."
An hour later, the police arrived and took her to a detention centre. "I was still bleeding," she recalls. "It's a miracle I'm alive. I received no medical attention. It was like a nightmare. I never imagined I'd go to prison."
But she did. Even though her baby survived, she was accused of attempted murder because the neighbour claimed the child had been conceived with another man during an affair. After just five minutes with her state-appointed defence lawyer, she was sentenced to 15 years.
Ramírez – whose full name is not revealed here because of the stigma associated with such cases – was not alone. Civil rights groups say 17 women in El Salvador have been wrongfully imprisoned for miscarriages. Countless more have been jailed for having abortions……………..