20 Dec

Bureau amassed huge file from 1943 on writer of classic songs – and even sent an agent to his school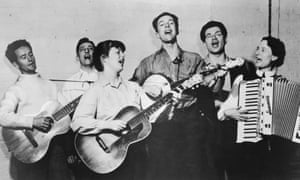 Seeger, centre with banjo, and the Almanac Singers, including Woody Guthrie, far left, in 1940. Photograph: Michael Ochs Archives/Getty Images
The campaigning singer Pete Seeger, composer of classic American folk tunes including If I Had a Hammer and Where Have All the Flowers Gone?, was spied on by FBI agents for more than two decades because he wrote a protest letter as a young man concerned about plans to deport tens of thousands of Japanese American citizens at the end of the second world war.
A vast file on Seeger was released to the independent American news website Mother Jones in response to a request under the freedom of information act. It reveals that the bureau's spies first took an interest in the singer in 1943. Seeger, a 23-year-old army private at the time, had written denouncing a plan for mass deportation drafted by the California chapter of the American Legion, a veterans' association.
"If you bar from citizenship descendants of Japanese, why not descendants of English? After all, we once fought with them too. America is great and strong as she is because we have so far been a haven to all oppressed. I felt sick at heart to read of this matter," he wrote.
His angry letter prompted close scrutiny of his political views and associations by the bureau that ran on into the early 1970s. The suspicion was that Seeger, who died in early 2014, was a security risk with close connections to the Communist party.
The FBI file on him has nearly 1,800 pages – 90 of them are still withheld for security reasons – and journalist David Corn has unearthed details within it of the elaborate efforts made by government agents to document Seeger's activities, even back to his school days.
An agent sent out to his Connecticut high school found evidence that he had worn "bohemian" clothes. Another was sent to Harvard, where the singer had spent a year studying, and was told the student's grades had been "fair" and that he had been secretary of the student union. Mililtary intelligence also contacted the performer Woody Guthrie, who had played ………………..
Vladimir Putin's warning that Moscow will use 'more military means' in Syria conflict comes just hours after UN roadmap to peace was agreed
Vladimir Putin makes a statement to dignitaries at a security services gala on Saturday, detailing Russian military capabilities in Syria. The Russian president says the country's armed forces are ready to scale up its military intervention in Syria, less than a day after Moscow signed off on an ambitious UN plan to end the war. Putin says, while Russian forces are already working 'effectively' in Syria, the country has 'more military means' at its disposal 'if need be'
Vladimir Putin has warned that Russia is ready to to scale up its military intervention in Syria, less than a day after Moscow signed off on an ambitious UN plan to end the war.
The peace roadmap lays out a two-year path to elections for a new government, starting with a January ceasefire, and marks the first time America and Russia have reached broad consensus on Syria's future after years of conflict that has cost more than 250,000 lives and made millions more into refugees.
But the pact was so broad that it sidestepped one of the biggest questions at the heart of Syria's troubles, the future of President Bashar al-Assad, and several other key issues. It was also drawn up without consulting Assad or the opposition groups fighting him on the ground.
The question of whether, when and how the Syrian leader might step down will hang over any attempts to broker long-term peace. The US says he must go, while Russia has doubled down on support for him, sending bombers, weapons and cash to support his troops.
"He's in control of two-thirds of the populated areas of Syria, he has not been defeated on the battlefield, he has the support of all the minorities, as well as the secular Sunnis," Peter Ford, former UK ambassador to Syria told the BBC after the deal was agreed.
"Its absurd to think that the Russians have come so far with this process only to throw Assad under the bus; it's not going to happen."
Less than 24 hours after committing to peace in Syria, Putin himself said top commanders were ready to join the bomber pilots, support forces and other Russian troops already backing up Assad on the ground……………
Centre on Religion and Geopolitics says at least 65,000 jihadist fighters could fill vacuum if Islamic State was defeated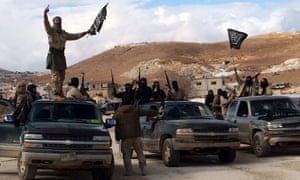 Al-Nusra Front fighters. The report warned about leaving the group unchallenged. Photograph: Reuters
Staff and agencies
More than half of the rebel fighters in Syria who are opposing President Bashar al-Assad are sympathetic to Islamic State views, a leading thinktank has claimed.
The Centre on Religion and Geopolitics said efforts to wipe out Isis in Syria and Iraq would not end the the global threat from jihadi groups because extremist views were common among Syrian fighters of all stripes.
At least 15 militias, numbering 65,000 fighters, could fill any vacuum resulting from a defeat of Isis in Syria and Iraq by a coalition led by the US, a report by the group found.
About 60% of fighters in rebel factions in Syria identified with a religious and political ideology similar to that of the terror group, it added.
The thinktank, run by the Tony Blair Faith Foundation, said: "The west risks making a strategic failure by focusing only on IS. Defeating it militarily will not end global jihadism. We cannot bomb an ideology, but our war is ideological."
The report comes after the United Nations agreed a resolution endorsing the start of "urgent" formal negotiations between Assad's regime and moderate opposition groups early next month……………….
Opinion
The senator from Vermont managed to draw clear distinctions with the Democratic front-runner. It still might not be enough when the voting starts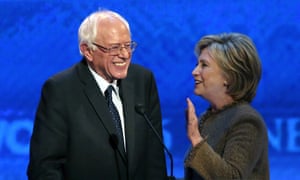 Hillary Clinton speaks to Bernie Sanders during a break at the Democratic presidential primary debate 19 December 2015 at Saint Anselm College in Manchester, New Hampshire. Photograph: Jim Cole/AP
F

or months Bernie Sanders has tried and failed – and sometimes not even tried – to distinguish himself from Hillary Clinton on foreign policy. On Saturday, he finally found his line in the sand.
The key distinction is this: in Syria, Clinton favors a focus on toppling Bashar al-Assad while simultaneously combating Isis. Sanders says overthrowing Isis must come first, and he also criticized her plans to go after Assad, calling her a "fan of regime change".
Previously Sanders had struggled to draw a substantive contrast between Hillary and himself beyond her vote to go to war with Iraq years ago. The monotonal attack made it look like he had no real foreign policy platform to speak of; finally, he has one.
He didn't back down from his attacks on her vote on Iraq at Saturday night's debate, but rather drew out its meaning, using it as a lens for the differing ways he and she see foreign policy.
"I worry Secretary Clinton is too much into regime change and too aggressive without knowing what the consequences will be," he said, his clearest contrast with Clinton to date. "Yeah regime change is easy, getting rid of regime change is easy, but … what happens the day after?"
According to Sanders, Clinton is an interventionist who would have Americans charging into entanglements overseas without enough consideration for what comes next. It's that very approach, he says, that, when Clinton was Secretary of State, drew the country into a quagmire in Libya; and it's the same approach, he contends, that currently has the US facing a similar situation in Syria.
"The United States is not the policeman of the world," Sanders said to applause –adding that the US cannot fight Assad and Isis at the same time. "The first task is to bring countries together to destroy Isis."
Clinton painted Sanders as presenting a false choice, suggesting the clear dichotomy he described was born of foreign policy naivety. "When we look at these complex questions I wish it could be either-or," she said. "If the United States does not lead, there's not another leader, there's a vacuum."………….