21 Dec

Podemos and Ciudadanos will hold balance of power in forthcoming coalition talks after People's party fails to win clear majority
Podemos leader Pablo Iglesias joins hundreds of supporters in central Madrid on Sunday night to celebrate the leftist party's surge into third place in Spain's general election. They finished in third place with 69 seats and 21% of the vote. The anti-austerity party was formed in the aftermath of protests following Spain's financial crisis
Spanish politicians are gearing up for what could be weeks of complicated negotiations after the general election resulted in a deeply fragmented parliament, with the conservative People's party losing ground to national newcomers Podemos and Ciudadanos.
The PP won 123 seats in Sunday's election, with 29% of the vote, leaving it far from a majority in the 350-seat legislature. Led by Mariano Rajoy, the current prime minister, the party has limited possibilities when it comes to the alliances it now needs to form a stable government majority.
The Socialists, who asserted their place as the traditional rival of the conservatives throughout the campaign, came second, with 90 seats and 22% of the vote. With many in Spain still suffering the lingering effects of an economic crisis that sent unemployment rates soaring and triggered painful austerity measures, millions of voters turned away from the PP and Socialists, who have alternated in power for decades, and instead looked to emerging parties.
Anti-austerity Podemos, barely two years old and born from the Indignado protests that saw thousands rally against a political establishment felt to be out of sync with the people, finished in third place with 69 seats and 21% of the vote, while the centre-right Ciudadanos won 40 seats and 14% of the vote. "Spain is not going to be the same anymore and we are very happy," the Podemos leader, Pablo Iglesias, said on Sunday. "The bipartisan political system is over." The PP and Socialists won a combined vote share of about 50%, compared with the 70-80% of past general elections……..
Jason Flanery was working security job in 2014 when he shot VonDerrit Myers
On Saturday he left the scene after hitting a vehicle with his squad car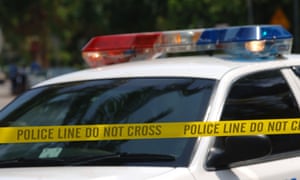 Investigators, acting on a tip, found the vehicle at Flanery's home. Photograph: Alamy
Associated Press in St Louis
A St Louis police officer who fatally shot 18-year-old VonDerrit Myers Jr last year has resigned after being accused of driving his patrol car while intoxicated and crashing into a parked vehicle.
Jason Flanery was driving his squad car early Saturday morning when he struck a vehicle and left the scene before officers arrived, police spokeswoman Schron Jackson said.
Investigators, acting on a tip, found the vehicle at Flanery's home, the St Louis Post-Dispatch reported. Flanery refused to submit to a breath alcohol test, so the department requested a search warrant and officers returned to his home later in the day to have his blood drawn, Jackson said.
"We handled the criminal investigation just as we would anyone in a suspected drunk-driving accident," police chief Sam Dotson told the newspaper late on Saturday evening.
Flanery was arrested on suspicion of driving while intoxicated and leaving the scene of an accident, Jackson said. He was released pending application for warrants, and has not been charged. His attorney, Brian Millikan, declined to comment.
Officers are not allowed to drive their cars except to and from their shifts. Flanery was not on duty at the time of the incident, Jackson said.
The white officer was off-duty and working an after-hours security job when he shot Myers on 8 October 2014 – two months after the fatal shooting of 18-year-old Michael Brown in the St Louis suburb of Ferguson………………..
Two arrested days after Omar al-Bashir threatens to punish journalists who criticise government policy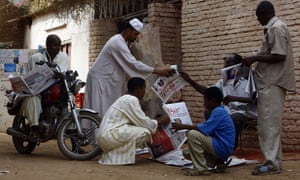 Sudanese men gather around a newspaper street vendor outside Khartoum, 2015. Photograph: Ashraf Shazly/AFP/Getty Images
Two prominent Sudanese editors are facing the death penalty over claims they are "inciting an Arab spring" and have introduced anti-government editorial policies at their newspapers.
Osman Marghani and Ahmed Yousef El Tay were seized by the intelligence services at their offices last Thursday. They face sentencing this week.
Marghani, editor-in-chief of the prominent El Tayar newspaper, said his publication had been made a scapegoat for widespread criticism of the government. "We were held by security officers and taken by cars from our offices, and they accused us of inciting people against the regime," he said.
"I think the president is very angry about our media coverage of next year's budget, and our criticism of the finance minister. So our newspaper is the scapegoat."
The two men are accused of abusing their positions as journalists, publishing false news and undermining the constitutional system, a crime punishable by death in Sudan.
The Sudanese Journalists Network has condemned the arrests, urging all journalists to "counter the attack from the president and his intelligence agency".
Marghani and El Tay are being charged under two articles of the criminal code, which adheres to Islamic Sharia law. Faisal Mohammed Salih, a journalist and human rights activist, says the code was in conflict with the constitution, which guarantees the right to "freedom of speech"………….
Factories ordered to cut back or suspend production as levels of harmful particles hit seven times their safe limits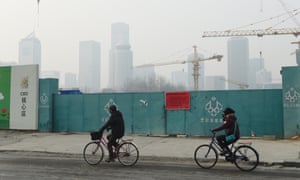 Cyclists ride past an entrance at a closed construction site on the second day of a 'red alert' for pollution in Beijing on 20 December. Photograph: Greg Baker/AFP/Getty Images
Agence France-Presse in Beijing
Beijing has ordered 2,100 factories to suspend or reduce production as part of its "red alert" measures to deal with smog, the government has said, as the city remained shrouded under a toxic haze for the third consecutive day on Monday.
As part of the emergency response plan, 2,100 factories in the city and on its outskirts have been ordered either to stop or scale back production in an effort to cut emissions, an official from the Beijing municipal commission of economy and information technology, who declined to be named, said.
The government was sending inspectors to the plants daily, she said. "[The factories] all strictly carried out the measures" as required, she added.
Counts of PM2.5 – harmful microscopic particles that penetrate deep into the lungs – were 172 micrograms per cubic metre earlier on Monday, according to the US embassy, which issues independent readings.
The reading is nearly seven times the World Health Organisation's recommended maximum exposure of 25 over a 24-hour period.
PM2.5 was expected to peak at above 300 micrograms per cubic metre on Tuesday, the state-run Beijing Daily reported, citing environment authorities.
During a red alert, Beijing pulls half the city's cars off the roads, with exceptions for buses, taxis, electric cars and vehicles such as ambulances, while the public transport system – including subways – increases capacity, the report said…………..
What does Santa Claus think of climate change? Are the elves and reindeer feeling the effects at the North Pole? We took to the streets during SantaCon NYC to get a colorful cast of Christmas characters to comment on our warming planet. Warning: some of the Santas featured may have overdone the eggnog.
Opinion
Relying fully on clean energy is not only good for the environment, human health and the economy, it is also doable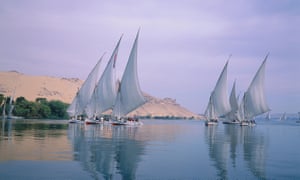 In many ways, the Paris deal is the mother of all market signals that fossil fuels are a losing bet. Photograph: Alamy
T

he climate agreement reached in Paris is provoking a flurry of caveats, criticisms and cautions. Many of those criticisms are warranted and there's a lot of work ahead to make sure countries live up to their promises. But we should not miss a chance to celebrate a historic turning point.
World leaders finally made commitments to clean, renewable energy that will help to ensure a safer, healthier and more prosperous future for us all. The agreement signals that the age of fossil fuels is coming to a close, and the age of renewable energy is dawning.
In many ways, the Paris deal is the mother of all market signals. To deliver on the promises world leaders made, we will need to leave coal and oil in the ground and move toward a complete reliance on clean energy. Let's not miss the writing on the wall: fossil fuels are a losing bet, while renewables offer economic opportunity.
This is true for all segments of society – from energy investors to individual households that can save money on their energy bills by switching to rooftop solar power.
The Paris pact ratifies an ongoing renewable energy revolution spreading across the globe. Each year since 2013, the world has added more power-generating capacity fueled by renewable sources than from coal, natural gas and oil combined. Global investment in renewable energy hit $310bn last year, according to Bloomberg New Energy Finance. And major companies are pledging to go 100% renewable, too.
Much of that growth in clean, renewable energy has come from the subnational movement, in which cities, states and regions are banding together and leading even if their national governments are lagging. This bottom-up approach – one that so many people around the world are already part of – is what was most alive about Paris.
It is what drove so many people to COP 21 this year, and is the driving force that makes so many hopeful. In my home state of New York, for example, we have a robust movement to ban fracking, courageously embraced by governor Andrew Cuomo, and we support his leadership on renewable energy. We have found a new way of approaching this problem. Whole towns, communities and cities are racing to a full reliance on renewable energy, despite the gridlock in Washington, DC. This is where so many sense real hope coming out of Paris……………….