23 Dec

David Cameron to examine case amid heightened terror concerns
Family of 11 had been granted authorisation to fly online in advance

Eleven members of a British Muslim family were turned away at Gatwick airport from boarding a flight to California where they planned to visit Disneyland. Photograph: Marsaili McGrath/Getty Images
A British Muslim family heading for Disneyland was barred from boarding a flight to Los Angeles by US authorities at London's Gatwick airport amid concerns of an American overreaction to the perceived terrorist threat.
US Department of Homeland Security officials provided no explanation for why the country refused to allow the family of 11 to board the planeeven though they had been granted travel authorization online ahead of their planned 15 December flight.
Senior politicians have been drawn into the case, warning that a growing number of British Muslims are being barred from the US without being told the reason for their exclusion.
Aides to the prime minister, David Cameron, have promised that he will examine the case, which comes as a leading community group in the US has warned that Muslims are being subject to "an unprecedented and dramatic increase" in violent and hostile incidents. Advocates attribute this increase to the recent terror attacks in Paris and the mass shooting in San Bernardino, California.
Comments by the Republican presidential frontrunner Donald Trump calling for a ban on all Muslims entering the US have also contributed to the tense atmosphere.
President Obama alluded to these comments in a speech earlier this month. "We betray our most noble past as well if we were to deny the possibility of movement, the possibility of progress, if we were to let cynicism consume us and fear overwhelm us," Obama said.
The case of the family from London who were turned back at the airport has been raised by the British Labour MP Stella Creasy, who believes a lack of information from US authorities is fuelling resentment within British Muslim communities.
"Online and offline discussions reverberate with the growing fear UK Muslims are being 'trumped' – that widespread condemnation of Donald Trump's call for no Muslim to be allowed into America contrasts with what is going on in practice," Creasy writes in an article for the Guardian. She said she was in contact with at least one other constituent who had had a similar experience.
US Homeland Security officials did not respond to a request for comment on why the family had been stopped from entering the country………………
Republican Matt Bevin issues executive order to protect 'sincerely held religious beliefs' of officials like Kim Davis after same-sex marriage license controversy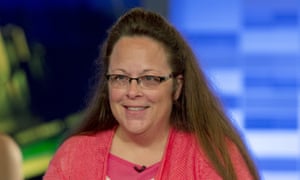 Kentucky county clerk Kim Davis speaks on Fox News. Photograph: Brendan Mcdermid/Reuters
Associated Press and staff
Republican Kentucky governor Matt Bevin ordered the state to prepare new marriage licenses that do not include the names of county clerks, in an attempt to protect the religious beliefs of clerk Kim Davis and other local elected officials.
Bevin said he directed the Kentucky department of libraries and archives to issue the revised marriage license forms to all county clerks. The executive order comes after Davis, the Rowan County clerk, spent five days in jail for refusing to issue marriage licenses to same-sex couples. Davis said she could not issue the licenses because they had her name on them.
Bevin said he issued the executive order to "ensure that the sincerely held religious beliefs of all Kentuckians are honored". It was one of five executive orders he issued on Tuesday, the first of his administration, that mostly revised or suspended recent actions by former Democratic governor Steve Beshear.
"Today, I took action to uphold several commitments I made during my campaign so that we can implement real solutions that will help the people of Kentucky," Bevin said in a news release.
The American Civil Liberties Union issued a statement expressing concern that Bevin's order has "added to the cloud of concern that hangs over marriage licensing in Kentucky" because state law requires that the county clerk's name appear on marriage licenses………………
Ordered after the release of secretly recorded videos by an anti-abortion group, the ruling allows Utah to cut off funds while the organization pursues a lawsuit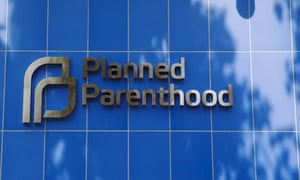 The Planned Parenthood Association sued the state in October, arguing that the governor's move to block the money violated its first amendment right to advocate for or perform abortions Photograph: Lucas Jackson/Reuters
Associated Press in Salt Lake City
A federal judge ruled on Tuesday that Utah can cut off federal funds to the state's Planned Parenthood organization, a move the Republican governor ordered after the release of secretly recorded videos by an anti-abortion group.
The ruling from US district judge Clark Waddoups reversed an earlier decision temporarily ordering the money to keep flowing to the Planned Parenthood Association of Utah.
His ruling allows Utah to cut off funds to Planned Parenthood while the organization still pursues its lawsuit against the state.
Like Utah, other states have moved to cut funding to Planned Parenthood chapters. The organization has filed lawsuits in Arkansas, Alabama and Louisiana to block them from stripping contracts and federal money distributed by the states……………..
Seven children among dead off coast of Farmakonisi and search under way for one missing person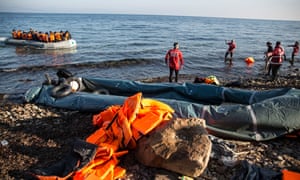 Almost 3,700 people have drowned trying to reach Europe by boat this year. Photograph: Sean Smith for the guardian/Sean Smith for the Guardian
Associated Press
Greek authorities say a small plastic boat carrying migrants from Turkey to Europe has sunk off an eastern Greek islet and at least 13 people, mostly children, have drowned.
The coastguard said another 15 people had been rescued, while a search was under way to locate one missing person. The dead were identified as seven children, four men and two women.
The accident occurred before dawn on Wednesday off the small Aegean Sea island of Farmakonisi. The cause of the sinking was not immediately clear.
A day earlier, Turkey's state-run Anadolu news agency reported that 11 migrants, including three children, attempting to reach the Greek island of Samos drowned after their boat capsized. Seven others were rescued.
The agency said Turkish coastguards spotted the refugees during a routine patrol.
Which international news stories inspired the most challenging comments and why? With 20m responses published this year, Guardian moderators discuss a year at the coal face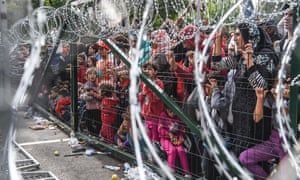 Refugees stand behind a fence at the Hungarian border with Serbia, moderators say the story has been the hardest thing to handle this year.
Photograph: Armend Nimani/AFP/Getty Images
The Guardian comment sections have a life unto themselves. At their best they are a source of informed debate, intelligent discussion and useful support, but they can also descend into bitterness, vitriol and deliberate misinformation.
Since the beginning of January nearly 20m comments have been left below articles, up 25% from 2014 and 300% from 2011.
Reactions to some of the year's biggest news stories – from the refugee crisis to the Paris attacks and Russia's bombing campaign in Syria – have flooded comment threads with outrage, often drowning out serious debate and stretching our moderation resources.
Because the Guardian is responsible for everything published on the site, a team of moderators monitor the comment threads and remove personal attacks, offensive remarks, racism, sexism or anything that could be defamatory.
Yet across the site there are pockets of comment joy. In August the global quick crossword community, QCC for short, went viral, winning significant praise for its friendly harmony and entertaining discussions. Members talk all the time, meet up often and even have their own song.
Recently a gathering of the "readers recommend" club, whose members suggest songs around a particular theme each week, went on for eight hours in a London pub. Members from Australia, India, Belgium, Canada and the United States joined in on Skype……………….
Opinion
British Muslims have been prevented from travelling to the US, without explanation or compensation. The UK cannot allow such discrimination to continue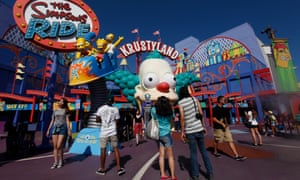 'My first thought was for the kids … Instead of heading to Universal Studios for two weeks of fun, they were told to go back home and unpack.' Photograph: Bloomberg/Getty Images
A

s a young girl I dreamed of going to Disneyland. Like many of my friends I hoped to one day visit places I'd only seen on television shows and in films. That's why when I heard from a family of 11 from my Walthamstow constituency whose holiday to LA had had to be abandoned, my first thought was for their kids. How long they had watched their parents save for the trip; how excited they must have felt telling their friends they would see Mickey Mouse, and how upset they must have been at Gatwick airport to watch their dad being taken aside by officials and told that their right to travel was being revoked. Instead of heading to Universal Studios for two weeks of fun, they were told to go back home and unpack.
This is more than a sad consumer affairs story about missed gate numbers or paperwork problems. The official who stopped them was from the US Department of Homeland Security – and in the ensuing furore other local residents have come forward to say that they, too, have been summarily refused entry to America.
What is the one thing these stories have in common? Religion. A growing number of UK Muslim citizens say they have been similarly treated. This raises troubling questions well beyond how to diffuse the heartache of small children unable to meet Elsa from Frozen. Indeed, if the US thinks it has good grounds for stopping people going there, we cannot be contented that the UK does not take any action to follow this up here.
The family trying to get to California were due to leave last Tuesday – that a week later they have yet to receive any details at all as to why they were prevented from travelling only adds their distress. Yet there has been no further contact from either the UK or American security services to follow up any potential threat that they are perceived to represent………………….