25 Dec

Activists join in condemnation of planned raids by Department of Homeland Security to round up recently arrived immigrants 'wherever they can be found'
Immigrants from El Salvador and Guatemala who entered the country illegally board a bus after they were released from a family detention center in San Antonio. Photograph: Eric Gay/AP
Hundreds of undocumented families in the US could be rounded up and deported as soon as January, according to a report that has shocked immigrants rights' advocates and provoked condemnation from Democratic presidential hopefuls.
The Department of Homeland Security is preparing for raids that would see hundreds of recently arrived immigrants deported, according to a report in the Washington Post.
Citing anonymous sources, the report said that adults and children "would be detained wherever they can be found and immediately deported".
The operation would focus on people who entered the US from its south-west border since the start of 2014, many of whom are assumed to be escaping gang violence and institutional collapse in Central America. It would also focus on people who have already been ordered to leave by an immigration judge, according to the Post.
A Guardian investigation in October found that people deported by the US government back to Central America often face an imminent threat of violence, and in some cases have been murdered soon after their return.
Immigrant rights' advocates also condemned the plan.
Michelle Brané, director of the Migrant Rights and Justice Program of the Women's Refugee Commission, said she was disappointed to learn about the Obama administration's plan.
"To me, the image of pulling women and children and sending them back to one of the most dangerous places in the world over the Christmas holiday is extremely disappointing and does not show the kind of leadership that this administration has been saying they want to take on migration and refugees," Brané said.
The nationwide campaign would be led by US immigration customs and enforcement (ICE) agents and could begin in early January, the Post said…………….
Pontiff tells Catholic faithful to reject hedonism but makes no mention of refugee crisis in homily at St Peter's Basilica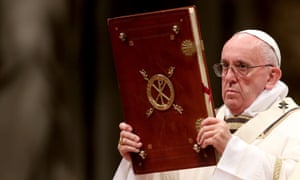 Pope Francis holds the gospels during the Christmas Eve mass at St Peter's Basilica. Photograph: Franco Origlia/Getty Images
Pope Francis returned to one of his favoured themes in his homily at midnight mass on Christmas Eve at the Vatican, castigating a hedonistic and consumerist society and a culture of indifference.
Meanwhile, one of his senior cardinals, Vincent Nichols, the archbishop of Westminster and the leader of the Catholic church in England, focused his Christmas Eve message on "gratuitous violence" in the home and the suffering of persecuted Christians around the world.
Neither Catholic leader mentioned the continuing refugee crisis, a surprising omission at the end of a year in which the plight of those fleeing conflict, persecution and hardship has dominated international headlines. In September, Francis called on every religious community across Europe to offer sanctuary to refugee families.
At midnight mass, the pope urged his followers to pursue a life of modesty, saying: "The way of authentic liberation and perennial redemption is open to every man and woman who is simple of heart".
He added: "In a society so often intoxicated by consumerism and hedonism, wealth and extravagance, appearances and narcissism, [Jesus] calls us to act soberly, in other words, in a way that is simple, balanced, consistent, capable of seeing and doing what is essential … Amid a culture of indifference which not infrequently turns ruthless, our style of life should instead be devout, filled with empathy, compassion and mercy, drawn daily from the wellspring of prayer."
Francis's mass in St Peter's Basilica comes shortly after the start of his "year of mercy", during which hundreds of thousands of pilgrims are expected to pass through a huge bronze "holy door" and attend special masses and papal audiences. Catholic churches around the world have opened their own holy doors to mark the special year………………..
Video shows teenagers dancing with guns at wedding and stabbing a picture of Palestinian child killed in arson attack
Amateur video shows young Jewish extremists dancing at a wedding with guns as they stab a picture of Ali Dawabsheh, a toddler murdered in an Palestinian hate crime earlier this year. The video, broadcast by Israel's Channel 10 on Wednesday night, has been condemned by senior Israeli politicians and religious figures
Senior Israeli politicians and religious figures have condemned an incendiary video showing a hall packed full of Jewish extremist teenagers cheering the death of a Palestinian toddler murdered in an anti-Palestinian hate crime earlier this year.
The video – which shows the teenagers dancing with guns and firebombs and stabbing a picture of Ali Dawabshe, who died with his parents in an arson attack on their home this summer – was filmed at a wedding three weeks ago and obtained by an Israeli television channel. The Israeli prime minister, Binyamin Netanyahu, immediately condemned its "shocking images", which he said displayed "the real face of a group that poses danger to Israeli society and security".
It dramatises the deep and growing problems that Israel faces with a small and violent extremist sector that has perpetrated so-called "price tag" attacks on Palestinians, members of the Israeli security forces and targeted Christian churches.
The video – broadcast by Channel 10 news on Wednesday night – was filmed at the wedding of a couple described only as being "very well known in the radical right" who are reportedly friends of those suspected of the Dawabshe murders.
The Dawabshe arson murders, and delays in solving the case have contributed to the outbreak of the worst Palestinian street violence in years……………..
Source: ITN
Mohammad Tariq Mahmood, whose British Muslim family were banned by the US from flying to Los Angeles to visit Disneyland, describes their ordeal on Wednesday. Mahmood, who was travelling with his brother, says their nine children were 'devastated'
Wildfires, drought, a historic win for the Kansas City Royals and gun crime were some of the issues that dominated the news in 2015. The Guardian's US picture editor Sarah Gilbert selects her favourite images from the year
President Barack Obama and his family cross the Edmund Pettus Bridge on the 50th anniversary of the 'Bloody Sunday' march in Selma, Alabama, in March. He is accompanied by John Lewis, Amelia Boynton Robinson and Adelaide Sanford who were all there in 1965
Photograph: Jacquelyn Martin/AP
Photograph: Joshua Roberts/Reuters
Opinion
When you get a less desirable gift, people like to say, 'It's the thought that counts'. But with my mother's gifts, we wonder, What thought was that exactly?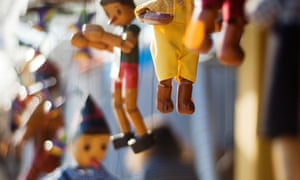 My mother's presents are never given with malice or mischief; they are always presented with wide-eyed, innocent excitement. 'Do you like it?' she always asks expectantly, and we nod our heads while we try to figure out what 'it' is. Photograph: Alamy
I stared at a text message in disbelief. The attached photo scared and confused me.
"For Lindy!" The message said. "They're in her size!"
I was used to getting text messages from my mom around the holidays with gift ideas for members of the family, including my sister-in-law. I would laugh or sigh or roll my eyes and answer "neat!" or "what?".
But this time, as I looked at a picture of pair of black leather chaps hanging in the dressing room of a thrift store I simply answered, "NO."
She had gone too far.
When you get a less desirable gift, people like to say, "It's the thought that counts" but with my mother's gifts, you've really got to wonder What thought was that exactly? My mother is the type of person to see a pair of plus-size leather chaps and say, "They're in her size!" without ever once saying to herself, What would my future daughter-in-law do with a pair of leather chaps?
I'm not sure why I drew the line at leather chaps and not, say, the gift card for erotic massage she gave my sister one year, but maybe it's that I just couldn't imagine springing that on my then future sister-in-law so early.
Still, my mother's presents are never given with malice or mischief; they are always presented with wide-eyed, innocent excitement. "Do you like it?" she always asks expectantly, and we nod our heads while we try to figure out what "it" is.
Over the years, my mother's Christmas presents have become infamous for the amusement, bewilderment – and sometimes – horror that they could evoke. New members of the family, like Lindy, soon find themselves smiling, confused and slightly scared, like they've been asked nicely to open Pandora's box.
For instance, two years ago, my mother gave me red ruffled panties. They were large, bright red, and covered in obscenely fluffy ruffles, the kind that you see little girls wearing under their fancy dresses in old-timey pictures. They were the type of panties that I imagined, if worn under clothes, would make the wearer look like she was wearing a lumpy and quite full diaper. As I held them up, mystified by the bow in front, my mother remarked, "You know, because you're dating now."
Last Christmas, she bought my brother and Lindy The Clapper – you know: "Clap on, clap off. THE CLAPPER." Sing it with me. On the surface, an "as seen on TV" gift from the early 90s might seem like a harmless – even hipster – gift. But, to my mother, this gift was genius. She talked about it for weeks leading up to the holiday. "Did you hear what I got your brother?" she'd say and, before I could answer, Yes, I heard just yesterday when you called me and told me, she'd add, "THE CLAPPER? You know, 'clap on, clap off'?" Then she'd chuckle to herself and say, "He's going to love it."
When Christmas finally arrived and we were exchanging gifts, my mother realized she had left The Clapper at home. "Oh Aham, Lindy – I can't believe I forgot the best part of your Christmas! I got you THE CLAPPER." Then she looked at them expectantly.
"Oh, cool mom!" my brother said, slightly strained and a little relieved. "Ahh!" Lindy managed. But, The Clapper wasn't there; it was just my mother excitedly clapping twice, and then twice again, to demonstrate what they could look forward to…………………