28 Dec
Children all over the world are suffering as a result of the cruelty and inhumanity of adults
Aid agencies now estimate that there are around 300,000 children involved with armed groups worldwide

Those close to Bettie Jones, who was shot accidentally, and Quintonio Legrier call for action from mayor Rahm Emanuel after 'police have failed us'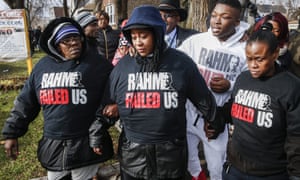 Janet Cooksey listens to speakers talk about the deaths of her son Quintonio Legrier and Bettie Jones before the start of a vigil on Sunday in Chicago. Photograph: Tannen Maury/EPA
Family members of two people killed by Chicago police on Saturday demanded answers after police acknowledged that one of the victims was killed accidentally.
Chicago police fatally shot Bettie Jones, 55, and Quintonio Legrier, 19, around 4.25am while responding to a domestic disturbance call where they lived, said police.
On Saturday night, police said that Jones was "accidentally struck and tragically killed" in the shooting. Police said an officer's weapon was discharged after police were "confronted by a combative subject".
Legrier's mother, Janet Cooksey, said at a press conference Sunday that the 19-year-old's father called police while the two were arguing but said her son, an honor roll student, did not have a history of aggressive behavior. The father was with lawyers during the press conference, she said.
"When is the mayor going to help us?" Cooksey said. "The police have failed us."
The crowd of supporters nodded their heads as Cooksey spoke about people in the neighborhood not being able to trust the Chicago police department, which is currently the subject of a Justice Department civil rights investigation.
"I would grieve for other mothers, other family members; now I'm grieving for myself," said Cooksey. "When does it come to an end?"
She said her son ran the 2013 Chicago marathon for charity, but she was unable to attend because she was at work. Her voice cracked as she said now she will never get memories like that because her son is dead.
Legrier's great aunt said people should not be hateful toward the police department, though it is hard to look at the badge when someone you love has been gunned down by an office. "I stand here because I love my nephew but I also stand for the other young teenagers who have got shot down in the streets like dogs," Turner said………………….
As the homeless population has climbed in major metropolitan areas, anecdotal evidence suggests the number sleeping in airports has also grown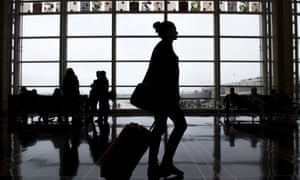 In a number of cities across the country, officials are now cracking down on an unspoken arrangement. Photograph: Saul Loeb/AFP/Getty Images
They're warm. Safe. Open 24 hours. Accessible by public transportation. Uncrowded at night. And they don't have limits on carrying your possessions with you.
For years, many homeless people have spent the night in airports between when the last evening flight lands and the first morning flight departs.
But in a number of cities across the country, officials are now cracking down on that unspoken arrangement.
"To meet our public safety mandate, we will close the LaGuardia terminal to all but ticketed passengers during late night hours," the Port Authority of New York and New Jersey announced on 18 December, promising to arrest violators. Similar announcements were made earlier this year, including at Washington DC's Reagan national airport in October and at Honolulu international airport in March.
As the number of homeless people has climbed in major metropolitan areas like Washington DC and New York City, there's anecdotal evidence that the ranks of people sleeping in airports has similarly grown. One individual, according to Bloomberg, has even lived in LaGuardia for 20 years.
The increasing presence of homeless people in terminals has led to complaints from travelers and employees, as well as news coverage of the phenomenon from outlets like CBS New York and the New York Post that purported to expose the practice. In response, officials at LaGuardia in New York will, beginning 2 January, kick out anyone on the premises between 11pm and 4am who doesn't have a ticket. At the national airport outside Washington DC, the closing hours for people without tickets are now between 11.30pm and 4.30am, while Honolulu airport authorities decided to close lobbies and baggage claim areas altogether between 10pm and 5am.
"Sleeping at the airport was peaceful…………………
The bill would impose restrictions on nonprofit groups that receive foreign funding
Israeli Cabinet ministers on Sunday gave preliminary approval to a bill that imposes restrictions on nonprofit groups that receive foreign funding, drawing accusations it is meant to crack down on government critics.
The bill, proposed by Justice Minister Ayelet Shaked and approved by a committee of ministers, would affect organizations that receive more than half their funding from a foreign government.
Critics said the legislation is meant to stifle dovish organizations critical of Prime Minister Benjamin Netanyahu's government policies toward the Palestinians, since such nongovernment groups tend to rely heavily on donations from European countries.
In contrast, pro-government and nationalistic nonprofit groups tend to rely on wealthy private donors, who are exempt from the measures under the proposed bill. The legislature is expected to approve the bill as early as this week.
Opposition leader Isaac Herzog quickly blasted the bill as a "muzzling law" that would bring about "thought police."
The bill requires affected organizations to declare their sources of funding on every report and in parliamentary discussions. Their activists also will be required to wear special tags when working in Israel's parliament.
Proponents of the bill say that foreign governments have standard diplomatic channels at their disposal through which they can push their agendas and that funding nonprofit groups amounts to meddling in Israeli affairs………………..
Opinion
A top Obama administration staffer admits that the long-running conflict is an obstacle to regional peace
Last week the National Security Council's Robert Malley offered an unusually sensible statement on Middle East issues. Malley, President Barack Obama's senior adviser on countering the Islamic State in Iraq and the Levant (ISIL), said that the United States must resolve the Israeli-Palestinian conflict in order to defeat ISIL and similar Islamist extremists.
Unusually for Washington, Malley knows the Middle East well from decades of engagement and understands both the nuances and the big picture. For someone in the White House with real-world knowledge to speak the truth, at least for a moment, is refreshing and might portend a more effective and coherent U.S. foreign policy in the region. Of course, White House officials often speak the truth about Arab-Israeli issues just as they near the end of their tenures, when they face few political risks and usually refrain from taking bold initiatives that match their words.
Nevertheless, he made important points during his appearance at a New York conference that was hosted by two liberal Israeli institutions, the newspaper Haaretz and the New Israel Fund. He said the persistence of the Israeli-Palestinian conflict benefits ISIL in two ways: by increasing the appeal of its recruiting tools, including "constantly" referring to the Palestinians' situation, and making it "very difficult" to secure cooperation from leading Arab states to bring about changes on the ground. Despite much behind-the-scenes cooperation, countries such as Saudi Arabia cannot openly engage with Israel while the conflict persists.
Acknowledging that resolving the conflict would not be a "magic wand" for resolving the host of other problems across the Middle East, Malley made the critical point that "the absence of a resolution is fueling extremism" and that "it stands to reason that resolving this conflict would at least help. It wouldn't resolve, but it would be a major contribution to stemming the rise of extremism and to allow the kind of cooperation that is needed [to take on] what should be a common challenge, which is the challenge of [ISIL] and of other extremist organizations."
He is correct, even if he carefully framed the Israeli-Palestinian conflict in utilitarian terms rather than affirm the primacy of international law and the moral urgency of resolving it. If ISIL generates the will in Washington to tackle the conflict more seriously and equitably, all concerned parties should take advantage of this window and move quickly in that direction.
The reason for this is not only that Palestinians, Israelis and all others in the Middle East deserve to enjoy the fruits of national self-determination, the rule of law and stable statehood but also that the Israeli-Palestinian conflict has been the single most radicalizing and destabilizing force in the Middle East for nearly a century. Resolving it would contribute immeasurably to a more peaceful Middle East — just as leaving it unresolved for decades has contributed to the sort of mass frustration, humiliation and radicalization that ultimately spawned ISIL.
Washington's imbalanced diplomatic support for Israel contributes to chronic tensions between Arab citizens and their governments, which rely on Washington's political and military support.
The U.S. has a leading role to play here because it remains the only mediator that both sides trust, despite producing zero results since the 1993 Oslo Accord. Secretary of State John Kerry said after his last visit to the region a month ago that the U.S. has no more ideas about how to break through the current stalemate in peacemaking. Perhaps a place for him to start would be to broaden the circle of mediators beyond the U.S. Washington's total failure reflects its biased approach to the process, which favors Israeli perceptions over the equal rights of both sides…………………