31 Dec

French magazine journalist – ousted by Beijing after writing about repression of the Uighur minority – says reporters must find a way around barriers
Ursula Gauthier, a journalist for the French news magazine L'Obs, reacts to the news that China is expelling her from the country on Saturday. Gauthier was attacked in state media for an article she write criticising the Beijing government's approach to the Muslim minority in Xinjiang
The French correspondent expelled from China for questioning Communist party policy has urged foreign journalists to continue to resist Beijing's attempts to stifle reporting on large swaths of the country.
Speaking to the Guardian on Thursday, as she prepared to fly out of Beijing, Ursula Gauthier said she was "incensed" by the government's moves to block critical coverage in places such as Xinjiang and Tibet.
Apart from rare and highly controlled government tours, Tibet has been largely off-limits to foreign reporters since an outbreak of anti-government unrest in 2008.
Reporting on sensitive issues in Xinjiang – a violence-stricken region of western China that is home to the Uighur ethnic minority – without being harassed or detained by security agents is also virtually impossible.
Gauthier, whose visa expires on Thursday night and has not been renewed by Chinese authorities, called on journalists still able to work in China to use their cunning to find ways around such barriers.
"It must be done. It must be done," she said. "It is important to know how China is evolving, which direction it takes. If China is hiding a big chunk of its policy towards its own population, I think it is not a good sign about other kinds of policies."
In the article, for French magazine L'Obs, the correspondent suggested China's "pitiless repression" of the Uighurs was to blame for a tide of deadly violence around the country, including bomb and knife attacks on civilians……………
Space explorers, genetic scientists, US voters, terrorists and hackers look set to dominate our world next year – but don't rule out the odd pleasant surprise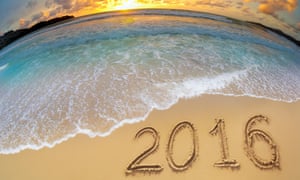 Written in the sand … Photograph: Alamy
Never make predictions, especially about the future. So said Mark Twain, Yogi Berra or Niels Bohr – or possibly all three.
But if you must, there are really only two options: play safe and go for the obvious, or come up with forecasts so giddily optimistic that no one will take you seriously.
Using the former approach, 2016 will produce more tragedy in Syria and Yemen, an uninterrupted stream of refugees into Europe, another iteration of the Grexit crisis, deepening drought in the Chinese east and American west, and further hacking misadventure on both state and corporate levels. And an awful lot of summits to try to deal with all of the above.
Corruption will continue to excoriate three-quarters of the world's polities – leaving the vast majority of humanity disillusioned and increasingly unlikely to vote. Ditto sport. The global economy is due another rout, probably starting in Asia.
But let's leave room for a little optimism. There will actually be fewer wars in 2016 than for many years. And while the Koreas are unlikely to reunify, Cyprus might. Elections for two of the top jobs in the world – in the US and at the UN – could produce women in both for the first time. Science will tell us more than we ever knew about our ancestors, ourselves and our universe.
The powerful mixture of birth control and rising prosperity that levelled off birth rates in western societies in the postwar period will continue to take root in Africa, putting downward pressure on overall population levels. We might not get to 11 billion people after all.
And away from the headlines, the overwhelming majority of people will continue to lead decent, unremarkable lives undeflected by the pulses of pessimism that tend to pollute our overall sense of wellbeing. Who knows, perhaps we will even start to realise that happiness does not reside in social media, and 2015 will go down as the year of peak-share………………
Chancellor says in televised address: 'countries have always benefited from successful immigration, both economically and socially'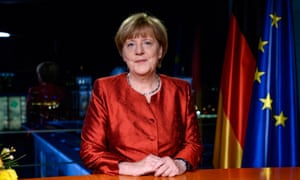 Chancellor Angela Merkel delivers her New Year address in which she urges the German people to be 'humanitarian' and see the arrival of refugees as an opportunity. Photograph: Pool/Getty Images
Agence France-Presse
Chancellor Angela Merkel in her New Year's address on Thursday asked Germans to see refugee arrivals as "an opportunity for tomorrow" and urged doubters not to follow racist hate-mongers.
The past year – when the country took in more than a million migrants and refugees – had been unusually challenging, she said in a pre-released text of the speech, also bracing Germans for more hardships ahead.
But she stressed that in the end it would all be worth it because "countries have always benefited from successful immigration, both economically and socially".
With a view to right-wing populists and xenophobic street rallies, she said "It's important we don't allow ourselves to be divided."
"It is crucial not to follow those who, with coldness or even hatred in their hearts, lay a sole claim to what it means to be German and seek to exclude others."……………..
Delegations from seven countries slogged their way to a deal curbing Iran's nuclear programme – and possibly averted the Middle East's most deadly war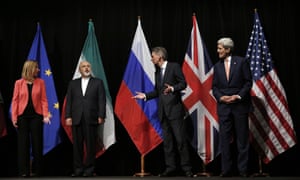 From left, EU foreign policy coordinator Federica Mogherini, Mohammad Javad Zarif of Iran, Philip Hammond of the UK, and John Kerry of the US wait for colleagues to arrive for a photocall to mark the deal in July. Photograph: Carlos Barria/AP
Diplomacy is the art of not going to war, and as for most endeavours aimed at stopping something else from happening, its failures are more noticeable than its successes. But 2015 provided a startling exception.
The multinational agreement curbing Iran nuclear programme, struck in Vienna on 14 July, stopped a drift to conflict that could have overshadowed all other Middle East wars. It was arguably one of the most significant diplomatic achievements since the cold war.
Everything about the Joint Comprehensive Plan of Action (JCPOA) – starting with its name and acronym – helps illustrate why diplomacy struggles to capture the public's imagination. The agreement is 109 pages of dense, arcane and technical prose, put together word by word over nearly two years, mostly in featureless hotel conference rooms in Switzerland and Austria.
Ministers flew in and out for the big occasions, with the notable exceptions of the US secretary of state, John Kerry, and his Iranian counterpart, Mohammad Javad Zarif, the key protagonists, who spent more time in each other's company along the way than with any other foreign official. That was a remarkable development in itself – given the history of US-Iran relations.
On the whole, however, the main slog was led by the foreign ministry political directors of the seven countries involved: Iran, the US, UK, France, Germany, Russia and China. Britain's man in the negotiating chamber was Sir Simon Gass, a former ambassador to Tehran and Nato civilian representative in Afghanistan.
"I think it was truly important," Gass said. "It is worth remembering where we've come from on this. If you remember there was a real concern about Iran's ability to break out and create the capability to make a nuclear bomb. This was a really tense time, and the United States was saying no options were off the table."………………..
2015's corporate scandals should serve as a nail in the coffin of old, outdated ways of doing business, says Pavan Sukhdev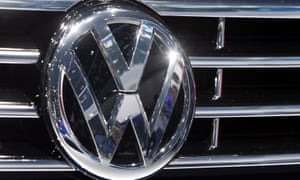 For years, Volkswagen enticed customers with "clean diesel" adverts. The emissions scandal revealed that defeat software was installed in up to 11m cars which meant clean diesel technology was only activated when the car detected it was being driven under test conditions. Photograph: Michael Probst/AP
Pavan Sukhdev
A

look back at 2015 reveals some shocking corporate scandals, notably in September, when two of the world's most powerful companies were spectacularly caught with their pants down.
On 16 September, Inside Climate News revealed that ExxonMobil, the world's fourth largest oil company, was aware of the environmental effects of burning fossil fuels as far back as the early 1980s. Instead of acting, however, it had chosen to spearhead climate denial.
Just a few days later, car giant Volkswagen admitted to installing emissions test cheating software in up to 11m of its diesel cars. A study by scientists at West Virginia University had shown that Volkswagen's diesel cars' on-road NOx emissions were several times the legal limit.
While these two revelations may be unrelated, they reveal common threads that have created a business environment conducive to such repeated wrongdoings. Brought together, these threads – I would argue – can be viewed as four behavioural traits that have come to define today's corporation:
1. Relentless pursuit of size
The search for scale was typified over a century ago by Ford Motor Company. The term Fordism was coined to describe a strategy of growth to achieve economies of scale.
A century later, Volkswagen's declared goal was to be the world's number one car company by 2018. Volkswagen bet on its "fuel efficient" diesel-powered cars to achieve this and made an unethical choice to fit these cars with defeat devices, while pursuing a misleading advertising campaign around "clean diesel".
For its part, ExxonMobil clearly saw the consequences of pursuing fossil fuels, but still chose to lead the denial lobby as that best served its financial interests in oil and gas. It spent more than $30m (£20.3m) between 1998 and 2014 funding climate scepticism, according to Greenpeace……………………
 Opinion
Here's our digest of the year's biggest Opinion pieces – including four that were originally published in previous years. In order …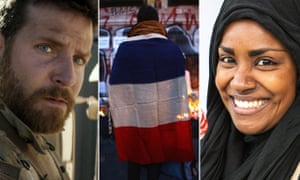 Bradley Cooper as Chris Kyle in American Sniper; a mourner after the Paris terrorist attacks; Nadiya Hussain, winner of the Great British Bake Off. Composite: AP/Getty Images/PA