02 Jan
Most of those executed were Sunnis involved in the 2003 and 2004 Al-Qaeda attacks in the kingdom
Yemeni protesters demonstrate outside the Saudi embassy in Sanaa against the death sentence of cleric leader Sheikh Nimr al-Nimr
Saudi Arabia has executed 47 people for terrorism offences in one day, including the prominent Shia cleric Sheikh Nimr al-Nimr, the kingdom's interior minister said.
Most of those executed were Sunnis who were convicted of involvement in the deadly 2003 and 2004 al-Qaeda attacks that killed Saudis and foreigners.
The ministry statement, published on the official SPA news agency, said the 47 had been convicted of adopting the radical "takfiri" ideology, joining "terrorist organisations" and implementing various "criminal plots". The executions are Saudi Arabia's first in 2016. ……………………..

Final total of people killed by US police officers in 2015 shows rate of death for young black men was five times higher than white men of the same age
The killing of Mike Brown in August 2014 made the world wake up to police violence in America. But when the Guardian began looking for reliable data on how many civilians are killed by law enforcement officers each year, we found there was none. We decided to count them ourselves. Jamiles Lartey outlines some of the untold stories we foundYoung black men were nine times more likely than other Americans to be killed by police officers in 2015, according to the findings of a Guardian study that recorded a final tally of 1,134 deaths at the hands of law enforcement officers this year.Despite making up only 2% of the total US population, African American males between the ages of 15 and 34 comprised more than 15% of all deaths logged this year by an ongoing investigation into the use of deadly force by police. Their rate of police-involved deaths was five times higher than for white men of the same age.Paired with official government mortality data, this new finding indicates that about one in every 65 deaths of a young African American man in the US is a killing by police."This epidemic is disproportionately affecting black people," said Brittany Packnett, an activist and member of the White House taskforce on policing. "We are wasting so many promising young lives by continuing to allow this to happen."Speaking in the same week that a police officer in Cleveland, Ohio, was cleared by a grand jury over the fatal shooting of Tamir Rice, a 12-year-old African American boy who was carrying a toy gun, Packnett said the criminal justice system was presenting "no deterrent" to the excessive use of deadly force by police. "Tamir didn't even live to be 15," she said.Protests accusing law enforcement officers of being too quick to use lethal force against unarmed African Americans have spread across the country in the 16 months since dramatic unrest gripped Ferguson, Missouri, following the fatal police shooting of 18-year-old Michael Brown by a white officer.Overall in 2015, black people were killed at twice the rate of white, Hispanic and native Americans. About 25% of the African Americans killed were unarmed, compared with 17% of white people. This disparity has narrowed since the database was first published on 1 June, at which point black people killed were found to be twice as likely to not have a weapon……………
The Islamist group al-Shabaab has released a recruitment film featuring the Republican frontrunner calling for Muslims to be banned from the US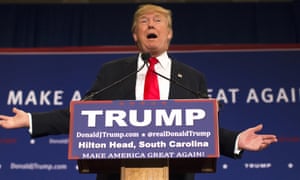 Donald Trump's call for Muslims to be banned from the US has been used in a propaganda film by Islamist militants al-Shabaab. Photograph: Stephen B. Morton/AP
Somalia's Islamist militant group al-Shabaab has used a clip of Republican presidential frontrunner Donald Trump in its latest recruitment film.
The group released a recruitment film in the form of a documentary about racial injustice in the United States featuring Trump's recent call to ban all Muslims from the country, SITE Monitoring reported on Saturday.
Trump, the billionaire developer and former reality TV star, was shown in the 51-minute film making his case for America to ban all Muslims from the country as his supporters cheered.
The footage of Trump appeared between two clips of militant leader Anwar al-Awlaki, killed in a drone strike in Yemen in 2011, saying Muslims in the United States would face a choice between leaving for Islamic countries or staying at home to fight the West.
The film was distributed on Twitter on Friday by the al-Kataib Media Foundation, an Islamist militant organisation, SITE reported.
Trump's call to ban Muslims from entering the United States has been widely condemned by American politicians. It has also provoked an international uproar and led to criticism that his views could be used as propaganda by Islamist militants.…………….
Singer's family pay tribute to 'fierce and courageous' star who died in Los Angeles hospital after years of battling drug problems and hepatitis C

Natalie Cole at Warner Music Group's post-Grammy party in Los Angeles in 2008. Photograph: Matt Sayles/AP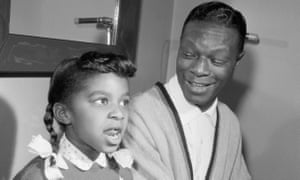 Nat King Cole and Natalie singing together in 1956. Photograph: Bettmann/Corbis
Natalie Cole, the award-winning singer and daughter of jazz legend Nat King Cole, has died.Cole, whose hits included This Will Be and Unforgettable, died aged 65 on Thursday night, according to her publicist Maureen O'Connor.Her family said she died at Cedars-Sinai medical centre in Los Angeles due to complications from ongoing health issues."Natalie fought a fierce, courageous battle, dying how she lived … with dignity, strength and honour. Our beloved mother and sister will be greatly missed and remain unforgettable in our hearts forever," read the statement from her son, Robert Yancy, and sisters Timolin and Casey Cole.The singer had battled drug problems and hepatitis for many years. She had a kidney transplant in May 2009.Fellow performers paid tribute on Friday night following the news of her death. Aretha Franklin said: "I am sorry to hear about Natalie Cole's passing. I had to hold back the tears. I know how hard she fought. She fought for so long. She was one of the greatest singers of our time."Tony Bennett described her as "an exceptional jazz singer". He said: "It was an honour to have recorded and performed with her on several occasions. She was a lovely and generous person who will be greatly missed."Dionne Warwick said she was "more like family than friend … My heart aches. My sincere condolences to her family and may she now rest in peace.",………………….
4.2 magnitude quake is among more than 800 in the state in 2015, and many are occurring in areas where wells pump byproducts of oil and gas production
Associated Press in Oklahoma City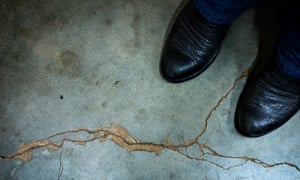 Gary Landra stands on a crack across his basement floor that he says was caused by an earthquake in Prague, Oklahoma. Photograph: Linda Davidson/Getty Images
A 4.2 magnitude earthquake struck north Oklahoma City early on New Year's Day, the latest in a series of temblors in the area in recent days that has prompted state regulators to call for more restrictions on oil and gas operators.
No injuries and only minor damage were reported with the quake, which struck at 5.39am on Friday near Edmond, about 16 miles north-east of Oklahoma City, according to the US Geological Survey.
"We came out pretty good," said Mike Stewart, head golf professional at Fairfax Golf Club, located near the epicenter. "I heard the earthquake, I expected some sort of damage, but all we had was some pictures fall, no broken stuff."
The city of Edmond reported about 4,400 power outages in the area shortly after the quake, but it was not clear if the two were related and power was restored within a few hours……………….