03 Jan

Supreme court justice says there is 'no place' in country's constitutional traditions for idea that state must be neutral between religion and its absence
The McGlynn: Scalia is a hack. He is logically inconsistent; on one hand he claims to be a strict constructionist; but he misinterprets the constitution just to serve his Opus Dei choirboy racist views. Over 100 years of precedent were thrown out the window when Scalia join the majority in claiming Second Amendment rights are in transit to the person and not "as part of a well regulated militia".
His vote on Citizens United overturned a seven-year-old decision wherein that "notorious liberal", Chief Justice Rehnquist, wrote for the majority. Worst and most hypocritical was his deciding vote in Bush V Gore wherein the majority adopted the previously excoriated Warren Court concept of substantive due process. The cowards of this bloodless coup then restricted its ruling

to that one case and that one case only

. In years past, he would've been forced off the bench multiple times for outrageous misconduct. Unfortunately, short of impeachment, there are no constraints on Supreme Court justices; this man knows no shame. Hell, he owns it.

In summary, Scalia's Claim to Fame is that he's always been "out of touch". Ever since he was a wee one. Hardwired wingnut Opus Dei choirboy racist with a wicked tongue and biting intellect. One to avoid in dark alleys. Scary, even at age 79, or whatever. He's a hunting friend of Cheney's, after all. A human hunter.
A damn disgrace to our attempt at a democracy.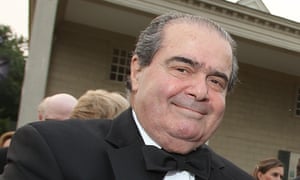 The supreme court justice also said God has been good to America because Americans have honored him. Photograph: Donald Traill/Invision for Moet Hennessy
Associated Press
God is good to the US because Americans honor him, according to supreme court justice Antonin Scalia, who added on Saturday that he does not believe the country's constitutional traditions enshrine the idea of religious neutrality.
Scalia was speaking Saturday at Archbishop Rummel high school in Metairie, Louisiana.
Scalia, who was appointed by president Ronald Reagan in 1986, has become known as one of the court's most conservative members and the author of colorful and scathing opinions.
He told the audience at the Catholic school that there is "no place" in the country's constitutional traditions for the idea that the state must be neutral between religion and its absence.
He also said there is "nothing wrong" with the idea of presidents and others invoking God in speeches. He said God has been good to America because Americans have honored him.
The justice courted controversy in December when he suggested that minority students could be better off at "lesser schools"……………….
Ayatollah Ali Khamenei renews attack on Saudi Arabia over killing of Sheikh Nimr al-Nimr, saying the 'political error' will be punished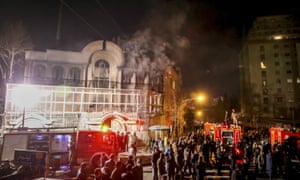 Smoke rises as Iranian protesters angry over the killing of Nimr al-Nimr set fire to the Saudi embassy in Tehran. Photograph: Mohammadreza Nadimi/AP
Reuters and Agence-France Presse
Iran's supreme leader, Ayatollah Ali Khamenei, has renewed his attack on Saudi Arabia over its execution of a leading Shia cleric, saying that politicians in the Sunni kingdom would face divine retribution for his death.
"The unjustly spilled blood of this oppressed martyr will no doubt soon show its effect and divine vengeance will befall Saudi politicians," state TV reported Khamenei as saying on Sunday. It said he described the execution of Sheikh Nimr al-Nimr as a "political error".
"God will not forgive… it will haunt the politicians of this regime," he said.
Saudi Arabia executed Nimr and three other Shia alongside dozens of alleged al-Qaida members on Saturday, signalling it would not tolerate attacks by either Sunni jihadists or members of the Shia minority seeking equality………….
Dozens of Shia Muslims march in the village of Al Awamiyah, Saudi Arabia, in protest over the execution of Shia cleric Sheikh Nimr al-Nimr. In October 2015 Saudi Arabia's supreme court rejected an appeal against the death sentence passed earlier on Nimr, who had called for pro-democracy demonstrations. Nimr was one of 47 people executed for terrorism by Saudi Arabia
As election year is officially under way, here's what you need to know about the Democratic presidential contenders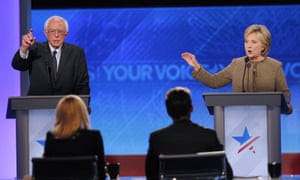 Bernie Sanders is seeing his poll numbers start to climb again, particularly in New Hampshire and Iowa, even though Hillary Clinton is seemingly doing everything right. Photograph: UPI /Landov/Barcroft Media
After the early exit of no-hopers Lincoln Chafee and Jim Webb, Hillary Clinton is running against three remaining opponents for the Democratic presidential nomination in 2016: Bernie Sanders, Martin O'Malley and herself.
So far, the former secretary of state seems to be recovering well from self-inflicted wounds that dogged the start of her second, and most concerted, attempt for the White House.
Her chilly relationship with the media and perceived lack of authenticity in public have also been replaced by a growing sense of inevitability among pundits and mounting excitement at the very real prospect that the first female president could be taking charge this time next year.
But no matter how commanding Clinton's lead may appear in national opinion polls, memories are always fresh of her similar dominant position before the start of the primaries in 2008 – a lead that turned out to be all too fragile.
While Sanders may lack the campaign polish and sense of history-in-the-making that propelled Barack Obama from obscurity to frontrunner, the 74-year-old senator from Vermont is nonetheless attracting similar excitement among certain groups of Democratic voters, especially the young…………..
Floods in the UK, New Year's Eve celebrations and fanatical darts fans – the best photography in news, culture and sport from around the world this week
LaTonya Jones, the daughter of Bettie Jones, is comforted by her father Garry Mullen during a vigil to honour Bettie, a 55-year-old mother of five, who was shot and killed at the front door of her home in Chicago, Illinois, by police responding to a domestic dispute call made by her upstairs neighbour
Photograph: Scott Olson/Getty Images
Race in America