04 Jan
Prime Minister David Cameron meets with The Saudi Foreign Minister Prince Saul Al Faisal inside 10 Downing Street
Liberal Democrat and Green Party leaders call on David Cameron to reveal whether British government supported Saudi bid
Diplomatic cables released by Wikileaks last year purported to show that the UK was involved in a secret vote-trading deal to help ensure both countries a place on the influential panel.
The exchanges, related to the November 2013 vote in New York, were published by The Australian newspaper and have never been commented on by UK officials. Both Britain and Saudi Arabia were later named among the 47 member states of the UNHRC, following the secret ballot.
And speaking to The Independent, there were cross-party calls for the Government to issue a full response to last year's alleged leak.
The Green Party leader, Natalie Bennett, said the Saudi kingdom's role on the UN council was "one of many issued raised by the mass executions".
She called for a public inquiry into the leaked diplomatic cables and the UK's alleged decision to support Saudi Arabia in spite of its human rights record………………

Riyadh gives Iranian diplomats 48 hours to leave after two days of protest and the burning of the Saudi embassy in Tehran follow death of Shia cleric Sheikh Nimr al-Nimr
Saudi Arabia's foreign minister, Adel al-Jubeir, announces the kingdom's severing of diplomatic ties with Iran after the Saudi Arabian embassy in Tehran was stormed on Sunday in response to the execution of Saudi Shia cleric Sheikh Nimr al-Nimr. The minister says on Sunday that Iran's diplomatic team has been given 48 hours to leave the country
Saudi Arabia has cut diplomatic relations with Iran in a sharp escalation of tensions between the two regional foes following the execution of the Saudi Shia cleric Sheikh Nimr al-Nimr.
The Saudi foreign minister, Adel al-Jubeir, told a news conference that Iran's diplomatic mission and related entities in Saudi Arabia had been given 48 hours to leave. He said Riyadh would not allow the Islamic republic to undermine the Sunni kingdom's security.
The move on Sunday evening comes after two days of outrage among Shia communities across the Middle East and in south Asia at the death of Nimr, a prominent critic of the Saudi and Bahraini monarchies, whose cause as a prisoner since 2012 had been championed by Tehran and the United Nations. It signals a further hardening of Riyadh's position towards Iran, with which it is locked in a bitter battle for regional influence.
Speaking on Iranian state television, Deputy Foreign Minister Hossein Amir-Abdollahian said in Tehran's first response that by cutting diplomatic ties, Riyadh could not cover up "its major mistake of executing Sheikh Nimr".
The United States, Saudi Arabia's biggest backer in the west, responded to the cutting of ties by encouraging diplomatic engagement and calling for leaders in the region to take "affirmative steps" to reduce tensions.
"We believe that diplomatic engagement and direct conversations remain essential in working through differences and we will continue to urge leaders across the region to take affirmative steps to calm tensions," an official of Barack Obama's administration said.
Muslim leaders stepped up their condemnation of the execution of Nimr at the weekend, urging a robust response from Riyadh'…………..
Harney County sheriff speaks of 'alternative motives' while Ammon Bundy's group puts away firearms to convince media it is civil rights issue
Tensions over the treatment of two cattle ranchers in Oregon escalated into an armed standoff on Saturday when members of a rightwing militia occupied a wildlife refuge at Malheur national park. The dispute with federal authorities is was sparked by the treatment of Dwight Hammond and his son Steve, who face jail terms related to arson charges
On the second day of its armed occupation of the Malheur National Wildlife Refuge, the Bundy militia shifted tactics. From a state of lockdown it moved to a charm offensive, inviting a small media contingent inside its redoubt, with warm smiles and waves.
The local sheriff was not convinced.
"These men came to Harney County claiming to be part of militia groups supporting local ranchers," Sheriff David Ward said in a statement, "when in reality these men had alternative motives, to attempt to overthrow the county and federal government in hopes to spark a movement across the United States."
Members of the rightwing Bundy militia occupied the wildlife refuge in Oregon over the weekend, threatening a confrontation with federal authorities, in support of two cattle ranchers who were convicted of setting fires on federal land.
The cattle ranchers, father and son Steven and Dwight Hammond, said they did so while trying to clear their own land so their cattle could feed. The authorities said otherwise. They have both served time in prison and are due to report to a jail in San Diego on Monday in order to serve some more.
The Oregon senator Ron Wyden told the Associated Press the FBI was co-ordinating the official response to the occupation with the sheriff and state police. He also blamed outsiders.
Ammon Bundy, the 40-year-old leader of the men occupying the federal buildings, insisted his men were peaceful. But, he said, if the federal government tried to take back the refuge, "they would be putting lives at risk".
The journalists he spoke to had driven the 30 miles (48km) from Burns through heavy snowfall. Greeting them, Bundy was accompanied by a man who would identify himself only as his bodyguard. A few others lingered. There were no guns in sight……………….
After fifth disappearance, umbrella movement's Agnes Chow criticises China regime in video that has gone viral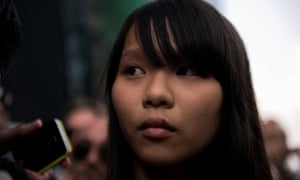 Chow said she had made the English-language video in order to raise global awareness of the apparent abductions. Photograph: Alex Ogle/AFP/Getty Images
A young pro-democracy activist in Hong Kong has released a video, which has gone viral, attacking Beijing's campaign of "political suppression" following the disappearances of five booksellers.
Agnes Chow, a 19-year-old student who was a prominent figure during the former colony's 2014 "umbrella movement" protests, posted the five-minute video on Facebook on Saturday, three days after a bookshop owner, Lee Po, became the latest member of Hong Kong's publishing community to vanish.
By Monday lunchtime Chow's video – titled "An urgent cry from Hong Kong" and filmed in English – had been viewed more than 820,000 times.
In her video message, Chow, a second-year student at Hong Kong's Baptist University, hit out at Chinese authorities over the apparent abductions of five booksellers who specialised in tabloid-style tomes about the private lives of Communist party officials.
"I have an important message that I hope to spread to the world," says Chow, who is also a prominent member of the student protest group Scholarism.
"Unlike mainland China, Hong Kong does not adopt authoritarian governance. Citizens who sell politically sensitive books are not supposed to be suppressed by any threats of disappearance and imprisonment, with the existence of freedom of press and speech."
Chow recorded the video message after Lee, 65, went missing in Hong Kong last Wednesday.
One of the others who have gone missing, Gui Minhai, 51, was apparently abducted from his beachfront holiday home in Thailand. Supporters suspect Chinese security officials, possibly angered by the publishers' books, have spirited them into custody in the mainland.
An editorial in the Communist party-controlled Global Times newspaper on Monday lashed out at the booksellers, who, it claimed, "relied on causing trouble in mainland China to survive". It made no comment on the whereabouts of the………………..