05 Jan
Influential House of Commons committee estimates 26,000 unaccompanied refugee children entered Europe last year
In a detailed report on the Government's response to the Syrian refugee crisis, the IDC said it would welcome UK action to resettling 3,000 vulnerable children in Europe
The UK should act immediately to resettle 3,000 children left to fend for themselves on Europe's refugee routes, an influential House of Commons committee has said.
MPs on the International Development Committee (IDC) said that the Government should treat the plight of child refugees "as a matter of urgency".
It is estimated that around 26,000 unaccompanied refugee children entered Europe last year. The Save the Children charity has repeatedly warned that lone child refugees are left vulnerable to exploitation and have recorded numerous cases of extortion, sexual abuse and violence against young refugees.
In a detailed report on the Government's response to the Syrian refugee crisis, the IDC said it would welcome UK action to resettling 3,000 vulnerable children in Europe – the number estimated by Save the Children to be the UK's fair share – on top of the 20,000 Syrian refugees ministers have already pledged to take in from Syria and neighbouring countries over the next four years.
Charities including Oxfam, the Refugee Council and Amnesty International have criticised the Government this week for what they called its "clearly inadequate" resettlement plans.
However, the IDC's report commended ministers for providing £1.1bn in humanitarian aid to victims of the Syrian war in the region itself. MPs said it was more cost-effective and in the best interests of refugees to provide support in the region.
Their report, based on evidence from a range of organisations and individual experts, also warned that cuts to humanitarian aid was one the main factors pushing refugees to take the dangerous voyage across the Mediterranean into Europe, and urged the UK to put pressure on other countries to match its aid commitments. ………………
The Syrian refugee crisis in numbers

Kingdom joins Saudi Arabia, Bahrain and Sudan in downgrading relations with Iran following execution of Shia cleric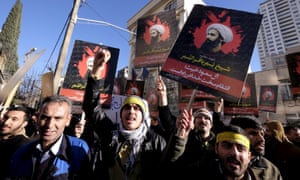 Iranian protesters demonstrate outside the Saudi embassy in Tehran against the execution of Shia cleric Sheikh Nimr al-Nimr. Photograph: Reuters
Kuwait has become the latest country to downgrade its relations with Iran after recalling its ambassador, in a widening regional crisis over the execution of a Saudi Shia cleric and the ensuing attack on the kingdom's embassy in Tehran.
Saudi Arabia, Bahrain and Sudan have already severed diplomatic ties with Iran, while the United Arab Emirates has recalled its envoy.
Late on Monday, Saudi Arabia's envoy to the United Nations said the row with Iran would not affect peace talks aimed at resolving the ongoing civil war in Syria, which has claimed over a quarter of a million lives in almost five years of conflict.
"We will attend the next Syria talks and we're not going to boycott them because of Iran or anybody else for that matter," said Abdullah al-Moallimi. "If we decide to boycott them it will have to be for a better reason than that."
The two regional rivals are embroiled in a diplomatic spat sparked by Riyadh's execution of Nimr al-Nimr, a Saudi cleric who encouraged demonstrations against the monarchy in the country's Shia eastern province in the wake of the Arab spring uprisings. The killing inspired protests in Shia-majority areas in the Middle East and south Asia as well, and attacks on Sunni mosques in Iraq………………
Jon Ritzheimer, a prolific creator of online propaganda against Islam, has joined crew of militiamen who claim to be guardians of US constitution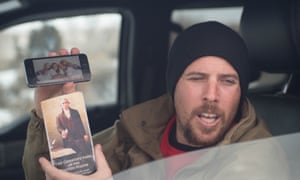 Jon Ritzheimer: 'Islam is a tyrannical ideology. It cannot coexist with the constitution here in America.' Photograph: Jason Wilson for the Guardian
Jason Wilson at the Malheur National Wildlife Refuge, Oregon
The Bundy militia claim to be simple patriots guarding the US constitution. But 48 hours into their occupation of a wildlife refuge in rural Oregon, it has emerged that the band of armed protesters includes at least one prominent anti-Islam activist.
Jon Ritzheimer, a former US marine, was one of the guards posted at the gate of the Malheur wildlife reserve on Monday, and he was happy to espouse his virulent opposition to the Islamic faith.
"I am very outspoken against it because I see the threat that it poses," he said of his opposition to Islam. "There's a lot of people out there [who say] 'Hey you're an infidel whether you like it or not' if you don't believe in Islam."
He added: "Islam is a tyrannical ideology. It cannot coexist with the constitution here in America."
A prolific creator of online propaganda against Islam, Ritzheimer came to the attention of the FBI in December after he reportedly posted a video of himself holding a gun and threatening to drive to Hancock, New York, to confront journalists at a Muslim publication that had criticised him. The FBI, after initially dissuading him from the confrontation, notified state police of his potential arrival, according to reports.
Earlier in the year Ritzheimer also courted controversy when he organised an armed protest outside a mosque in Phoenix, Arizona, his home town………………..
Obama administration accused of spreading fear and anger in weekend raids that saw deportation of 121 people, most of whom fled violence in Central America
Immigrant families and their supporters rally in protest against the Obama administration's plans to target undocumented immigrant families in a series of raids. Photograph: Chip Somodevilla/Getty Images
Immigration activists accused the Obama administration on Monday of spreading fear and anger after a weekend of raids that saw 121 immigrants apprehended across the country for deportation.
Pro-migrant groups said the operation, which mostly targeted Central Americans fleeing violence who were refused US asylum, would drive undocumented immigrants deeper underground and stoke resentment towards a president often derided as the "deporter-in-chief".
But the Homeland Security secretary, Jeh Johnson, strongly defended the move in a statement: "As I have said repeatedly, our borders are not open to illegal migration; if you come here illegally, we will send you back consistent with our laws and values."
Johnson and other officials said those detained were mostly migrants who had crossed the southern border illegally after 1 May 2014 and were subject to final orders of removal from an immigration court. Raids in Georgia, North Carolina and Texas accounted for the majority of those now in custody, though Johnson characterized them as part of "concerted, nationwide enforcement operations"……….
While new identity checks are annoying for thousands of commuters, for refugees the move has far greater implications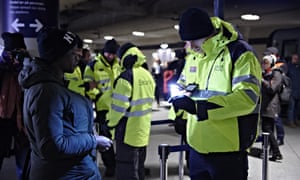 A worker checks a passenger's ID at Copenhagen airport's train station. Photograph: Khan Tariq Mikkel/AP
As dark fell over the Øresund bridge on Monday evening, up to 8,000 commuters in Denmark were stuck in 45-minute delays on their route back to Sweden. Getting home, they feared, would take them twice as long as usual.
This was no ordinary traffic jam on the crossing made famous by the TV crime drama The Bridge. It was the result of new identity checks brought in by Sweden at midnight on Sunday in a crackdown on refugees.
But for the thousands of people who commute between the two countries for work, it was an annoyance – and a depressing one at that.
"The Scandinavian ideal of living and working together, where everyone could travel freely, it's gone," said Christian Müller-Hansen, 39, a Dane who works in tech innovation in Copenhagen and has family in Malmö, across the bridge. "We need to be able to travel hassle-free, and we're going to lose a lot of money in Scandinavia because of this. It's tragic."
The targets of the Swedish border controls, which apply to trains, buses and ferries, are not commuters. The people who will be hit hardest by them are refugees like Bahman, an Iraqi Kurd who on Monday stood in Copenhagen's central station looking drained and defeated. On Sunday night he made three attempts to get across the Øresund bridge and was turned back each time.
Opinion
Extremism comes in different colors, ethnicities, beards and head coverings – which is why racial profiling cannot protect us from all extremist violence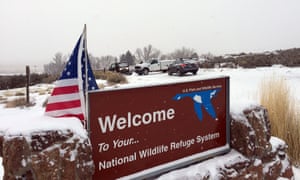 If Bundy and his followers were like the 38% of Americans who aren't white, people across America wouldn't be watching this surreal, dangerous episode unfold and wondering what they could do to be labeled a 'militia' instead of 'terrorists'. Photograph: Les Zaitz/AP
If, in a vacuum, I told you that a bearded man with his head covered had posted a video on social media calling on his followers to leave their homes with weapons, migrate to a new area, take over government property "as long as necessary" and use violence if confronted by law enforcement, you'd probably assume that I was talking about the latest propaganda video released by Isis, filmed in Iraq or Syria and intended to recruit violent Muslim extremists.
But that exact call was recently issued on Facebook by white rancher Ammon Bundy, the son of Cliven Bundy who also engaged in an armed standoff with law enforcement in 2014 and who currently owes the government more than $1m in fees. The younger Bundy's goal this time was to encourage his fellow American "patriots" to take up arms against the US government in protest of the arson convictions of ranchers Dwight Hammond Jr and his son, Steven.
But, don't worry America: he promised everyone that "we are not terrorists". What a relief.
Of course they're not "terrorists": Bundy and his followers are just your average angry white "freedom fighters", who use weapons and ammunition to protect the US constitution and American values from the government and other Americans who want them to abide by federal laws like everyone else.
But if Bundy and his followers were like the 38% of Americans who aren't white, people across America wouldn't be watching this surreal, dangerous episode unfold and wondering what they could do to be labeled a "militia" when occupying a federal area with guns instead of "terrorists", "thugs", "extremists" or "gangs"……………
Tensions over the treatment of two cattle ranchers in Oregon escalated into an armed standoff on Saturday when members of a rightwing militia occupied a wildlife refuge at Malheur national park. The dispute with federal authorities is was sparked by the treatment of Dwight Hammond and his son Steve, who face jail terms related to arson charges