09 Jan

Five years ago, waves of popular protest began to spread, thrillingly, across the Arab world. Is anyone better off as a result? Patrick Cockburn reflects
The protest movements at the beginning of 2011 presented themselves as progressive in terms of

political

and civil liberty and this belief was genuine
Arab Spring was always a misleading phrase, suggesting that what we were seeing was a peaceful transition from authoritarianism to democracy similar to that from communism in Eastern Europe. The misnomer implied an over-simplified view of the political ingredients that produced the protests and uprisings of 2011 and over-optimistic expectations about their outcome.
Five years later it is clear that the result of the uprisings has been calamitous, leading to wars or increased repression in all but one of the six countries where the Arab Spring principally took place. Syria, Libya and Yemen are being torn apart by civil wars that show no sign of ending. In Egypt and Bahrain autocracy is far greater and civil liberties far less than they were prior to 2011. Only in Tunisia, which started off the surge towards radical change, do people have greater rights than they did before.
What went so disastrously wrong? Some failed because the other side was too strong, as in Bahrain where demands for democratic rights by the Shia majority were crushed by the Sunni monarchy. Saudi Arabia sent in troops and Western protests at the repression were feeble. This was in sharp contrast to vocal Western denunciations of Bashar al-Assad's brutal suppression of the uprising by the Sunni Arab majority in Syria. The Syrian war had social, political and sectarian roots but it was the sectarian element that predominated………………


City faces far-right Pegida rally as German government says 18 of 31 people identified were asylum seekers, but none suspected of sexual assault
Cologne's police chief is dismissed on Friday amid mounting criticism of his force's handling of a string of New Year's Eve sexual assaults and robberies. The state government of North Rhine-Westphalia said it was sending 60-year-old Wolfgang Albers into early retirement. The state's interior minister, Ralf Jaeger, said the move was "necessary to restore public trust and the Cologne police's ability to act, with a view to upcoming major events"
Cologne's police chief has been removed from his post amid criticism of his force's handling of a string of sexual assaults and robberies carried out by groups of men in the German city on New Year's Eve.
His enforced departure came as a witness to the violence told the Guardian the events appeared to have been coordinated. Lieli Shabani, 35, said she saw three Arabic speaking males who were "clearly giving instructions and directing a lot of the males".
The city braced on Saturday for a rally of the far-right Pegida movement, one of the groups that point to the assaults as proof that chancellor Angela Merkel's liberal migrant policy is failing.
Police expect about 1,000 Pegida supporters and the local far-right group Pro NRW, as well as counter-demonstrators from the group "Cologne against Right-wingers", local media said.
The protest is scheduled to start at 1pm in the central square where hundreds of women last week experienced assaults in violence that has shocked Germany.
Police chief Wolfgang Albers, 60, had been criticised for the handling of the violence, with a leaked police report describing this week how officers were initially overwhelmed by events outside the city's train station, after which more than 100 women filed criminal complaints of sexual assault and robbery, including two accounts of rape………………

Ian Black in Saudi capital and Jeddah finds commentators cataloguing alleged Iranian crimes as tensions continue to run high over execution of Shia cleric

Sunset over Riyadh. Official media in Saudi Arabia is ramping up anti-Iranian hostility. Photograph: David Kirkland/Design Pics/Corbis
On the surface, Riyadh's diplomatic quarter looks perfectly calm, armed guards at checkpoints, Asian workers squatting between palm trees masking elegant modern offices and the crenellated towers of Saudi government buildings. Iran's embassy is built in the national style – yellowish brick surrounded by high walls topped with surveillance cameras – with the green, white and red flag of the Islamic republic hanging limply in the winter sunshine.
But it has been a turbulent week. The Iranian mission now stands empty and silent, its diplomats ordered to leave en masse after the storming of the Saudi embassy in Tehran after Saudi Arabia's controversial execution of a leading Shia cleric.
News of the death of Nimr al-Nimr instantly ratcheted up the already high tensions between two powerful countries ranged on opposite sides of a deeply unstable Middle East. Forty-six other Saudis – mostly Sunnis convicted for al-Qaida terrorist activities – were also beheaded or shot on 2 January. Three other Shias also died……………
Iranian president is hoping that country will feel impact of sanctions relief before parliamentary elections in February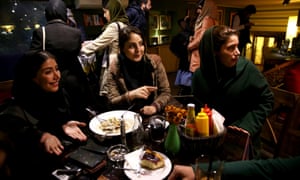 Iranian women at a cafe in central Tehran. Iranians are gearing up for sanctions to be lifted within months. Photograph: Ebrahim Noroozi/AP
The Iranian president, Hassan Rouhani, is pulling out all the stops to speed up the implementation of a landmark nuclear deal to bring home tangible relief from sanctions before parliamentary elections in February.
The moderate president, who is facing his first major public vote of confidence two years after assuming power, wants Iranians to feel the impact of his diplomacy as early as this month.
Iran has already started to roll back its nuclear programme, including unplugging thousands of centrifuges, as required under the Vienna nuclear agreement.
But the lifting of sanctions will only come into effect after "implementation day", an unknown date when the UN nuclear watchdog verifies that Tehran has taken all other necessary steps.
Iran is pushing to fulfil its obligations as early as possible and the US secretary of state, John Kerry, said on Thursday that Tehran could be only days away from doing so, meaning that sanctions could be lifted later this month.
Rouhani has been boosted domestically after fulfilling his most important campaign promise, which was to bring an end to a decade-long nuclear saga. However, hardliners, wary of his growing influence, are determined to make sure he will have a tough time in the remaining two years of his presidency.
"Mr Rouhani came to power on a mainly economic platform, promising in a famous quote centrifuges will turn and so will the wheels of people's livelihoods," said Hossein Rassam, an Iranian expert and former political adviser to the Foreign Office………………
Iraq historic allegations team has delivered letters to hundreds of British personnel involved in incidents under investigation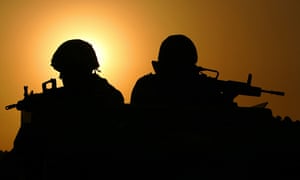 Some of the 280 personnel have faced doorstep questioning, officials say. Photograph: John D Mchugh/AFP/Getty Images
Nearly 300 British personnel who served in Iraq have been contacted by investigators looking into allegations of war crimes, with some of them facing interrogation on their doorsteps, officials have said.
The Iraq historic allegations team (Ihat), the government-established criminal investigation into claims of murder, abuse and torture during the Iraq war, said it has written to veterans a week after it warned that some may face prosecution.
In some cases the letters were hand-delivered and it suggested that investigators had taken the opportunity to "ask a few questions" where possible. In a statement released on Friday, it defended its actions, saying their investigators had carried out "standard police practice".
About 280 veterans have been sent documents telling them they were involved in an incident under investigation by the Ihat, a spokeswoman for the unit said.
"It is standard police practice to send letters as a means of contacting potential witnesses.
"Sometimes, the letters are delivered by hand and it may be that, if a potential witness is at home, then the investigator will take the opportunity to ask a few questions. Again, this is standard police practice. In this situation there is no obligation to respond to such enquiries – it is very much a matter for the individual," the spokeswoman said.
The MoD said: "The vast majority of UK service personnel deployed on military operations conduct themselves professionally and in accordance with the law. The MoD takes all allegations of abuse or unlawful killing extremely seriously. That is why we are ensuring that they are investigated to establish the facts."
Ihat's workload includes more than 1,500 possible victims, of whom 280 were alleged to have been unlawfully killed. Last week, Mark Warwick, the former police detective in charge of the unit, told the Independent that his team had identified cases where he felt there was "significant evidence to be obtained to put a strong case before the service prosecuting authority to prosecute and charge"………………