12 Jan

Humanitarian chief Stephen O'Brien says 400 people at risk of dying as trucks deliver aid to beseiged Syrian town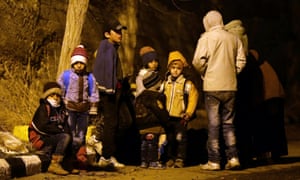 Syrian children on the outskirts of Madaya after being given permission to leave by government troops. Photograph: Louai Beshara/AFP/Getty Images
The United Nations humanitarian affairs chief has called for the evacuation of about 400 people from Madaya hospital after aid trucks reached the Syrian town which has been cut off for months by fighting.
After briefing the UN security council, Stephen O'Brien told reporters the patients needed treatment for medical complications, severe malnourishment and starvation.
This had to be done as soon as possible "or they are in grave peril of losing their lives", O'Brien said, adding that efforts would be made to get ambulances to Madaya on Tuesday to evacuate the 400, if safe passage could be assured.
Forces loyal to the Syrian regime have enforced a tight siege of Madaya since July, and until now only one aid delivery had been allowed in, in October.
A spokesperson for the International Committee of the Red Cross (ICRC) describes the arrival of aid to the besieged Syrian town of Madaya on Monday. Pawel Krzysiek says that residents have come out to welcome the convoy but the situation there is heartbreaking. The United Nations say people are dying of starvation. Trucks carrying food and medical supplies travelling with UN vehicles entered Madaya, near the Lebanese border, as part of an agreement between the government and rebel groups sides
Local support is waning with people in the town of Burns expressing dismay at methods employed by the armed occupation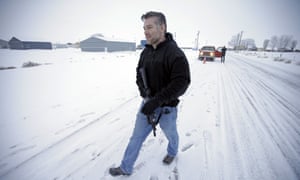 A FBI agent in Burns, Oregon, where a small, armed group has been occupying a remote national wildlife refuge. Photograph: Rick Bowmer/AP
The tactic, intended to allow privately owned cattle to graze on adjacent public land, is one of the most aggressive actions the occupiers have taken since they took over federal property at the Malheur national wildlife refuge headquarters last weekend. The out-of-state militiamen say they seized the sanctuary to protest the overreach of the federal government and the imprisonment of local cattle ranchers Dwight Hammond and his son, Steven.
Ranchers in Harney County have long contended that the government and environmental groups have unfairly blocked their access to public lands through burdensome regulations and fees. The militia's core members, led by Nevada resident Ammon Bundy, removed about 25 or 30 yards of fence near the occupation, according to The Oregonian………………..
Zhou Shifeng, one of at least five lawyers held in secret detention, faces a charge of 'state subversion', which carries a maximum punishment of life in jail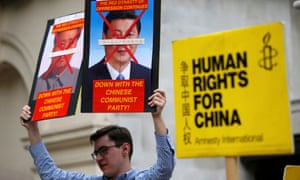 A protesters decried China's human rights record during president Xi Jinping's visit to London in October 2015. Photograph: Peter Nicholls/Reuters
China has formally charged at least five human rights lawyers and colleagues held in secret for six months after a sweeping crackdown on legal activism, family and associates said on Tuesday.
It was the first time relatives have learnt the whereabouts of any of the 16 lawyers and their staff who have been held by police in undisclosed locations since July.
More than 130 attorneys and legal staff were summoned or taken away for questioning in what campaigners called the fiercest attempt in decades to silence activists attempting to redress injustices in China's tightly controlled courts.
Zhou Shifeng, the founder of Beijing's Fengrui law firm and one of the lawyers at the centre of the crackdown, is accused of "state subversion". The charge carries a maximum sentence of life in jail, his colleague Liu Xiaoyuan said on a verified social media account on Tuesday…………….
A week after he was arrested, state TV showed Zhou "confessing guilt" under detention in a report which said he had "inappropriate relationships" with at least five women.
Four other people are also said to be accused of "incitement to state subversion", which carries a maximum sentence of 15 years.
They include 24-year-old legal assistant Zhao Wei, her husband and mother both told AFP, citing a police notice.
Both Zhou and Zhao are being held at a detention centre in the northern port city of Tianjin, the notices said……………..
Russian president says it was more difficult to shelter whistleblower Edward Snowden than it would be to welcome Syrian leader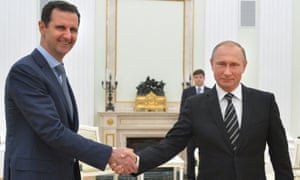 Vladimir Putin shakes hands with Bashar al-Assad in the Kremlin in October. Photograph: Alexei Druzhinin/AP
RFE/RL, part of the New East network
Russia could grant asylum to Bashar al-Assad if he is forced to leave Syria, Vladimir Putin suggested in an interview with the German tabloid Bild.
The Russian president said it was premature to discuss asylum, but added that it would be easier to welcome the Syrian leader than the US whistleblower Edward Snowden, who was given asylum in Russia in 2013.
"It was surely more difficult to grant Snowden asylum in Russia than it would be in the case of Assad," the Russian president said in an interview published on Tuesday………………..
Tom Steyer calls on president to seize opportunity to explain his actions on the environment and convince Americans that they must be irrevocable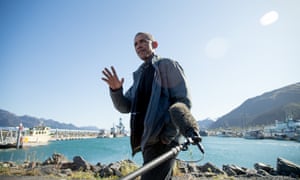 Barack Obama speaks to reporters in Seward, Alaska, in September 2015 where he used the state's glorious but changing landscape as an urgent call to action on climate change. Photograph: Andrew Harnik/AP
Billionaire climate activist Tom Steyer pressed Barack Obama on Monday to go out with a bang and make global warming central to the message of his last State of the Union address.
In a conference call with reporters, Steyer said the speech on Tuesday offered one of the last high-visibility moments for Obama to make his case to the American public for a transformation of the US energy and climate system……………..

Opinion