13 Jan

President says it's biggest regret of presidency but appeals to America's better self in calling for rejection of hostile rhetoric: 'We can't afford to go down that path'
The McGlynn: Political discourse is now infected in its roots with a toxic cocktail of paranoia, cynicism, hatred, and assorted other poisonous ingredients.
Unfortunately, it's almost impossible for those whose hearts and minds are clogged with this sort of content to recognize someone who's absolutely genuine in his desire and determination to do good for his country, and humble enough to acknowledge his failures.
Unfortunately, electing a charismatic egomaniac dictator to replace him will not provide a good outcome for our nation nor the world. We should pause and compare the resonances of the Republican fools with the mood of the German people prior to WW 2, and how that turned out for the world.
If the far right should succeed in winning control of our country, we'd better all be ready for hell on earth.
In his final State of the Union address on Tuesday night, president Barack Obama praised a strong economy, launched an initiative to cure cancer and condemned divisive politics and scaremongering, rife within the current political landscape. Watch highlights from Tuesday's speech
Barack Obama admitted his regret that he will leave the US more, not less, polarised when he departs office a year from now, using his final State of the Union address to urge the nation not to succumb to demagogues.
The man who declared "We are not a collection of red states and blue states. We are the United States of America" while campaigning in Iowa in 2008 conceded that, as his presidency comes to close, the American political divide runs deeper than ever.
"It's one of the few regrets of my presidency – that the rancour and suspicion between the parties has gotten worse instead of better," Obama said in Washington on Tuesday night. "There's no doubt a president with the gifts of Lincoln or Roosevelt might have better bridged the divide, and I guarantee I'll keep trying to be better so long as I hold this office."
It was a reflection not only on the years of bitter deadlock in Congress that have frustrated Obama's agenda, manifest in bursts of applause from Democrats and stony silence from Republicans during his speech, but a nod towards the election contest to come. Obama framed it as a dangerously polarising battle for the soul of America: Trump has called for a ban on Muslims and exploited popular anger.
"As frustration grows, there will be voices urging us to fall back into tribes, to scapegoat fellow citizens who don't look like us, or pray like us, or vote like we do, or share the same background," he said. "We can't afford to go down that path. It won't deliver the economy we want, or the security we want, but most of all, it contradicts everything that makes us the envy of the world."…………….

Ten Americans reported to be detained as two small craft briefly go missing while travelling across Gulf from Kuwait to Bahrain
General Ali Fadavi, the navy chief of Iran's revolutionary guard, says his country has demanded an apology from the United States. Fadavi confirms on state television that the Iranian military is holding 10 US navy sailors and their vessels. The sailors, nine men and one woman, are at an Iranian base on Farsi Island
Iran has said the US should apologise after the crews of two US Navy boats were detained by Revolutionary Guards for "violating" Iran's waters in the Gulf.
Rear Admiral Ali Fadavi, said in an interview broadcast live on state television that foreign minister Mohammad Javad Zarif had taken a "firm stance" on the issue when contacting US secretary of state John Kerry.
Earlier, US officials said they had received assurances from Tehran that the crew of two small US navy ships in Iranian custody would soon be allowed to continue their journey. Fadavi was quoted by the Tasnim news agency as saying "The final order will be issued soon and they will probably be released."
Fadavi blamed the incident on the American navigation system. "Investigation shows that [the] entry of American sailors into Iran's territorial waters was due to mechanical problems in their navigation system and that issue is being resolved," he said.
The two small craft briefly went missing on Tuesday after transiting the Gulf from Kuwait to Bahrain. The Pentagon said the crews ended up in Iranian custody, sparking immediate fears of escalating tensions during a week when Iran is expected to receive the first wav……………
Group signals occupation of Malheur facility could be approaching resolution as spokesman says they will meet with local community on Friday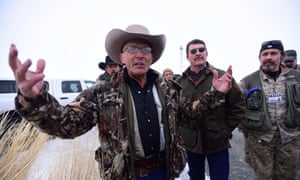 Occupier LaVoy Finicum has said the militia will meet with the community of Burns. Photograph: ddp USA/Rex/Shutterstock
The militiamen occupying the Malheur national wildlife refuge in eastern Oregon said on Tuesday that they intended to tell the public soon "when we will be leaving", signalling that the takeover could be heading toward a resolution.
At a press conference at the refuge, LaVoy Finicum, an Arizona rancher and one of the main spokesmen of the armed militia, announced that on Friday, the occupiers planned to meet with the local community of Burns, the closest town to the wildlife sanctuary, located 30 miles away. "We will be going into town and holding a meeting with the community, to explain to the community … why we're here and when we will be leaving. And that will be important," he said. "We invite all to attend."
The announcement is significant given that, if they follow through with the plan, the 7pm Friday event will mark the first time the occupiers enter Burns and formally communicate with local residents, who…………
Police constable attempting to 'enforce an eviction order' fired a shot at Ciara Meyer's father that passed through the man's arm and hit her, officials said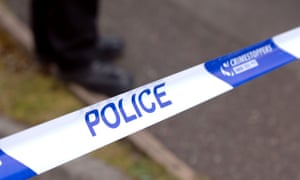 The constable fired a single shot at Donald Meyer, who was struck in the upper left arm before his daughter was hit, police said. Photograph: Jack Sullivan / Alamy/Alamy
A police constable in Pennsylvania killed a 12-year-old girl when he fired a shot at the girl's father that passed through the man's arm and hit her, officials said on Tuesday.
Ciara Meyer was pronounced dead at her home on Monday morning after Constable Clarke Steele attempted to "enforce an eviction order" on her family in Duncannon, north of Harrisburg, according to officials.
When Steele approached the apartment, Ciara's father, Donald Meyer, allegedly opened and then shut the door before opening it a second time armed with a rifle, officials said. Steele and Meyer exchanged words briefly before Meyer "leveled" the rifle at Steele, according to police. Steele fired a single shot at Meyer, who was struck in the upper left arm before his daughter was hit, police said.
A spokesman with the Pennsylvania state police, the agency investigating the shooting, estimated that the entire incident occurred "within seconds".
Opinion
Scalia and other conservatives pressed to justify overturning Abood v Detroit Board of Education, which upheld requirement that teachers pay union fees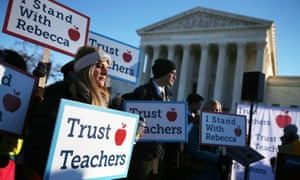 People against the California Teachers Union rally in front of the US supreme court building on Monday in Washington. Photograph: Mark Wilson/Getty Images
In Monday's oral arguments at the US supreme court, US solicitor general Donald B Verrilli Jr sought to put the court's five conservative members on the spot. Verrilli did this in a closely watched case in which 10 California teachers assert that being forced to pay union fees violates their first amendment rights.
Backing the teachers' union in the case, Verrilli pressed the court's conservative members to justify their apparent move toward overturning a unanimous 1977 supreme court decision, Abood v Detroit Board of Education, that upheld a requirement that public school teachers pay union fees, even when they opt out of joining the union. Underlining the gravity of overturning a decades-old ruling, Verrilli said: "We're talking about overruling a precedent of 40 years' standing. There needs to be a showing of changed circumstances."
Labor unions grew alarmed last June when the court agreed to hear the case, Friedrichs v California Teachers Association, fearing that the justices would hobble public-sector unions by barring any requirement that government employees pay fees to the unions that represent them. In states that give public-employee unions a right to bargain, but prohibit these fees (known as fair share fees or agency fees), 34% of teachers opt out of paying such fees. Since public-sector unions are one of the Democratic party's most generous backers, many Democrats fear their party will be weakened if the justices bar fair-share fees.
Verrilli may well have been aiming his comments on the need to show "changed circumstances" to Justice Antonin Scalia. Though a leader of the court's conservative wing, Scalia was considered a potential swing vote in Friedrichs, who might back the union's position. In 1991, Scalia delivered a robust defense of fair-share fees, writing: "Where the state imposes upon the union a duty to deliver services, it may permit the union to demand reimbursement for them … where the state creates in the nonmembers a legal entitlement from the union, it may compel them to pay the cost."
In Abood, Justice Potter Stewart, an Eisenhower appointee, wrote of "the great responsibilities" that unions have representing workers, duties that "often entail expenditure of much time and money", including the "services of lawyers, expert negotiators, economists, and a research staff". Stewart concluded that it was fair and not a first amendment violation to require government employees to pay fees to the unions that represent them. In Abood, the court also ruled that government employees can't be required to pay union fees that are spent on political matters, as opposed to collective bargaining.
On Monday, Scalia seemed to have significantly changed his tune since 1991, although he didn't explain why or point to any changed circumstances. From the start that day, he showed hostility to fair-share fees, asserting that every issue that public-sector unions bargain about is essentially political – and workers shouldn't be forced to pay union fees over "political" matters…………….