14 Jan

John Neinstedt, who was forced to resign in June amid charges against his diocese, given assistant priest position at Saint Philip Roman Catholic church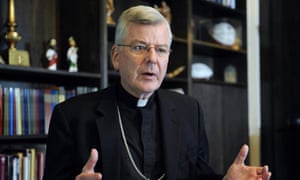 John Nienstedt speaks at his former office at the Archdiocese of St Paul and Minneapolis in July 2014. He was forced to resign in 2015 and was hired by a Michigan church on 10 January. Photograph: Craig Lassig/AP
A Minnesota archbishop who was forced to resign when his diocese faced criminal and civil charges related to sexual abuse by clergy has been appointed assistant priest at a church in Michigan.
Saint Philip Roman Catholic church in Kalamazoo announced this week that it had appointed former St Paul and Minneapolis archbishop John Nienstedt to assist the parish while its head pastor dealt with medical issues.
Nienstedt resigned in June 2015, days after Ramsey County attorney John Choi filed criminal and civil charges against the archdiocese. Choi alleged at the time that the archdiocese "time and time again turned a blind eye" to clerical sex abuse. It was the first time a US archdiocese had faced such charges in a decade.
The civil suit was settled in December, but the criminal charges are pending in county court.
Pastor John Fleckenstein of Saint Philip Roman Catholic church in Battle Creek, Michigan, announced that Nienstedt would be assisting him in a church bulletin on 10 January.
He said he had brought in Nienstedt "to assist in various pastoral ministries" while the pastor deals with health issues. "He will celebrate some of the weekend and weekday masses, visit the sick in the hospital, visit the sick and homebound, and celebrate mass for the nursing home and assisted living facilities," Fleckenstein said.
Fleckenstein did not respond to a request for comment.
Nienstedt's appointment was revealed by Jennifer Haselberger, the former top lawyer for the Archdiocese of St Paul and Minneapolis, who published the church bulletin on her blog……………….

Ashton Carter says he has 'big arrows' pointing at Raqqa and Mosul but adds the campaign will also include 'elimination operations' against Isis commanders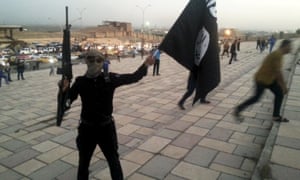 A fighter holds an Islamic State flag and a weapon on a street in the city of Mosul, Iraq. The US defense secretary, Ashton Carter, has promised assaults on the city in 2016. Photograph: Reuters
The US defense chief has said that 2016 will be the year the American-led coalition assaults the Islamic State in its strongholds of Raqqa and Mosul, offering Barack Obama a last chance to deal the jihadist army a lasting defeat before his administration ends.
Ashton Carter, the US defense secretary, gave a speech on Wednesday unusually heralding the US campaign plan for the next year, saying that he had "big arrows" pointing at the Syrian and Iraqi cities that constitute Isis's "center of gravity".
But the campaign against Isis will expand beyond those countries, Carter said, indicating that the drone strikes that have become a fixture in Yemen, Somalia and Pakistan will now target the militant group beyond declared battlefields.
Thus far, US efforts against Isis in Syria have been limited to airstrikes – at a lower tempo than those launched in Iraq – and infrequent special-operations raids, as the outgoing commander of US forces in the Middle East has pursued an "Iraq first" strategy. A concerted push on Raqqa would inaugurate a new phase of the war, perhaps featuring direct US involvement in combat……………….
John Kerry announces new effort to offer migrants 'safe and legal alternative to dangerous journey' in which they face threat of human smugglers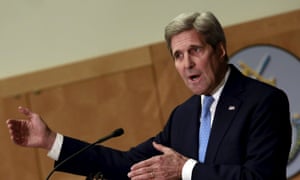 Secretary of state John Kerry has announced the US will expand its refugee admissions programme. Photograph: Yuri Gripas/Reuters
The US is to expand its refugee programme to help thousands of people fleeing violence in Central America avoid a perilous journey often exploited by human smugglers, secretary of state John Kerry has announced.
The office of the UN high commissioner for refugees will now conduct initial screenings to test whether people from Honduras, El Salvador and Guatemala may qualify as refugees eligible to move to the US legally.
The move came after a backlash from Democrats in Congress who urged Barack Obama to halt the deportations of families who have fled drug-fuelled violence, corruption and institutional breakdown in the three countries and entered the US without documentation.
Speaking on foreign policy at the National Defense University in Washington on Wednesday, Kerry said: "I am pleased to announce that we have plans to expand the US refugee admissions programme in order to help vulnerable families and individuals from El Salvador, Guatemala, and Honduras, and offer them a safe and legal alternative to the dangerous journey that many are tempted to begin, making them at that instant easy prey for human smugglers who have no interest but their own profit."……………
Opinion
Under Obama, the economic recovery has bypassed almost all Americans. They won't stay silent for ever – and Bernie Sanders could be their inspiration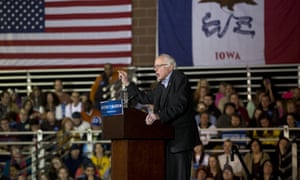 Bernie Sanders addresses supporters in Des Moines, Iowa, last week. Photograph: Jae C. Hong/AP
T

o critique Barack Obama's presidency is to be guilty of these cardinal sins: blasphemy, ingratitude and a lack of realism. What was once the nation of Jim Crow produced the first African-American president, the most liberal commander-in-chief since Richard Nixon (as Obama himself once put it). Funny, charming, with a coolness that eludes practically every other politician, he is the ultimate ambassador for US power. Could the United States possibly elect someone more progressive?
And yet it is difficult not to conclude that, as Obama delivers his final State of the Union address, the US remains a chronically unjust and devastatingly unequal society, its proud democracy beholden to powerful and wealthy interests. It is this potential tinderbox that makes the implausibly clown-like, quasi-fascist Donald Trump the Republican frontrunner; and, more hopefully, a 74-year-old self-described socialist from Vermont – Bernie Sanders –a serious challenger to the Clinton machine.
That's not to diminish Obama's achievements. The lack of universal healthcare has long made the US a baffling aberration among developed nations; Obamacare's significantly increased coverage should not be sniffed at. Obama's U-turn on his public stance on equal marriage – yes, made possible by the struggle and sacrifice of US LGBT activists – is another triumph. His recent activism on the great US guns scandal and the existential threat of climate change is to be applauded, too.
But consider the plight of the majority of Americans. We know that, six years into his presidency, poverty was still higher than before the financial system near-imploded. While child poverty has been alleviated for many Americans in the past five years, for African-Americans it has remained stubbornly constant.
The gains of economic recovery have certainly been beneficial to those of great wealth – including the culprits behind the crash – but have meant little to the average American. Of course, that has everything to do with the structure of the US economy since Ronald Reagan swept to power. Consider this: according to the Economic Policy Institute – a thinktank close to the embattled US labour movement – between 1979 and 2007, the top 1% seized 53.9% of the entire increase in US income. It is often suggested that male median income has been stagnant in the US since the 1970s, hidden only by a flood of women into the workforce: how that's worked out depends on all sorts of qualifications, such as which price index you choose. Yet even by the most optimistic calculations, if university-educated American men have enjoyed a boost in salaries, those with only high school qualifications endured sliding incomes between 1979 and 2013……………..