15 Jan

Three videos released after judge lifts protective order shows Cedrick Chatman, 17, fleeing police on foot before he collapses on street corner 10 seconds later
Newly released footage shows Chicago police shooting 17-year-old Cedrick Chatman on 7 January 2013, taken from surveillance cameras at the scene. Cedrick's family has sued the city and the officers involved, Kevin Fry and Lou Toth, and on Thursday a federal judge ordered the videos released after Chicago lawyers gave up their argument to keep the film from the public
Chicago has released footage of the police shooting of black teenager Cedrick Chatman, hours after a federal judge ordered the city hand over three videos on Thursday.
Two videos, from traffic surveillance cameras, show Cedrick exit a car and take flight on foot. Despite the grainy quality of the footage, two officers can be seen chasing him, one following close into a building's shadow and the other clearly holding a gun. As Cedrick reaches the corner, and the edge of the image's frame, the camera swivels, during which time Cedrick appears to have been struck by a bullet.
His body crumples in the street on the opposite corner, the whole foot chase lasting about 10 seconds.
A second, more distant angle shows Cedrick sprint away and collapse after a passing car and tree partially obscure him from view.
Earlier on Thursday, US district judge Robert Gettleman lifted a protective order that barred the release after the city dropped its objections. Mayor Rahm Emanuel's administration and the police force have come under intense scrutiny in recent months over police shootings and cases of alleged misconduct.
Lawyers for Cedrick's mother have insisted that the department should release the video because of its relevance to her case against the city.
In late December, city lawyers asked the court to withhold the video from the public, arguing that its release could influence the opinions of potential jurors. On Wednesday they gave up the request……………,,
"It was an unjustified shooting and it clearly shows the young man Cedrick Chatman is running away from officers, and never pointing any object towards their direction," Calloway said.
He added that he and other activists will push for the Cook County state attorney to file murder charges against the officers……………….
Peter Dahlin, who founded an NGO defending human rights workers, singled out by state media for helping 'radical activists'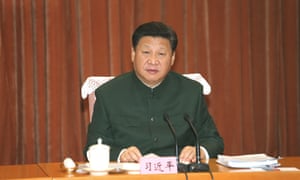 Chinese President Xi Jinping has been accused of overseeing a crack down on human rights including the arrest of lawyers and activists. Photograph: Li Gang/Xinhua Press/Corbis
A Swedish human rights activist who is being held by police in Beijing had been "making trouble in China" by aiding "radical political activists", a Communist party controlled newspaper has claimed.
Peter Dahlin, 35, a Beijing-based campaigner, was picked up by Chinese security officials earlier this month and is being detained on suspicion of endangering state security, authorities said this week.
Dahlin founded and worked for Chinese Urgent Action Working Group (CUAWG), an organisation whose stated goal was helping "human rights defenders in distress" in China.
The foreign activist's detention has sent shock waves through Beijing's NGO community with experts describing the move as yet another escalation of Xi Jinping's continuing quest 'to wipe out independent civil society in China'.
Chinese authorities have offered scant details of why they are holding Dahlin, who went missing on 3 January while travelling to Beijing's international airport on his way to Thailand………………
Hurricane Alex develops near Azores in water barely warm enough for any storm to form, say US researchers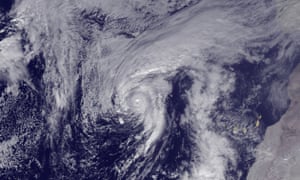 Hurricane Alex is seen in the Atlantic after being upgraded from a storm on Thursday. Photograph: Getty Images
Associated Press
A hurricane has formed far out in the Atlantic Ocean, the first time such an event has happened in January since 1938, US officials said.
Hurricane Alex's maximum sustained winds were near 85mph (140kmh) and residents of Portugal's mid-Atlantic Azores islands were warned to expect waves up to 60ft (18 metres) high and wind gusts up to 100mph.
The islands' Civil Protection Service issued a weather red alert, the highest of four warnings that indicates extreme risk, for five of the archipelago's nine islands.
The US National Hurricane Center (NHC) in Miami said in a Facebook post there hadn't been a hurricane present during the month of January since 1955, when Alice formed in late December 1954 and continued into the next month.
The hurricane was centred about 350 miles south of Faial Island in the central Azores and was moving north-north-east at about 22mph. Alex was expected to move near or over parts of the Azores on Friday, the NHC said.
The Azores government on Thursday advised kindergartens to stay closed and told residents to ensure drainage systems were not blocked.
The archipelago, which has a population of about 250,000, has been threatened by hurricanes before, but they usually lose their strength as they move into colder northern water……………..
Opinion
Perhaps more important than Sanders's gain in the polls is how it happened: by patiently hammering on his message, regardless of what other candidates said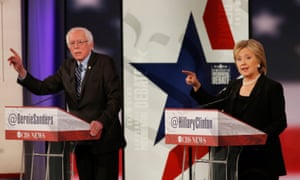 The race is closer than everyone first assumed it would be. Photograph: Jim Young/Reuters
A

s Trump continues to dominate both parties for media attention, and Hillary Clinton remains a favorite to win with Wall Street, Bernie Sanders is suddenly surging again among those who actually matter: voters. But more important than his rise in the polls is how he's doing it.
A string of polls over the past two weeks show that the once-independent Vermont senator is tied or in the lead in the two early primary states, Iowa and New Hampshire, and all of a sudden, in striking distance of Hillary Clinton nationally. With very little fanfare, he has been leading in New Hampshire for months, with some recent ones putting his lead in the double digits.
But Iowa seemed distinctly in Clinton's corner for the last quarter of 2015 until this week, just a month away from the primary. A Quinnipiac poll released Tuesday night showed Sanders vaulted into the lead, with a slew of others show him pulling in close to a tie.
Digging deeper into the numbers shows even more good news for Sanders: nationally, he is beating Clinton by 2-1 with voters younger than 45, and by 20 points with female voters younger than 35. In New Hampshire there is not one demographic group in which Clinton is beating Sanders. He's also made recent gains among African Americans and Hispanics – both demographics long considered Clinton strongholds.
But perhaps more important than the news of Sanders's gain is how it happened: by patiently hammering on his message of drawing attention to economic inequality, raising taxes on the rich, dramatically expanding Medicare and Social Security, making public universities free of charge and criminal justice reform.
He has, to great criticism by beltway pundits, avoided the rest of the candidates' descent into constant fear-mongering about terrorism and hyping the "threat" from Isis. Instead he has mocked both the media and other candidates for doing so, as BuzzFeed reported last month:
"As a nation and as a people, we have got to understand that our country faces a myriad of very serious problems… if you turn on the TV, what they now say is, 'Well we've got one problem, it's Isis," Sanders said, launching into a sarcastic impression of the "they" on television this week.
Clinton, meanwhile, has sounded more like the Republican candidates with her conventional forever war posture, her defense of the disastrous Libya intervention and her calls for an escalation of the war in Syria. Apparently she's not concerned that she's running for the nomination from a party who rejected her in 2008 partly because of her support for the Iraq war…………….