18 Jan

Anders Kompass 'relieved but sad' after being cleared of wrongdoing for revealing abuse in Central African Republic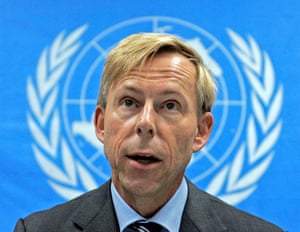 Anders Kompass was suspended by the UN for passing documents to the French authorities after becoming frustrated at the UN's lack of action in investigating abuse by peacekeepers. Photograph: Orlando Sierra/AFP/Getty Images
The UN whistleblower who exposed the sexual abuse of children by peacekeepers in Central African Republic has been completely exonerated after an internal investigation.
Anders Kompass, the director of field operations for the office of the high commissioner for human rights in Geneva, was suspended and faced dismissal after he passed confidential documents detailing the abuse of children by French troops in CAR to the authorities in Paris because of the UN's failure to stop the exploitation.
The scandal was first reported by the Guardian in April last year, with the child sex allegations and the treatment of Kompass gaining worldwide attention. The UN repeatedly condemned his actions, insisting that he had breached protocols by sharing a secret internal document.
For nine months he was under a disciplinary investigation but a few days ago Kompass was informed in a letter that the internal investigation, run by the Office of Internal Oversight (OIOS), had cleared him of all charges.
His exoneration comes just weeks after an independent panel report – set up by the UN secretary general, Ban Ki-Moon, into the child sex scandal in CAR – ruled Kompass had done nothing wrong in passing the internal document, which contained interviews with victims and descriptions of the perpetrators, to the French………………
Charity says only higher wages, crackdown on tax dodging and higher investment in public services can stop divide widening
Oxfam's prediction that the richest 1% would own the same wealth as the poorest 50% had come true a year earlier than forecast. Photograph: Valery Hache/AFP/Getty Images
The vast and growing gap between rich and poor has been laid bare in a new Oxfam report showing that the 62 richest billionaires own as much wealth as the poorer half of the world's population.
Oxfam said that the wealth of the poorest 50% dropped by 41% between 2010 and 2015, despite an increase in the global population of 400m. In the same period, the wealth of the richest 62 people increased by $500bn (£350bn) to $1.76tn.
Mark Goldring, the Oxfam GB chief executive, said: "It is simply unacceptable that the poorest half of the world population owns no more than a small group of the global super-rich – so few, you could fit them all on a single coach……………
Pontiff continues tradition started by John Paul II as he joins Jewish service in show of interfaith friendship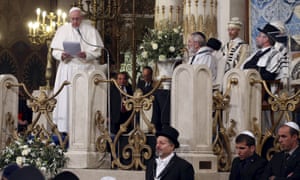 Pope Francis delivers his speech during his visit at Rome's Great Synagogue. Photograph: Alessandro Bianchi/Reuters
Associated Press in Rome
Pope Francis has made his first visit to a synagogue as pontiff, greeting Rome's Jewish community in their house of worship in a show of interfaith friendship.
Francis joined a standing ovation when Holocaust survivors wearing striped scarves reminiscent of their camp uniforms were singled out for attention at the start of the ceremony.
Francis began his visit laying a wreath at a plaque outside the synagogue marking where Roman Jews were rounded up by the Nazis in 1943 and at another marking the slaying of a two-year-old boy in an attack by Palestinians on the synagogue in 1982.
Pope Francis is greeted as he arrives at Rome's synagogue. Photograph: Alessandra Tarantino/AP
He met members of the boy's family and survivors of the attack before entering the synagogue, the seat of the oldest Jewish community in the diaspora.
The visit comes amid a spate of Islamic extremist attacks in Europe, Africa and elsewhere, and Francis was expected to denounce all violence committed in the name of God, as he has done on several occasions.
"The hatred that comes from racism and bias, or worse, which uses God's name or words to kill, deserves our contempt and our firm condemnation," Ruth Dureghello, president of Rome's Jewish community, said in introductory remarks……………..
Record on gun control, especially 'Charleston loophole', hurts Sanders
Contest of pragmatism v idealism sees Clinton put on defensive
Hillary Clinton and Bernie Sanders traded blows over guns, healthcare and Wall Street in the fourth Democratic primary debate on Sunday night, while Martin O'Malley was largely left on the sidelines. Watch highlights from the debate
Opinion
Holding the last pre-primary show on the Sunday of a holiday weekend doesn't encourage anyone to tune in. That might hurt Hillary Clinton as much as anyone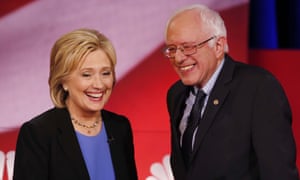 Hillary Clinton and Bernie Sanders smile during a break. Photograph: Mic Smith/AP
Hillary Clinton is a far better candidate when she is pushed to her limits by an existential threat. She was in 2008 when she was fighting a young Barack Obama; eight years later, against an older Bernie Sanders, she is again.
Sunday night's Democratic debate between Clinton and Sanders (and some guy who helpfully told us at the start that his name was Martin O'Malley) came as the race finally tightened up in Iowa, two weeks before the states' Democrats cast the first votes of the 2016 elections.
The most recent Des Moines Register poll – the most respected polling in a state that is notoriously difficult to survey – gave Clinton a slender two-point lead last week. The same poll placed her nine points ahead last month. As it happens, that change was not the result of Sanders gaining support, but rather because Clinton has been leaching support to the undecided category.
Her declining numbers could be the result of some especially ham-fisted decisions by her own team. Despite their candidate's strong performance on stage, it was the Clinton campaign that pushed the Democratic National Committee to limit the number of televised debates, and to air them at less-popular broadcast times – the weekend before Christmas, say, or on the night before a national holiday, as it was on Sunday.
But the few viewers who tuned in were treated to a fine show thanks to Bernie Sanders.
The Vermont senator can't fake his feelings. You could tell from the number of times he started an answer by saying, "Let's be honest"; you could tell from the look on his face when his rivals were tearing him apart on the debate stage.
Other candidates glower or chuckle when they're attacked – but Sanders wears the kind of grimace that you flash when your doctor says he needs to check your prostate. And there were at least three times on Sunday that Sanders looked like he was undergoing a particularly intrusive medical procedure.
The first came when Clinton thwacked him for using the run-up to this latest Democratic debate to, um, "revise" his position favoring legal immunity for gun manufacturers.
Sanders curled his mouth upwards in a less-than-convincing smile as Clinton peppered him with every gun vote he had ever made that benefited the gun lobby. The litany included "voting for guns on Amtrak and in national parks", which made Sanders sound like the passenger you'd want to avoid on the sleeper car to the Grand Canyon………………….